October 18 - October 24, 2018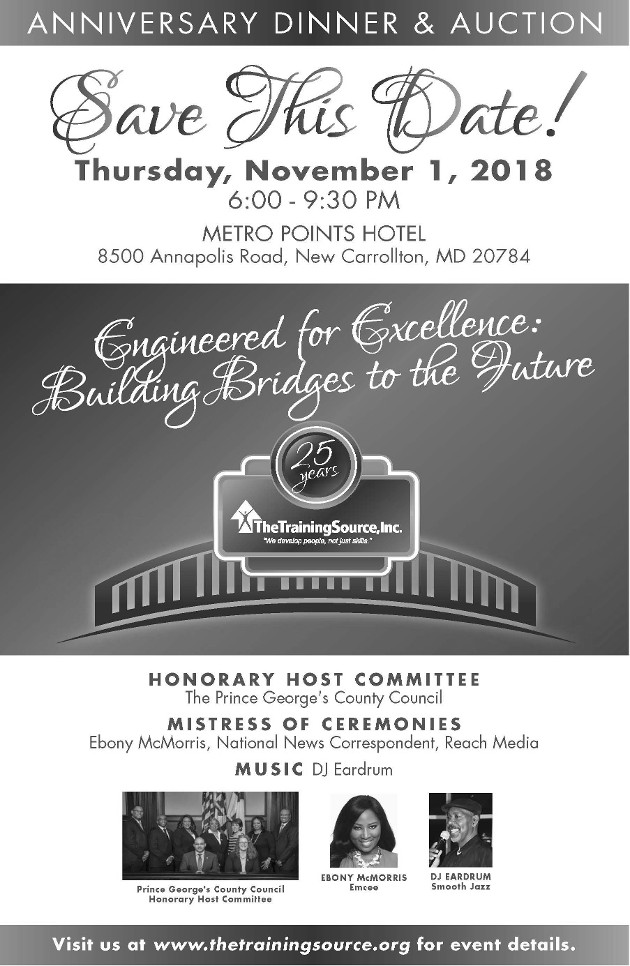 County Council, National News Correspondent Ebony McMorris Help The Training Source Celebrate Its 25th Anniversary
By PRESS OFFICER
The Training Source
SEAT PLEASANT (October 5, 2018)—When Mitchellville resident Evelyn Kim Rhim left IBM in October 1993 to start a community-based nonprofit organization, she had no idea what the next 25 years would bring. She only knew she was called to help others, primarily through job training. "It has been far more difficult than I thought it would be, but I am incredibly proud of the impact of our work on individuals, families and communities," says Rhim, founder and executive director of The Training Source, Inc.
A quarter-century later, The Training Source stands among a handful of Prince George's County's 4,000-plus nonprofits that have earned the coveted Standards For Excellence® accreditation, based on operating at the highest level of ethics and accountability in the nonprofit sector. The organization is also GuideStar® Platinum rated, a distinction held by less than one percent of nonprofits nationwide.
"The Training Source represents excellence in the nonprofit sector," says County Executive Rushern L. Baker III. "It is an honor to salute the outstanding contributions that the organization provides to our community. I commend you for the important work you do to improve all levels of economic diversity by giving people the skills they need to obtain employment."
The Prince George's County Council is the Honorary Host Committee, and Reach Media Correspondent Ebony McMorris is the emcee, for the organization's 25th Anniversary Dinner & Auction. The event—"Engineered for Excellence: Building Bridges to the Future"—takes place from 6 p.m. to 9:30 p.m. on Thursday, Nov. 1, at Metro Points Hotel in New Carrollton. PRM Consulting, Pepco, and T. Curtis & Company, are among the sponsors. Auction items include art, personal fitness sessions, dinners, Disney tickets, golf paraphernalia, electronics and hotel stays. Washington-area VIPs from business, government, and the community will be in attendance.
Over the last 25 years, The Training Source has expanded the variety of programs offered, received numerous awards, and been featured in print and broadcast media. Additionally, Rhim has been honored by the NAACP, Maryland Black Mayors and the Prince George's County Chamber of Commerce. "I know our survival has been a faith-walk and the result of fantastic partners who believe in and support our work," she says.
Dinner seats are available for $75 per person. Contributions—including sponsorships, ads, and silent-auction donations—are tax-deductible and welcome as well! Proceeds will benefit unemployed and underemployed individuals who need our training to secure employment and enable better support of themselves and their families. To purchase tickets, make a donation, or learn more, please visit www.thetrainingsource.org, or contact Kim Rhim at 301-499-8872 or kimrhim@thetrainingsource.org.
Upper Marlboro Sailor Serves at Navy's Premier Aviation Maintenance Commandnor Larry Hogan Announces 'Safe Schools Maryland' School Safety Initiativeve
By CHIEF MASS COMMUNICATION SPECIALIST BILL STEELE
Navy Office of Community Outreach
SAN DIEGO—A 2007 Frederick Douglass High School graduate and Upper Marlboro, Maryland, native is serving at the Fleet Readiness Center Southwest, based at Naval Air Station North Island.
Petty Officer 2nd Class Joseph Dyer is a Navy aviation administrationman responsible for tracking aircraft hours, maintenance and other inspections for aircraft, engines and weapons.
"You get to help out other tenant squadrons, making sure their components don't go high time," said Dyer.
Dyer credits success in the Navy to lessons he learned growing up in Upper Marlboro.
"I learned you gotta be strong throughout life, you gotta keep going," he said. "Keep shooting for the stars and anything is possible."
FRCSW traces its heritage to 1919, when the Navy began repairing aircraft at what is now known as Naval Air Station North Island. Since its humble beginnings almost a century ago, the facility has been at the forefront of weapons system sustainment, providing innovative naval aviation maintenance solutions utilizing the latest technologies.
Today, as the Navy's premiere west coast Maintenance, Repair, and Overhaul facility, FRCSW specializes in the maintenance, engineering and logistics support for a wide range of high-performance aircraft, servicing more that 225 airframes and 35,000 components annually.
"I like the job I do at this command," said Dyer. "I get to help and assist, I get to dig deeper and come up with the answer."
FRCSW provides world-class support to Navy and Marine Corps tactical, logistical and rotary wing aircraft and their components, by utilizing state-of-the-art management systems.
To provide maintenance excellence where it's most needed, FRCSW maintains field sites at Naval Base Ventura County—Point Mugu, Marine Corps Base Camp Pendleton, and MCAS Miramar in California, MCAS Yuma, Arizona, MCAS Kaneohe Bay, Hawaii, NAS Whidbey Island Washington, as well as in Okinawa and Iwakuni, Japan.
Dyer's proudest accomplishment in the Navy so far is a deployment to Japan in 2012.
"I am very proud of that," he said. "It allowed me to meet a whole lot of diverse people and accomplish one goal."
As a member of the U.S. Navy's aviation community, Dyer and other FRCSW sailors know they are a part of a legacy that will last beyond their lifetimes providing the Navy the nation needs.
"Military service means having the courage to stand up for what is right, having a commitment to get a job done," said Dyer. "At the end of the day being able to stand up and say I've done the honorable thing is why I serve."
Statue of Pioneer African-American Woman Reporter Points to 'Future of Equality'

By ALBANE GUICHARD
Capital News Service
WASHINGTON—Last month, the Newseum unveiled a statue of Alice Allison Dunnigan, the first African-American woman to receive press credentials to cover the White House.
A few days later, Washington Post media reporter Paul Farhi published an article entitled "The White House press room is overwhelmingly white. Does that matter?"
Almost 70 years separate Alice Allison Dunnigan's battle against racism and sexism from today. Yet African-American female reporters still represent a small part of the White House press corps.
And the few who manage to make it to their long-awaited destination, the White House's James. S. Brady Press Briefing Room, still struggle with discrimination from within, as Brittany Shepherd underlined in her recent story for the Washingtonian.
"'Good' journalism in the Trump-era has become synonymous with access. But when you're talking with people who view any hint of race as an on-ramp to identity politics, it's almost impossible for a black reporter to gain their trust," Shepherd wrote about her experience in the White House.
Shepherd goes on describing her skin color as "a barrier and assumption (her) non-minority colleagues aren't required to face."
Dunnigan had to face the same barrier in the 1940s.
One might have thought that in 70 years, that barrier would have been broken down, but Shepherd's article and the ratio of African-American women in the White House press corps (less than a dozen, among hundreds of journalists) indicate that it has not.
At the Sept. 21 debut of the Dunnigan statue at the Newseum, sculptor Amanda Matthews said that "Alice Dunnigan envisioned a future of equality and she dedicated her life to that vision."
The present is not the future of equality Dunnigan had hoped and fought for.
There has been undeniable progress, but women of color remain a very small percentage of American newsrooms overall: 7.95 percent of newspaper staffs, 6.2 percent of local radio personnel and 12.6 percent of local television news operations, according to a study released earlier this year by the Women's Media Center.
"Women are more than half the U.S. population, and people of color nearly 40 percent. But you wouldn't know this from our media—because U.S. media does not look like, sound like, or reflect the diversity and experience of more than half the population," center president Julie Burton wrote in the forward to the report.
The road to equality is still long, but remembering pioneer figures such as Dunnigan can be a source of inspiration on the way.
Right before the cloth was lifted from Dunnigan's statue, her great niece Penny Allison Lockhart burst into tears: "I can't wait until little boys and girls in schools to journalism students and everyone get to say 'wow, let's talk about Alice Allison Dunnigan today.'"
Dunnigan's journey to Washington
In Russellville, Kentucky, in 1919, a 13-year-old girl was writing short news items for the Owensboro Enterprise, an African-American newspaper 75 miles away. Twenty-eight years later, in 1947, she became the first African-American woman to receive the title of White House correspondent.
Dunnigan was not destined to be a journalist. Her grandparents were slaves, her father worked as a tobacco sharecropper and her mother was a laundry worker.
But from a small town in Kentucky, she worked her way to the nation's capital, taking journalism classes and writing for African-American newspapers while working as a teacher to provide for her family.
Dunnigan moved to Washington during World War II to work as a clerk at the National War Labor Board, freelancing for the American Negro Press (ANP) at the same time.
Her dedication led her to be appointed head of the Associated Negro Press Washington Bureau on Jan. 1, 1947. She was finally a full-time journalist, and kept writing stories for 14 years.
But even then, the fearless journalist had to keep fighting. She was banned from some events, regardless of her press pass; she had to sit with servants at a senator's funeral, and she was paid half what her male colleagues were paid.
Dunnigan's story is one of perseverance in a world hostile to African Americans and to women. She once said: "Race and sex were twin strikes against me. I'm not sure which was the hardest to break down."
She fought against racism and sexism her entire life and career, and successfully became not only the first African-American woman to cover the presidency but also the first to be accredited to report on Congress, the Supreme Court and the State Department.
Dunnigan died on May 3, 1963, a year before the Civil Rights Act of 1964.
Her statue depicts her proudly standing, a newspaper in her hands. It is based on a 1947 picture of her in front of the United States Capitol.
Amanda Matthews, the sculptor from Louisville, Kentucky, said there is a "need for sculptures and monuments honoring women and minorities."
"Our purpose for this project was to bring recognition to Alice Dunnigan's contribution to our nation," Matthews said at the unveiling ceremony.
The statue will be on display at the Newseum until Dec. 16. It will then be installed in Dunnigan's hometown of Russellville, on the grounds of the West Kentucky African American Heritage Center as part of a park dedicated to the civil rights movement.