January 26 - February 1, 2023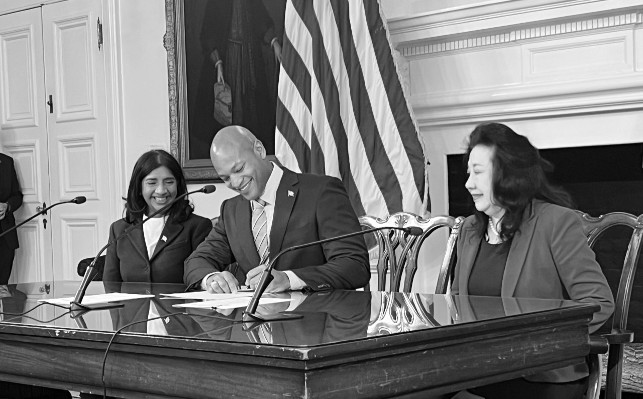 Photo: Michael Charles/Capital News Service
Gov. Wes Moore signs executive orders releasing abortion training and other funds in his first full day in office. Lt. Gov. Aruna Miller and Secretary of State Susan Lee look on.
Gov. Wes Moore Releases Stalled Abortion Care Funds
By MICHELLE LARKIN
Capital News Service
ANNAPOLIS, Md. (Jan. 19, 2023)—On his first full day in office, Gov. Wes Moore and Lt. Gov. Aruna Miller announced they're releasing $3.5 million to expand abortion care training, part of $69 million in funds withheld by his predecessor and released by Moore Thursday (Jan. 19).
"Maryland needs to be a state that is a safe haven for abortion rights," Moore said. "We must as neighbors be able to unite behind the basic principle that all women are entitled to safe health care services."
Overturning Roe v. Wade, a landmark decision that upheld the legality of abortion across the U.S. for nearly 50 years, influenced Moore's decision. Roe was overturned on June 24, 2022, by the U.S. Supreme Court, a decision Moore called "dangerous" and "unprecedented" for women.
Throughout his campaign for governor, Moore promised to enshrine the right to abortion in Maryland's Constitution and release suitable funding to expand reproductive health care training on "day one."
"Our administration will continue to work with our legislative partners, our health care providers and other critical stakeholders to enact additional protections to preserve and expand access to reproductive rights," Moore said.
State funding for abortion provider training services was previously withheld by Republican Gov. Larry Hogan.
Hogan's decision not to grant the funds was largely due to his firm belief that "non-licensed physicians should not be performing these medical procedures," according to Hogan's spokesman at the time, Michael Ricci.
Moore's initiative is an important step to fully implement the Abortion Care Access Act passed in 2022, which Hogan vetoed but the Democrat-controlled legislature overrode the decision.
The Abortion Care Access Act specifies that "qualified providers," like licensed physicians and nurse practitioners, can perform abortions during a post-Roe era. It also will allow abortion care training programs at community-based and hospital-based sites, but it will not officially start until July 1.
The Abortion Care Access Act, whose lead sponsor was Del. Ariana Kelly, D-Montgomery, also focuses on equity in access to abortion coverage in Maryland insurance plans. It would require most private insurance plans to cover abortion care without deductibles. Kelly could not be reached for comment Thursday.
According to Moore's website and a Guttmacher Institute study, around 70 percent of Maryland's counties have no abortion providers.
The timing of Moore's release of funds coincides with this year's March for Life, the annual anti-abortion rally around the Supreme Court in Washington, D.C. Friday's march will focus on the Capitol, according to the map and organizers, as the fight against the practice has moved into legislatures.
---
News from Prince George's County Public Schools
Kingsford and Whitehall Elementary Schools Honored for Excellence in Talented and Gifted Education
Kingsford Elementary School earns first-ever TAG designation.
UPPER MARLBORO, Md. (Jan. 19, 2023)—Kingsford and Whitehall elementary schools have earned the 2023 Maryland Excellence in Gifted and Talented Education (EGATE) Schools designation, bringing the total to 21 in Prince George's County Public Schools (PGCPS).
The EGATE Award recognizes public schools that offer superior and equitable gifted and talented education.
"Access to quality gifted and talented programs is key to ensuring advanced learners meet their full potential," said Dr. Monica Goldson, Chief Executive Officer. "These schools go above and beyond to serve as a model for rigorous academic standards for students."
The designation is a first for Kingsford and the second for Whitehall. The application process requires school teams to document how their school's gifted and talented education program aligns with state guidelines.
Both schools will be honored at a virtual statewide Gifted and Talented Award Ceremony on Tuesday, February 28. Additionally, more than 30 PGCPS educators, administrators, students and parents will be recognized as individual award winners for their work in gifted education.
Visit the PGCPS Newsroom for a list of award-winners.
Prince George's County Board of Education Names New Leadership
UPPER MARLBORO, Md. (Jan. 17, 2023)—The Prince George's County Board of Education has selected new leadership including Judy Mickens-Murray who will serve as Board of Education Chair and Lolita E. Walker, who will serve as Vice Chair.
Mickens-Murray was appointed to a 4-year service term in 2021 by County Executive Angela D. Alsobrooks. She brings 30 years of service with the federal government as a civil servant for the National Oceanic Atmospheric Administration as well as prior service on the Board; she was appointed in 2002 by County Executive Wayne K. Curry and Governor Parris Glendening.
"I am committed to educational success for all students by engaging in an ongoing dialogue around education issues to ensure all community voices are heard," said Mickens-Murray. "I wish to build sustainment of our student learning progress by engaging all stakeholders, neighborhood by neighborhood. Together, we can assist every student to appreciate learning opportunities and to attain a quality education."
Walker, who was elected to represent District 9 as a board member in the November 2022 general election, brings experience as a corporate leader, full-time entrepreneur, certified life, leadership, and executive coach, author, podcaster, and community leader.
"I am excited to bring a renewed energy and focused action that will help to provide governance and oversight that equips our scholars with the best education possible," Walker said. "I will use the collection of my skills to help strengthen linkages that will further connect our students, parents, teachers, staff, administration, community, and board.
More information on Board of Education members, news, updates and meetings: www.pgcps.org/offices/board-of-education
---
Maryland's Legal Cannabis Market to be Shaped by Many Hands
By GREG MORTON
Capital News Service
ANNAPOLIS, Md. (Jan. 20, 2023)— With lawmakers facing a July 1 deadline to provide a framework for the legal use, possession, and sale of cannabis after voters approved full legalization in November, it's clear, just a week into the General Assembly session, that the task won't be straightforward.
While the public is generally enthusiastic about legalization, which passed with 67% support and received more votes than new governor Wes Moore, legislators have a lot of work to do to build a legal market that fulfills their commitments on issues like equity, public safety, and taxation and revenue.
"The people of this state have spoken and they have spoken loudly," said Moore at a press conference Thursday. "We cannot, we will not, repeat the mistakes that the state has made when medical cannabis was legalized…we have to get this right from day one."
While lawmakers are committed to meeting the July 1 deadline, the state of the legal cannabis market nationwide remains an unwelcome specter hanging over the process. An oversupply crisis has depressed cannabis prices, decreasing margins for producers and making it far more difficult for small producers to compete with well-established companies that can produce and distribute at scale. The national spot price of legal cannabis reached an all time low of $950 per pound in December 2022, according to Cannabis Benchmarks.
Without what they feel is a viable model to look to, lawmakers are instead trying to avoid other states' mistakes.
"We're starting from the ground floor," said Del. C.T. Wilson, D-Charles, chairman of the House Economic Matters Committee. "All we know is what they didn't do right."
Wilson and his committee colleagues will have an important role to play in the legalization process: regulating the supply of legal cannabis through licensing and taxation.
The number of licenses distributed and the process of obtaining a license to produce and sell cannabis products in Maryland will largely dictate who can enter the legal market. Moreover, supply will play a large role in determining the price Marylanders pay for cannabis products, a crucial factor in convincing consumers to abandon the illicit market, according to the Marijuana Policy Project.
Given the less-than-successful history of the United States' war on drugs and its disproportionate impact on Black Americans, legislators seem committed to fostering equitable access to the legal market.
"I'm very worried about this issue…this is always how we've done things, where we allow rich people to capitalize and profit and then we put some minor appeasement in there to placate people that have been harmed (by marijuana) and don't have the equity, the money up front, to get involved," said Sen. Jill Carter, D-Baltimore City.
"I think equity has to be across-the-board considered for everything we do," said Del. Lily Qi, D-Montgomery, who along with Wilson, is a member of both the Economic Matters Committee and the Cannabis Legalization Working group, which held hearings on several aspects of the legalization process while the General Assembly was out of session.
While neither Wilson nor Qi gave an explicit answer on what percentage of licenses should go to members of marginalized groups, Wilson hinted at a few policies his committee was considering to ensure an equitable system.
Foremost among them is keeping the license application fee reasonably low. In some states this cost can reach six figures, according to the Marijuana Policy Project, and serve as a significant barrier to entry for small business owners without a lot of startup capital.
"(The application fee) cannot be high, and it must be refundable," said Wilson, who added that six-figure application fees were "not the goal."
Also of concern is keeping taxes low, which lawmakers said they hope will have the dual effect of allowing more producers to enter the market and keeping legal cannabis prices reasonable, an important factor in allowing new market entrants to chip away at the illicit market.
For some advocacy groups, guarantees on equity in employment and working conditions in the industry are just as important as equity in ownership or licensing.
"As a union, we bring a lot of concern around employment practices and how employees are treated, how well they're compensated, and are they able to share in the success of their industry," said Jonathan Williams, spokesperson for UFCW Local 400, which represents cannabis workers in Maryland.
Economic Matters will be just one of several committees to work on a chunk of the cannabis framework. The House Judiciary Committee, and perhaps others, will look at undoing another one of the lasting legacies of the war on drugs: thousands of convictions for cannabis-related offenses, which can often serve as barriers to the job market for those convicted.
Judiciary Committee member Christopher Bouchat, R-Carroll, who was convicted of a crime and charged as an adult at age 16, recalled firsthand the impact of such a criminal conviction.
"For the rest of my life I have that assault conviction on my record. And I just think that having felt that, I understand the impact that cannabis convictions have on adults trying to get employment."
For the new governor, expungement is a crucial part of the legalization process, and righting the wrongs of the last 40 years have been central to his message on this issue.
"As we have said, we cannot talk about the benefits of legalization if we're also not willing to wrestle with the consequences of criminalization," said Moore at the press conference.
While Moore supports expunging records of all those convicted solely of marijuana possession, other lawmakers worry that his plan does not go far enough to protect those convicted on other charges or of a cannabis-related felony.
"We know that felony convictions are what harms people from being able to get jobs, housing, and other opportunities. The stigma of felony is the problem. Misdemeanor possession is hurting very few people," said Carter, a member of the Senate Judicial Proceedings Committee. She added that institutions, including many police departments around the state, now allow officers with prior misdemeanor possession convictions on the force. Carter has introduced legislation to give judges more flexibility in expunging records.
Lawmakers are also tasked with figuring out a plan for the tax revenue cannabis legalization will generate. In a meeting with the House Cannabis Referendum and Legalization Workgroup during the interim, consultants from the Marijuana Policy Project suggested that cannabis legalization could generate over $1 billion in revenue for the state.
Responsibility for that tax plan will fall to the House Ways and Means Committee, whose membership includes Prince George's County Delegate and Cannabis Working Group member Darryl Barnes.
"This is an exciting time in the history of the state of Maryland," said Barnes, adding "we have an opportunity to put forward legislation that impacts a billion-dollar-plus industry that's coming, but, more important, to frame the conversation around equity and inclusion. And that is the most important thing to me, as well as looking at how we are going to tax this where it's fair and equitable for those that are participating."
---