November 26 - December 2, 2015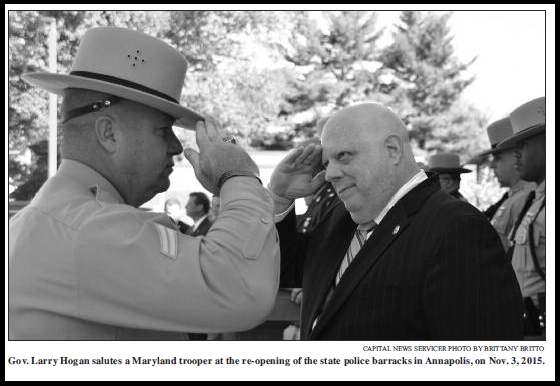 One Year After Election, Hogan Focusing on Keeping Campaign Promises
By Naomi Eide
Capital News Service
ANNAPOLIS, MD—One year after Gov. Larry Hogan shocked the state's political establishment and won the gubernatorial election on essentially a single-issue campaign, his administration has worked to cut spending and reshape the state's budget priorities.
Though details were few, Hogan's campaign promised Marylanders he would cut $1.7 billion in waste from the state government and roll back taxes while upholding government priorities and making the state friendly to businesses.
Since his Nov. 4, 2014, election, Hogan, a Republican, has rolled back road, tunnel and bridge tolls, and pared back fees from some state agencies.
Mileah Kromer, a professor of political science at Goucher College, said that people always like to see the fulfillment of campaign promises.
"I think that his pushing to cut fees over the summer was well received," Kromer said. "He is certainly pursuing the policy initiatives which he talked about."
"You could say he is looking out for the taxpayer," said Warren Deschenaux, executive director and chief budget analyst for the Department of Legislative Services.
"Governor Hogan will have control of the budget, so he will have the opportunity to squeeze further and create savings," said Deschenaux. "When he has done that, we will look at that and see what he has accomplished."
Every January, the governor submits the budget to the Maryland legislature, which in turn makes cuts and restrictions. The General Assembly must approve the budget bill in April, one week before the end of the session to avoid going into extended legislative session, according to the Department of Budget and Management. The budget year runs from July 1 through June 30.
In September, eight state agencies reduced more than 200 fees, which, according to the Hogan administration, are expected to save taxpayers approximately $10.2 million per year over the next five years.
Hogan has helmed the announcements of additional windfalls for Maryland residents—though they would have taken place regardless of who was in Government House—including a reduction to taxes businesses pay to fund unemployment insurance, and up to $200 million in local-tax refunds.
"We've been through a process of making large and small adjustments now for most of the last decade," said Deschenaux. "There could still be more room for the budget to economize," looking at "what can and cannot be accomplished with the resources that have been devoted."
Most businesses in Maryland will pay between $25.50 and $127.50 less per employee per year because of growth to the Unemployment Insurance Trust Fund. The rate changes were triggered by a formula calculated at the end of September.
Hogan also touted in September that some residents can apply for tax refunds as a result of a U.S. Supreme Court decision, which said it was illegal for taxpayers to pay local income tax in both Maryland and other jurisdictions.
Agencies' fee changes that were at Hogan's discretion will have varying levels of impact on Maryland residents.
For example, in the Department of Labor, Licensing and Regulation, fee changes are expected to affect approximately 59,000 individuals, based on the number of licensees or applicants. According to Summar Goodman, a spokeswoman with the department, those affected are expected to save a total of more than $1 million a year. For example, broker and salesperson license fees paid to the Maryland Real Estate Commission were each reduced by $20.
Fee changes in the Department of Natural Resources are expected to benefit approximately 4,500 people, from tree experts to game husbandry license holders and those who qualify for a Golden Age Pass for launching boats in state parks, according to Karis King, a spokeswoman with the Department of Natural Resources.
Though the administration has reduced and eliminated numerous agency fees, "the people of Maryland, I'm sure, have not noticed any reduction in services or quality of what the state does," said House Minority Leader Nicholaus Kipke, R-Anne Arundel.
Following cuts to spending and fees, Delegate Tawanna Gaines, D-Prince George's, vice-chair of the House Appropriations Committee, said she is concerned about the effect of reduced revenue on future projects, such as scheduled maintenance and repairs to toll roads.
The toll rollbacks were expected to save Marylanders $2.1 million in the first week, and $270 million over the next five years, according to a news release from the Maryland Transportation Authority in May. The rollbacks eliminated the E-ZPass Maryland monthly account fee, which cost $1.50, and reduced toll rates on the Bay Bridge. On the Bay Bridge, the cash rate for a two-axle vehicle is now $4 instead of $6.
"I want to know, if you cut the fees, what are you going to replace it with?" Gaines asked.
"Agencies only ask for what they need," Gaines said. "It costs money to maintain what you have. We don't have more than we need."
The governor is "never going to cut fees so much that the state can't pay its bills," said Todd Eberly, political science and public policy professor at St. Mary's College of Maryland.
Cutting the fees that people pay is a relatively small amount when compared to the state's overall budget, Eberly said.
This year, Maryland is expected to bring in more than $16.4 billion in general fund revenue, which includes money brought in from income tax, sales tax and state lottery receipts, according to the Board of Revenue Estimates.
There is an "inherent inertia" in a state government that does not want to change, said Gerard Evans, an Annapolis-based lobbyist and adjunct lecturer of public policy at the University of Maryland, College Park. "I still think he's getting resistance from the bureaucracy, from the government."
"But even in this short period of time, I sense a whole new mood in the state and the bureaucracy," Evans said. "It's still a young administration. It does take time."
Under Hogan's leadership, Kipke said, state agencies were required to find savings in their departments, cutting fees and using resources more wisely.
When he proposed the budget in January, Hogan cut all state agency spending by 2 percent to disrupt "the ongoing cycle of excessive spending and borrowing" from tax hikes.
"He's not Mr. Politics, he's Mr. Action," said Kipke. "He's actually doing it."
The state budget is based on a mandated spending formula, according to Delegate Kathy Szeliga, R-Baltimore and Harford County, and the House minority whip.
Less than 20 percent of revenue generated from within Maryland falls under non-mandated spending, which the governor has some discretion to allocate.
Out of the total revenue generated in-state last fiscal year—a combination of general, special and higher education funds—$23.4 billion, or 81.1 percent, was mandated spending. That left about $5.5 billion in general funds that the governor had some flexibility with, according to the Department of Legislative Services.
Delegate Eric Bromwell, D-Baltimore County, said, "I think (Hogan)'s absolutely doing a lot of things he said he wanted to do" and has taken steps to identify taxes and fees that can be cut without the involvement of the legislature.
Bromwell, personally, said he has always voted against tax increases, advocating for spending more wisely and creating a more efficient government.
Hogan has not been in office for a full year yet, but he has worked with his new administration to set priorities in reducing fees and taxes, including changes to the "rain tax," Szeliga said.
The General Assembly passed the stormwater management fee—nicknamed the "rain tax"—in 2013 to help fund federally mandated programs for environmental cleanup caused by polluted water runoff in urban areas.
The "rain tax" repeal, passed in April, allows counties to find other ways to meet their requirement without collecting the fee.
"Tax policy makes a difference and Hogan knows it," Szeliga said. "We're trying to turn it around."
Hogan's campaign platform was rather general, without much detail, whereas the campaign of former Lt. Gov. Anthony Brown, a Democrat, had a more detailed platform, according Roy Meyers, a political science professor at
University of Maryland, Baltimore County.
Though it is too early to tell whether Hogan is living up to his campaign promises, Meyers said, he has sent signals during the Board of Public Works meetings by being tight with the taxpayer's money and sensible with spending.
Hogan, along with Comptroller Peter Franchot, a Democrat, has questioned how some vendors are spending state funds. Since January, he has criticized several requests to fund sole-source contracts, and has pushed back on requests for retroactive or emergency payments without full explanations.
For example, Hogan questioned requests from Maryland universities for additional construction funding beyond originally approved estimates.
"We're trying to be fiscally responsible … and I hear some people at universities talking about wanting to raise tuition rates, and we're here talking about $35 million more than you thought you were going to spend," said Hogan at a Board of Public Works meeting in February. "It just seems out of whack to me."
"Those statements have more public relations value than dollar value," Meyers said. Hogan is "reassuring his political base that he is trying to live up to his campaign pledges."
Hogan is good at establishing a point of view in a simple way, which solidifies public support for his government, Meyers said.
Erin Montgomery, a spokeswoman with the governor's office, said that the platform Hogan was elected on has happened. "We're just getting started."
Prince George's County Housing Director Named Housing Person of the Year
By Alexis Revis Yeoman
PGCDHCD
Largo, MD—Eric. C. Brown, Director of the Prince George's County Department of Housing and Community Development was named Housing Person of the Year by the Maryland Affordable Housing Coalition (MAHC) at the organization's annual meeting and 15-year anniversary celebration. MAHC'S mission is to advocate for affordable rental housing in Maryland by ensuring adequate public and private resources, efficient housing programs and strong support among public officials at all levels of government. Mr. Brown was selected for his significant contributions to affordable rental housing in Maryland; his work to help advance the interest of the affordable rental housing community in Maryland through advocacy, participation in policy, program improvements and volunteer efforts that have benefited housing for low and moderate income persons.
"We applaud Eric Brown for this award since he has been a strong advocate and leader of providing affordable housing in Prince George's County," said Prince George's County Executive Rushern L. Baker, III. "Over the past five years, we have been focused on attracting more private investment for affordable housing in Prince George's County. Eric has been a leader in these successful efforts. As a result, we are now seeing new and renovated affordable housing units throughout the County."
For over 30 years, Eric C. Brown has devoted his life to advancing the interest of the affordable rental housing community through his participation in policy and program improvements. Armed with his Bachelor's Degree in Public Administration, his Master's Degree in Urban Regional Planning and his Juris Doctorate, he set out to operate and improve affordable rental housing around the country. He has over 25 years of senior level administrative and management experience in the multi-family rental housing arena, serving as Deputy Executive Director of Housing Management in New Orleans, LA; Deputy Executive Director for the Philadelphia Housing Authority, Philadelphia, PA, and Executive Director of the Meridian Mississippi Housing Authority. Mr. Brown has worked throughout his career to make improvements in the agencies he has worked so that they might provide better service to the community.
In Maryland, he served as the Deputy Executive Director of the Housing Authority of Baltimore City. The city of Baltimore has the country's fifth largest housing authority with 18,000 units of public rental housing and 12,000 Section 8 certificates. Supervising 1,400 employees, Mr. Brown was a key member of a team of dedicated professionals that improved the operation of the Housing Authority of Baltimore City and launched a public housing redevelopment effort that continues to this day.
Next, he set his sights on the City of Annapolis, where he served as Executive Director of the city's housing authority. Under his leadership, the Housing Authority of the City of
Annapolis (HACA) achieved substantial and significant accomplishments in revitalization, capital improvement, operational and the financial sectors. Mr. Brown implemented the agency's first major redevelopment of public housing properties using the public-private partnership model.
Currently, the Director of the Prince George's County Department of Housing and Community Development (DHCD), Mr. Brown supervises three (3) agencies under DHCD: the Community Planning and Housing Divisions of DHCD, the Housing Authority of Prince George's County and the Redevelopment Authority of Prince George's County. Each agency has as its mission to provide affordable housing to low and moderate income groups. DHCD had a troubled past, and again, Mr. Brown stepped in to get the agency back on track. Through his leadership, developers are now eager to apply to DHCD for federal funding to assist in building affordable rental housing in Prince George's County; he is spearheading a plan to acquire foreclosed homes, rehabilitate them and sell them to low and moderate income residents; and he is working through a myriad of administrative issues the agencies face to make DHCD, the Housing Authority and the Redevelopment Authority operate efficiently and effectively as they deliver services to low and moderate income residents and families in Prince George's County. Because of his direction and guidance, DHCD was awarded the prestigious HAND Award for Best Government Housing Initiative for its My HOME Homeownership Program by the Housing Association of Nonprofit Developers (HAND) in June, 2013.
"As I have worked with Eric over the years, he has exemplified true character and is very deserving of this award," said Ivy Dench-Carter of Pennrose Properties, a real estate development company with projects in Maryland and D.C.
First JA Finance Park® Opens in PG County
By Press Officer
PGCPS
RIVERDALE, MD—On October 27, 2015 Junior Achievement Greater Washington officially celebrated the opening of the very first JA Finance Park® in Prince George's County, on the campus of James Gholson Middle School, 900 Nalley Road in Landover, Maryland. The Maryland-National Capital Park and Planning Commission, Prince George's County, Department of Parks and Recreation, is proud to be a partner of Junior Achievement of Greater Washington and built an interactive entertainment storefront to showcase the exponential number of programs, jobs, and resources that the Department offers to Prince George's County and in the region.
"We want students' experiences in our entertainment storefront to be fun and engaging while also teaching them about our agency and the programs we offer, ranging from free to moderate cost options. It also introduces them to volunteer and employment opportunities so we can grow the next generation of parks and recreation professionals," said Ronnie Gathers, Director of Parks and Recreation for Prince George's County. "We will also use JA's curriculum to teach financial tools to our young, first-time employees this summer as they earn their first paychecks, which makes our partnership with JA Finance Park unlike any other in the country."
"JA Finance Park® is about inspiring a generation of Prince George's County youth to be financially capable. It's about giving them the power to make the right financial choices and a new perspective on why staying in school and setting college and career goals is important to their ability to achieve their dreams," said Ed Grenier, President and CEO of Junior Achievement of Greater Washington.
Before students travel to JA Finance Park®, they take part in JA's unique 14-lesson classroom curriculum, split into four main categories, taught by their teacher. This knowledge serves as a foundation in personal finance education and gives them the skills they need to take on their JA Finance Park® experience with everything they need to be successful. Students' experience culminates at JA Finance Park®, where these young people have the opportunity to put their newly-learned skills to the test in this digital, 21st century, innovative learning environment. The "mini-city" houses a variety of storefronts and kiosks, correlating to the personal budget lines each student must manage during their JA Finance Park® visit.
As students enter JA Finance Park®, they take on a life scenario: an avatar with a career, salary, credit score, debt, a family, and financial obligations. The students make their way through various phases of the day. At the Department of Parks and Recreation, students will encounter:
A life-size "Padzilla" (giant smartphone) complete with customized apps and web pages geared towards education and to serve a multi-purpose function of getting the children engaged, the ability to share some of the programs and job opportunities we offer, our parks and historic rentals all while combining technology and education.

A mad-lib style magnetic black board with sentences structured around parks
and recreation.
Large murals that display our parks and amenities along the walls of the storefront, including a picnic table with ADA approved grass alongside a river.

Spinning 'budget disks' that reflect the Department of Parks and Recreation free, payment required, and career or volunteer opportunities for things to do.

A large Kevin Durant cut out with quotes that showcase his journey to success through Parks and Recreation.

A ballet barre with mirror that highlights opportunities in the arts.

And, a wall-sized map with map key that highlight, the facilities, parks, playgrounds, historic sites, and community centers where they might want to visit, work, play, volunteer or bring their families.
JA Finance Park® Prince George's County is Greater Washington's second financial literacy supercenter. In addition to Capital One's signature sponsorship, the JA Finance Park® facility and operations are supported by a broad cross-section of the region's leading businesses and organizations through storefront, kiosk, and educational exhibit partnerships within the facility. Partners include Capital One Investing, Chick-fil-A of Capital Boulevard and Steeplechase, Community Foundation of the National Capital Area, Doctor's Community Hospital, E*TRADE, Enterprise Rent a Car, Financial Assurance Corporation, Geico, Lerner, Maryland-National Capital Park and Planning Commission, PenFed Credit Union, Pepco Holdings, Inc., Prince George's County Community College, UnitedHealthcare, Walmart, Washington Gas, and the Washington Redskins Charitable Foundation.
The Department of Parks and Recreation, recipients of an unprecedented six gold medals for excellence, provides comprehensive park and recreation programs, facilities and services which respond to changing needs within our communities. The Department strives to preserve, enhance and protect our open spaces to enrich the quality of life for present and future generations in a safe and secure environment. For more on the Department of Parks and Recreation, visit www.pgparks.com and stay connected on Facebook and Twitter. The Maryland-National Capital Park and Planning Commission, Department of Parks and Recreation encourages and supports the participation of individuals with disabilities in all programs and services.
Educational Systems Federal Credit Union Supports Local Step Squad with a $1,000 Donation
By Press Officer
ESFCU
Greenbelt, MD—Educational Systems Federal Credit Union donated $1,000 to the Eleanor Roosevelt High School Dem' Raider Boyz (DRB) Step Squad on October 22 as a thank you for performing at the Credit Union's Employee Conference.
The DRB Step Squad is an all-male step team founded in 2001 on the principles of brotherhood, scholarship, community service and fun. The team practices 15 hours a week and routinely performs and competes in the Washington, D.C. metropolitan area and along the east coast. The young men of the DRB Step Squad are not only successful on stage but also in the classroom. Each year they maintain a team average GPA of 3.5 or higher with many members receiving above a 4.0 GPA. DRB members have a 100% graduation rate, and over 95% of them are accepted and continue on to colleges and universities around the country.
"It was our pleasure to share the talent of the DRB Step Squad with Educational Systems FCU," said Reginald McNeill, Principal of Eleanor Roosevelt High School. "We appreciate the donation and their continued support of education."
The DRB Step Squad is coached by Richard Melvern, who is a graduate of Eleanor Roosevelt High School and a founding member of the team. Under his leadership, the DRB Step Squad has won dozens of first place trophies, been featured on several nationally televised broadcasts, enjoyed four undefeated seasons and is the 2014 Youth Step USA National High School Stepping Champion. In May of 2014, they were named the best team in the country since they took first place in every competition entered since 2011.
"For us, it's an honor to support education," said Chris Conway, President/CEO of Educational Systems FCU. "The DRB Step Squad created a unique routine that was centered on the Credit Union's values of integrity, competence, commitment and respect. Their performance was outstanding and made our Employee Conference memorable. We wanted to give a donation to thank the team for their contribution to our Employee Conference and to help support them as they continue to perform and compete."
Educational Systems FCU (esfcu.org) has proudly served the education community for 60 years. With $800 million in assets and 12 branches, the Credit Union serves 87,000 members in seven school systems and three community colleges throughout Anne Arundel, Calvert, Charles, Montgomery, Prince George's, St. Mary's and Talbot counties.
PEPCO Donates Smoke Alarms for 11th Consecutive Year
By PRESS OFFICER
PG County Fire/EMS
For the 11th consecutive year, PEPCO has donated smoke alarms that will be installed in homes by firefighters. On a weekend that included the day firefighters urge residents to provide a fresh battery in their smoke and carbon monoxide (CO) alarms or to upgrade to 10-year alarms, PEPCO provided the Prince George's County Fire/EMS Department and Montgomery County Department of Fire and Rescue Services with 1000 10-year smoke alarms each. This year's donation from PEPCO brings the total number up to 30,000 of these lifesaving smoke alarms donated to area fire departments.
Pete Pedersen, PEPCO Emergency Preparedness Manager and Emergency Services Partnership Program Coordinator, presented the alarms and stated, "PEPCO is pleased to once again make this donation of smoke alarms. These alarms will be installed in homes by firefighters throughout the region and help residents survive should a fire ever occur in their home."
"We are grateful to PEPCO for this generous donation of smoke alarms. Over 11 years they have provided over 10,000 alarms to Prince George's County that have without a doubt, made a difference in the lives of our residents," said Fire Chief Marc Bashoor. "10-year smoke alarms are the best protection in receiving an early alert and provide a precious few moments to escape a burning house."
Pete Pedersen made this year's donation at Montgomery County Trivilah Fire/EMS Station in Rockville to Pete Piringer and Mark Brady, spokesmen for their respective Departments.
TOP OF PAGE