May 19 - May 25, 2022
Mitchellville Native Experiences the
Navy's Virtual Reality Asset, the "Nimitz"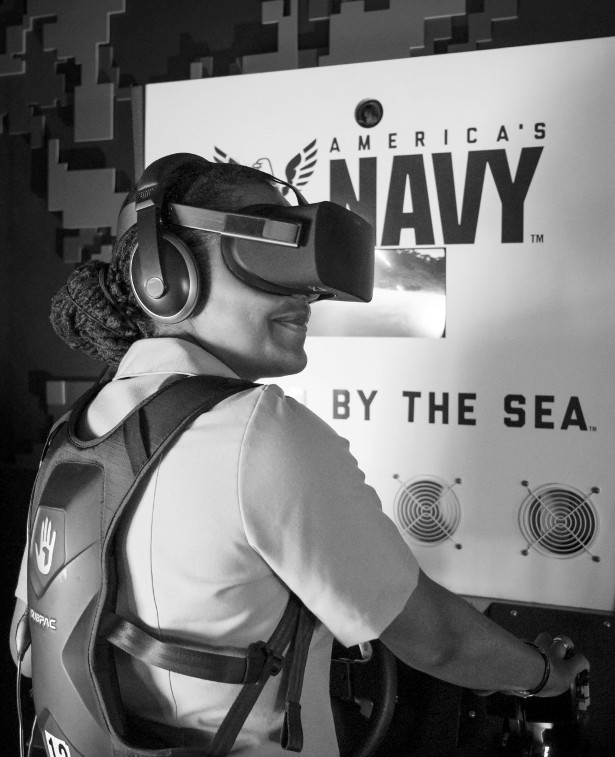 U.S. Navy photo by Chief Mass Communication Specialist Diana Quinlan.
220509-N-WF272-1022 PHILADELPHIA (May 9, 2022) U.S. Navy Lt.j.g. Cara Edwards, a native of Mitchellville, Md., assigned to the amphibious dock landing ship USS Harpers Ferry (LSD 49), experiences the Navy's virtual reality asset, the "Nimitz," during a Navy Promotional Day (NPD) Philadelphia, May 9, 2022. An NPD is a proprietary recruitment program built specifically for the purpose of attracting the brightest, diverse high school and college prospects, and showcasing opportunities for both military and civilian careers. The purpose of a NPD is to build and sustain strategic networks with high schools, universities and colleges, and to promote Navy awareness within diverse and under-represented communities while building a pool of Science, Technology, Engineering, and Mathematics (STEM) talent.
---
CKAR Hosting Free Health Fair May 22 in Riverdale Park
By JEANETTE MITCHELL
CKAR
Riverdale Park, Md. (May 10, 2022)—CKAR has partnered with local healthcare organizations to provide healthcare services and information to uninsured families and individuals. It will be the second health fair that CKAR and partners are conducting. The first health fair was held in the fall of 2021 and serviced over 300 individuals. This year's health fair will be on May 22, from 11 a.m. to 2 p.m., in the parking lot at 5711 Sarvis Avenue in Riverdale Park. The parking lot is behind the M-NCPPC building near the corner of Kenilworth and Sarvis Avenues. We have many healthcare providers confirmed this year, giving families and individuals complete access to services and information. In addition, CKAR will have three healthcare vans on the premises. Insurance and ID are not required. Fun activities will be available for children.
Some of the free health care services and information provided will include:
• Diabetes, cholesterol, and blood pressure screenings
• Vision screenings
• Making appointments for follow up care
• Dental and mental health education
• Adult COVID-19 vaccines & test kits
• WIC enrollment
• Assistance enrolling in health insurance
Partners: Kaiser Permanente, Parks & Recreation – Maryland National Capital Park and Planning Commission, Town of Riverdale Park, Luminis Health, PGC Health Connect, Elaine Ellis Center of Health, District 3 Councilwoman Dannielle M. Glaros, The Arc of Prince George's County, Greater Riverdale Thrives, University of Maryland Child Development Lab, Maryland Physicians Care, Maryland WIC, Town of Hyattsville, Maryland Eye Care Center, Riverdale Park Pediatric Dentistry, Prince George's Community Conferencing Program, Riverdale Park Fire Department, Community Advocates for Family & Youth, UMD Together Program, LAYC, American Foundation for Suicide Prevention – Maryland and Delaware, ICNA Relief
Central Kenilworth Avenue Revitalization Community Development Corporation (CKAR) is a 501(c)(3) nonprofit organization in Riverdale Park, Maryland, that forms strategic partnerships to implement projects in the Greater Riverdale community. Those projects include community and economic development, workforce training, environmental sustainability, business retention, and advocacy. Check out their website at ckarcdc.org to learn more about this organization and its many contributions to families and businesses.
---
MedStar Health to Open Renovated Behavioral Health Unit in Prince George's County
Ribbon cutting with federal, state, and local representatives sets the stage for opening
By BRENDAN MCNAMARA
MedStar Health
CLINTON, Md. (May 10, 2022)—MedStar Health is set to open a state-of-the-art behavioral health facility at MedStar Southern Maryland Hospital Center in Prince George's County after a ribbon cutting at the new unit with federal, state, and local representatives. The $7.6 million project is supported in part by federal and state funding aimed at addressing growing behavioral health challenges across the region.
The 13,000-square-foot renovated floor of the hospital's 4-East unit features four new treatment areas, dedicated examination space, a quiet room, and a new facility to conduct administrative hearings as patients receive care. The overall goals of the project include enhancing the quality of behavioral health care, improving patient outcomes, minimizing readmissions, and protecting associate and patient safety. Each year, an average of 2,400 patients visit the hospital for behavioral health issues.
"Meeting our goals for the new unit starts with providing our behavioral health patients with the best therapeutic experience possible," said Stephen T. Michaels, MD, president of MedStar Southern Maryland Hospital Center. "The new tools and upgrades we've incorporated into our clinic are designed to help patients recover physically, mentally, and emotionally, during what is likely one of the most stressful moments of their lives."
Today, Dr. Michaels was joined by U.S. Representative Steny Hoyer (MD-05), Prince George's County Executive Angela Alsobrooks, Maryland State Senator Michael A. Jackson, among other community and MedStar Health leaders at a ribbon cutting held for the new-and-improved unit.
Rep. Hoyer helped secure federal funding for the project through the FY2022 Omnibus Appropriations Bill passed in March. The Maryland Hospital Association's Bond Project also awarded the hospital a $840,000 grant, which was included in state funding allocated during the 2021 legislative session.
"I appreciate the challenges that the COVID-19 pandemic has brought about for so many who were already struggling with mental health and addiction disorders both in Maryland and across the country. Strengthening resources for our community during this challenging time and into the future remains a critical priority," said Congressman Hoyer. "I am so proud of the new MedStar Health behavioral unit in Prince George's County that will strengthen access to essential health services and address the increasing behavioral health needs in our district. I was glad to secure $925,000 in federal funding for this project in the FY2022 Omnibus and know that this state-of-the-art facility will improve lives."
"We are excited to open this behavioral health unit here in Prince George's County," said Prince George's County Executive Angela Alsobrooks. "We know that mental health is a critical component of overall health and wellness, which is why expanding behavioral health services has been a critical component of our goal to build a continuum of care in our County. Prince Georgians deserve to have access to quality healthcare right here at home, and we want to thank MedStar Health for helping provide greater access to these much-needed healthcare services."
"As someone who spent the majority of his professional career in the public safety field, I have an acute understanding of the importance of mental healthcare in relation to overall public health and safety," said State Senator Michael A. Jackson. "Providing both quality and accessible care for behavioral health needs is an absolutely essential public service and I'm incredibly grateful to MedStar Health for their leadership in ensuring these services in Prince George's County and throughout all of Southern Maryland."
MedStar Health's significant investment in the renovations underscores the health system's commitment to improving behavioral health for both patients and associates, especially as stressors amplified by the COVID-19 pandemic continue to impact daily life nationwide.
"When it comes to caring for people, protecting and improving the mental health and wellbeing of our patients and associates has always been a critical priority for MedStar Health," said MedStar Health President and CEO Kenneth A. Samet. "This important investment in Prince George's County helps address the growing behavioral health needs that have escalated significantly over the past two years of the pandemic. By committing to projects like the renovated unit at MedStar Southern Maryland Hospital Center, as well as supporting other initiatives across our health system, we will be better able to serve our region for decades to come."
Since 2012, MedStar Southern Maryland Hospital Center has invested more than $100 million into improving facilities, including the hospital's recently opened Emergency Department and the MedStar Georgetown Cancer Institute in partnership with the Georgetown Lombardi Comprehensive Cancer Center. The new behavioral health unit will officially open its doors to patients later this month.
---
Atworth Breaks Ground in College Park
Atworth will deliver 451 apartment homes reserved for residents with incomes at or below 80 percent of AMI, with affordability guaranteed for the duration of the 98-year ground lease
By PRESS OFFICER
Gilbane Development Co.
COLLEGE PARK, Md. (May 11, 2022)—Gilbane Development Company, Metro, and Amazon were joined today by local elected officials, project partners, and members of the community at a groundbreaking ceremony to celebrate the start of construction at Atworth, a 451-unit affordable apartment community featuring a 324-space parking garage; 5,000 square feet of ground floor retail space; a one-acre public park activated with public pedestrian and bicycle pathways; community amenities including 2 courtyards, pool, fitness/yoga, rooftop deck; and, a community garden and public art.
Atworth is an example of transit-oriented development, a unique approach to preserve and create affordable housing options so moderate- to low-income families can afford to live near and benefit from quality public transit. Transit-oriented development provides equitable economic opportunity, reduced traffic congestion and associated environmental benefits, reduced time commuting, and reduced expenses associated with auto ownership. Residential and commercial uses are built adjacent to the existing College Park Metrorail and MARC commuter rail stations, as well as the future Purple Line station which is currently under-construction and overseen by the Maryland Transit Administration. Metro is ground leasing a portion of its station property to the Gilbane Development Company for the project, under Metro's Joint Development Program. A $56.3 million low-rate loan to Gilbane Development Company from Amazon's Housing Equity Fund ensures the project will provide critical workforce housing affordable to families earning 80 percent of area median income (AMI) for entire term of the 98-year lease.
"Gilbane Development Company is elated to reach this important groundbreaking milestone for Atworth," said Robert "Bobby" Gilbane, Jr., vice president of Gilbane Development Company. "Today is a promise fulfilled, a celebration of like-minded partners coming together to find new and creative ways to deliver necessary housing to the community. Atworth would not be possible without Metro and Amazon's investment, and it could not be sustained without Prince George's County's involvement. Together, we worked creatively to make Atworth happen."
"It is exciting to see construction happening to deliver affordable housing at the College Park Metro Station in the University of Maryland Discovery District," said Dannielle Glaros, Member, County Council, Prince George's County, representing District 3. "This investment by WMATA, Amazon's Housing Equity Fund, and Prince George's County is the type of partnership that is necessary to ensure more mixed-income communities, so that working families will always have access to jobs, transit, quality housing, and opportunity in our region."
"Metro is a national leader in joint development, and Atworth is a great example of what our program is all about: revitalizing underused properties, expanding affordable housing and access to Metro stations, and unlocking economic benefits to support Metro as a connector to the region," said Metro's Executive Vice President and Chief Financial Officer Dennis Anosike. "This project will generate ridership and revenue for Metro, as well as support residential expansion, businesses, and tax revenue for our local and state partners."
"Last June we announced a $125 million commitment to expedite affordable housing at Metro stations," said Senthil Sankaran, Principal, Amazon Housing Equity Fund. "This is an exciting next step to bring affordable housing—and the many benefits of living near high-quality transit in a high opportunity area—to 450 households in Prince George's County." Atworth is located at 4201 River Road in College Park, MD, home to the University of Maryland.
Atworth is a 451-unit affordable apartment community featuring a 324-space structured parking garage, 5,000 SF of ground floor retail space, and a 1-acre public park activated with public pedestrian and bicycle pathways, amenities, and public art features. Atworth is adjacent to the College Park Metro station, home to the University of Maryland. The Atworth development will be within walking distance to the under-construction Purple Line, which will serve the MARC commuter rail with service to Baltimore, Maryland, and Washington, D.C. Register for updates at https://atworthcollegepark.com/
Gilbane Development Company is the real estate development, financing, and ownership arm of Gilbane, Inc., a 150-year-old family-owned company. With over $8 billion in development and more than 20,000 units of housing completed/underway, Gilbane Development Company's projects incorporate every aspect of real estate including: multifamily housing (market rate apartments, student housing, and affordable housing); single-family residential communities; mixed-used developments; healthcare facilities; K–12 schools; government facilities; garage/parking areas; corporate headquarters; operational | data | distribution centers; R&D | manufacturing facilities; and, many types of facilities delivered through public-private partnerships. Visit www.gilbaneco.com/development
Amazon is guided by four principles: customer obsession rather than competitor focus, passion for invention, commitment to operational excellence, and long-term thinking. Visit amazon.com/about and follow @AmazonNews.
Metro sells and leases property to private developers through its Joint Development Program with the objective of maximizing the benefits of transit-oriented development. Since 1975, Metro has completed 55 projects at 30 stations totaling 17 million square feet of residential and commercial real estate, which supports the region's economic growth and competitiveness. Metro continues to encourage further investment in Metro station areas by periodically offering new properties for development. Visit https://wmata.com/business/realestate/index.cfm