January 13 - January 19, 2022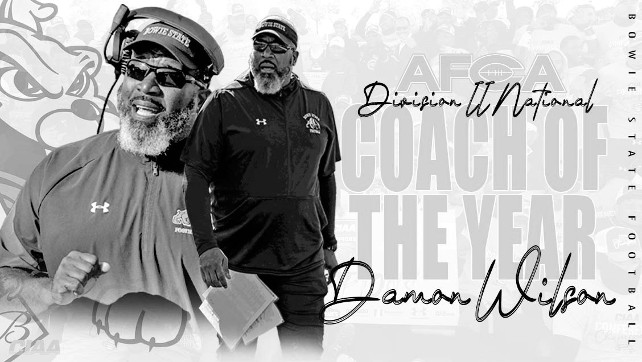 Bowie State's Damon Wilson Named 2021 AFCA Division II National Coach of the Year
By JOLISA WILLIAMS
Bowie State University Athletics
SAN ANTONIO, Tex. (Jan. 10, 2022)—The American Football Coaches Association announced Bowie State head football coach Damon Wilson as the AFCA National Coach of the Year for the NCAA Division II on Monday morning at the Centennial AFCA Convention.
"This is the ultimate team award," said Wilson. "I appreciate the recognition but it's impossible to win this award without great coaches, players and alum's buying in. I understand the impact of this award and its history."
Wilson, in his 12th year as head coach of the Bulldogs football program, guided Bowie State to a 12-2 record, BSU's third-straight Central Intercollegiate Athletic Association (CIAA) Northern Division title and championship with a 7-0 league record, and the programs fourth consecutive NCAA appearance and first ever NCAA quarterfinal appearance in program history.
He was the CIAA Coach of the Year and AFCA Super Region II Coach of the Year. Wilson has an 89-45 overall record with a total of four NCAA playoff appearances, a total of seven CIAA Northern Division titles and three CIAA championships.
The award is the first for not only Bowie State but for the CIAA conference as Wilson becomes the first CIAA coach to win the prestigious and national award.
Award History
Lynn "Pappy" Waldorf, then of Northwestern, was named as the first AFCA Coach of the Year in 1935. One national winner was selected from 1935 through 1959. From 1960 through 1982, two national winners were selected—one representing the University Division and one from the College Division. From 1983–2005, four national winners were chosen. In 2006, the AFCA started honoring an NAIA Coach of the Year, bringing the total to the five honorees we have today. Prior to 2006, the NAIA was a part of the AFCA's Division II membership category.
For the most up-to-date information on Bowie State University Athletics and its 13 varsity sports teams, please visit www.bsubulldogs.com
---
Bowie State's Gregory Goings to be Inducted Into 2022 CIAA John B. McLendon Hall of Fame Class
By JOLISA WILLIAMS
Bowie State University Athletics
CHARLOTTE, N.C. (Jan. 4, 2022)—Former Bowie State University Athletic Administrator and Sports Information Director Gregory C. Goings has been selected as a member of the Central Intercollegiate Athletic Association's (CIAA) 2022 John B. McLendon Hall of Fame Class, the conference announced Tuesday.
Goings will be among six inductees, who accolades within the conference span for over six decades, joining Andre' Altice (Shaw University), Dr. Beverly Downing (Livingstone College/Saint Augustine's University), Greg Jackson (Saint Paul's College/North Carolina Central University), Amba Kongolo (North Carolina Central University) and Jamie Waller (Virginia Union University).
Goings began his illustrious career in the sports information profession in 1988 at Virginia State University, serving in the role of Sports Information Director until 2000. While at VSU, Goings also served as President of the CIAA Sports Information Directors Association from 1993–1999.
From 2003 until his retirement in June of 2021, Goings led the athletic media relations and sports information department at Bowie State University. During his time at BSU, Goings held several leadership positions throughout the athletic communications field to include an At-Large Representative for the College Sports Information Directors Association (CoSIDA) Board of Directors (2011-2015) and President of the NCAA Division II Sports Information Directors Association (2011-2014), becoming the first ever African American to hold this position. Additionally, Goings has served as a high school and college basketball official for nearly 40 years and, since 1992, has served as a public address announcer and statistician for several prominent tournaments and televised events, including the CIAA Basketball Tournament, Black Entertainment Television (BET), and many others.
Goings is a three-time recipient of the John Holley CIAA Sports Information Director of the Year awardee and received the CoSIDA Lifetime Achievement Award in 2021. He is a 1981 graduate of Virginia State University and a Lifetime Member of Alpha Phi Alpha Fraternity, Inc.
The last time Bowie State had a representative inducted into the CIAA Hall of Fame was former Bowie State President Dr. Mickey L. Burnim from the 2017 Class.
The 2022 John B. McLendon CIAA Hall of Fame class will be officially inducted at the CIAA Hall of Fame Induction Ceremony on Friday, February 25. The event will be a part of the week-long schedule of events encompassing the 2022 CIAA Basketball Tournament, being held February 22–26 in Baltimore. Ticket packages and information about the induction ceremony are available on the John B. McLendon CIAA Hall of Fame page at www.theciaa.com, also at https://theciaatournament.org.
Since its inception in 1967, the CIAA Hall of Fame has enshrined 299 honorees. It was renamed after legendary coach and administrator John B. McLendon in 2000. A 1978 Hall of Fame inductee, McLendon is also credited as one of the founding fathers of the CIAA Basketball Tournament, which began in 1946.
For the most up-to-date information on Bowie State Athletics and its 13 varsity sport teams, visit www.bsubulldogs.com
---
12 PGCPS Students Awarded Posse Scholarships
Posse Scholars receive full four-year college scholarships to select institutions
By PRESS OFFICER
PGCPS
UPPER MARLBORO, Md. (Jan. 5, 2022)—Twelve Prince George's County Public Schools (PGCPS) seniors will receive four-year, full-tuition college scholarships from colleges and universities who partner with The Posse Foundation.
"We are 'PGCPS proud' of our scholars on achieving this honor," said Dr. Monica Goldson, Chief Executive Officer. "They represent the best of Prince George's County Public Schools and I am pleased by this reward for their hard work."
Known as Posse Scholars, students from across the nation will enter partnering colleges and universities this fall in multicultural groups of 10 ("posses"). Throughout their college career, they will support each other and receive ongoing assistance from The Posse Foundation. Students participating in the Posse program have a 90 percent college graduation rate, and have proven to make a difference on campus and in their professions.
The PGCPS Posse Scholars include:
Michèe Brika, Largo High School – Lewis & Clark College
Christopher Brown, Bowie High School – University of Rochester
Realyn Mae Del Campo, Parkdale High School – Bucknell University
Aaron Dent, Oxon Hill High School – University of Wisconsin-Madison
Samuel Grace-Conyers, Suitland High School – Sewanee: The University of the South
Muna Kamara, Chesapeake Math & IT Academy – Bucknell University
Jasmin Maldonado, Parkdale High School – Sewanee: The University of the South
Daphne Nwobike, Charles H. Flowers High School – Sewanee: The University of the South
Christianah Olufade, Eleanor Roosevelt High School – Lewis & Clark College
Morgan Pringle, Chesapeake Math & IT Academy – Bucknell University
Jimmi Rios, International High School at Langley Park – Lewis & Clark College
Jefferson Turcios, Parkdale High School – University of Rochester
For more information on The Posse Foundation and the Posse program, visit www.possefoundation.org
---
More Than 40% of Motorists Don't Carry Emergency Kit in Their Vehicles
Hours-long backup on I-95 underscores importance of being prepared
By PRESS?OFFICER
AAA
WASHINGTON (Jan. 6, 2022)—In the wake of the crash on I-95 in Virginia that left some motorists stranded for more than 24 hours, and ahead of snow in the forecast for Friday morning, AAA is reminding drivers of the importance of being prepared for any possibility, even when the plan is to just go a short distance or to be out for just a short time. Specifically, drivers are being urged to put together a simple winter emergency kit they can keep in their vehicles so that the inconvenience of a breakdown or backup does not result in what could be a life-threatening situation.
Previous AAA research indicates that more than 40% of motorists do not carry an emergency kit in their vehicle.
"While the backup on the Virginia highway seems an extreme example, hours-long delays on winter roadways are not unusual," says Ragina C. Ali, spokesperson for AAA Mid-Atlantic in Maryland and Washington, D.C. "And, these situations are hardly limited to the Northeast. We've seen the same from Georgia to Texas. Just a little bit of snow or ice can leave motorists stranded for hours on end."
In addition to winter-specific items such as a snow shovel, scraper or de-icer, AAA reminds drivers to always have a few extra blankets, water and snacks on hand and, when traveling with anyone who may have medical needs, it is always critical to have extra medications available to meet those needs as well.
"The worst of winter is still ahead. Whether you plan to drive a short distance to the gym or plan to get away for a long weekend, consider the possibility of a breakdown or delay and plan accordingly," Ali adds.
AAA Winter Emergency Kit includes:
• Mobile phone and car charger
• Flashlight with extra batteries
• Jumper cables or jump pack
• Basic toolkit (screwdrivers, pliers, adjustable wrench, duct tape, plastic zip ties)
• Tarp, raincoat and gloves to help stay clean/dry working at the roadside
• Rags, paper towels or pre-moistened wipes
• Warning devices (flares, reflective triangles or LED beacons)
• First-aid kit
• Drinking water
• Snacks/food for your passengers and any pets
• Ice scraper
• Snow brush
• Winter windshield washer solvent
• Traction aids (sand, salt, non-clumping cat litter or traction mats)
• Shovel
• Warm gloves, clothes, hats and blankets for all passengers in your car
Winter Emergency Kits available through AAA:
Due to increased interest, a limited supply of AAA Emergency Road Kits are available at all AAA Retail locations and on www.AAA.com
Make sure your AAA Membership is up to date or join AAA today by visiting www.AAA.com
---