January 17, 2019 - January 23, 2019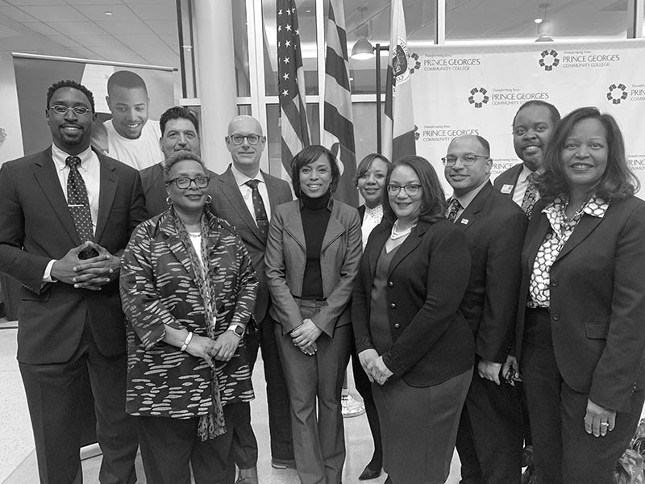 Photo Credit: John Webster, Prince George's Community College.
Dr. Charlene Dukes, PGCC president, and Angela Alsobrooks, Prince George's County executive, joined with county and regional partners to announce efforts to assist families affected by the government shutdown.
.
PGCC to Provide Assistance For Students Affected by Partial Shutdown
By TABRESHA LANGHAM
Prince George's Community College
LARGO, Md. (Jan. 10, 2019)—Prince George's Community College (PGCC) announced that it will provide assistance to students impacted by the current federal government shutdown at a press conference with Prince George's County Executive Angela Alsobrooks and other county and regional partners.
"We understand that some of our students may be adversely affected because of the government shutdown. We are committed to support these students and ensure that their educational endeavors are not prolonged or interrupted," said PGCC President Dr. Charlene Dukes.
County Executive Angela Alsobrooks said, "We anticipate as of tomorrow that many of our neighbors and friends and loved ones will wake up and feel the stress of having not received a paycheck." She continued, "I am really pleased to stand today with a number of our partners who have come together to express to our residents, that although the federal government may be shut down, we are fully operational."
If students or their families are experiencing financial hardships as a result of the government shutdown, PGCC would like to help them avoid any interruption to the upcoming semester. Tuition assistance programs will be available for eligible students to support the academic and career goals of those impacted. To learn more about the criteria and required documents, students should contact the Tuition Assistance Hotline at 301-546-0154.
"The government shutdown may create unforeseen financial challenges for families and individuals," said Dukes. "Our goal at the college is to help alleviate stress and worry for those impacted so that they continue their pursuit of a higher education with the necessary focus and determination."
Interim CEO Goldson Announces New Fund To Cover Student Meal Fees
By OFFICE OF COMMUNICATIONS
Prince George's County Public Schools
UPPER MARLBORO, MD (January 10, 2019)—Today, Dr. Monica Goldson, Interim Chief Executive Officer, announced a new fund to support Prince George's County Public Schools (PGCPS) students who need a hot meal during the federal government shutdown and beyond.
The 10,000 Meals Challenge fund, established through the nonprofit Excellence in Education Foundation for PGCPS, will allow community members to assist in covering student meal fees. The issue has been a major topic of discussion and concern with the continuing federal government shutdown.
Earlier this week, at the request of the Board of Education, the school system examined a proposal to provide free meals to all students impacted. On Monday, Dr. Goldson announced the system would cover hot meal costs through Friday.
"With each passing day, the shutdown creates more uncertainty for families across Prince George's County. While the shutdown may have sparked this conversation, the reality is that school meal debt remains a challenge for students, families and schools," said Dr. Goldson. "Students, school needs and their communities are at the core of our decision-making. I am grateful for our community partners and their continued commitment to our students. Together, we are making Prince George's County Public Schools a model for caring throughout the region and one we can all be proud of."
The new fund aims to cover the cost of 10,000 meals, ensuring that every child who needs a hot meal receives one. NAI Michael, Old Line Bank, Lanier Electronics and Educational Systems Federal Credit Union have donated $15,000 towards the initiative, which will pay for more than 5,000 meals. Daily school breakfasts cost $1.60; school lunches run between $2.75 and $3 daily.
Donations will be distributed to schools with the greatest demonstrated need. To donate, visit www.pgcps.org and click the 10,000 Meals Challenge button.
National Women's March and the Book "Becoming" To be Focus of D.C. Group Life Coaching Seminar

By FELICIA HODGES
Tigerlily Communications
WASHINGTON, D.C. (Jan 7, 2019)—What better way to kick off an historically diverse 2019 than with a local, group-coaching seminar specifically for women of color?
On January 23, 2019, "Becoming Together: A Group Coaching Conversation for Women of Color" will be held at Busboys and Poets, 2021 14th St. Northwest, in D.C. from 6:30–8:30 p.m. Following closely on the heels of the National 2019 Women's March, the launch of Michelle Obama's best-selling book "Becoming" and the most diverse mid-term election results ever, women of color are invited to be a part of a group coaching conversation for reflection, connection, and an honest discussion about ways to face challenges in work spaces, at home and in their communities.
Patrice Ford Lyn, CEO and founder of Catapult Life Coaching and facilitator of the event, says that, like Michelle, all of us have felt stuck or have sacrificed careers and self-care for the benefit of others. Often, women in marginalized communities feel detached from the conversation about national issues because ethnicity and culture are too often left out of the discussion. This event is a venture to address both.
"Whatever you are facing, chances are you aren't the first or only one," Ford Lyn says. "Michelle Obama gave us a wonderful launch pad in 'Becoming.' Her words are a beacon for us to gather around and harness our shared wisdom."
A Certified Professional Coach and a skilled facilitator/trainer with clients in the D.C. metro area, throughout the U.S., and in several other countries, Ford Lyn guided the start of three-national level organizations and spent 10 years as a management consultant helping leaders build their businesses while supporting them through their own personal growth. She started Catapult Coaching in 2010 to help bring a deep appreciation of the ongoing pressures faced by marginalized groups and the ways these truths can manifest in their lives.
The event includes a complimentary individual coaching consultation for all attendees. Tickets are $25 and must be purchased before the day of the event via Eventbrite (https://www.eventbrite.
com/e/becoming-together-a-group-coaching-conversation-for-women-of-color-tickets-54102132936). Tickets will not be sold at the door.
Log onto https://www.catapultlifecoaching.com for more information.
Aisha Braveboy Sworn in as Prince George's County's Newest State's Attorney During Investiture Ceremony
By DENISE ROBERTS
State's Attorney's Office
UPPER MARLBORO, MD—On Monday, January 7, 2019, during her investiture ceremony, Aisha N. Braveboy, county's top law enforcement officer, was sworn in as the Prince George's County State's Attorney, by the Honorable Sheila R. Tillerson Adams, Administrative Judge of the Circuit Court for Prince George's County and the Seventh Judicial Circuit of Maryland.
"I am deeply humbled by this moment. It is truly a privilege to lead the Office of the State's Attorney. Being sworn into this position is the greatest accomplishment of my professional career," Braveboy said during her inaugural address. "However, serving with the men and women of the State's Attorney's Office, my law enforcement partners, and my colleagues at the courthouse will be one of the greatest joys of my life."
Braveboy was elected by an overwhelming margin after serving two terms as Maryland State Delegate for the 25th District and fighting on behalf of young people through juvenile diversion programs and diligent community engagement.
Earlier that morning, 103 Assistant State's Attorneys, Deputy State's Attorneys and Investigators were also sworn in.
Braveboy's top priorities include strengthening the State's Attorney's Office by retaining, developing and recruiting top talent, while improving office systems and processes. "I have met with each of the over 200 employees and I will be advocating on their behalf for higher pay and training and development," said State's Attorney Braveboy.
A major focus for the Braveboy Administration also includes making Prince George's County an international model for youth justice reform. This will include a much more active and involved diversion effort to turn young people away from criminal involvement.
"I have taken the Juvenile Unit out of the rotation for new attorneys, so that it will be staffed with experienced, dedicated professionals who understand the uniqueness of the juvenile justice system," Braveboy said. "More importantly, it will be staffed by attorneys who understand the opportunities that we have to shape the future of our young people through meaningful diversion, intervention and restorative justice. "
Working with law enforcement partners at the federal, state and local level to end the proliferation of illegal guns and drugs in the Prince George's community is another priority for Braveboy. "We will flag every case used in a crime because we must go after the source of guns, in addition to those who use or deal them on our streets," Braveboy said.
In addition, Braveboy has created a stand-alone Public Integrity Unit that will handle police misconduct cases and public corruption. The unit will offer constitutional policing trainings to all law enforcement agencies and will provide public integrity training for government and elected officials. The unit will also prosecute individuals who unlawfully violate the public trust. "I take this very seriously," Braveboy said. "There is no excuse for corruption and my office will have a zero-tolerance policy for these types of cases."
"I take my new job very seriously. It is the job of my office to take every case, complaint and allegation serious," Braveboy said. "Under my leadership, the discretion and power that this office is bestowed with cannot and will not be used to promote our individual agenda, but will be used in ways that are fair, just and transparent."
Ciaa Board of Directors Select City of Baltimore as Official Home of 2021–2023 Men's and Women's Basketball Tournament
As the CIAA's Only MD School, Bowie State University to Serve as Host Institution
By GREGORY C. GOINGS
Bowie State University Sports Information
Baltimore, MD (January 8, 2019)—The Central Intercollegiate Athletic Association (CIAA®), the nation's first African American athletic conference, has selected Baltimore as the official site of the 2021–2023 CIAA Men's and Women's Basketball Tournament. The announcement, made by the CIAA Board of Directors, comes after a thorough and comprehensive process which included site visits to each city to assess athletic facilities, convention center, hotels, and restaurant options for the popular week-long event. Additionally, three cities selected as finalists, delivered in-person presentations during the Board's fall meeting in Charlotte in early December.
Charlotte, NC, and Norfolk, VA, were among the finalists.
"This is an exciting time for the CIAA as we have an opportunity to bring the basketball tournament to a new market, moving it closer to many of our northern institutions who have travelled to Charlotte for more than a decade," said CIAA Commissioner Jacqie McWilliams. "We are incredibly thankful for our partnership between the CIAA, the City of Charlotte and the Charlotte Regional Visitors Authority (CRVA). Charlotte is still our home, we are still headquartered here. We have built life-long friendships with our partners and the community that goes beyond the tournament. We plan to continue this great relationship."
The tournament has been held in Charlotte for the past 13 years and will remain in the city for the 2019 and 2020 tournaments.
The selection of Baltimore marks the first new location for the CIAA Basketball Tournament since 2005. From the tournament's inception, the popular championship series has been held in Washington, DC, Norfolk and Richmond, VA, Raleigh and Greensboro, NC. Baltimore previously hosted the championship for one year, in 1951.
"The teams and cities that presented their bids to the Board of Directors were energetic and impressive. What stood out about Baltimore was their vision of how the CIAA Basketball Tournament could be woven into the fabric of the city. Also important was Baltimore's commitment to provide scholarships for the CIAA institutions and overall support of the hotel and business communities," said CIAA Board Chair and Fayetteville State University President Dr. James A. Anderson. Key community activities featured within the tournament, such as Education Day, the Career Expo and Toyota Fan Fest will continue in Baltimore as well.
"We are honored to have been chosen as the host city for the CIAA's 2021–2023 tournaments. We are thrilled that the CIAA organization has recognized what we all know very well—Baltimore is a city of unsurpassed hospitality and civic and cultural amenities that make it a destination for hundreds of thousands of visitors annually," said Mayor Catherine E. Pugh. "We look forward to welcoming the CIAA, its players and many fans, and to hosting these major tournaments in a way that demonstrates what a truly great city we are, and what a great decision this will be for all."
Located in the growing DC-Maryland-Virginia (DMV) corridor, where a robust CIAA alumni community resides, Baltimore is a short drive from member institution Bowie State University. "As president of the only CIAA school in Maryland, I am excited that the City of Baltimore has been selected as the new home for the CIAA Basketball Tournament. Baltimore has a rich history in basketball and sport. City officials, including Mayor Catherine Pugh, presented a strong, comprehensive plan to support CIAA teams and welcome our fans to the city," said Dr. Aminta Breaux, Bowie State University President. "The Conference Board is looking forward to introducing sports enthusiasts throughout the Mid-Atlantic corridor to the CIAA tournament experience."
"With attendees arriving by road, rail and air, the CIAA-Baltimore partnership offers a tremendous opportunity to showcase and benefit the greater Baltimore region as well as the entire State of Maryland. We are especially excited to highlight Baltimore's sports history and venues as well as Maryland's great educational institutions like Bowie State," said Lt. Governor Boyd Rutherford on behalf of the Hogan Administration.
Founded in 1912, the Central Intercollegiate Athletic Association (CIAA) is the first African American athletic conference and one of the most recognized conferences in Division II.