November 24- November 30, 2022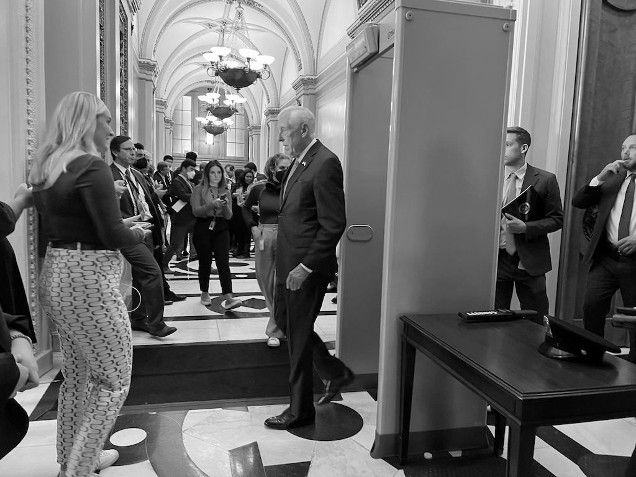 Ekaterina Pechenkina/Capital News Service
WASHINGTON—House Majority Leader Steny Hoyer, D-Maryland, leaves the United States Capitol Thursday after telling colleagues in a letter that he would leave leadership but remain in the House.
So Close to Speakership, Hoyer to Step Away from Leadership Role, Remain in House
By COURTNEY COHN
Capital News Service
WASHINGTON (Nov. 17, 2022)—House Majority Leader Steny Hoyer of Maryland, has decided to leave his position as the second-ranking Democrat—a post he has held in the minority and the majority since 2003—but will remain in the House.
Hoyer for years was considered a likely successor to House Speaker Nancy Pelosi, D-California. But as she stepped away from her post Thursday (Nov. 17), so too did Hoyer, part of a smoothly-engineered transition to younger party leadership.
In a letter to his fellow House Democrats on Thursday, Hoyer said: "Like my dear friend, John Lewis, I believe God's work for us is to create that 'beloved community' for which John worked so consistently and courageously. I believe there is much for me still to do in pursuit of that endeavor. I believe that it is time for me, however, to continue my service in a different role."
"Now is the time for a new generation of leaders, and I am proud to offer my strong endorsement to Hakeem Jeffries for Democratic Leader," said Hoyer, who is 83 years old.
Hakeem Jeffries has represented New York's 8th District since 2013. He serves on the Budget Committee and Judiciary Committee.
He is 52 years old, much younger than the current leadership.
Rep. Bennie Thompson, D-Mississippi, who is the chairman of the Jan. 6 Select Committee, has worked with Hoyer in the House for almost 30 years and has valued his leadership.
He told Capital News Service that he's relieved that there isn't a "dog fight" as to who will lead the party next and that Democrats are making a smooth transition to younger members in leadership.
"I'm glad that we leave with an understanding that it's time to pass the torch," Thompson said.
Democrats lost control of the House in this election, so Jeffries would be serving as a minority leader—and the first Black party leader in American history—for the next two years. However, Hoyer thinks that Jeffries will be speaker after the next election cycle.
"He is a skilled and capable leader who will help us win back the majority in 2024 as we strive to continue delivering on our promises to the American people," Hoyer said.
Hoyer will still continue his work in the House serving Maryland's 5th District.
"I do intend to continue my service in Congress and return to the Appropriations Committee as a member to complete work in which I have been involved for many years, including my focus on education, health care, and investing in America's productive manufacturing capacity to create more jobs and opportunities for our people," Hoyer said in his letter.
He said he also thrives fighting for equality, especially focusing on voting rights and civil rights.
"I have been honored to serve alongside Nancy Pelosi, whose tenure as Speaker was both historic and extraordinarily productive," Hoyer said.
Pelosi and Hoyer will still play a significant role in the House, even though they are no longer in leadership, according to Thompson.
"I know the next crop of leaders will weigh heavily on their experience and knowledge," Thompson said.
Hoyer said he looks forward to providing his guidance to the next generation of Democratic leaders.
"I am honored to serve with you, and I look forward to what we will surely accomplish together in the years ahead," Hoyer said.
---
M-NCPPC, Department of Parks and Recreation, Prince George's County Announces 36th Annual Winter Festival of Lights
By ANGEL WALDRON
M-NCPPC
Riverdale, Md. (Nov. 17, 2022)—The Department of Parks and Recreation in Prince George's County announces the 2022 Winter Festival of Lights. Now in its 36th year, the festival is a staple in local holiday traditions. With more lights, displays, and entertainment, it is the biggest of its kind in the Washington D.C. metropolitan area.
Since last year, the entrance of the Festival has been relocated to Route 202/Largo Road, across the street from the Riverdale Baptist Church, located at 1133 Largo Road, in Upper Marlboro. Please note that the entrance on Route 193 will be closed.
Back by popular demand are our carriage rides! Create unforgettable memories with this unique experience. Sit cozied up with your loved ones as you ride a horse-drawn carriage through the festival. Hats, gloves and blankets are recommended.
"We know it's the holiday season when the Winter Festival of Lights begins. The festival gets better every year. There's always something new to see," exclaims Bill Tyler, Director of the M-NCPPC, Department of Parks and Recreation. "This year we are happy to again offer horse-drawn carriage rides which were so popular in 2021. We want to ensure the best possible experience for visitors and their families this holiday," says Tyler.
Drive through three miles of whimsical lights and celebrate the magic of the season from the comfort of your vehicle. This year's spectacular drive-through event features dazzling displays with more than 2.5 million LED lights throughout the park and a giant, 54-foot LED musical tree. Please bring a canned good to donate to local food banks.
WHAT: 36th Annual Winter Festival of Lights
WHEN: Friday, November 25, 2022–Sunday, January 1, 2023, daily from 5–10 p.m.
WHERE: Watkins Regional Park, Upper Marlboro, Maryland 20774
COST: Admission fees based on vehicle type and method of payment
Online registration is encouraged. Purchase tickets in advance online and pay only $10 for cars ($15 standard admission). FREE admission on December 25, in appreciation to the residents of Prince George's County for their year-round support of the Department of Parks and Recreation programs. Preregistration for carriage-rides is required, since availability is limited to Tuesdays, Wednesdays and Fridays. Both are now available through https://www.pgparks.com/742/Festival-of-Lights
Bring a little twinkle to your holidays at this spectacular drive-through event. Come celebrate the season with the Department of Parks and Recreation.
The M-NCPPC, Department of Parks and Recreation delivers an award-winning park system through progressive, innovative leadership and a commitment to the community and the environment in Prince George's County. For more on the Department of Parks and Recreation, visit www.pgparks.com and stay connected on Facebook, Twitter, PhotoShelter, and Instagram. The Department of Parks and Recreation encourages and supports the participation of individuals with disabilities in all programs and services. Register at least a minimum of two weeks in advance of the program start date to request and receive a disability accommodation.
---
Clean Water Partnership Announces Kickoff of Nine Pond Project to Help Mitigate Flooding in Hyattsville
By PRESS OFFICER
Clean Water Partnership / Corvias
LARGO, Md. (Nov. 16, 2022)—The Clean Water Partnership, a 30-year community-based partnership between Corvias and Prince George's County, MD, today announced the start of grading operations and construction of a new project in Hyattsville which will create a three-acre pond and stormwater management facility to help mitigate the community's recent flooding issues.
The Nine Pond project, located at the intersection of Toledo Road and Adelphi Road in Prince George's County, is set to begin construction following completion of grading operations (i.e., the excavation or moving of land, dirt and rocks). The CWP has teamed with numerous local businesses in the development and maintenance of this stormwater green infrastructure project, including Bald Eagle Partners, Soltesz, D & F Construction Company, SMI Environmental Site Services, Tina Boyd & Associates and CWP Mentor Protege Program Cohort 2 graduates, Clinton Sewer Experts, Inc. and Arya Civil, LLC.
Once finalized, the project will include a three-acre pond, making this the first combined quality and quantity stormwater project delivered by the CWP on private property. The pond is designed to treat the 103.49 acres of impervious area that will also help to reduce the frequency and severity of flooding experienced by homeowners located downstream of the site along Wells Run. The stormwater improvement facility will also be integrated into the surrounding neighborhood, as an amenity complete with walking trails, and aesthetically pleasing landscape to support nearby wildlife and the environment.
"The Nine Pond project is an example of a successful and unique public-private partnership that can improve the local green infrastructure and have a positive environmental impact," said Angela Alsobrooks, County Executive of Prince George's County. "Addressing our County's water quality and storm-related flooding challenges is a major priority for our Administration as we work to combat the impacts of climate change. The dedication and hard work of CWP's many partners have helped to drive our success over the past seven years."
As part of the design and execution of the Nine Pond project, the CWP has worked closely with Prince George's County Councilmembers Deni Taveras and Dannielle M. Glaros, Prince George's County Department of the Environment (DoE), Maryland Department of the Environment (MDE), the US Army Corps of Engineers, Maryland National Park and Planning Commission, Prince George's Sediment Control District, Washington Suburban Sanitary Commission, the Town of University Park and the City of Hyattsville.
Since 2015, the CWP has completed nearly 170 individual projects treating more than 4,500 impervious acres of public and private land in Prince George's County. The CWP has exceeded its contractual goals with the county for stormwater improvements on school grounds, parks, municipal and private land and homeowner association properties and will maintain these acres over the next 30 years.
The CWP has also helped grow local business capacity by utilizing small, local and minority-owned businesses. Overall, 63 percent of the work being done on these projects is by county residents and 79 percent of projects are being done by local and disadvantaged, minority business enterprise businesses, exceeding the CWP's target goal by more than 30 percent and includes more than $179 million in subcontracts.
"The Clean Water Partnership has been instrumental in demonstrating how we can effectively improve stormwater infrastructure combining public and private sector know-how and expertise," said Corvias Managing Director Tim Toohey. "Through our collaborative efforts with our municipal partners and stakeholders, we are continuing to support local businesses across Prince George's County."
As a privately-owned company headquartered in Warwick, RI, Corvias partners with higher education and government institutions nationwide to solve their most essential systemic problems and create long-term, sustainable value through our unique approach to partnership. Corvias pursues the kinds of partnerships that materially and sustainably improve the quality of life for the people who call our communities home, purposefully choosing to partner with organizations who share our values and whose mission is to serve as the foundational blocks, or pillars, of our nation. To learn more, please visit Corvias.com.
The Prince George's County and Corvias Community-Based Public-Private Partnership (CBP3), also called the Clean Water Partnership (CWP), is an agreement between County government and the private sector to retrofit over 4,000 acres of impervious surfaces using green stormwater infrastructure. This community-focused program works to address the water quality of the Chesapeake Bay, while simultaneously focusing on the needs of Prince George's County residents and local businesses. The CWP has received national recognition from the White House and EPA, as well as the National Resource Defense Council as a successful and innovative approach to better infrastructure.
---
Prince George's County Council Passes the Most Comprehensive Food Truck Legislation
Eliminates Food Truck Hubs and Allows Vendors to Operate in Numerous Locations within the County
By PRESS OFFICER
PGC Economic Development Corporation
LARGO, Md. (Nov. 17, 2022)—The Prince George's County Council recently passed the most comprehensive Food Truck legislation in the history of the County. The legislation (CB-053-2022) eliminates food truck hubs and allows vendors to operate in numerous locations within the County, with explicit permission from the property owner or property manager.
The Food Truck Committee was instrumental in escalating the concerns of accessibility for food truck operations in Prince George's County. The committee worked tirelessly with the Economic Development Organization, County agencies, and elected officials to advocate for the legislation that brings more food access to Prince George's County and economic development to our food and beverage service community.
Councilmember Jolene Ivey (Councilmanic District 5) spearheaded the effort, noting that the County's food truck hub system significantly limited operational access for the food truck community. This initiative took nearly four years, with many meetings and negotiations by the County's Food Truck Hub Oversight Committee, various departments, agencies, and the County Executive's staff.
The new legislation, which takes effect in early December (45 days after passage of the legislation), allows, with permission from the property owner or manager, food trucks to operate in:
• Office and Business Parks
• Industrial and Employment Parks
• Commercial Areas and Retail Shopping Centers
• Properties of Faith-based Organizations, Membership Pools, and Non-Profit Organizations
• Agricultural Facilities such as Wineries, Farms, and Orchards (with adequate running potable water & sewage disposal)
• Food Halls, Farmers Markets, and Other Temporary Food Associated Venues
• Active Construction Sites
• County, State, and Federal Facilities Open to the Public
• Golf Courses and Dog Parks
All food truck vendors are still required to acquire a Mobile Food Permit and have their vehicles inspected by the Fire and Health Departments prior to vending in the County. Operation of food trucks in any public right-of-way not expressly authorized by the legislation is still strictly prohibited.
To kick off this new legislation, a public event will be held at a later date to welcome back local food truck vendors, many whose sales were dramatically affected by the COVID Pandemic.
"The passage of this historic legislation is great step in supporting the entrepreneurial spirit of our Food Truck community by expanding the vending opportunities in the County," said David Iannucci, President and CEO, Prince George's County Economic Development Corporation. Our vendors seek to live, work and play in the County they love, and this legislation provides the pathway to success for our local business. A healthy, thriving food truck community is an integral part of a solid pipeline of commercial development with our food service providers and creates an amenity destination for our county residents."
For more information on licensing your Mobile Food Truck in Prince George's County, please go to Food Service Facility Categories | Prince George's County, MD (princegeorgescountymd.gov)
PGCEDC's mission is to cultivate and promote a strong local economy that supports the growth and prosperity of entrepreneurs and businesses, dedicated to strengthening communities through business development and job creation. For more information about the services the EDC provides to local companies, visit www.pgcedc.com.
---