August 2 - August 8, 2018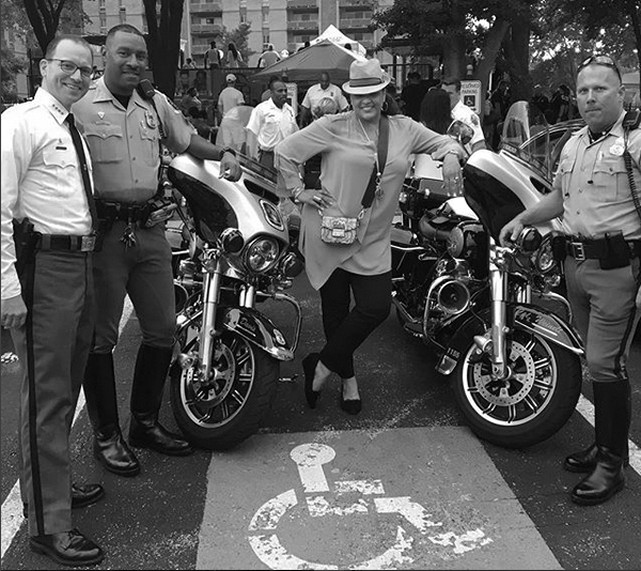 Creating Safer Neighborhoods Through Community-Police Partnerships and Camaraderie
Celebrating 35 Years of Community-Building, the 2018 National Night Out Takes Place On August 7
By Jen Sheckels, Editor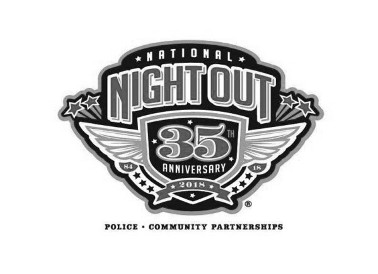 "[National Night Out is] a chance to bring neighborhoods together with the men and women who protect them. The safety of our communities depend on both law
enforcement and the neighbors they serve. National Night Out enhances that cooperation."—Joe Biden, Vice President
August 7, 2018 will mark the 35th anniversary of the National Night Out program, sponsored by the National Association of Town Watch. Founded in 1984, National Night Out was developed to strengthen the sense of community between neighbors and their local police departments and promote anti-crime programming.
Starting the Conversation
In the late 1970s, Matt Peskin began volunteering for his local Community Watch program in Lower Merion County, a suburb of Philadelphia, Pennsylvania. This group worked closely with its local police department, giving Peskin an opportunity to assist in neighborhood patrols and dispatch.
As the program's success grew, Peskin developed a newsletter highlighting the positive impact this partnership was producing. Building out, he looked to other local jurisdictions for additional new content to keep the newsletter fresh and inspire further success. He discovered an abundance of similar groups. The only problem was there wasn't one unifying entity to connect them all together.
Peskin spearheaded efforts to do just that, founding the National Association of Town Watch in early 1981. This organization provided the means and resources for motivating, informing, and supporting these local watch groups across the nation. The program grew steadily with the support of neighborhoods and local law enforcement agencies until in 1984, the National Night Out program was introduced.
35 Years and Still Growing
Today, National Night Out touts that an astounding 38 million neighbors in 16 thousand communities across all 50 states take part in the program.
Celebrated annually on the first Tuesday of August, communities will turn on their porch lights, step outside, and join with their neighbors and the men and women of local law enforcement in partnership to take a stand against crime and violence while promoting a safer, more considerate, place to live.
From cookouts to parades, block parties and festivals, National Night Out events take many forms. But the goal of each remains the same—neighbors building stronger relationships with other neighbors as well as their local law enforcement officers while learning from emergency personnel, watching demonstrations, and gaining other useful information to support and promote anti-crime programs in their communities. The result is a positive experience that not only brings a sense of camaraderie to the community as a whole, but serves as a foundation for continued partnership and trust among all.
This August, join your neighbors, local police, Council Members, and other local officials in your community's National Night Out activities on Tuesday, August 7th. For information about the time and locations of events in your area, contact your local police station:
District 1 Hyattsville: 301-699-2630
District 2 Bowie: 301-390-2100
District 3 Landover: 301-772-4900
District 4 Oxon Hill: 301-749-4901
District 5 Clinton: 301-856-3130
District 6 Beltsville: 301-937-0910
District 7 Fort Washington: 301-292-5300
You can also find more information and updated events lists by following the Prince George's County Police Department online at https://www.princegeorgescountymd.gov/345/Police and on Facebook, Twitter, and Instagram (@PGPDNews).
The following is the list of community events scheduled for the 2018 National Night Out in Prince George's County (as of our press deadline July 31, 2018):
District I
Chillum/Ridgecrest/Lewisdale
Rollingcrest Community Center
6120 Sargent Rd., 6–8 p.m.
University City Apartments
Guilford Rd. at Fordham St., 6:30–8 p.m.
University Garden Apartments
1801 Jasmine Terrace, 5–8 p.m.
North Brentwood
4012 Webster St., 6–9 p.m.
Colmar Manor
Newark St. at 40th Ave., 5–8 p.m.
Cottage City
3840 40th Ave., 5–8 p.m.
Hyattsville City
Neurich Park, 2800 Nicholson St., 6–9 p.m.
Casa De Maryland
The Mansion, 8151 15th Ave., 4–8 p.m.
Brentwood
Town Hall, 4300 39th Place, 6–9 p.m.
Riverdale Heights
Riverdale Heights Fire Dept., 6101 Roanoke Ave., 6:30–8 p.m.
College Park Woods Association
College Park Woods, St. Andrews Place/De Pauw Place, 6:30–8 p.m.
Lakeland Association
Lakeland Park, 5000 Lakeland Rd., 6–8:45 p.m.
Bladensburg
Bladensburg Police Department,
4910 Tilden Rd., 5–11 p.m.
New Carrollton
Beckett Field, 8511 Legation Rd., 5–8 p.m.
Riverdale Park
Riverdale Town Center, 5004 Queensbury Rd., 6:30–8 p.m.
Berwyn Heights
Berwyn Heights Town Hall, 5700 Berwyn Rd., 6:30–8 p.m.
Northern College Park
Duvall Field, 9200 Rhode Island Ave., 6:30–8:30 p.m.
Cherry Hill
Cherry Hill Neighborhood Park, 4610 Kiernan Rd., 6:30–8 p.m.
Templeton Knolls/Eastpine
Templeton Knolls Elementary, 6001 Carters Ln., 6:30–8 p.m.
Kingswood Community
Cathedral Ave. Community Park, 5:30–8:30 p.m.
Radiant Valley/Landover Knolls
3500 Maryland Ave., 7–8:30 p.m.
District II
Fairwood Community
12600 Fairwood Parkway, Bowie, 7–9 p.m.
Dresden Green Civic Association
Tiffany Ln./Edgerton Dr., Lanham, 6–8 p.m.
Chelsea Wood Condominiums
8445 Greenbelt Rd., Greenbelt, (Community Pool), 4–7 p.m.
Severn Crossing Community
11811 Backus Dr., 6–8 p.m.
Patuxent Riding HOA
Stallion Court/Arabian Ln., Bowie, 7:30–8:30 p.m.
Lincoln Vista Civic Association
9800 Ridge St., Lanham, 6–8 p.m.
Glen Forest Community
Glen Dale Forest Dr./Oakly Rd, 6–8 p.m.
Ridgewood Park
Grey Gables Court/Campus Way North, 6–8 p.m.
Westview Village
9911 Greenspire Way, 7–8:30 p.m.
Dutch Village/Amish Market
5010 Brown Station Rd., Upper Marlboro, 5:30–8:30 p.m.
Oak Creek Club HOA
14505 Mary Bowie Parkway, Upper Marlboro, 6:30–8:30 p.m.
Cameron Grove
1 Cameron Grove Circle, Bowie, 5–7 p.m.
Kettering Civic Federation and Largo Civic Association
Kettering/Largo Plaza Shopping Center,
10590 Campus Way South, Upper Marlboro, 6:30–8:30 p.m.
District III
Windsor Crossing
3000 Victory Ln., Suitland, 5:30–8:30 p.m.
District Heights Police Dept.
2001 Maury Dr., District Heights, 5:30–8:30 p.m.
TARGET Store
3101 Donnell Dr., Forestville, 6–8:30 p.m.
Oakcrest Towers
Brooks Dr., Capitol Heights, 6–8 p.m.
Fairfield Knolls, Millwood, Waterford
Shady Glen Dr./Walker Mill Rd., Capitol Heights, 6–8 p.m.
Wilburn
Central High School, Cabin Branch Dr., Capitol Heights, 6–9 p.m.
St. Paul Senior Living
1207 Addison Rd. South, Capitol Heights, 6–8 p.m.
Colony Square HOA
5800 S. Hill Mar Circle, District Heights, 5:30–8:30 p.m.
Town of Seat Pleasant
MLK and Sheriff Rd Recreation Center,
6301 Addison Rd., Seat Pleasant, 6–8 p.m.
Town of Glenarden
Teresa Banks Recreation Center, 8615 McLain Ave., Glenarden, 6–9 p.m.
Addison Chapel Apartments
1501 Elkwood Dr., Capitol Heights, 6–8 p.m.
Town of Fairmount Heights
Fairmount Heights Town Hall, Jost St./60th Ave., Fairmont Heights, 6–8 p.m.
District IV
Hillcrest Heights Civic Association
Hillcrest Heights Community Center, 2300 Oxon Run Dr., Hillcrest Heights, 6–8 p.m.
Skyline Civic Association
Skyline Elementary School, 6311 Randolph Rd., Suitland, 6–9 p.m.
Applegrove CA/Rosedale Estates
7007 Bock Rd., Temple Hills, 6–8 p.m.
Church of the Living Waters
4915 Wheeler Rd., Oxon Hill, 6–9 p.m.
Rosecroft Village HOA
2308 W. Rosecroft Village Circle, Oxon Hill, 5–8 p.m.
Concerned Citizens of Lynnalan
Lynnalan Acres Community Center, 9001 Little Stone Dr.,
Fort Washington, 6–8:30 p.m.
District V
All District V Communities
District V, 6707 Groveton Dr., Clinton, 5:30–8 p.m.
District VI
All District VI Communities
District VI, 4321 Sellman Rd., Beltsville, 6–8 p.m.
Powder Mill Village
11300 Evans Trail, Beltsville, 5–7 p.m.
West Laurel
16601 Supplee Ln., Laurel, 6:30–8:30 p.m.
Incorporated City of Laurel
Granville Gude Park, 8300 Mulberry St., Laurel, 6–9 p.m.
District VII
All District VII Communities
District VII Police Station, 11108 Fort Washington Rd., Fort Washington, 6–9 p.m.
Potomac Knolls
1101 Aragona Boulevard, Fort Washington, 6–9 p.m.
Specialized Operations Division (SOD)
District V, VI and VII, 5–9 p.m.
Prince George's County Local Development Council Awards $337,000 In Impact Grants
Funding to Nonprofit Organizations Serving Impact Area Increased 50% Over Previous Year
By PRESS SECRETARY
P.G. County Government
Upper Marlboro, MD (July 25, 2018)—The Office of County Executive and the Prince George's County Local Development Council (PGCLDC) hosted its 2nd Annual Local Impact Grants Awards Ceremony on Wednesday, July 25, 2018, at 7:00 p.m., at the Southern Regional Technology and Recreational Complex, 7007 Bock Road, Fort Washington, Md. This event celebrated the 11 nonprofit organizations that were awarded funding to serve the people and communities in the impact area around MGM National Harbor.
The Local Development Council, an advisory group mandated by State Law, exists in jurisdictions where there is a gaming facility. The Local Development Council was
established in Prince George's County as a result of the opening of the MGM National Harbor Casino on December 8, 2016. The Prince George's Local Development Council consists of 15 members appointed by the County Executive. Since its formation in 2015, the LDC has awarded more than $562,000 in community grants ($225,000 in 2017 and $337,000 in 2018).
"I want to thank the PGCLDC for their leadership and stewardship and congratulate the 2018 recipients of the Prince George's County Local Development Council grants," said Prince George's County Executive Rushern L. Baker, III. "These grants are designed to assist people and communities in the vicinity of MGM National Harbor. The PGCLDC did a great job of selecting a diverse group of organizations that address a variety of challenges which range from mentoring and education of youth to organizations that provide resources with our senior community and those with disabilities. When we supported bringing the world class MGM National Harbor resort to Prince George's County, we created an innovative and robust Community Benefits Agreement with MGM. In this agreement, we laid out clear goals and expectations for MGM to hire Prince Georgians residents and provide resources to our County, and, specifically, the communities that surround the National Harbor facility. I am appreciative that MGM National Harbor has continued to honor the commitments they made to the residents of Prince George's County."
The $337,000 in funding that was granted to these organizations ranged from $20,000 to $35,000. PGCLDC is responsible for awarding impact grants to organizations to serve communities in close proximity to the MGM National Harbor facility.
"We are pleased to make these awards to organizations with programs and services that positively impact the lives of people who live within our impact area," said PGCLDC Chairman, Rev. Jeffrey Chandler.
For more information about PGCLDC, please go to https:// www.princegeorgescountymd.gov/1125/Local-Development-Council.
The 2018 Prince George's County Local Development Council Grant Recipients are:
Alice Ferguson Foundation, Inc.: To support life-changing outdoor, experiential education programs for Prince George's County students in the impact area—$30,000.
Alliance for Innovation in Education: To help improve the academic performance and educational opportunities for students attending 6 high schools in impact area and vicinity—$25,000.
Coalition for Public Safety Training In Schools, Inc.: To support youth education and advocacy program, designed to prepare at risk youth in TNI communities with career awareness and development opportunities in the public safety sector—$35,000.
Community Ministry of Prince George's County: To support violence prevention workshops and activities for youth in Oxon Hill community and surrounding area—$35,000.
Community Outreach and Development, CDC: To support the "Labor of Love Human Services Center" in providing one-stop-shop social and community services for households within the impact areas that need emergency assistance—$27,000.
Housing Options and Planning Enterprises, Inc. (HOPE): To assist Birchwood/ Clearview Community Association in addressing conditions of distress in their community relative to housing deterioration—$35,000.
Junior Achievement (JA) of Greater Washington: To continue support for curriculum and programs of the JA Finance Park@Prince George's to 3 schools—John Hanson Montessori, Oxon Hill Middle & High Schools—$20,000.
L.E.E.P to College Foundation: To expand and support programs for students in Oxon Hill and TNI community with achieving positive educational outcomes and opportunities—$35,000.
New Horizons Supported Services, Inc.: To provide Personal Support services, such as transportation, healthcare, workforce development and life skills training to adults with intellectual and developmental disabilities within impact area—$25,000.
Pickett Fences Senior Services, Inc.: To help improve the quality of life of seniors by supporting the Dementia-Friendly America South County partnership project—$35,000.
The Ivy Community Charities of Prince George's County, Inc.: To support the tutoring and academic enrichment efforts, targeting 4th and 5th grade students, at Forest Heights Elementary School—$35,000.
University of Maryland Extension Offers Urban Farmer Field School
Helping Urban Farmers Move From Surviving to Thriving
By PRESS OFFICER
UMD Extension
BALTIMORE, MD (July 24, 2018)—University of Maryland Extension will host five farmer field school workshops to help urban farmers develop their agricultural enterprises for success. Held at farms across Prince George's County and Baltimore City, each Urban Farmer Field School in the series will cover a different topic and provide participants with the opportunity to learn in a hands-on setting, and set goals for improving the financial viability of their urban farms.
The series, developed as part of a grant from the Northeast Extension Risk Management Education Center, funded through the USDA National Institute of Food and Agriculture (NIFA), will help current and aspiring commercial urban farmers in the Baltimore and Washington, D.C. metro regions move from crisis-management to proactive risk management.
"Many urban farmers become overwhelmed by the daily challenges of farming, spending their time seeking short-term financial solutions to keep their urban farms afloat," said Neith Little, urban agriculture Extension educator in Baltimore. "We want to help urban farmers use risk management strategies to move from survival mode to a more proactive understanding of what their farms need to thrive."
In June, UMD Extension hosted focus groups in both Baltimore City and Prince George's Co. to collect feedback on current challenges, needs, and opportunities for growth in urban agriculture in the region. The feedback determined the content of the farmer field schools, as a well as a future guidebook, to assist urban farmers.
"Achieving economic viability is an urgent concern for urban farmers," said Mariya Strauss, executive director of the Farm Alliance of Baltimore, a grassroots membership group of 16 urban farms in the city. "They face unique challenges such as having less land than rural farms do, and sometimes they struggle even to keep the little land they do have. The Urban Farmer Field School project will help them with business planning and other key pieces to support them in these unique struggles."
The Urban Farmer Field School series begins in August. Topics include marketing, self-care, business structure, insurance, and production techniques such as irrigation. Workshops are three hours, include light refreshments, and require a $10 investment. For more information and to register, please visit go.umd.edu/UFFS.
The Urban Farmer Field School series is organized by UMD Extension, with support from the Northeast Extension Risk Management Education Center funded through the USDA National Institute of Food and Agriculture (NIFA), EcoCity Farms, Farm Alliance of Baltimore, Prince George's County Soil Conservation District, MidAtlantic Farm Credit, The Greener Garden Urban Farm, and Real Food Farm.
For more information, contact Neith Little at nglittle@umd.edu or 410-856-1850.
CVS Health Expands Initiatives to Help Combat Opioid Abuse in Maryland
Company Launches Safe Medication Disposal Program at CVS Pharmacy Locations; Foundation Pledges $85,000 to Community Health Center to Support Addiction Recovery
By PRESS OFFICER
CVS Health
WOONSOCKET, RI (July 12, 2018)—As part of CVS Health's (NYSE: CVS) national commitment to address and prevent opioid abuse and misuse, the company announced today it has installed 19 safe medication disposal units in CVS Pharmacy locations across Maryland [including 3 locations here in Prince George's County] and the CVS Health Foundation has provided $85,000 to Total Health Care in Baltimore, a community health center dedicated to supporting opioid addiction recovery.
"Launching our in-store safe medication disposal program at CVS Pharmacy locations in Maryland will help remove unused prescription medications from medicine cabinets where they could be otherwise diverted or abused," said Tom Davis, R.Ph., vice president of professional services for CVS Health. "We are committed to addressing and preventing opioid abuse through our support of the work that organizations like Total Health Care do to promote addiction recovery, which directly aligns with our purpose of helping people on their path to better health."
The $85,000 grant from the CVS Health Foundation will allow Baltimore's Total Health Care to develop and implement a trauma informed care model which will increase participation in its substance abuse treatment program. Efforts include an increased focused on care coordination by the Substance Abuse Clinical Supervisor and incorporating alerts into the electronic health record to ensure patients are completing behavioral health visits and medication assisted treatment.
In addition to the 19 new disposal units inside CVS Pharmacy locations, CVS Health has also donated disposal kiosks to police departments in Hampstead, Ellicott City and Rising Sun. Other law enforcement officials in Maryland are encouraged to apply to receive a unit from the CVS Health Medication Disposal for Safe Communities Program. Nationwide, CVS Health has donated more than 900 units to police departments, collecting more than 350,000 pounds of unwanted medication.
The expansion of safe medication disposal to a total of 750 CVS Pharmacy locations across the U.S. was included among the enhancements to the company's strategy to address and prevent opioid abuse announced in September 2017. As part of that effort, the company also said it would enhance opioid utilization management aligned with CDC Guideline for CVS Caremark clients and members, complementing measures already in place.
This work builds on ongoing programs the company operates including the Pharmacists Teach program, which brings CVS Pharmacists to local schools to talk to teens and parents about the dangers of abusing prescription drugs, with more than 5,500 teens and parents in Maryland having already participated in the program. CVS Health has also worked to expand access to the opioid overdose-reversal drug naloxone in 46 states, including Maryland.
The 19 new medication disposal units are located at the following CVS Pharmacy locations:
Annapolis (2601 Riva Rd.), Baltimore (7845 Wise Ave.), Clinton (8859 Branch Ave.), Crofton (2003 Davidsonville Rd.), District Heights (5870 Silver Hill Rd., Silver Hill Plaza), Elkridge (6480 Old Waterloo Rd.), Ellicott City (3300A Centennial Ln.), Frederick (402 SO Jefferson St.), Gaithersburg (19100 Montgomery Village Ave.), Greenbelt (7607 Greenbelt Rd.), Hollywood (24288 Three Notch Rd.), Kensington (3715 University Blvd. West), La Plata (6260 Crain Hwy), Laurel (15100 Baltimore Ave.), North Potomac (9920 Key West Ave.), Olney (3110 Olney Sandy Spring Rd.), Pasadena (28 Magothy Beach Rd.), Rockville (7955 Tuckerman Ln.), Towson (1001 York Rd.).
CVS Health is a pharmacy innovation company helping people on their path to better health. Through its more than 9,800 retail locations, more than 1,100 walk-in medical clinics, a leading pharmacy benefits manager with approximately 94 million plan members, a dedicated senior pharmacy care business serving more than one million patients per year, expanding specialty pharmacy services, and a leading stand-alone Medicare Part D prescription drug plan, the company enables people, businesses and communities to manage health in more affordable and effective ways. This unique integrated model increases access to quality care, delivers better health
outcomes and lowers overall health care costs. Find more information about how CVS Health is shaping the future of health at https://www.cvshealth.com.