November 25 - December 1, 2021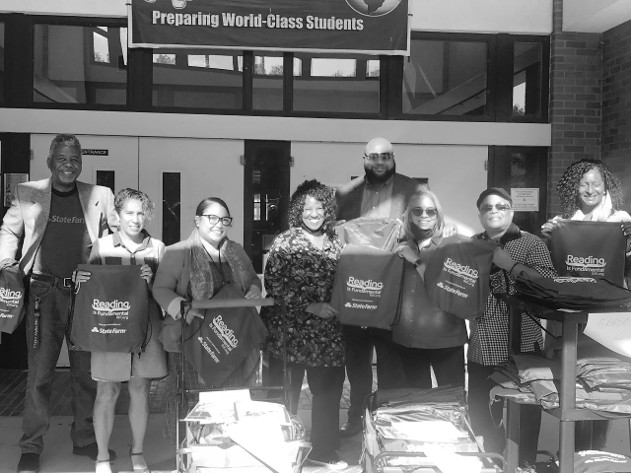 Photo Courtesy State Farm
Agent Joe Mitchell (State Farm), Rosa Fenwick, Parent Engagement Assistant (Judge Sylvania Woods Elementary), Phi Thach, Community School Coordinator (Judge Sylvania Woods Elementary), Dr. Sandra Bunns, Assistant Principal (Judge Sylvania Woods Elementary), Agent Nate Thomas (State Farm), Agent Shanna Stringfield (State Farm), Agent Nurney Mason (State Farm), Barbara Holt Streeter, Partnership Officer (Prince George's County Public Schools).
Reading Is Fundamental and State Farm Celebrate Reading
By DWAYNE M. REDD
State Farm
Washington (Nov. 17, 2021)—Reading Is Fundamental (RIF) and State Farm celebrate the power of reading with So Others Might Eat and Judge Sylvania W Woods Sr. Elementary providing 500 children with RIF Literacy Kits. Delivered by State Farm Agents Itzabel Mayrant (Hyattsville), Nurney Mason (Capitol Heights), Joe Mitchell (Greenbelt), Shanna Stringfield (Bowie), and Nate Thomas (Bowie), every child received a tote bag filled with three brand new, high-quality books and literacy materials to take home and keep as their own.
RIF Literacy Kits provide students with critical access to books and resources. As part of this year's Good Neighbor Citizenship Grant, RIF and State Farm are supporting 1,000 students in Washington, D.C. and Maryland. Thirteen (13) State Farm agents across the District of Columbia and Maryland brought together their offices to assemble 1,000 Literacy Kits each and personally deliver them to schools in their local community. Research has shown that when children have access to books, they enjoy reading and they read more. And when children read more, they become accomplished readers. With 3,000 books and supplemental resources provided to these children and their educators, parents and caregivers, State Farm hopes to create a culture of literacy in the communities in which its employees live and work. Parents and caregivers can continue to encourage reading at home by visiting https://www.rif.org/literacy-central to find free reading activities, videos, parent guides, and much more.
"Reading Is Fundamental is committed to creating a culture of literacy in communities nationwide, and reading helps to ensure every child has the fundamental building blocks needed to achieve in life," says Reading Is Fundamental President and CEO, Alicia Levi. "For more than 50 years, Reading Is Fundamental has supported communities with the books and resources needed to impact children. We are excited to partner with State Farm to bring this support to these schools and believe that together we can make a difference."
The mission of State Farm® is to help people manage the risks of everyday life, recover from the unexpected, and realize their dreams. State Farm and its affiliates are the largest providers of auto and home insurance in the United States. Its 19,300 agents and nearly 55,000 employees serve approximately 86 million policies and accounts—which includes auto, fire, life, health, commercial policies and financial services accounts. Commercial auto insurance, along with coverage for renters, business owners, boats and motorcycles, is available. State Farm Mutual Automobile Insurance Company is the parent of the State Farm family of companies. State Farm is ranked No. 39 on the 2021 Fortune 500 list of largest companies. For more information, visit http://www.statefarm.com.?
Reading Is Fundamental (RIF) is committed to a literate America by inspiring a passion for reading among all children, providing quality content to create impact, and engaging communities in the solution to give every child the fundamentals for success. As the nation's largest nonprofit organization for children's literacy, RIF has provided more than 420 million books to over 100 million kids in all 50 states, inspiring generations to read, learn and grow. For more information, visit www.RIF.org
---
Town of Upper Marlboro Designated as a Main Street Affiliate by Maryland Department of Housing and Community Development
"This designation will assist us in our ongoing efforts to further improve the downtown business community."
By RAY FELDMANN
Town of Upper Marlboro
UPPER MARLBORO, Md. (Nov. 17, 2021)—The Town of Upper Marlboro in Prince George's County has been named a Main Street Affiliate by the Maryland Department of Housing and Community Development (DHCD), Mayor Linda Pennoyer announced today. Additionally, DHCD has approved the boundaries that the Town proposed in its application as the primary area of focus for the Main Street Affiliate Commercial District.
Those approved boundaries are located primarily in the Water Street-Main Street-Church Street section of downtown.
"This is more positive recognition for the Town of Upper Marlboro from the State of Maryland," Mayor Pennoyer said. "This designation will assist us in our ongoing efforts to further improve the downtown business community. We are very appreciative of this designation, and we look forward to working with DHCD in the coming months to help us meet our ambitious goals.
"We express our sincere thanks and gratitude to DHCD Secretary Kenneth Holt, Community Access and Partnership Director Amy Seitz, and Project Manager Christine McPherson," the Mayor added.
The Town of Upper Marlboro was notified of its Main Street Affiliate designation in a letter from Seitz to Mayor Pennoyer.
"We will work with you to develop your own Affiliate Action Plan," Seitz stated, "that will provide information on resources you can access to meet your specific commercial district goals, as identified in your application.
"The purpose of this program is to assist smaller towns and communities with their economic development strategies," Seitz added, "based on the best practices of the Main Street Maryland Program and the National Main Street Center's Main Street Approach."
Mayor Pennoyer recently announced that two new businesses had opened in the downtown business district within the past six months, despite the challenges of the COVID pandemic and related labor shortages.
"While we were thrilled to welcome these new businesses to our Town," the Mayor said, "we look forward to adding more in the months ahead."
Main Street Maryland is a comprehensive downtown revitalization program created in 1998 by DHCD. The program strives to strengthen the economic potential of Maryland's traditional main streets and neighborhoods. Designated Main Street Maryland communities have made a commitment to improve the economy, appearance, and image of their traditional downtown business districts.
To accomplish Main Street goals, DHCD has partnered with the National Trust for Historic Preservation's National Main Street Center, which developed the Main Street Approach for community-driven, comprehensive revitalization.
---
County Council Adopts Resolution Detailing Special Election Process in Place to Fill District 8 Vacancy
By ANGELA J. ROUSON
Prince George's County Council Media
The Prince George's County Council, on Monday, November 15, 2021, adopted CR-135-2021, declaring a vacancy on the County Council created by the November 8, 2021, resignation of District 8 Council Member Monique Anderson-Walker. CR-135-2021 establishes dates for conducting the Special Primary Election and the Special Election to fill the Council vacancy and sets the certification of candidacy deadline.
The Special Primary Election has been scheduled for Tuesday, January 4, 2022. The Special Election will be held on Tuesday, February 1, 2022. Certificate of candidacy must be filed with the Board of Elections by Tuesday, December 7, 2021.
Pursuant to County Charter Section 309, a Special Election must be held to fill a vacancy on the Council, in this case, defined as the resignation of a Council Member, occurring within the first three years of a term. Section 2-104 of the County Code provides that when there is a vacancy in the office of a Council Member during the first three years of a term, the Council, within seven days, shall adopt a Resolution directing that a special primary election and a special election by the registered voters of the Council District concerned, be held to fill the vacancy.
District 8 includes the constituent areas of Andrews Air Force Base, Camp Springs, Clinton, Forest Heights, Fort Washington, Glass Manor, Marlow Heights, Oxon Hill, and Temple Hills.
For election details, please contact the Prince George's County Board of Elections at 301-341-7300 or visit online at https://www.princegeorgescountymd.gov/559/Board-of-Elections
---
Billing Questions Plague Health Providers in Maryland
By TRISHA AHMED
Capital News Service
ANNAPOLIS, Md. (Nov. 17, 2021)—Behavioral health providers, who offered mental health services and substance use treatment during the pandemic, are locked in a dispute with the Maryland Department of Health over how many millions of dollars the providers must pay back to the state.
The problems began after a new billing management company engaged by the state—touted as a money-saving move—took over reimbursements for behavioral health providers early last year.
The Maryland Department of Health reported it overpaid behavioral health providers through Medicaid and state programs by more than $359 million by October 2020, according to a health department presentation to state legislators in November.
But providers and advocates said the state, and its administrative services contractor, have not produced sufficient documentation to prove the overpayments.
Advocates for behavioral health providers and health department officials met virtually with state legislators on Nov. 4 to give updates on the issue that has lasted nearly two years.
The overpayments happened after UnitedHealth Group/Optum Maryland, a health department administrative services contractor, failed to process claims shortly after taking over the billing system for behavioral health providers in January 2020.
In response to the system failure, the health department "directed Optum to make weekly estimated payments to the approximately 2,200 behavioral health providers in the state beginning on Jan. 23, 2020 and continuing through August 3, 2020," according to a report from the department last year.
Those weekly payments were calculated for each provider based on their 2019 historical payment average, the report said.
"This crash of the system was occurring during a pandemic, when the providers … were essential workers providing essential services," Del. Heather Bagnall, D-Anne Arundel, said at the meeting.
The weekly payments in 2020 were based on historical volumes, but health care services were underutilized during that period and resulted in overpayments, said Steven Schuh, deputy secretary of health care financing and Medicaid director at the Maryland Department of Health.
"Maryland has a legal and moral responsibility to our federal and state taxpayers" to get money from overpayments back, Schuh said.
As of October, the outstanding balance for overpayments was about $230 million, Schuh said, as some providers already paid money back, and more are expected to pay in the spring.
"As things stand today, we frankly are pleased with the progress that is being made," Optum executive Chad Burkholder said during the meeting. "We believe that the system is functioning … on a very consistent basis (now)."
Additionally, Schuh said that certain providers who owe $10,000 or less will not have to pay any money back, as the health department hopes to "eliminate the burden on small, community-based providers."
Other providers—including hospitals, laboratories and out-of-state providers—must still pay money back, even if they owe less than $10,000, Schuh said.
Providers Disputed The Numbers
Providers at the meeting questioned the accuracy of Optum and the health department's numbers for overpayment amounts.
"We have to be able to check Optum's math. Unfortunately, their system is a mess," said Lori Doyle, public policy director at Community Behavioral Health Association of Maryland, an advocacy organization for providers.
The health department's outstanding balance for overpayments included claims that were marked paid though the provider did not receive payment, claims that Optum denied in error, and retracted claims from 2019, according to Doyle's presentation on Nov. 4.
"Our numbers are pretty far apart—what Optum thinks we owe and what providers think they owe," Doyle said.
Nearly 40% of surveyed providers said their repayment numbers differ from Optum's by 60% or more, according to Doyle's presentation.
"In a time where there is a workforce shortage … (providers) are being faced with the administrative burden and the financial burden of having to go through all these claims," said Michael Oliver, who represented the Maryland Association for the Treatment of Opioid Dependence at the meeting.
For months, Oliver said, providers have asked for their full claims processing history. This could help them to more easily verify the amounts they must pay the state, advocates said.
At the meeting, Del. Geraldine Valentino-Smith, D-Prince George's, asked whether the health department has insisted on getting this full claims history from Optum.
Schuh replied, "We have asked for that information, and the system is apparently incapable of providing it."
In April, state legislators had requested the health department provide behavioral health providers their full claims history by August, according to a state budget report.
"There has been an admission from the department that the system is not able to provide the full claims history," Del. Kirill Reznik, D-Montgomery, chair of one of the House subcommittees that held the meeting.
Reznik said that he may talk with the state's attorney general about bringing an independent auditor—at Optum's expense—to do the full reconciliation, outside of the health department and behavioral health providers.
"This whole thing is not gonna be resolved until the next governor is in office. … We may have a new secretary of health. It may be a long time," Reznik said.
"We're not there, but it is my hope that 2022 is the year we get there," Reznik said, ending the meeting.
Optum Behavioral Health spokesperson Christine Hauser wrote in an email to Capital News Service, "As Optum and MDH have made clear, providers currently have the claims information necessary to balance their books and begin repayment of overpayments."
"We will continue to offer one-on-one technical support and explore additional requests to assist them," Hauser wrote.
---