April 18 - April 24, 2019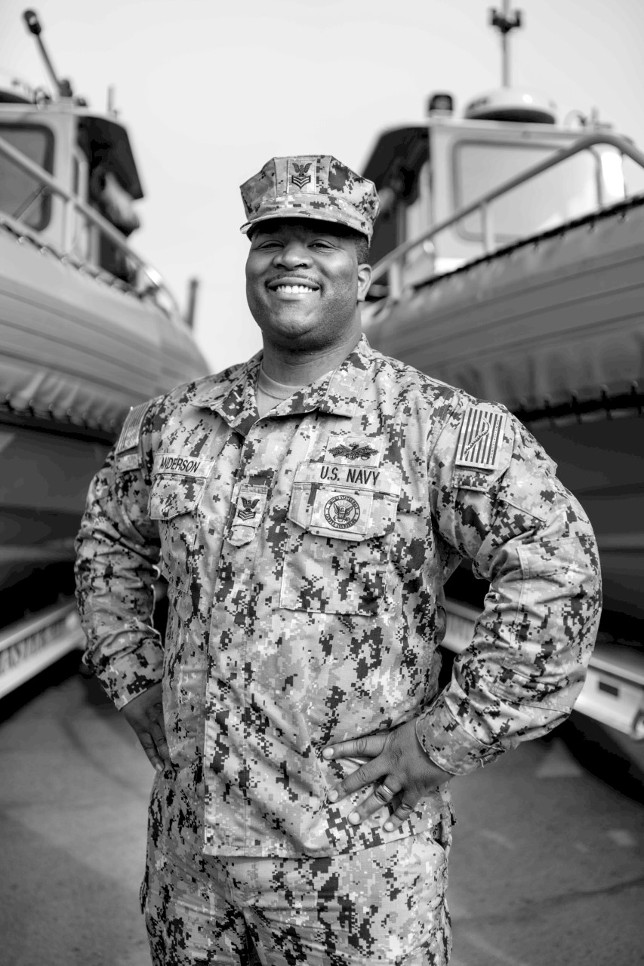 Photo By Mass Communication Specialist 1st Class Arthurgwain Marquez
Petty Officer 1st Class Michael Anderson
Capitol Heights Native Continues U.S. Navy Explosive Ordnance Disposal Mission
By KAYLA TURNBOW
Navy Office of Community Outreach
SAN DIEGO (April 3, 2019)—While most members of the U.S. Navy conduct deployments at sea as part of U.S. Navy warship crews, each year thousands of sailors are called upon to conduct non-traditional deployments, often in austere locations outside the maritime environment, in support of military missions around the globe.
A Capitol Heights, Maryland, native and 2002 Suitland High School graduate is one of these sailors. Petty Officer 1st Class Michael Anderson is serving in the U.S. Navy with Explosive Ordnance Disposal Expeditionary Support Unit One, operating out of San Diego.
Anderson is a Navy counselor responsible for making sure the sailors are prepared for the next step in their Navy careers.
Anderson credits success in the Navy to many of the lessons learned in Capitol Heights.
"I brought respect with me into the Navy," said Anderson. "I had to learn that a member's first impression may not always represent the person as whole. You never know what is going on in someone's life. When faced with adversity, some people might not know how to react. I am the person that's here to help, so I keep that in mind."
The men and women of the support unit provide combat logistics for the explosive ordnance disposal and mobile diving and salvage commands on the West Coast. With EOD Expeditionary Support Unit One's logistics support, explosive ordnance disposal technicians are able to counter explosive hazards on land and at sea, and Navy divers can perform combat harbor clearance and search, diving, salvage, repair, assistance and demolition in ports or harbors and at sea onboard Navy ships and commercial vessels.
Being stationed in San Diego, the principal homeport of the Pacific Fleet, means Anderson is playing an important part in America's focus on rebuilding military readiness, strengthening alliances and reforming business practices in support of the National Defense Strategy.
"Our priorities center on people, capabilities and processes, and will be achieved by our focus on speed, value, results and partnerships," said Secretary of the Navy Richard V. Spencer. "Readiness, lethality and modernization are the requirements driving these priorities."
Sailors jobs are highly varied in the support unit. More than 100 men and women make up the unit's crew and come from over 20 different Navy ratings, or career paths. Because of the variety of personnel at the command, the unit is able to provide logistical support for explosive ordnance disposal and diving and salvage units including supply, ordnance, transportation, tactical communications support, field services, facility maintenance and programming, weapons inventory control and repair, boat and engine maintenance and dive locker and hazardous material handling.
Though there are many ways for sailors to earn distinction in their command, community and career, Anderson is most proud of earning a Navy Commendation Medal.
"Earning that medal means my team has faith that every day I am going to do the right thing for them," said Anderson. "What I do isn't just for them, but it's also me trying to make the Navy a great place to be."
Serving in the Navy is a continuing tradition of military service for Anderson, who has military ties with family members who have previously served. Anderson is honored to carry on the family tradition.
"My cousin served in the Navy a year before me, and my uncle was in the National Guard," said Anderson. "My granddad really influenced me to join. He served during Vietnam. I grew up in a place where I wasn't expected to do much except collect a paycheck. Knowing that my granddad had all this responsibility to himself, his nation and his family made me want to carry on that tradition."
As a member of one of the U.S. Navy's most relied-upon assets, Anderson and other sailors know they are part of a legacy that will last beyond their lifetimes providing the Navy the nations needs.
"Serving in the Navy gives me a higher purpose," added Anderson. "I wanted to serve something greater than myself. It means being able to come here and have the trust and the backing of my sailors, junior and senior."
Council Chair Todd M. Turner and County Executive Angela Alsobrooks Offer Condolences Upon the Loss of Marine Staff Sgt. Christopher Slutman, Lifelong Member Of the Kentland Volunteer Fire Department
Prince George's County mourns the loss of Marine Staff Sergeant Christopher A. Slutman, who also served as a first responder, and a lifetime member of the Kentland Volunteer Fire Department in Landover.
On behalf of the residents of Prince George's County, we extend our deepest condolences to the family and loved ones of Staff Sgt. Slutman, who was mortally wounded by a roadside bomb in Afghanistan on Monday [April 8, 2019]. Staff Sgt. Slutman gave his life to keep us safe, and while service was his calling, the loss is immense. We stand in support of his family and loved ones, especially at this most difficult time of grief.
We also offer our sympathies to the firefighters and United States Marines with whom he served, as they mourn his loss.
Staff Sgt. Slutman, a son of Prince George's County, was a hero, very deeply committed to a life of service at home and abroad. He graduated from Frederick Douglass High School, began his volunteer service with the Upper Marlboro Volunteer Fire Department, and later joined the Kentland Volunteer Fire Department in Landover.
Staff Sergeant Christopher A. Slutman gave the ultimate sacrifice. Prince George's County is forever proud, and we honor his service and valor with our humble gratitude.
—Angela J. Rouson, Council Communications and John Erzen, II, Deputy Chief of Staff—Office of the County Executive, Prince George's County
Prince George's County will host a Countywide community clean up program entitled "Growing Green with Pride." This event supports our Beautification Initiative to make our community cleaner and greener by conducting individual community plantings and coordinating beautification activities throughout the County. "Growing Green With Pride", in collaboration with Keep Prince George's County Beautiful, Prince George's County Public Schools, and The Maryland-National Capital Park and Planning Commission, demonstrates our shared commitment to keeping our communities appealing and attractive. Community organizations and groups are encouraged to participate.
We will be holding our Inaugural "Growing Green with Pride Day" event on Saturday, May 4, 2019 from 8 a.m. until 12 p.m. Following our clean-up efforts, all participants are invited to join us for a free celebration with food, prizes and entertainment at Watkins Regional Park.
In order to participate everyone must register their Growing Green With Pride Crew by going on-line to www.princegeorgescountymd.gov/2590/Growing-Green-With-Pride. You may register your ORGANIZATION or register as an INDIVIDUAL. Individuals will be assigned to assist an organization as close to your address as possible. The deadline is Friday, April 19th. Early, online registration is encouraged.
Thank you for working with us to keep our county green and clean. Please help spread the word by sharing this information with your neighbors, friends, organizations, schools and the community-at-large. If additional information is required, please contact Stacy Howard at 301-499-8523 or sdhoward@co.pg.md.us.
We look forward to you joining us for the Inaugural Growing Green with Pride Day!
—Prince George's County Government, Community Connections
Lt. Governor Boyd K. Rutherford Opens 4th Annual Maryland Crime Victims' Rights Conference, Presents Governor's Victim Assistance Awards
By HEATHER EPKINS
Governor's Office of Crime Control and Prevention
Annapolis, Md. (April 11, 2019)—Lt. Governor Boyd K. Rutherford today opened the 4th Annual Maryland Crime Victims' Rights Conference at the Adele H. Stamp Student Union at the University of Maryland and presented Governor's Victim Assistance Awards to three citizens who went above and beyond the call of duty to assist crime victims. The week of April 7–April 13, 2019 mark[ed] Crime Victims' Rights Week, which is recognized nationally every year.
"Crime Victims' Rights Week serves as a reminder of the progress our administration has made in securing justice for victims, and the work still left to do," said Lt. Governor Boyd Rutherford. "We remain strongly committed to ensuring that victims of crime have the right to information, the right to provide input, the right to receive restitution, and, most importantly, the expectation of being treated with dignity, and respect that they deserve."
The conference was made possible by the collaboration of the Maryland State Board of Victim Services and the Governor's Office of Crime Control and Prevention. More than 400 attendees, including representatives of leading victims advocacy and service organizations, gathered to discuss innovative best practices and tools to serve victims of crime in Maryland. The national theme of Crime Victims' Rights Week this year is "Honoring Our Past, Creating Hope for the Future," and the lieutenant governor and subsequent speakers discussed efforts to expand protections and services for victims in Maryland.
Lt. Governor Rutherford detailed the administration's support of several major initiatives from the governor's legislative package to protect and empower victims of crime during the 2019 session of the Maryland General Assembly, which ended on April 8. The administration worked with a bipartisan coalition of advocates and legislators to successfully pass legislation that classifies human trafficking as a crime of violence. This classification will allow prosecutors to push for harsher sentences against human traffickers.
The Hogan Administration has provided more than $60 million in grant funding for victim services. Included in this grant funding is a major expansion of the victim witness relocation and protection program. In 2018 alone, grant funding was made available to support nearly 180,000 victims, to track more than 26,000 protective orders, and to serve more than 10,000 warrants.
"The Governor's Office of Crime Control and Prevention was able to serve more than 180,000 victims in Maryland in the past year alone," said Glenn Fueston, Executive Director of the Governor's Office of Crime Control and Prevention. "We are proud to ensure that Governor Hogan's commitment to care for victims of crime is implemented swiftly and thoroughly."
At the conference, Governor Hogan presented the Virginia Mahoney Award to Debbie Feinstein; the Vincent Roper Memorial Award to Alice Oaks, and Henry Gleim Memorial Award to Angela Brooks—all Maryland citizens who went above and beyond the call of duty to assist crime victims.
The Virginia Mahoney Award is given in recognition of a prominent state leader or high-ranking official who has epitomized true leadership in support of victims' rights. In honor of Ginny Mahoney, who was a longtime advocate for victims of violent crime, the Maryland State Board of Victim Services recognizes an outstanding leader who has set the standard for excellence and professionalism in the field of victim services.
The Vincent Roper Memorial Award is given in recognition of outstanding work to secure crime victim justice for all in a quiet and selfless manner. This award is named in honor of Vincent Roper, who dedicated his life to making a difference for all crime victims and whose countless contributions revolutionized victims' rights.
The Henry Gleim Memorial Award is given in recognition of outstanding service to crime victims and those who work to serve them. This award is given in memory of Henry Gleim, an unsung hero who gave unselfishly, generously, courageously, and with hope for those who walk in the path of victimization.
"To everyone in this room, and to crime victims all across our state, I want you to know that our administration will continue to make victims' rights a priority, and we will keep fighting on your behalf each and every day," said Lt. Governor Rutherford.
Cardin, Van Hollen Announce $1.4 Million for Public Housing in Prince George's and Montgomery Counties
By BRIDGETT FREY / SUE WALITSKY/TIM ZINK
Van Hollen / Cardin Press Offices
WASHINGTON (April 12, 2019)—U.S. Senators Ben Cardin and Chris Van Hollen (both D-Md.) have announced $1.4 million in federal funding for the development, financing, and modernization of public housing developments and for management improvements in Prince George's and Montgomery Counties. This grant was awarded through the U.S. Department of Housing and Urban Development's (HUD) Public Housing Capital Fund.
The funding was awarded as follows:
• College Park Housing Authority: $174,601.00
• Housing Authority of Prince George's County: $717,718.00
• Glenarden Housing Authority: $138,871.00
• Rockville Housing Enterprises: $208,967.00
• Housing Opportunity Community of Montgomery County: $216,351.00
"Every Marylander—every American—deserves a safe and affordable place to call home. Many families in Prince George's and Montgomery Counties benefit from access to public housing developments, but too many more remain on waiting lists without other good options," said Senator Cardin, a member of the Senate Finance committee. "These federal funds will support the continued effort to expand and improve affordable housing options for future generations, which uplifts our local communities and strengthens our local economies."
"When we invest in affordable housing, we invest in Maryland's continued economic growth and success. That's why we must keep working to improve the quality and accessibility of affordable housing in our state. This funding will not only increase the supply of affordable housing in Prince George's and Montgomery Counties, but it will also help modernize current homes—providing more options and better living conditions for Maryland families," said Senator Van Hollen, a member of the Senate Banking, Housing, and Urban Development and Appropriations Committees. "I will continue fighting for investments that strengthen Maryland communities and increases economic opportunity for all."
In the Fiscal Year 2019 omnibus appropriations bill Senators Cardin and Van Hollen fought for increased funding for public housing—including an increase of $25 million for capital funds, which agencies use to update and maintain their housing stock. However, there remains a capital backlog of over $26 billion throughout the public housing portfolio. Trump proposed to zero out the capital fund in his 2020 budget despite this critical backlog.
Through the office of Public Housing Investments (PHI), HUD provides funds annually via a formula to approximately 3,200 public housing agencies (PHAs) across the country. PHAs may use Capital Fund grants for development, financing, modernization, and management improvements The Office provides technical assistance to PHAs as well as to HUD Field Offices relating to development, financing, modernization, and management improvements of public housing developments. It prepares quarterly reports to Congress on the status of the obligation and expenditure of Capital Fund grants and implements the statutory sanctions for PHAs that are in noncompliance with the statutory deadlines.
TOP OF PAGE