July 30 - August 5, 2015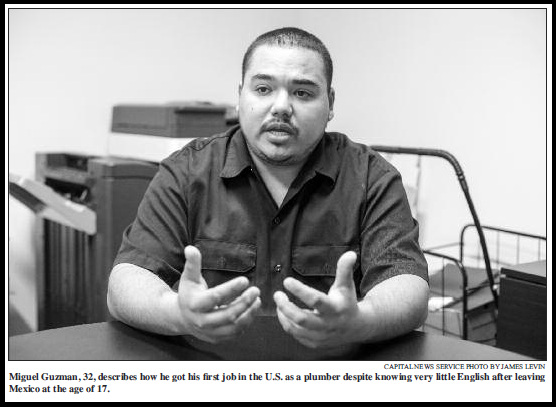 Maryland Undocumented Immigrant Awaits Government Action
By Lauren Sagl
Capital News Service
WASHINGTON—As he stood outside the White House last November, Miguel A. Guzman listened with bated breath as President Barack Obama announced immigration policy changes that would protect an estimated 4.4 million undocumented immigrants from deportation and allow Guzman to legally stay in the U.S. with his wife and two young children.
Now, after a federal judge in Texas halted the implementation of the programs this past April, Guzman said it feels like "an ice bucket has been dumped on my head."
"You want to be here to provide for your family but you always live with the fear that one day you go to work and get pulled over by police, they ask for your green card or social security card, and you don't have it," said Guzman. "There has been a lot of pain living in the shadows."
Guzman, a 32-year-old plumber from Prince George's County, has been undocumented in the United States for 15 years. Now, he stands to gain temporary permission to stay in the U.S. through the president's proposed Deferred Action for Parents of Americans and Lawful Permanent Residents (DAPA) program.
The proposed immigration changes include the start of the DAPA program, which would grant undocumented parents of U.S. citizens and lawful permanent residents (LPRs) temporary permission to stay in the U.S., called "deferred action." Deferred action allows non-U.S. citizens to remain in the country temporarily and apply for a work permit. Under this program, Guzman would be considered a lawful resident for as long as his deferred action lasts.
The president also announced that he wanted to expand his 2012 Deferred Action for Childhood Arrivals (DACA) program to give deferred action to older immigrants who were 16 years old and younger when they came to the U.S. undocumented.
"I wasn't planning on staying here too long," Guzman said. "As many of my Mexican friends and family came here, they worked and then they went back. But that was not my case."
After living in Arizona for two months, Guzman came to the D.C. metro area to escape harsh laws for undocumented immigrants. Here he met his wife, an immigrant from Honduras with a Temporary Protected Status (TPS). Together, they have two children.
Seven years ago, Guzman started his own plumbing business to support his family, working out of the back of his two-door Mustang.
"I started off on Craigslist and advertised myself as a $100 small repairs plumber," Guzman said. "People were calling me like crazy."
Since then, Guzman's business has taken off, and he has been able to upgrade to a new white van. However, without a social security number, Guzman cannot obtain a plumbing license.
"If I was able to get my plumber's license, I could grow my business bigger, and then I can employ people and help this economy," Guzman said. "That's where I'm coming from."
Guzman, a native of Jalisco, Mexico, knows that going back to Mexico with two young children is not feasible. The violence in Jalisco is so bad that the Department of State prohibits U.S. government personnel from taking personal travel trips to certain areas of the state.
Jayesh Rathod, an associate professor of law at American University who specializes in immigration law, believes the DAPA program and expansion of the 2012 Deferred Action for Childhood Arrivals (DACA) program will greatly benefit the D.C. metro area.
"These programs are significant for D.C. because the area is an emerging gateway for immigrants, and we have a large Central American population trying to escape trafficking and bad governments," said Rathod. "We have a lot of people poised to benefit from these programs."
With an estimated 11 million undocumented people in the United States, Rathod says that these programs address the reality that there are not enough resources in the budget to deport everyone.
According to Rathod, the lawsuit against these reforms was brought by 26 states, who argued that the proposed programs would result in costs incurred by the states.
"Normally, when the Executive Branch issues a new rule, that rule has to be subject to notice and comment under the Administrative Procedure Act, and all stakeholders get a say," said Rathod.
While the Texas judge believes that these programs are a type of rule that should fall under notice and comment, President Obama has argued that they are not clear-cut rules, but rather statements of policy, under which the states can use discretion on how they implement the guidelines.
"It's pretty clear if you look at the draft form, there is a discretionary component to it," said Rathod.
If the Texas judge does not lift his injunction, the U.S. Justice Department has said it will take its request to the 5th U.S. Circuit Court of Appeals , where Rathod believes the federal government has a better chance of prevailing.
This is based on a previous court case heard by the 5th Circuit, Villas at Parkside Partners v. City of Farmers Branch. In April 2012, a three-judge panel ruled that an ordinance prohibiting landlords to rent to tenants based on immigration status was unconstitutional because, "the ordinance's sole purpose is not to regulate housing, but to exclude undocumented aliens, specifically Latinos, from the City of Farmers Branch, and that is an impermissible regulation of immigration."
"The policy issues are similar," said Rathod of the two cases. "The local jurisdiction challenged the federal government, and the Fifth Circuit sided with the federal government."
Rathod estimates that an appeal could take four to six months, unless the 5th Circuit expedites it. Until then, undocumented immigrants like Guzman will remain in limbo.
"I hope this can be resolved as soon as possible and I hope that we can show Americans that we are willing to help this economy grow and this country," said Guzman. "God bless America. That is for sure."
Making Home Ownership More Accessible to Those With Student Debt
By PRESS OFFICER
MDHCD
New Carrollton, MD —Maryland is putting more resources into an innovative program that makes homeownership more accessible to members of the Millennial generation who have been trapped by significant student debt.
Governor Larry Hogan and Secretary Kenneth Holt said the state will commit $70 million for the next phase of the "You've Earned It!" program for Maryland Mortgage Program borrowers who have more than $25,000 in student loan debt and are purchasing a home in one of the state's Sustainable Communities.
The program is aimed at assisting potential buyers, particularly members of the so-called "Boomerang Generation," who are employed and have good credit but are saddled with student debt that is proving a barrier to homeownership. These young people are more likely to live with their parents than were young people one or two decades ago and they are saddled with significantly more student loan debt than their predecessors.
The program demonstrates the governor's commitment to changing Maryland for the better by making homeownership more accessible for Maryland families.
"This initiative is an innovative way to help young people and families establish roots and create long-lasting financial security," said Governor Hogan. "Through this program, we are changing lives, changing communities and changing Maryland for the better."
Through "You've Earned It!" the Maryland Mortgage Program is offering a 0.25 percent discount on the program's fixed rate, 30-year conventional and government mortgages and $5,000 in down payment assistance in the form of a zero percent deferred loan to qualified homebuyers. In addition, DHCD is waiving its fee for buyers who take advantage of the Maryland HomeCredit program, for additional savings. "You've Earned It! is open for a limited time to families purchasing a home in one of the state's Sustainable Communities.
This newest phase builds upon a $20 million initiative that Secretary Holt announced in May that aimed at borrowers with student loan debt and veterans and military families. That initiative sold out within weeks.
"This is still a good deal for Maryland families and it is still a good deal for our state," Secretary Holt said. "The You've Earned It" initiative unlocks the buying power of a key demographic that is facing greater barriers to homeownership than their predecessors. This program will provide a significant boost to Maryland's housing market which will provide a big boost to our overall economy."
Maryland's Sustainable Communities program seeks to strengthen reinvestment and revitalization in the state's older communities through state, local and private sector partnerships. There is at least one designated Sustainable Community in each of Maryland's 23 counties and Baltimore City.
Todd M. Turner Appointed to WSTC
By PRESS OFFICER
PG County Government
The Prince George's County Council unanimously confirmed the appointment of Prince George's County Council Member Todd M. Turner (D) — District 4, to the Washington Suburban Transit Commission (WSTC) on Tuesday, July 14, 2015. Council Member Turner was appointed to the Commission by Prince George's County Executive Rushern Baker, III.
WSTC serves as the
bi-county agency that coordinates mass transit activities for Montgomery and Prince George's Counties in concert with the State of Maryland and the Washington Metropolitan Area Transit Authority (WMATA). The Commission also acts as the financial conduit through which funds flow between the counties, the State of Maryland
and WMATA.
Council Member Turner says he looks forward to serving as a member on the WSTC.
"I am pleased to have the support of my colleagues on the County Council to represent them and the residents of Prince George's on this important transportation body," said Council Member Turner. "Given the numerous issues, challenges and opportunities for transportation and transit in the County and region, I hope to add my voice to the conversation on moving our community and public system forward during my service."
WSTC consists of seven members appointed to three-year terms. Two are chosen by the Prince George's County Executive, and two by the Montgomery County Executive. Annually, the position of chair alternates between Montgomery and Prince George's counties. Malcom L. Augustine, a resident of Cheverly, will also represent Prince George's County as a member of the Commission.
Half of Local Gaming Revenue to Fund Public Education
By Press Officer
PG County Council
The Prince George's County Council, during session on Tuesday, July 14, 2015, unanimously adopted CB-33-2015, legislation requiring half of gaming revenue from the MGM National Harbor destination resort be allocated for public education purposes.
Under the new law, 50-percent of annual local gaming revenue, up to a maximum of $25 million, will now be reserved for Prince George's County Public Schools, Prince George's Community College, and the Prince George's County Memorial Library System, as a part of the County's regular or supplemental budget processes. The law requires that this funding supplement and not replace or supplant existing County funding sources for public education.
Council Chairman Mel Franklin (D) — District 9, says CB-33 is about accountability and trust.
"When residents voted by large margins to allow gaming in the County in 2012, they relied on promises from elected officials and others that the funds would increase the County's investment in education," said Chairman Franklin. "The unanimous passage of Council Bill 33 keeps trust with our constituents by requiring that 50-percent of the County revenues from the MGM National Harbor destination resort be used to increase spending on our public schools, libraries and community college."
Prince George's Community College President Dr. Charlene Dukes, spoke in support of the legislation, during a public hearing on the measure.
"Our students help to expand the County's economic base through their higher incomes while the businesses that employ them become more productive through the students added skills," said President Dukes. "These benefits together, associated with the ripple effects of the economy, contribute millions in taxable income to the County's economy each year."
Local gaming revenue, as defined by the legislation, will include revenue from local impact grants distributed to the County from video lottery terminal proceeds; revenue distributed to the County from table game proceeds; real property and personal property taxes; hotel and motel taxes; and admissions and amusement taxes.
PGFD Battalion Chief Receives American Legion Firefighter of the Year Award
By Press Officer
PG County Fire/EMS
On Thursday, July 16, 2015, Acting Fire Fighter/Medic Battalion Chief Ernest Shaun Lindqvist will received the American Legion, Department of Maryland "Career Fire Fighter of the Year" award. The ceremony took place at the organization's convention in Ocean City, Maryland. In April of this year, he was selected as the "Career Fire Fighter of the Year" for both the American Legion's Southern Maryland District Council and the Prince George's County Council. Deputy Fire Chief Corey A. Smedley will represent the Fire/EMS Department at the awards ceremony.
"There are many reasons why I am extremely proud of Ernie Lindqvist, including overall work ethic, academic accomplishments and for his selection as the American Legion Firefighter of the Year," said Fire Chief Marc S. Bashoor. "I congratulate him on his well-deserved award and look forward to calling him Doctor Lindqvist in the very near future."
Upon becoming a career member of the Prince George's County Fire/EMS Department in November 2000, Battalion Chief Lindqvist was already trained as both a firefighter and paramedic. During his tenure, he progressed through the ranks and served in many Fire/EMS Stations throughout the County. He is currently assigned to the Department's Training and Leadership Academy. In this position he serves as the Deputy Director of the Academy, overseeing all aspects of fire, rescue, EMS, and professional development training, as well as the High School Cadet Program.
Battalion Chief Lindqvist's fascination with the fire service began at the age of eight, when he became a member of the Junior Firefighters in his hometown of St. Thomas in the United States Virgin Islands. The Junior Firefighters is a youth mentoring program within the Virgin Islands Fire Service that provides guidance counseling and education in the areas of firefighting, fire prevention, fire safety, and leadership. The program focused on community service and public safety and has been instrumental in the development of many of its members, for careers in public service.
In January of 1996, Lindqvist attended a paramedic program at the Center for Emergency Medicine of Western Pennsylvania and graduated with a Pre-Hospital Emergency Medicine Certificate. Immediately, at the conclusion of the program, he secured a paramedic position working under a 9-1-1 emergency service. He continued his professional development and became an instructor in various rescue and emergency medical services programs. Shortly thereafter, he took on a leadership position as the EMS Training Director.
In January 2000, Battalion Chief Lindqvist delved back into the career world of firefighting and cross-trained as a firefighter/paramedic in the Arlington County Fire Department in Northern Virginia. He held the position for nearly a year before taking an opportunity for the same position in Prince George's County, Maryland.
Acting Battalion Chief Lindqvist has many notable academic accomplishments. He received a Bachelor of Science Degree with a major in Fire Science and minor in Emergency Management at the University of Maryland University College in 2010. He furthered his education by receiving a Masters in Public Administration Degree with a Concentration in Disaster Management from American Public University in 2012. Presently, he is completing studies to obtain his Doctorate of Philosophy in Public Policy & Administration with a focus on Public Safety and Emergency Management at Walden University.
Battalion Chief Lindqvist is a life-long student and is frequently taking courses in fire, rescue, emergency services, and public management. He exhibits strong personal leadership, as evidenced in his continued professional development and ability and commitment to pass on his knowledge through teaching and mentoring those under his command.