August 10 - August 17, 2017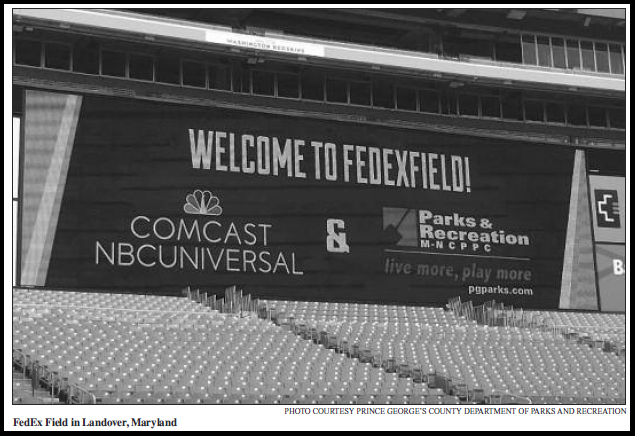 Washington Redskins Alumnus Santana Moss Talks Life, Sports, and Success
By PRESS OFFICER
MNCPPC
Riverdale, MD—Dozens of Department of Department of Parks and Recreation campers gave their all
at FedEx Field Thursday morning. The campers scrambled, dodged, and yes—caught and threw footballs—after words of advice and encouragement from Washington Redskins alumnus Santana Moss and the Department of Parks and Recreation, Prince George's County Director Ronnie Gathers.
The football clinic was possible thanks to a partnership between the Department of Parks and Recreation, Comcast, and the Washington Redskins. "It's through partnerships that you're able to speak to people who've done some pretty significant things in our society," said Director Gathers. "We're able to provide these opportunities throughout Prince George's County—whether it's sports, whether it's arts, whether it's swimming, you name it—and we can provide those opportunities."
The football clinic, created to remind the kids to stay fit and active, allowed the Track and Field campers to learn directly from the sports legend—who said his success on the football field was due in part to the work he put in on his high school track team.
"For all of you track athletes—keep it up. It's a sport that I think a lot about and I think it gave me everything that I've got," said Santana Moss, former Redskins wide receiver.
"Track is one of those sports that as a team, we rack up points—but we've got to go out there individually and do what we do. It's all on me. If you're a 100 yard sprinter or a 200 yard sprinter or that quarter horse, it's on you to get those points," said Moss.
Moss said running track taught him how to focus on his individual performance as a way to help his team win—a mentality that carried over into his football career. "I knew individually I had to give my all for my team to have a chance to win."
Moss also coached the aspiring athletes in other ways to prepare themselves for success—on and off the field. "Even when there was some of my darkest moments as a player and as an individual in life dealing with the things we deal with—never quit. Don't even let quit be in your vocabulary. We're going to erase that out of your vocabulary today. So never think about quitting," he said.
After the question and answer session with Moss, and a tour of the professional locker room, the campers took to FedEx Field—rotating through different football drills.
The clinic was just one way in which the Department of Parks and Recreation provides excellent public service to the Prince George's community. The event highlighted several of the Department's missives—including its commitment to creating and maintaining cooperative partnerships within the community, and its focus on enriching the quality of life for present and future generations.
And that's just how Director Ronnie Gathers wants it. Speaking to the campers, he said, "I want you to take note of everything you learned here today, but most of all, I'd like to say to you—when you leave here, think about dreaming big!"
New Guidelines Announced For Free and Reduced-Price School Meals
USDA Announces Adjustments in Income Eligibility
By PRESS OFFICER
MDSDE
BALTIMORE, MD—The Maryland State Department of Education (MSDE) has announced revised Income Eligibility Guidelines (IEGs) for free and reduced-price school meals. The guidelines are set by the federal government and adopted by the MSDE. Guidelines are used to determine eligibility for free or reduced-price meals in the child nutrition programs for the period July 1, 2017 through June 30, 2018.
The U.S. Department of Agriculture's (USDA) annual adjustments to the IEGs are required by Section 9 of the Richard B. Russell National School Lunch Act. The guidelines are intended to directly benefit those children most in need and are revised annually to account for changes in the Consumer Price Index. The IEGs were established by multiplying the 2017 federal income poverty guidelines by 130 percent to determine the household income levels for free meal eligibility and by 185 percent for the reduced-price meal eligibility income levels. The income levels are rounded upward to the next whole dollar.
Household size and income is the most common way to determine eligibility. For example, a child from a family of four is eligible for free school meals if the household's current annual income is below $31,980. If the family's annual income is between $31,980 and $45,510, the child is eligible for reduced-price meals.
Meal Benefit Applications will be sent home from school at the beginning of the school year. Parents and guardians should fill out the application completely and send it back to the school. Schools cannot approve incomplete applications. United States citizenship is not required to be eligible for free or reduced-price meals.
Schools will inform households whether children qualify for free or reduced-price meals. Parents and guardians may speak with school officials concerning disagreement with the school's decision or appeal the decision and request a fair hearing with school district administrators.
Children enrolled in a Head Start program, children certified as homeless, migrant, runaway, foster, or children living in households that receive Food Supplement Program (FSP) or Temporary Cash Assistance (TCA) benefits are eligible for free meals and do not need to fill out an application. Some FSP and TCA households will receive a letter from the school indicating that children in the household are eligible for free meals. Food Supplement Program and TCA households that do not receive a letter by the beginning of the school year should fill out an application. Other children that may be eligible for free or reduced-price meals include children in households participating in the Special Supplemental Nutrition Program for Women, Infants, and Children (WIC). Parents and guardians of these children should complete an application.
Parents and guardians may reapply at any time during the school year and are encouraged to do so if the household size increases, parents and guardians become unemployed, income decreases, or the household qualifies for FSP or TCA.
School Meals include the following programs: School Breakfast Program, National School Lunch Program, After-School Care Snack component, and Special Milk Program. The School Meals programs are administered in Maryland by the MSDE and by the USDA, and must meet nutrition requirements set by the USDA. Please visit the MSDE web site at www.eatsmartmaryland.org for additional information regarding the Child Nutrition Programs.
Individuals who want more information concerning schools or facilities that participate in one of the Child Nutrition Programs should contact a Program Specialist at 410-767-0219.
Maryland Horse Industry Board Seeks Nominations For Industry Representatives
By PRESS OFFICER
MDA
ANNAPOLIS, MD—The Maryland Horse Industry Board—a program in the Maryland Department of Agriculture—is seeking nominations to fill three positions on its 12-member board. The board serves as a commodities board that helps grow and promote the Maryland horse industry, and is also a regulatory body that provides oversight and advocacy to help protect horses and consumers at the state's commercial riding, lesson, boarding, rental and rescue stables.
Board members are appointed to four-year terms by the Governor, and represent various segments of the industry. Any person who would like to be considered for an appointment must apply online through the general appointments application which can be found at: https://govapps.md.gov/appointments/apply/. Applicants must also include a resumé.
Current openings represent:
• Licensed Stable representative—Open to an owner of a licensed stable
• Humane Societies—Open to an officer of a county humane society
• Trails and Recreational Riding—Open to a representative of the trails and recreational riding community
Applications are due by August 31. For further information, contact Ross Peddicord, Executive Director, Maryland Horse Industry Board, at 410-841-5798 or ross.peddicord@maryland.gov.
U.S. Congressman Anthony Brown, 'Champion' For Foster Children
By PRESS OFFICER
CASA
LARGO, MD—Before being elected a U.S. congressman, Maryland's lieutenant governor and a state legislator, Anthony Brown volunteered to assist foster children, an experience that helped shape his life in public service.
Brown served as a court-appointed special advocate (CASA) for foster children while attending Harvard Law School in the early 1990s. He did it at the suggestion of the school that said it would provide him valuable courtroom experience and give needed legal aid to abused and neglected youth.
"I was able to make a difference," said Brown, who made sure that children were properly housed and educated and receiving necessary medical and therapeutic care. "The challenge when you first meet these children is winning their trust and confidence."
Brown won their trust and confidence. And later, while in elected office, backed CASA programs across Maryland. He also served on the board of the Maryland CASA Association, and in 2005, received the group's Light for Children Award.
"I've been supportive of CASA ever since I served as one," Brown said.
The first-term U.S. lawmaker from Maryland's 4th Congressional District, which includes much of Prince George's and Anne Arundel counties, made the comments in an interview with CASA/Prince George's County, which is part of a network of more than 950 non-profits nationwide that recruits, trains and supervises CASA volunteers for foster youth.
"For people who volunteer to a be a court-appointed special advocate, my hat is off to them," Brown said. "It's important work. It makes a tremendous amount of difference for the kids."
Brown was elected to Congress in November 2016 after serving for eight years as Maryland lieutenant governor and eight years as a member of the Maryland House of Delegates.
He first learned about helping others while growing up in New York City where his father, a doctor, cared for the poor. "Success in life is measured in service to others," Brown was told.
As a CASA volunteer for two years while at Harvard Law School, Brown was moved by what he saw in foster care.
Binsner said, "If you are interested in becoming a CASA volunteer or learning more about it, please contact me at (301) 209-04919 or go to www.pgcasa.org."
Job Fair Connects More Than 70 County Residents With Employment Opportunities
Good Times On the Horizon for Bilingual Latino Job Seekers
By Lori C. Valentine
PGCEDC
Largo, MD—On July 21, 2017, more than 100 bilingual job seekers came out to the Prince George's County Economic Development Corporation (EDC) to participate in its first Bilingual Latino Job Fair and none were disappointed. Residents looking for access to well-paying job opportunities met with more than 30 employer partners, all of whom had immediate needs for positions to be filled. Of the 100 job seekers in attendance, more than 70% left with multiple job offers. EDC President and CEO Jim Coleman and Workforce Development Director Walter Simmons were joined by County Council Member Deni Taveras (Dist. 2), and Daisy Rickert, County Executive Rushern L. Baker's Latino Affairs Liaison who came out to encourage and support the Job Fair attendees.
"Today is a wonderful day in Prince George's County and we are thrilled to see so many employers ready to meet our job seekers," said Coleman. "County Executive Baker wants us to make sure we are connecting all of our residents with great high-wage jobs. That's what today's event is all about. We're reaching out to every single community to make sure that everyone is included and has a great, prosperous life here in Prince George's County!"
The Job Fair was a culmination of the EDC's Workforce Services Division's three day outreach to bridge language and cultural barriers to employment in the bilingual Latino community. The outreach consisted of two days of Career Readiness Sessions, where participants were able to receive assistance with resume writing, interviewing skills, career development, dressing for success and free occupational skills training. Residents participating in those sessions obtained a clear understanding of the steps they need to move forward on their career paths. Lazaro Rodriguez attended the Career Readiness Sessions and the Job Fair and was successful in securing three job offers today.
"I got a blessing today with three job offers. I'm really excited," said Rodriguez. "I'm so glad that I came out to the One Stop Career Center this week. They taught me how to update my resume, how to explain myself at an interview and how to talk about my education. This has been a wonderful opportunity for a great start!"
Participating companies from a variety of industry sectors held on-site, one-on-one interviews with candidates; many of whom were hired on the spot. Industries represented at today's Job Fair included: New York Life, Chaney Enterprises, WMATA, the Hilton Garden Inn Greenbelt and Goodwill of Greater Washington. All of the employers were impressed with the quality and preparedness of the candidates. Many were delighted to be a part of such a unique job fair.
"Today's Job Fair fits perfectly into what we are all about at WMATA," said Roberto Moreno, Senior Diversity Officer for Metro. "We are focused on diversity recruitment, military and veteran recruitment and disability recruitment to support the community. Our Metro Jobs program is designed specifically for the Latino population, so this Bilingual Latino Job Fair creates great synergies between WMATA and the Economic Development Corporation. We have met some excellent candidates today and I know that we can find a place for them at Metro."
The EDC's Workforce Services Division will continue to reach out to all of the residents of Prince George's County to ensure that they have access to well-paying careers. The One Stop Career Center Manager Vernice Gonzales was extremely pleased with the turn out and is eagerly looking forward to reaching more bilingual Latinos at the next event.
"Today has been wonderful. We have been able to provide employment to the bilingual Latino community," said Gonzales. "A lot of the time, the Latino community is not aware of the services that the County provides its residents for employment assistance. This particular event is not just important to match individuals with employment, it is also important for us to reach out to them to let them know about the employment services and job readiness services that the EDC provides through the One Stop Career Center."
For more information on how to identify job opportunities, register for job training and certification or career development workshops, contact Walter Simmons, Director of Workforce Development Services at 301-618-8400 or wsimmons@co.pg.md.us.