March 23 - March 29, 2017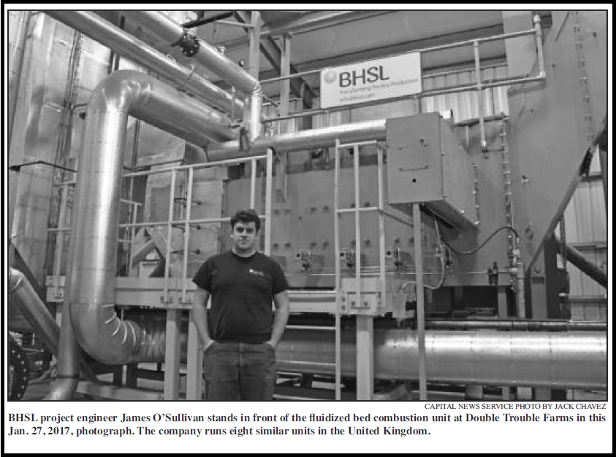 'Irish Firm Brings Renewable Energy To Maryland Poultry Industry
By Jack Chavez
Capital News Service
RHODESDALE, MD—Bob Murphy's Double Trouble Farms may be the most cutting-edge poultry operation on the Eastern Shore right now.
But the significance of the farm in Rhodesdale, Maryland, is not the poultry itself. It's the technology used to repurpose chicken manure.
The Maryland Department of Agriculture and Irish agri-tech company Biomass Heating Solutions Limited, or BHSL, have committed nearly $3 million toward manure-to-energy technology that they hope will significantly reduce the impact of Murphy's chickens—and perhaps one day all Eastern Shore poultry—on the Chesapeake Bay.
"Our main objective is bird enhancement," BHSL project engineer James O'Sullivan told the University of Maryland's Capital News Service. "We want to completely diminish ammonium (from Murphy's chickens to the bay). We want to reduce humidity (in the chicken houses) and have a drier atmosphere for the birds, hence drier manure."
The project was completed and went online in December. While O'Sullivan oversees the equipment on the farm, BHSL runs it off-site.
"The whole system is fully automated," O'Sullivan said. "It is controlled by our remote operations team in Ireland."
The farm houses more than 160,000 chickens—a large number, no question—but a fraction of the 300 million "broilers," or chickens bred specifically for meat production, that the USDA says the state produces annually.
O'Sullivan says the chickens on Murphy's farm can produce as much as 10 tons of manure a day. When left on the ground, the manure finds its way into local waterways and eventually the Chesapeake Bay.
The phosphorus and nitrogen in livestock manure are essential to healthy ecosystems, according to a 2004 report released by the Chesapeake Bay Foundation. In excess, however, these natural plant nutrients cause "explosive" growth in algae and other underwater plants, which stifle other forms of life in the bay.
BHSL utilizes a process called fluidized bed combustion, which works by heating a bed of sand inside a fuel combustion chamber until bubbling at 600 degrees Fahrenheit. Once this level is reached, manure is fed into the chamber and the temperature is raised to 1,600 degrees Fahrenheit. This process produces hot gases, which in turn are used to boil water that ultimately heats the chicken houses.
Not only does the process heat the chicken houses with clean, renewable energy, it keeps the manure off the ground and out of the waterways.
Livestock manure has long been one of the sources of bay pollution that the state Department of Agriculture seeks to diminish, but implementing environmentally friendly policies while preserving industries vital to local economies has been difficult.
"We can't lose poultry on the Eastern Shore," Murphy said. "People are looking for ways to save it, and that's my goal."
Murphy sees this technology, which his farm and BHSL began working on three years ago, as a means to clean the bay while preserving a vital economy.
"Right now we're transporting manure (to other nearby farms for fertilizer)," Murphy said. "But eventually those fields, which didn't have manure before, will get caught up and experience the same problem."
"Somewhere along the line, we have to get rid of this manure," Murphy added. "If you can burn eight to 10 (tons) a day, that's manure that doesn't go on the fields."
Murphy says he hasn't heard any opposition to the project locally, and others in the poultry industry have met the project with approval.
"The economy around here is driven by chicken farms," said Bruce Boney, a former IT contractor for Perdue Farms. "If they're trying to make an effort towards cleaner water, I think it's positive work."
O'Sullivan is quick to note that BHSL is not bringing technology to the United States that doesn't have a track record. In fact, the company first implemented their fluidized bed combustion chamber units in the United Kingdom in 2003, and today run eight different units on six different farms there.
One of the main byproducts of the process is fly ash, and O'Sullivan says BHSL is determining a market for it. Specifically, BHSL is in talks with composting and phosphorus leaching companies, he said. Fly ash's value comes from its phosphorus, potassium and carbon content.
If the project goes well, O'Sullivan said, there are plans to bring the technology to nearby Bellview Farms, another poultry farm Murphy owns. Bellview houses twice as many chickens as Double Trouble Farms.
Manure-to-energy technology has the potential to reshape how farms handle excess manure not only in Maryland, but the rest of the country, especially the other bay-watershed states.
"Maryland is literally creating the blueprint (for dealing with excess manure in waterways)," Maryland Secretary of Agriculture Joe Bartenfelder said last month.
Maryland's commitment toward the project, $970,000, comes from the Department of Agriculture's Animal Waste Technology Fund. Grants from the fund are awarded based on an applicant's ability to meet a variety of requirements, according to the department's Office of Resource Conservation program manager Louise Lawrence.
"(We run) a competitive (application process) annually. Proposals are evaluated based on responses to requirements," Lawrence said. "We have approved funding for six projects to date. These projects vary in cost from $300,000 to $1.4 million."
Other projects include:
• $150,790 to Green Mountain Technologies Inc. to repurpose horse manure at Days End Farm in Woodbine.
• $237,520 to Green Mountain Technologies Inc. to repurpose dairy cow manure at Iager Farms in Frederick County.
• $350,302 to Veteran Compost and O2 Compost to repurpose horse manure in Davidsonville.
• $676,144 to Planet Found Energy Development to repurpose poultry manure in Berlin.
• $1.4 million to CleanBay Renewables to construct and operate an energy-to-manure plant that will benefit farms in Somerset County.
$2.05 Million in Grants Awarded for Stormwater Management and Citizen Engagement Projects
By Press Officer
PG County Government
Largo, MD—The Prince George's County Department of the Environment and the Chesapeake Bay Trust announce the recipients of 23 grants for environment-friendly stormwater management and citizen engagement projects. Prince George's County neighborhood groups, faith-based organizations, non-profit organizations, and schools received support for projects that ranged from $11,791 to $500,000.
"The Trust is proud to be a partner with Prince George's County to distribute resources that engage residents and make a difference for our communities and the environment," said Dr. Jana Davis, Executive Director of the Chesapeake Bay Trust. "We know that greener neighborhoods, cleaner streams, and better natural resources all around are good for us, our businesses, our kids, and our health. These grants offer everyone in Prince George's the chance to take action and do something to improve their own communities."
"The Department of the Environment congratulates the recipients of these stormwater management and citizen engagement grants. We're proud of the environmental stewardship displayed by these organizations, communities and educational institutions in Prince George's County, and their commitment to responsible programs that reinforce best environmental practices, educate and engage residents, and reduce pollution and litter.
Grants totaling $2.05 million were awarded, supporting on-the ground restoration projects that treat and control stormwater, support municipalities in the County to meet pollution and education goals for cleaner water, support and use County-based businesses, and provide citizen awareness and engagement to protect the County's natural resources. These projects include diverse communities and residents and strongly support County goals for environmental education. Established in 2014, the Prince George's County Stormwater Stewardship Grant Program focuses on water quality programs that achieve nutrient and/or sediment reduction from stormwater, citizen engagement projects that aim to involve residents and businesses in efforts to improve local watersheds, removing trash from streams, reducing pet waste, planting trees, engaging youth, and supporting faith-based organizations throughout the County.
Honorees of the
Stormwater Stewardship Grant Program include:
Interfaith Partners for the Chesapeake; $51,010: To develop and implement faith-based "train the trainer" sessions for ten congregations and provide technical assistance for twenty congregations to implement the Alternative Compliance Program options two and three.
Neighborhood Design Center; $27,363: Provide technical assistance services for future applicants in year four (FY18) of the Prince George's Stormwater Stewardship grant program.
Interstate Commission on the Potomac River Basin; $60,189: To implement the Score Four Students, Schools, Streams and the Bay program that will engage 209 Northwestern High School (Hyattsville) students and 540 Accokeek Academy (Accokeek) students in watershed investigations and action projects.
Greenbelt Homes, Inc.; $101,935: To implement storm-water management practices in the neighborhood and engage the City of Greenbelt residents in watershed restoration.
Anacostia Riverkeeper; $200,000: To implement the first "trash trap" in Prince George's County. This device will collect and remove trash from the stream, educate the community about the trash trap and its installation in the Arundel Canal, and provide one year of maintenance.
Alliance for the Chesapeake Bay, Inc.; $33,322: To lay the groundwork for a future Prince George's County RiverWise program.
REAL School Gardens; $ 100,000: To train and support students and teachers at three elementary schools in Prince George's County to use outdoor classrooms, engage students, and provide meaningful watershed educational experiences (MWEEs).
Town of Cheverly; $121,833: To design, engineer, and construct four micro-bioretention practices and plant trees at Boyd Park in the Town of Cheverly, Maryland.
End Time Harvest Ministries; $16,415: Provide citizen engagement using a rain garden planting event for the Wellness Ambassadors, students, and citizens that will learn how local actions can improve the community health and clean local streams.
Maryland League of Conservation Voters Education Fund; $11,791: To provide
citizen engagement, outreach
to the Latino community, and to implement the Latino
River Festival.
Maryland National Capital Park and Planning Commission; $250,000: To implement stormwater management practices, plant trees, remove invasive species, and engage citizens at up to seven parks and community centers in the Anacostia watershed.
Clean Water Fund; $42,402: To provide a social marketing campaign for homeowner stormwater management and Rain Check Rebate outreach in the Town of Capitol Heights, Maryland.
People for Change Coalition; $44,151: To provide outreach that will increase the homeowner association engagement in the Rain Check Rebate program.
The Low Impact Development Center, Inc.; $60,000: To develop a master plan in the Port Towns area that outlines the stormwater solutions in a concept plan that will be used to implement the projects.
DuVal High School; $26,207: To implement a high visibility rain garden at DuVal High School in Lanham, Maryland.
University of Maryland College Park; $135,000: To develop a Prince George's County Pet Waste Education Campaign that will provide outreach, citizen engagement, pet waste station installations, and develop an assessment management tool.
People for Change Coalition; $68,432: To implement a pet waste campaign that includes education and outreach for the citizens, pet waste station installations, and maintenance and monitoring.
Anacostia Watershed Society; $500,000: To launch the Prince George's County Conservation Green Earth program—an innovative pilot program, which combines stormwater management projects with meaningful watershed educational experiences (MWEEs), teacher professional development, integration of environmental material into curriculum, provides training for teachers and maintenance staff, and implements small practices on school grounds.
Maryland League of Conservation Voters Education Fund; $29,497: To provide citizen engagement for the Latino community and Latino-serving organizations in the Anacostia watershed through workshops, demonstration projects, and an outdoor activity.
CENTRO DE APOYO FAMILIAR; $30,333: To provide citizen engagement to the Latino community and faith-based community organizations through workshops and training seminars. This project will support the Alternative Compliance Program options two and three.
People for Change Coalition; $41,130: Provide technical assistance for four faith-based organizations. This project will support the Alternative Compliance Program options two and three.
Central Kenilworth Avenue Revitalization Community Development Corporation, Inc.; $50,000: To develop a pilot tree planting program for residential properties and neighborhoods.
Prince George's Green; $50,000: To increase tree canopy in the County through partnerships with municipalities, citizens, and businesses, and test innovative outreach efforts to enhance tree plantings on private residential properties.
Over 100 County Residents Compete For Coveted High-Wage Jobs at EDC Hiring Event for Dave & Buster's
By Lori C. Valentine
PGCEDC
Largo, MD—Today, more than 100 candidates crowded the One Stop Career Center in at the Economic Development Corporation headquarters in Largo, Maryland with high expectations of securing gainful employment at the Capitol Heights Dave & Buster's. This popular restaurant and entertainment venue that consistently hosts capacity crowds Thursday through Sunday partnered with the Prince George's County Economic Development Corporation (EDC) to fill more than 50 high-wage positions, many paying upwards of $250 per night. EDC President and CEO Jim Coleman along with EDC Chief Operating Officer Paul Rowe welcomed the candidates and wished them the best of luck in becoming a part of a great international company like Dave & Buster's.
"Prince George's County has an outstanding talent pool, ready and willing to grow in a company like Dave & Buster's," said Coleman. "This is what the EDC is all about. Helping County residents move from a job to a career and become wealthy in a company with great benefits and the opportunity to grow into management builds strong communities in Prince George's County. I'm excited about today's partnering event with Dave & Buster's."
Pierre McCown, Talent Coordinator for the Capitol Heights Dave & Buster's was delighted by the large turnout of candidates at the hiring event today. He explained that successful candidate will progress quickly at Dave & Buster's if they are team players, open to new opportunities, and take their training seriously. Dave & Buster's prides itself on providing $2,000 per employee on training before that employee goes on the floor alone. Successful candidates, both part-time and full-time, are also eligible for an impressive benefits package that includes basic medical, dental and vision insurance. Roughly half of the candidates were invited back for second interviews.
For more information on job opportunities with Dave & Buster's or other employers in the County, contact Ron Hopkins, EDC Business Consultant at (rhopkins@co.pg.md.us) or 301-618-8400.
Update: PG County Board of Education Approves 2017–2018 School Calendar
By Press Officer
PGCPS
UPPER MARLBORO, MD—Prince George's County Public Schools will begin the 2017–2018 school year September 6 and end June 13.
The school system's request to begin prior to Labor Day was denied Tuesday by the State Board of Education. Last week, the Prince George's County Board of Education approved a school calendar with August 22 as the first day of school for students and June 6 as the last day of school along with a post-Labor Day calendar.
Last August, Gov. Hogan issued an executive order mandating local education agencies to develop a school calendar that starts after Labor Day and ends no later than June 15. To date, the primary rationale given for the executive order is the boost of tax revenue for Ocean City and the popularity of the proposal with the general public.
"Under the Governor's mandate, local Boards of Education can no longer implement a school calendar that reflects the unique needs of their school districts," said Dr. Segun C. Eubanks, Board of Education Chair. "I strongly believe a pre-Labor Day school calendar is best for Prince George's County."
"As Chief Executive Officer of the second-largest school district in the state, I am concerned about summer learning loss and our ability to schedule professional development and planning opportunities for teachers," said Prince George's County Public Schools CEO Dr. Maxwell. "More importantly, I am concerned about the basic needs that many families struggle to meet, such as regular nutritious meals and child care. We do not believe this mandate prioritizes children and families."
Prince George's County Executive Rushern L. Baker, III Announces The Creation of More Than 15,000 New Jobs in Last 36 Months
By Press Officer
PG County Government
Upper Marlboro, MD—Recently released data from the State of Maryland's Department of Labor, Licensing and Regulation (DLLR) shows that Prince George's County 3Q 2016 jobs numbers reached a new high for the Baker Administration at 313,192. Measured from the corresponding 3Q 2013 data, this is an addition of 15,070 jobs over a 36 month period. This is the highest level of 3Q jobs reported in Prince George's County since 2007, before the beginning of the impacts of the Great Recession.
"Six years ago, I stated that Prince George's County would become the economic engine of this region and state," said Prince George's County Executive Rushern L. Baker, III. "The reactions I generally received to that declaration was that I was being very optimistic and hopeful, or they were patronizing, assuming that I was naïve. But I knew that we had the location, the resources, and, most importantly, the residents and a business base to make this happen. We all needed to start rowing in the same direction, and we have."
Prince George's County led the state in 3Q job growth over the past 12 month reporting period with 7,850 new jobs, or 22% of the State's total job growth: when the MGM National Harbor's 3,600 new jobs are added, Prince George's County will be able to claim job growth of over 18,000 new jobs. These jobs are a result of the more than $9 billion in various projects in recently built, under construction, and pipeline economic development in the County. In addition, it is a reflection of the hard work and dedication of our private sector partners. Prince George's County unemployment has dropped to 3.9% currently from 7.8% in 2010.
Under the Baker Administration, the County created the new Department of Permitting, Inspections and Enforcement that eliminated red tape and redundancy resulting in a more business friendly regulatory environment. County Executive Baker also created the $50 million Economic Development Incentive Fund (EDI Fund) that has been utilized to attract, retain, and expand businesses located in the County, with $32 million in EDI Funds leveraging almost $750 million in private capital and investments. The County Executive has made five international economic development missions garnering economic interest and investment in the County from around the world. Finally, the County Executive passed sweeping ethics and oversight reforms that quickly changed the perception throughout the business world and announced that Prince George's County is open and serious about attracting the biggest and best industries and companies.
"We have achieved a litany of achievements from property values increasing to graduation rates hitting record highs to massive reductions in crime. But one of the best feelings comes from talking to a County resident whose job was saved or created as a result of the County's efforts." said Baker. "And with each job comes a career, an education and, often, an identity and purpose in life. For far too long, Prince George's County was a place where people lived, but did not work. We have begun to change that trend, which is going to be better for our quality of life, the environment, our budget, and the limitless possibilities that lie in the future for this County."
On the horizon is a groundbreaking for the future Regional Medical Center in Largo. Additionally, Prince George's County is currently leading the race to become home to the new consolidated Federal Bureau of Investigations (FBI) Headquarters—a 11,000 jobs, $2.5 billion dollar project that will further rebrand and re-invent the County's economy.
Prince George's County's economic success is also includes noticeable increases in retail options including attracting the County's first Whole Foods, two Harris Teeters, the Tanger Outlets, Dave & Buster's, and the transition of the Laurel Mall to the new Laurel Town Centre. Most recently, the $1.4 billion MGM National Harbor resort opened to critical acclaim . Furthermore, established malls such as the Mall at Prince George's and Iverson Mall are anticipating multiple-million dollar renovations. In 2014, County Executive Baker was named a top "Retail Friendly Public Official" by the trade magazine Shopping Centers Today.
These successful employment and economic development numbers are due to the support of many individuals and organizations in the County. The County Executive acknowledges these partnerships and the innovative ideas and resources provided by them: these partners include the County Executive's senior staff, in coordination with the Prince George's County Council, the Prince George's Senate and House Delegations, the Prince George's Chamber of Commerce, the Prince George's Business Roundtable, the Prince George's County Economic Development Corporation (EDC), FSC First, the Convention and Visitors Bureau, the Revenue Authority, Department of Permitting, Inspections, and Enforcement (DPIE), Department of Housing and Community Development (DHCD), and the Redevelopment Authority.