January 28 - February 3, 2016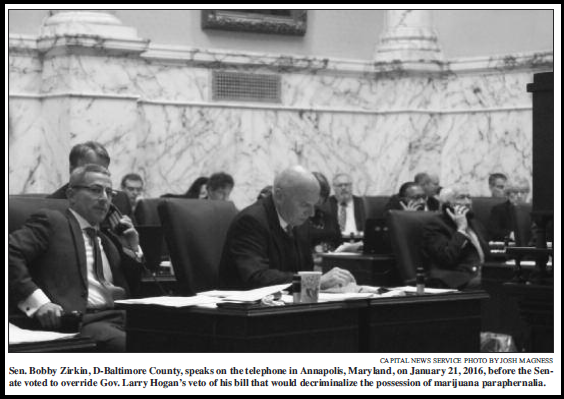 Maryland Lawmakers Override 5 of Hogan's Vetoes; Senate Delays on Felon Voting Rights
By Rachel Bluth
Capital News Service
ANNAPOLIS, MD—Despite impassioned speeches from Republicans, the Democrat-controlled Maryland Senate voted Thursday to override three of Gov. Larry Hogan's vetoes from last session, and decided to postpone voting on a fourth.
Five pieces of legislation—funding an Annapolis hall; seizure of assets by police; marijuana paraphernalia decriminalization; and two on hotel taxes—were approved by both the state House and Senate this week. Because both chambers approved the overrides, the bills became law immediately.
The Senate on Thursday morning voted 29 to 17—just making the 29 votes required for an override—on legislation to decriminalize the possession of marijuana paraphernalia. Though possession of small amounts of marijuana are no longer a criminal offense in Maryland, the devices required to smoke it remain prohibited.
Hogan and other detractors worried that legalizing paraphernalia would make it harder to prosecute people who smoked while driving.
"This bill in no way legalizes, decriminalizes or makes OK someone getting behind the wheel of a car and driving while high," said bill sponsor Sen. Robert Zirkin, D-Baltimore County.
Sen. Robert Cassilly, a Republican from Harford, said it sent a wrong message that driving with an open container of alcohol in the car is a misdemeanor, but driving with a joint—while not intoxicated—is only a civil fine.
"And oh by the way, if you don't have the funds to pay that civil penalty, you can take those citations and use them to roll your marijuana cigarettes, because you're pretty much immune," Cassilly said.
"I find it ironic that the governor wants to invest money in Baltimore to help Baltimore but yet at the same time recriminalize marijuana so a large number of minority youths—African Americans as well as white people—will have a criminal record," said Sen. Paul Pinsky, D-Prince George's. "On one hand, we're investing in buildings, but we're going to invest criminal attributes to young people who might make a mistake. I find it a little hypocritical."
Later Thursday, the House of Delegates voted 86 to 55 to also override Hogan's veto of the paraphernalia bill.
The Senate voted 30 to 16 to override a veto on SB 190, which requires hotel-booking sites, like Travelocity, to give the state the full tax that customers pay.
Now, sites keep a part of the tax as a service fee, instead of remitting the full amount to the State of Maryland.
Republicans, including Hogan, wanted to wait until litigation in tax court between Comptroller Peter Franchot and Travelocity was finished, but the bill's sponsor, Sen. Richard Madaleno, D-Montgomery, said that the Senate couldn't wait.
"I would remind the body that we have been in court now for close to five years with just one company … it is up to us as the legislative branch to set the policy for this state, and not to delegate that authority to the judicial branch," Madaleno said.
Sen. Andrew Serafini said that this legislation would amount to triple taxation, between the state, the county and corporate income tax.
"Let's make no mistake, this is a new tax," Serafini, R-Washington, said.
On Wednesday, the House of Delegates overrode a similar bill that only pertained to Howard County.
By a 32 to 14 vote, the Senate voted to override Hogan's veto of SB 528, which prohibits police from seizing assets of less than $300 from those they arrest, which Hogan and police said would inhibit law enforcement from going after drug dealers.
Sen. Jamie Raskin, D-Montgomery, who sponsored the bill, said he chose the $300 threshold because that is what he said an hour with an attorney in the state of Maryland would cost. He said the problem with civil forfeiture is that the burden of proof is on the person who was arrested to prove that their money was not being used for illegal purposes.
"I reject completely the claim that this disarms law enforcement," Raskin said.
He noted the if the police suspect distribution of an illegal substance, not merely possession, they are empowered to take all of the suspect's assets, even if it is less than $300. The House of Delegates voted 90 to 51 to override that veto as well.
The Senate chose to postpone until Feb. 5 a bill granting voting rights to felons who are on parole or probation. The House of Delegates voted to override a similar bill Wednesday.
Karen Montgomery, D-Montgomery, resigned from the Senate last month. She was one of the 29 senators who voted in favor of the bill last session. Once the Montgomery County Democratic Central Committee nominates a replacement, Hogan has 15 days to approve the name, which means a new senator will likely be in office on Feb. 5.
"I think that's a bit disingenuous to the public, I think they expect us to come down here and do the work with the people that we have," said Senate Minority Whip Stephen Hershey, R-Caroline, Cecil, Kent and Queen Anne's. "We shouldn't necessarily be playing games."
Senate President Thomas V. Mike Miller Jr., D-Calvert, said he simply wanted everyone to be present for the vote.
On Wednesday, the Maryland House of Delegates voted to override Hogan's veto on funding for Maryland Hall, a performing arts space in Annapolis. The Senate also approved that veto, and it became law immediately.
Chair Davis Announces Committee Assignments and Appointments for Legislative Year 2016
By Press Officer
PG County Government
The Prince George's County Council, led by Council Chair Derrick L. Davis (D) – District 6, and Vice- Chair Dannielle Glaros (D) – District 3, is set to meet the challenges of the new Legislative Year with the announcement of 2016 Council committee assignments and appointments to County boards and commissions.
Council Member Karen R. Toles (D) – District 7, will chair the Health, Education and Human Services Committee (HEHS). Council Member Deni L. Taveras (D) – District 2, will serve as committee vice- chair.
Among the agencies, institutions and issues of concern to HEHS: The Prince George's County Board of Education – Transfers and Budget Amendments; Prince George's Community College; Citizens Complaint Oversight Panel; Dimensions healthcare Corporation (Certificate of Need Reviews); Board of Elections; Family Services-Americans with Disability Act related items); Health Department and all Board of Health issues; Human Relations Commission; Board of License Commissioners; the Prince George's County Memorial Library System; and Social Services. Committee members include Council Members Mel Franklin (D) – District 9, Council Chair Davis, and Council Vice-Chair Glaros.
Council Member Andrea C. Harrison (D) – District 5, will chair the Planning, Zoning and Economic Development Committee (PZED). She will be assisted in this important work by Council Vice-Chair Glaros, serving as committee vice-chair.
In addition to handling issues and policies around County zoning and subdivision bills, and planning and land-use regulations, PZED is also responsible for reviewing the Economic Development Corporation's budget and concerns; Maryland-National Capital Park and Planning, which includes bi-county issues, the Planning Department, Parks and Recreation and the Planning Board; and the People's Zoning Counsel. PZED Members include Council Members Mel Franklin, Deni Taveras and Karen Toles.
Council Members Franklin, and Obie Patterson (D) – District 8, will lead the Public Safety and Fiscal Management Committee (PSFM) as chair and vice-chair respectively.
PSFM is responsible for reviewing 18 County agencies, and several issues and policies related to law enforcement, crime prevention and criminal justice, emergency preparedness, labor agreements, bond issues, budget and financial management, and cable television and telecommunications. Agency review responsibilities include the Office of Central Services; Circuit Court; Office of Community Relations; Department of Corrections; Office of Finance; Fire/EMS Department/Volunteer Fire; Office of Homeland Security; Office of Human Resources Management; Personnel Board; Office of Information Technology; Office of Law; Board of Ethics; Office of Management and Budget; Orphan's Court; Police Department; Office of the Sheriff; Office of the State's Attorney; and the Revenue Authority. Committee Members include Council Members Mary A. Lehman (D) – District 1, Andrea Harrison (D) – District 5 and Todd Turner (D) – District 4.
Council Member Turner will serve as chair of the Transportation, Housing and the Environment Committee (THE), with Council Member Taveras serving as committee vice-chair.
THE handles legislative matters pertaining to transportation policy and planning, transit-oriented development, as well as environmental protections, conservation programs and green infrastructure. Other policy and budget issues include the Capital Budget and Capital Improvement Program; Enterprise Funds; Solid Waste Plan; Storm Water Management; the Community Development Block Grant Program; the Redevelopment Authority; and Taxicabs and Limousines. Agency review responsibilities include the Department of Environmental Resources; Animal Control; Department of Housing and Community Development; Department of Public Works and Transportation; the Washington Suburban Sanitary Commission Operating Budget; and the Washington Suburban Transit Commission. Committee Members include Council Members Obie Patterson, Mary Lehman and Chairman Davis.
Council Vice-Chair Glaros and Council Member Harrison will preside over Rules, General Assembly and Committee of the Whole (COW) efforts as chair and vice chair respectively.
The Washington Suburban Sanitary Commission, M-NCPPC and County Capital Budgets and Capital Improvement Programs are reviewed in the Committee of the Whole.
PGCPS Students Bring Home Top Prize at State-Wide Dance Showcase
By Press Officer
PGCPS
UPPER MARLBORO, MD—Five students from Prince George's County Public Schools (PGCPS) received top honors for their exceptional dance skills at the 27th Annual Maryland Public High School Dance Showcase on January 8 at Goucher College in Towson, MD.
Suitland High School seniors Mecca Corey, 17, of Fort Washington, Janae Snyder-Stewart, 17, of Fort Washington, Kameryn Trussell, 17, of Upper Marlboro, and Staci Wilburn, 17, of Temple Hills were selected as "All-State Dancers." Northwestern High School sophomore, Joshua Gray, 15, of Mt. Rainier, received honorable mention.
"I was very excited about receiving the "All-State Dancers" award because it confirmed that I can do anything I set my mind to as long as I'm determined and work hard," said Corey. "It was a very demanding experience, and required complete focus from the beginning to the end."
Trussell added: "The showcase provided us with a great learning experience. I've danced for 14 years and receiving this recognition, alongside my classmates, made me extremely happy and very proud."
The Maryland Public High School Dance Showcase highlights excellence in public school dance education in Maryland. High schools submit audition materials, attend a full day of master classes, share with other dancers from around the state, and learn about college and university dance programs in Maryland. The showcase also celebrates student achievement with the presentation of the All-State Dance Awards and the Showcase Award for Professionalism and Performance.
This year, 560 students, from 37 public high schools in Maryland, participated in the showcase. Seventy-four students from PGCPS attended, representing Potomac, Laurel, Dr. Henry A. Wise, Jr., Northwestern, and Suitland high schools.
"It is extremely gratifying to see our students receive recognition when you know how hard they work to achieve their goals," said Janette Gillis, Center for Visual and Performing Arts Modern Dance Teacher, PGCPS. "Our senior class is extremely devoted to their craft and their futures, and their daily approach to the rigors of dance serves as a model for the rest of the department."
"I couldn't be happier for all our dancers and their families," Gillis continued.
All-State nominees had to meet the following criteria: 3.0 cumulative GPA, professional appearance, leadership and dedication to dance, high personal standards, professional behavior throughout showcase, positive attitude, courtesy and consideration of others, excellent attendance and behavior in school, service to a local dance program, and no disciplinary problems at school or in dance.
"Surviving a Burning House"—PGFD Community Risk Reduction Video
By PRESS OFFICER
PG County Fire/EMS
The Prince George's County Fire/Emergency Medical Services (EMS) Department's Office of Community Risk Reduction and Outreach (CRRO) has a new tool to help educate students, residents and citizens about safety measures to help escape a burning house.
The department is taking advantage of the popular "Burning House" song by country artist and songwriter, Cam, which describes a dream she had about a broken relationship.
Permission to use "Burning House" was obtained from Sony Music—Nashville, who is allowing the department to use the song and video only in Prince George's County.
The department's video Surviving a Burning House plays the song in the background as images of burning houses and fire apparatus appear in the video. Fire safety messages appear at intervals, promoting working smoke alarms, planning and practicing an exit drill in your home, and encouraging staying out of a burning house once you are out.
CRRO staff has used the video during school fire safety and injury prevention visits and has received an overwhelming positive response.
"When you receive dozens of questions from students and staff after viewing the video, it indicates the video evoked emotion and interest," said Teresa Crisman, CRRO coordinator.
The 'Surviving a Burning House video uses real images of real fires that recently occurred in Prince George's County while playing the 'Burning House' song, which appears to highly interest viewers, and when we interject our safety messages, it really becomes a powerful teaching instrument," added Crisman.
The department reached out to singer Cam by way of Twitter and wrote, "Hey @camcountry Prince George's County, MD, Fire/EMS Department produced a fire safety video w/Burning House. Has been very effective in schools. We would like you to see it & know you are helping to save lives." Cam responded tweeting, "@PGFDPIO how amazing!!!!! That makes me beyond happy!!!"
A copy of the Surviving a Burning House video was forwarded to her to watch.
The department's Surviving a Burning House video will not be available on the Internet or social media per agreement with Sony Music—Nashville. The video can be viewed only in Prince George's County, Maryland.
The video can be seen on Prince George's County Public Safety access channels as well as on digital signage monitors located in most county buildings. Verizon channel 39 is up and running and Comcast/XFINITY channel 69 will start airing soon.
The department will also make the video available, upon request, to any group in Prince George's County including schools, town hall meetings and at community events. Please call the CRRO office at 301-883-5250 for further details.
The Prince George's County Public Safety Access channel is available 24 hours a day and provides safety and prevention tips from all of your public safety agencies.
The Prince George's County Fire/EMS Department encourages you and your entire family to tune in to your cable providers Verizon, channel 39, and Comcast/XFINITY, channel 69 to watch the entire video and to learn the proper safety procedures should you ever find yourself amongst a burning house.
Mikulski Meets With Food and Drug Administration Employees at White Oak to Announce Increase Federal Funds for FDA to Protect Food, Drug and Medicine Safety in America
By Press Officer
Office of Barbara Mikulski
WASHINGTON, D.C.—U.S. Senator Barbara A. Mikulski (D-Md.), Vice Chairwoman of the Senate Appropriations Committee, on Monday met with Food and Drug Administration (FDA) leaders and employees at the agency's White Oak Campus in Silver Spring, Maryland. Senator Mikluski was joined by FDA Acting Commissioner Dr. Stephen Ostroff to announce the Consolidated Appropriations Act of 2016, recently passed by Congress and signed into law, includes increased federal funding for the agencies' food safety activities and to better protect our medical supply chain.
"I fought hard for this federal funding to support FDA and its critical mission that makes our nation safer and our economy stronger," Senator Mikulski said. "In recent years, we've increased the FDA's responsibility to ensure the safety of our food supply. And in this increasingly global market, we've relied on FDA more than ever to make sure the drugs and medical devices we depend upon are safe and effective. We've also asked FDA to help protect Americans from unsafe tobacco products. With all these increased responsibilities must come increased resources."
"I want to personally thank Senator Mikulski for her longstanding and enthusiastic support of FDA and our mission to promote and protect the public health," said FDA Acting Commissioner Stephen Ostroff, M.D. "This year's additional funding will enable FDA to better serve the American people by improving the safety of the food supply and assuring the medical products used by so many people are safe and effective."
As Chairwoman and now Vice Chairwoman of the Senate Appropriations Committee, Senator Mikulski has been a strong supporter of the FDA, which supports more than 15,000 jobs in Maryland. The Consolidated Appropriations Act of 2016 includes $2.7 billion to support FDA's critical mission, an increase of more than $100 million over fiscal year 2015 enacted levels. The bill provides $5 million to complete an updated Master Plan for the consolidation of FDA at White Oak. The bill also includes $1.5 billion for food safety by fully funding the Food Safety Modernization Act, which means FDA can keep screening imported food efficiently and effectively. The bill also includes $5 million for FDA to review pharmaceutical drugs being imported from other countries, better protecting the safety of our nation's drugs.
The Food and Drug Administration oversees the safety of products accounting for 25 cents of every dollar spent by consumers including foods, drugs, biologics, medical devices and consumer goods. The more than 15,000 federal employees who work for the FDA in Maryland make sure drugs are safe and effective, ensure the safety of our food supply, and get important health and safety information to doctors, patients and consumers that can save lives and save money. The FDA's gold standard in upholding drug, device and food safety creates private sector jobs.
The FDA is headquartered in Silver Spring, Maryland.