May 17 - May 23, 2018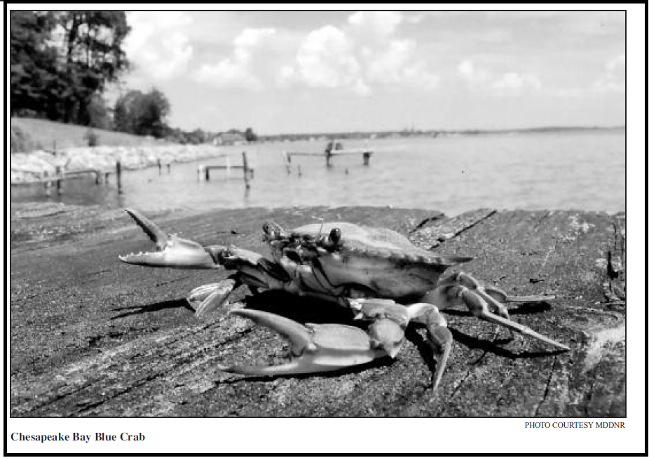 Survey Shows Chesapeake Bay Blue Crab Population Healthy


By PRESS OFFICER
MDDNR
Annapolis, MD—The Maryland Department of Natural Resources has released the results of the 2018 Blue Crab Winter Dredge Survey, which shows that the population of blue crabs remains healthy and sustainable.
While this year's cold weather and ice cover took a toll on the adult crab population, causing an estimated 35 percent mortality of adult females wintering in state waters, the number of young crabs that returned to Chesapeake Bay this year increased 34 percent. Blue crabs spend the first part of their lives in the Atlantic Ocean before returning to the bay to grow and mature.
"Despite the cold, hard winter, which extended well into the spring, the blue crab population remains healthy, resilient and sustainable," Maryland Natural Resources Secretary Mark Belton said. "Even with the erratic weather, which included snow in April, the blue crab population remains well within parameters, showing that the state and our partners are managing the species well."
The survey indicates a bay-wide crab population of 371 million, a decrease from last year's estimate of 455 million, driven largely by a decrease in the number of adult crabs. In 2018, the spawning female stock decreased 42 percent from 254 to 147 million, dropping below the target level of 215 million, but remaining well above safe levels. This year's adult female abundance remains among the 10 highest of the nearly three decade old survey. Adult male crab abundance declined 23 percent from 76 to 59 million. The juvenile crab population increased 34 percent over last year, reaching 167 million.
"Although the number of spawning-age females is down from last year, we are pleased to see that their abundance is well above the minimum safe number even with the winter weather and lackluster reproduction last year," Chesapeake Bay Stock Assessment Committee Chair Glenn Davis said. "Last year we had very few young crabs entering the bay. Those juveniles grew through 2017 and endured this year's cold winter to become the 2018 class of spawning adults."
The decline in numbers of adult crabs in the bay may lead to a slow start to the early harvest season, but as young crabs enter the fishery and increase their abundance in midsummer, Maryland may see an improved late season. The 2017 bay-wide crab harvest decreased slightly in 2017, from 60 to 54 million pounds, but continued to operate at sustainable levels, especially for female crabs.
"This year's results give us optimism that our management approach is effective at conserving adequate numbers of crabs even when the number of juveniles is low and winter mortality is high," Maryland Fishing and Boating Services Director David Blazer said. "We will continue our conversations with industry and partners throughout the season to ensure a successful and sustainable harvest."
The Chesapeake Bay Stock Assessment Committee will release a full analysis this summer.
The annual Winter Dredge Survey has been conducted by the Maryland Department of Natural Resources and Virginia Institute of Marine Science since 1990. In the survey, biologists use dredge equipment to capture, measure, record and release blue crabs at 1,500 sites throughout Chesapeake Bay from December through March.
3D, Tactile Storybook Walk, Now @ Laurel Branch Courtyard!

By PRESS OFFICER
PGCMLS
Laurel, MD—The Laurel Branch of the Prince George's County Memorial Library System is the first in the County to use its 3D printer for a library customer design project to create a tactile storybook of Brown Bear, Brown Bear, What Do You See? by Bill Martin, Jr. The project was a part of the Laurel Branch Library's Children's Book Week celebration. More than 800 libraries, schools and bookstores nationwide are participating in the 99th Annual Children's Book Week events.
This past Children's Book Week: 3D Storybook Walk project involved five phases:
1. CAD designing
2. 3D printing
3. Brown Bear, Brown Bear, What Do You See? storytime by a staffer dressed up as a bear in preparation for the walk
4. Creating the Storybook Walk, and
5. The Grand Finale of visiting the Brown Bear, Brown Bear, What Do You See? Storybook Walk in
the courtyard of the Laurel Branch Library's.
Students Win Awards at Maryland History Day
By PRESS OFFICER
Maryland Humanities
Baltimore, MD—Nearly 700 middle and high school students gathered to display their extensive historical research at the 2018 Maryland History Day competition. The competition, held on April 28 at University of Maryland, Baltimore County (UMBC), is the culmination of a year-long program presented by Maryland Humanities that saw more than 27,000 students participate at the school level.
Working solo or in small groups, students create original documentary films, exhibits, performances, research papers, or websites exploring a historical topic of their choice on an annual theme. 2018's theme is "Conflict and Compromise in History." Maryland History Day sparks critical thinking and helps develop skills in research and analysis, writing, and public speaking. The program is open to public, private, parochial, and homeschool students in grades 6 through 12.
Competitors at Maryland History Day have already won first or second place in their category at school and district levels. Students from sixteen Maryland counties and Baltimore City received special awards, designated for outstanding Maryland History Day projects that cover specific themes.
Students from seven Maryland counties and Baltimore City will represent Maryland at the National History Day competition, where they will compete among 3,000 participants from across the country and beyond. National History Day is June 10–14, 2018 at the University of Maryland in College Park. The competition involves students from all 50 states plus the District of Columbia, Puerto Rico, Guam, American Samoa, and international schools in China, Korea, and South Asia. Maryland History Day is an affiliate of National History Day, a non-profit education organization that promotes an appreciation for historical research among middle and high school students through multiple annual programs, including the National History Day Contest.
Support for Maryland History Day is provided by the State of Maryland through the Maryland State Department of Education, The Alvin & Fanny B. Thalheimer Foundation, Jerome S. & Grace H. Murray Foundation, Columbia Gas of Maryland, Kinder Morgan Foundation, and Wegmans.
Maryland Humanities is pleased to name Thomas Crise and Samuel Spinder as the Maryland History Day Middle and High School Teachers of the year, respectively. Crise teaches at Stevensville Middle School in Queen Anne's County and Spinder teaches at North Hagerstown High School in Washington County. Maryland Humanities has also nominated Crise and Spinder for the James F. Harris History Teacher of the Year Award, facilitated by National History Day. A committee of teachers and historians selects one middle school teacher and one high school teacher for the $5,000 national award.
Crise has taught middle school in Maryland for over a decade. He has years of experience in curriculum development, has led professional development initiatives for his colleagues, and organized History Day for Queen Anne's County Public Schools. Spinder has taught at North Hagerstown High School for fourteen years and has served as the History Day faculty advisor for AP World History students since 2007. He also has experience as the Social Studies Department Chairman at Stemmers Run Middle School.
Another Maryland History Day teacher, Amie Dryer, has been selected as one of eighteen middle and high school educators nationwide to participate in in Memorializing the Fallen: Honoring those Who Served. The nine-month professional development program is based on a partnership between National History Day®, the National Cemetery Administration (NCA), and the American Battle Monuments Commission (ABMC).
Dryer will travel to Hawaii to study the Korean War. Memorializing the Fallen: Honoring those Who Served provides those accepted into the program the opportunity to walk in the footsteps of history as they travel to one of 18 national Veterans' cemeteries. Teachers will also visit some sites associated with the period and then develop a lesson activity connecting one element of WWI or the Korean War with a local national, state, or tribal Veteran's cemetery. Activities are designed for use by school or community groups who visit the cemetery.
Dryer teaches at Calvert High School in Calvert County. She has participated in Maryland History Day for nine years. A pair of Dryer's students, Kayla Bevard and Vina Vo, won the Special Prize in Women's History this year for their website on Julia Ward Howe. In past years, Dryer has volunteered her time as a Maryland History Day Judge. Learn more about National History Day and Memorializing the Fallen: Honoring those Who Served.
Prince George's County Based Women-Owned Business to Receive Top Economic Development
Susan Gage Caterer, Inc. Named 2018 Maryland Economic Development Association's Economic Development Project Awardee
By Lori Valentine
PGCEDC
Largo, MD—On April 30, 2018, FSC First and Prince George's County Economic Development Corporation (PGCEDC) congratulate Susan Gage Caterer, Inc. (Susan Gage), a woman-owned business headquartered in Hyattsville, MD, on receiving the 2018 Maryland Economic Development Association's (MEDA) Large Community Development Project Award. Susan Gage accepted this prestigious award at MEDA's Annual Awards Dinner at the Hyatt Regency, Chesapeake Bay.
"Congratulations to the Susan Gage Caterer, the recipient of the EDI Funding from Prince George's County," state Prince George's County Executive Rushern L. Baker, III. "We are excited to know that this outstanding company is receiving statewide recognition at the MEDA Annual Conference. The EDI Fund is one of the reasons we've been able to leverage $36 million in public dollars into $1 billion in private investment."
From humble beginnings, Susan Gage started her business in her garage in Fort Washington, MD and has grown to one of the best full-service catering companies in the region. To meet the demands for growth and expansion, Susan Gage launched a $4.6 million redevelopment project, partially funded by Prince George's County's Economic Development Incentive Fund (EDI Fund), which resulted in the build-out of a vacant 31,000 square foot warehouse flex space inside the Capital Beltway in Hyattsville, MD. This eco-friendly facility includes tasting rooms, commercial kitchen, warehouse, office space, and a charging station for electric delivery vehicles.
"Susan Gage is a fine example of how an entrepreneur can be successful in Prince George's County," states Jim Coleman, President and CEO of the Prince George's County Economic Development Corporation. "This woman-owned company not only brings high quality hospitality to the County, it has also brought jobs and innovative green catering practices to the industry. For these reasons, we were delighted to nominate Susan Gage for this year's Large Community Development Award in partnership with FSC First."
Through its expansion into Hyattsville, Susan Gage was able to retain its 110 employees and hire an additional 189 employees while shifting the business to a site inside the Capital Beltway with immediate access to the Metro and within the employees' home communities.
"Prince George's County Economic Development Incentive Fund (EDI Fund) is designed to provide businesses with the funding needed for growth and expansion," states Shelly Gross Wade, President and CEO of FSC First. "Through Susan Gage's expansion into Hyattsville, she has created more than 180 jobs and generated $200,000 in commercial property taxes in the County. The success of this type of project is what County Executive Rushern L. Baker, III envisioned when he created the EDI Fund."
Today, Susan Gage has incorporated green sustainability practices into every aspect of its operations and is fully committed to being a responsible environmental steward while delivering the highest level of catering services. While the sector is not new, Susan Gage's approach to catering is new and improved. Susan Gage should become a model for how catering businesses can reinvent themselves, be more responsible community citizens, and still remain relevant and profitable.
For more information and additional details on the EDI Fund, please contact Dawn Medley at drmedley@fscfirst.com or Ebony Stocks at epstocks@co.pg.md.us.
Secretary of State John Wobensmith Announces Details of Maryland-Anhui Promotion Week
Business, Education, Art, and Cultural Events Will Mark Longtime Sister State Relationship Between Jurisdictions
By PRESS OFFICER
State of Maryland
ANNAPOLIS, MD—On May 3, 2018, Maryland Secretary of State John Wobensmith announced that the Maryland's Office of the Secretary of State's International Division, which directs the Maryland Sister States Program, is partnering with the Sister States of Maryland, Inc., Maryland—Anhui Sister State Committee for Maryland-Anhui (China) Promotion Week, which will be held May 29 to June 1.
"Maryland-Anhui Promotion Week is the outcome of a meeting between Governor Larry Hogan and Anhui Party Secretary Li Jinbin last summer," Secretary Wobensmith said. "During that meeting, the governor and Party Secretary agreed that the 38-year-old Sister State relationship between Maryland and Anhui, established in 1980, is deserving of a focus, a celebration, and a re-commitment to the deep and significant economic, trade, educational, and cultural relationships between Maryland and Anhui Province."
More than 150 delegates from Anhui Province, China are expected to travel to Maryland. With most of its key events held at the Hilton Rockville, Maryland-Anhui Promotion Week will include business discussions, with a particular emphasis on opportunities for cooperation and investment in biopharmaceuticals, agriculture, tourism, trade, and transportation. Maryland Promotion Hall will feature displays and information on Maryland businesses and agencies across a number of sectors.
Other Maryland-Anhui Promotion Week meetings will include exchanges between Anhui education representatives and Maryland K-12 and higher education officials, and traditional Chinese medicine experts and University of Maryland Baltimore's Center for Integrative Medicine.
"Given May is Asian Pacific American Heritage Month, we hope these events will help bring the unique Chinese arts and culture to Maryland in celebration of the commemorative month," said Secretary Wobensmith.
Two Maryland-Anhui Promotion Week events will be open to the public. The events are:
• Anhui Art & Culture Exhibit, May 30 and 31 (10:00 AM–4:00 PM) at the Hilton Rockville, 1750 Rockville Pike, Rockville, MD—Featuring Anhui art and cultural exhibits and demonstrations. Admission is free.
• Huangmei Opera, May 30 (8:00 PM) at the Cultural Arts Center of Montgomery College, 7995 Georgia Avenue, Silver Spring, MD—A performance of a traditional Chinese opera by Anhui's most notable opera company. Admission will be $10 (children 12 and under free).
For updates and more information on Maryland-Anhui Promotion Week, visit http://maryland-anhui.com/ or contact:
Ms. Mary Nitsch, Director of International Affairs, Office of the Secretary of State 410-260-3865,
mary.nitsch@maryland.gov
Mr. Steve Drake, Vice Chair, Maryland-Anhui Sister
State Committee
301-602-4766,
sdrake@verizon.net
About the Maryland Office of the Secretary of State and Sister States of Maryland, Inc.
Maryland's Office of the Secretary of State has a number of responsibilities, including certification and authentication of documents, registering Notary Publics, administering the Safe at Home program for victims of domestic violence, and registering, regulating and renewing charitable organizations which solicit from Maryland residents. The staff of the International Division administers the Maryland Sister States Program, which was established in 1980 and currently includes 20 relationships in 17 countries.
The Sister States of Maryland, Inc., a private, not-for-profit corporation organized under the laws of Maryland, partners with the Maryland Sister States Program and seeks to have an impact in the promotion of partnerships and relationships that enhance the overall quality of life of the citizens of Maryland and of its Sister States. The board of directors comprises the chairs and vice chairs of each of the Sister State committees and focuses its projects on the following objectives: promoting trade and business, increasing educational opportunities, exchanging cultures, improving health and human services, and promoting tourism.