October 17 - October 23, 2019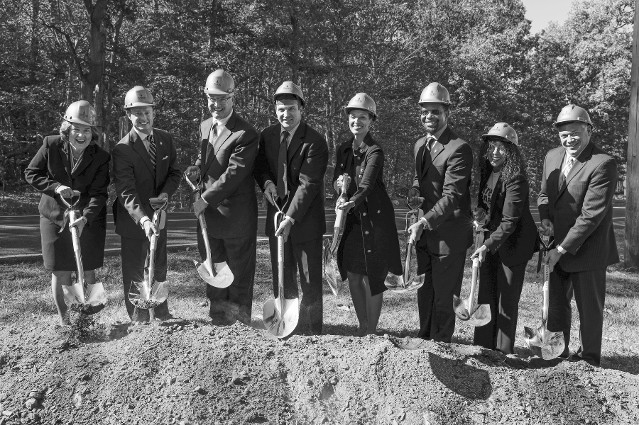 Photograph courtesy Bowie State University
At the groundbreaking ceremony (L to R): Lisa Smith, executive director, Bowie Business Innovation Center (Bowie BIC); Tom Sadowski, vice chancellor for economic development, University System of Maryland (USM); Robert Brennan, executive director, Maryland Economic Development Commission (MEDCO); Maryland Senator Douglas J.J. Peters, District 23 (Prince George's County); Aminta H. Breaux, president of Bowie State University; Ray Gilly, Prince George's County Deputy Chief Administrative Office; Johnetta Hardy, executive director of Entrepreneurship Academy; Bob Shepko, division president, Balfour Beatty Campus Solutions
Maryland and Local Officials to Join BSU Community to Mark Start of Construction
By DAMITA CHAMBERS
Bowie State University
BOWIE, Md. (October 9, 2019)—Marking a significant expansion of space for business innovation, dozens of Maryland and local officials join[ed] the Bowie State University community to mark the start of construction of a residence hall and entrepreneurship center with a ceremonial groundbreaking on Thursday, October 10, 2019 at the university's Robinson Hall, Lawn.
Construction on the Entrepreneurship Living-Learning Community is slated to begin in February 2020, with completion planned by July 2021. Among the officials attending Thursday's event were Maryland Senator Douglas J.J. Peters, District 23 (Prince George's County), Robert Brennan, executive director, Maryland Economic Development Commission (MEDCO), Tom Sadowski, vice chancellor for economic development, University System of Maryland, and Alfred D. Lott, Bowie city manager.
The residence hall will house more than 500 students and become the new home of the university's Entrepreneurship Academy, as well as the Bowie Business Innovation Center (Bowie BIC), the first business accelerator located at a Maryland historically black university. Not only will it meet the university's growing demand for on-campus student housing, but the facility will also provide retail space that will be open to the public, space to house Bowie State student businesses, a student makerspace, technology-infused classrooms and more.
The $42 million project is substantially funded with tax-exempt bonds through the Maryland Economic Development Corporation (MEDCO). Balfour Beatty Construction, the lead contractor for the project, is partnering with Smoot Construction, a minority-owned general contractor, and Design Collective, Inc., a national, award-winning design firm.
---
Michael Abobar Wins Second Place for Pitching Long-lasting Marker Pen
By DAMITA CHAMBERS
Bowie State University
BOWIE, Md. (October 9, 2019)—A Bowie State University student inventor won second in a regional pitch competition at the 3rd annual African Diaspora Entrepreneurship Summit, which encourages entrepreneurship in the regional Pan-African community and provides innovators with funding and other vital resources to start, grow or expand their businesses.
Michael Abobor ('04), a student in the Doctor of Science in computer science program, pitched the business idea for his invention, Xtended Yus Markers, which he developed with faculty mentor and biology faculty Dr. Eric Bonsu during the 2018 Summer Launch Program hosted by the BSU Entrepreneurship Academy. Abobar captivated the judges with the details of his invention, a long-lasting marker pen. Oluwole Ajayi, a 2019 BSU graduate from the master's degree in management information systems program, also participated in the competition.
BSU College of Business adjunct faculty member Jainaba Ceesay moderated a panel on the importance of mentorship and strategic partnerships and was a panelist for a discussion on the legal considerations of starting a business. Ceesay is a BSU Entrepreneurship facilitator and teaches entrepreneurship courses.
Opportunities like the entrepreneurship summit are part of the diverse experiences students can receive then they join the Entrepreneurship Academy. The program not only prepares students to compete in local, regional and national pitch competitions, but it also provides resources and opportunities for all BSU innovative thinkers who are interested in developing a business.
---
As Popularity of Ride-Sharing Grows, Safety Concerns Rise
By ERIC MYERS
Capital News Service
ANNAPOLIS, Md. (October 9, 2019)—Beaudouin Tchakounte was driving for Uber on the night of Aug. 27 in Oxon Hill, Maryland, when he and passenger Casey Xavier Robinson were fatally shot inside the 2015 silver Mercedes-Benz, Prince George's County Police said.
Prince George's County State's Attorney Aisha Braveboy announced Sept. 26 that Aaron Wilson Jr. of Fort Washington, Maryland, was indicted on two counts of common law murder, two counts of use of a firearm in a crime of violence and two counts of use of a firearm in the commission of a felony in connection with the deaths.
If convicted, Wilson could be sentenced to a maximum of two life sentences plus 40 years, according to Braveboy's office. Wilson had requested a shared ride via Uber, police said.
Anytime similar troublesome events occur, both to drivers and passengers, ride-hailing—or ride-sharing—platforms such as Lyft and Uber see their safety policies face increased scrutiny.
"It's tragic. It's heart-breaking to hear," said Dylan Himmerich, who runs The Rideshare Hub (https://www.youtube.com/channel/UC-ivJVv3GtB_w_lpk_WQxHw), a YouTube channel dedicated to providing tips and information for drivers. "I think rideshare safety should be stressed more—for drivers and for passengers. I think there are a lot of holes."
Representatives for Lyft and Uber said that their respective companies continue to emphasize safety and further enhancements that can be made in that area.
Safety for passengers starts with the background checks both top ride-hailing platforms conduct on prospective drivers. Uber and Lyft's background checks review an applicants' driving record and criminal history.
Uber and Lyft also said they conduct annual background checks of each driver on their platform.
States also have their own regulations to determine driving applicants' eligibility.
In Maryland, the Public Service Commission reviews information it receives about each driver from a transportation network company such as Uber or Lyft, and makes a final determination on whether it will issue a license to operate as a ride-hailing driver in the state.
Of the greater than 230,000 applications processed from July 2015 through June 2019, the state's Public Service Commission rejected 2,005 for criminal reasons and 3,422 for driving-related issues, even though those drivers passed Uber or Lyft's background checks, according to data Capital News Service received from a public information request.
Both apps have safety features built in that allow drivers and passengers to report dangerous or concerning behavior right from their smartphones.
During a ride, with both top ride-hailing platforms, drivers and passengers have access to support from the company and can reach emergency personnel with the click of a few buttons within the app.
Both apps' safety hubs display the current location and vehicle information, so that they can easily transmit that information.
Uber has rolled out "911 Integration" in more than 60 cities, and counting, spokeswoman Kayla Whaling told Capital News Service. 911 Integration automatically sends the location, license plate and the vehicle's make and model to the dispatcher when the user taps the emergency assist button on their phone.
The apps also use GPS tracking of trips as an indication of when something may be wrong, for example if a vehicle is stopped at an unplanned location for an extended period of time.
Uber's "RideCheck" and Lyft's "Smart Trip Check-In," both of which debuted last month, send a push notification to both the driver and passenger to ask whether they need assistance when a trip incurs a long delay.
Tracking rides has also allowed Uber users to share trips with another person. A similar ride-progress tracking tool is "coming soon" to Lyft, according to its website.
Drivers are also given the right to use their own discretion to protect themselves.
"If drivers feel unsafe, and want to cancel the ride, they have full autonomy to do so," Whaling said.
Thomas Widmer, an Uber and Lyft driver in Austin, Texas, said he once found himself in an unsafe situation and used his own judgment to end a ride early.
Widmer described a passenger who he believed to be under the influence of alcohol or drugs and was being very aggressive and trying to dictate how he was driving. After the passenger's repeated attempts to get Widmer to stop for him to urinate, Widmer took him to a shopping plaza and ended the trip.
After reviewing the situation, Widmer said Uber told him that he wouldn't be matched with that account in the future. But, Widmer said, the account belonged to somebody else, and said there should be a feature to identify the actual passenger when it's not their account.
Matching riders with the correct drivers garnered heavy media attention after an incident in March.
University of South Carolina student Samantha Josephson requested an Uber, but got into a vehicle that officers believe she incorrectly thought was her ride, Columbia Police Chief Skip Holbrook said in a March 29 news conference. Josephson was later found dead in a wooded area in South Carolina, Holbrook said.
In June, New Jersey Gov. Phil Murphy signed "Sami's Law" in Josephson's hometown of Robbinsville that requires ride-hailing vehicles to have a scannable barcode to confirm the ride, along with two identifying markers on the front windshield and back window.
U.S. Rep. Christopher Smith, R-N.J. introduced a similar bill at the federal level, also called Sami's Law, in June.
Uber announced on Sept. 26 that an optional feature will provide riders a unique four-digit PIN number to give the driver before entering the vehicle. The driver must then enter the correct pin on the app before the trip begins. This feature is expected to be available on the app in November, according to Uber.
But when the ride gets underway, problems can still arise. Himmerich said a logical step to adding another layer of protection would be adding cameras inside cars.
"It's pretty shocking that there isn't cameras inside of every car," said Himmerich, who drives in Southern California. "With so much technology available, it would be easy to set up cameras."
When rides do go wrong, Uber has a Special Investigations Unit to look into incidents.
A Sept. 26 report in the Washington Post found concerns that the unit prioritized protecting the company over passenger safety, citing interviews with more than 20 current and former Uber employees.
Uber, however, disputed those claims made about the unit, created in 2017 to, "provide specialized customer support to riders and drivers dealing with very serious real-life situations," the company said.
"We are very proud of this team's work and know they approach their jobs with tremendous compassion and understanding. Characterizing this team as anything but providing support to people after a difficult experience is just wrong," an Uber representative said in a statement. "We will continue to put safety at the heart of everything we do and implement new approaches, based on expert guidance, to the benefit of both our customers and employees."
Despite the concerns about ride-hailing platforms, the industry continues to grow. From 2017 to 2018, the number of ride-hailing users increased from 51.5 million to 58.4 million, according to Statista. That number is projected to reach 97.4 million in 2023.
"There's a lot of safety issues because when you're picking up strangers in your car… there's a lot of room for error or things to go bad," Himmerich said. "You're in such a tight space with another individual, and a lot of the times there's no one around."
---
University of Maryland Extension Awarded $1M to Combat the Opioid Epidemic
UME to expand training and build capacity for rural Maryland to manage behavioral health crises.
By LAURA WORMUTH
University of Maryland Extension
COLLEGE PARK, Md. (October 7, 2019)—According to the National Institute on Drug Abuse, Maryland ranks in the top five in the nation for opioid-related overdose death rates with the largest increase attributed to cases involving synthetic opioids (mainly fentanyl). University of Maryland Extension faculty and partners have been awarded a grant of over $1M to build capacity within rural communities to help deal with the growing opioid issues throughout the state.
The Rural Opioids Technical Assistance Grant, awarded by the Substance Abuse and Mental Health Services Administration (SAMHSA), funds an effort to utilize the successful Extension education model to deliver training to the rural Maryland communities struggling with mental and behavioral health issues.
"One of the things we noted while conducting a needs assessment was gaps in understanding the opioid crisis and available resources to help or get information," said Dr. Jinhee Kim, Professor and Family & Consumer Sciences Program Leader with the University of Maryland Extension and principal investigator on the grant.
"The overarching goal of this grant is to strengthen the understanding of the epidemic and prevention strategies in rural Maryland and to provide technical assistance with cutting-edge research," said Ali Hurtado, Co-Principal Investigator and Assistant Professor in the School of Public Health at the University of Maryland.
Partnering with the Center for Substance Abuse Research, the UMD School of Public Health, MayaTech, and the Maryland Rural Health Association, Extension educators will deliver evidence-based training programs to local residents that will help strengthen the ability of rural communities to recognize, understand, and respond to opioid misuse and other behavioral health issues.
Over the next two years, UME will train 120 educators in the evidence-based program Mental Health First Aid. That curriculum will also be delivered to 500 community leaders and service providers within the identified rural regions. Several organizations, including the Rural Maryland Council, the Mental Health Association of Maryland, the Maryland Association of Conservation Districts, and the Maryland Department of Agriculture, have already made commitments to work with UMD Extension and partners to assist in the program's delivery.
"The misuse and opioid addiction is a national public health concern that kills over 130 people every day nationwide," said Hurtado. "Our study team will collaborate with local partners that have the expertise and are trusted in the community."
"Ideally, increasing their capacity will help them acknowledge, be aware, and understand the mental and behavioral health issues impacting their community," said Kim. "You don't have to be dealing with someone who has an opioid issue to gain resources and knowledge from this training—it trains people to assist anyone with a mental or behavioral health issue."
A second goal of the project is to deliver a proven prevention program, the Botvin LifeSkills curriculum, to middle-school aged children as well, thereby decreasing youth susceptibility to substance abuse. Training will be provided for 40 educators throughout the next two years, and the program will be provided for 650 students, as well as parents or caregivers.
The team will also increase community capacity for combating the opioid epidemic in rural Maryland by creating an advisory group on Rural Maryland Opioid Issues and creating a virtual network of Extension and community educators, partners, and local practitioners. Six virtual trainings will be available for educators and practitioners, and eight webinars will be produced for individuals, families and communities, all available through an online platform.
"Extension's role is very important because we are a trusted source of health and wellness information within our communities," said Kim. "Great work has been, and is being done in the opioid crisis here in Maryland, and we're helping and supporting those programs by building out the capacity of rural Maryland for a comprehensive approach."
---