December 8 - December 14, 2016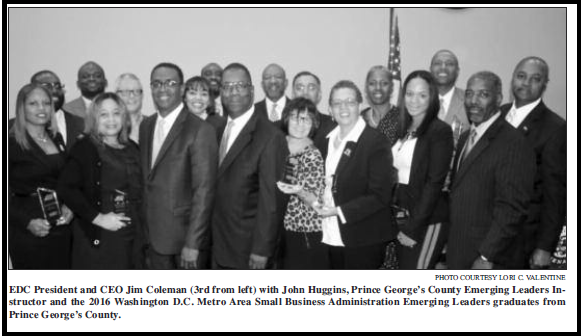 SBA Certifies 31 'Emerging Leaders' as Next Top Companies in the Region
EDC President Jim Coleman Challenges Program Graduates to Create Social Programs for County Residents—Jobs
By Lori C. Valentine
PGCEDC
Washington, D.C. On November 9th, 31 local entrepreneurs were given the unique opportunity to graduate from the Washington D.C. Metro Area Small Business Administration (SBA) Emerging Leaders program. This enterprising seven month program consisted of two Emerging Leaders classes for 2016; one in Prince George's County, Maryland and one in Fairfax County, Virginia. The Prince George's County Economic Development Corporation and the Fairfax County Economic Development Authority served as co-sponsors and host sites for this year's classes. The Prince George's County class was comprised of sixteen companies; 12 were from Prince George's County, and the remaining four came from D.C. or Montgomery County. The remaining 15 companies were from the Fairfax area.
"I challenged these graduates to think past their bottom lines and to think about their legacies," said EDC President and CEO Jim Coleman. "The information and the expertise they received from this program mean nothing if they do not pay it forward to help their communities thrive. There is no better social program to uplift a community than a good, high-wage job; and that is just what these CEO's have to offer. The EDC is delighted to be a part of the SBA's Emerging Leaders program and we look forward to a great partnership to mutually benefit everyone."
The SBA Emerging Leaders Initiative is a federal training initiative that specifically focuses on executives of businesses poised for growth in historically challenged communities. The initiative provides local executives with the organizational framework, resource network and motivation to build sustainable businesses and promote economic development in urban communities. By being situated so close to the hub of government contracting activity, with this new certification, these local companies are uniquely situated to take advantage of the $460 billion the government spends each year.
Now in its third year, the Washington D.C. Metro Area SBA Emerging Leaders program has been touted by current and former graduates as the best thing they have ever done for their businesses. The business executives were challenged to learn more about the 'business of business' by examining and setting goals for their business, updating their growth plans, and learning how to market and sell the business, identify real customers, and how to properly hire people. One of the most important components of the class was understanding financing. Executives learned the finer points of financing and revenues, understanding the right questions to ask and who to ask for help when it is needed. Their final project was to present a growth plan based on what they learned in the program to a panel of industry experts. Executives who did not finish the growth plan could not graduate from the program.
"It is important for every business to participate in a program like 'Emerging Leaders' to gain 'business knowledge' if they are interested in building sustainable operations," said John Huggins, President of Last Mile Broadband and Prince George's County Emerging Leaders instructor. "I believe in the value of programs that give businesses that 'business knowledge' which most of them are missing. Building a sustainable business or establishing legacy wealth is simply a dream without increasing your business knowledge. Companies must make the time to understand business so that they can continue to grow and create legacy wealth."
For more information on starting or growing small business, contact Kisha Logan, EDC Small Business Development Manager at 301-583-4650 or kvlogan@co.pg.md.us.
Maryland Grows More Politically Polarized, Like the Rest of U.S.
By Vickie Connor,
Robbie Greenspan,
Sam Reilly and
Hannah Lang
Capital News Services
COLLEGE PARK, MD—While Maryland voted for the Democratic candidate in 2016 for the seventh straight presidential election, a deepening Republican loyalty in more rural areas of the state indicates increased polarization throughout Maryland, a Capital News Service analysis found.
While liberal-leaning urban areas helped Hillary Clinton secure Maryland's 10 electoral votes and Democratic candidates won all but one U.S. House seat Tuesday, November 8th, the state's liberal base didn't perform according to expectations.
Donald Trump received a higher percentage of votes than Mitt Romney in 15 of the 18 Maryland counties that voted Republican in 2012, while Clinton failed to expand on President Barack Obama's coalition from 2012.
Of the six counties that voted Democratic four years ago, only two counties—Howard and Montgomery—supported Clinton at higher rates than they supported Obama.
Maryland counties voted the same way in 2016 as in 2012, except two that flipped allegiances. Unlike the last presidential election, Anne Arundel County voted Democratic by a small margin, yet Somerset County voted Republican by a significantly larger margin.
Maryland House Speaker Mike Busch, D-Anne Arundel, attributed the change in his county to the Republican candidate.
"Citizens were turned off by the rhetoric and bigotry of Donald Trump and they voted for Hillary," Busch said.
And while Somerset County has "always been Republican," said Matt Adams, chairman of the Somerset County Republicans, the county shifted nine points to the Republican side since 2012.
In the past, the county has appeared Democratic because of the presence of the University of Maryland Eastern Shore, in Princess Anne, Adams said.
"(The students) don't live here," he said. "They came from somewhere, (where) they truly live, and they should vote absentee in our opinion from the county in which they lived in prior to going to college."
In the last weeks of voter registration in the state of Maryland, employees at the University of Maryland Eastern Shore—a historically black college—arranged for voting registration officials to visit campus, where about 200 students were able to register, said William Robinson, the director of public relations at the university.
On Election Day, about 150 students took a campus shuttle bus to the nearest polling places, and about 125 other students used their own transportation, Robinson said.
Rep. Andy Harris, R-Cockeysville, was re-elected as the representative for Maryland's 1st Congressional District, which includes Somerset County, and will remain the only Republican representative from the state.
"The whole first congressional district has been gerrymandered to be the Republican district in the state of Maryland, so Andy always does well here," Adams said.
Harris's conservative views have mobilized Republicans, he said.
In his victory speech at the Maryland Republican headquarters, Harris said he looked forward to bringing "Maryland back to the red column."
"In one of my precincts up in Baltimore County—Catonsville—there was a line around the corner at 10 p.m. at night because people can hardly wait to get out and vote for Donald Trump and drain the swamp in Washington," he said Tuesday night.
A 2014 Washington Post article identified both Maryland and North Carolina as tied for the title of most-gerrymandered state.
"How the districts are drawn really gives the impression that Republicans live in certain places and Democrats live in other places, and while there seems to be some trends in that respect—Montgomery County for example is very heavily Democratic—I think it distorts our perception somewhat," said Carin Robinson, an associate professor of political science at Hood College in Frederick.
While the numbers signal a stark polarization in Maryland between political parties, it may not be an accurate representation, she said.
"There is polarization, but redistricting and how the congressional lines are drawn accentuates it and over-emphasizes it in a way that probably doesn't highlight the fact that we still have diversity within the state," Robinson said.
Gerrymandering has eradicated battleground districts in the state, which works in favor of Democrats, said Delegate Herbert McMillan, R-Anne Arundel.
"Basically, I see gerrymandering is contributing a lot to politics in Maryland," he said. "It's really sad. What happens is in the primary, there is no middle left."
Councilman Michael Peroutka, R-Anne Arundel, said he thinks voters had their own agendas and motives for the county's blue vote.
"I would just speculate that there are so many people in our county who work directly for, or work as, a contractor for the federal government," Peroutka said. "I think they vote Democrat because they are voting for a big spigot of federal spending that would stay on."
Other factors, such as shifting demographics in gerrymandered districts, may also contribute to some counties in Maryland becoming more liberal while other counties are growing more conservative, said Gregory Kline, co-founder of Red Maryland, a conservative news outlet.
"That realignment has taken hold over the last couple of decades," he said. "In more conservative counties...there's more locally elected Republican officials. It just kind of feeds on itself."
Maryland state Sen. James Mathias Jr., D-Somerset, said his job will not change just because counties are becoming more stratified.
"The most important person is the constituents," he said. "(I will) stay true to constituents, stay true to my beliefs, but adapt to the environment and circumstances."
Will Trump Make Maryland's Transportation Great Again?

By Vickie Connor
Capital News Service
ANNAPOLIS, MD—While President-elect Donald Trump vowed to build a wall, Maryland lawmakers and officials are hopeful he will build up the state's roads, tunnels and public transit.
Trump has plans to invest in infrastructure. According to his website, he wants to pursue "an 'America's Infrastructure First' policy." Among other industries, like water quality, telecommunications and energy, the businessman wants to put money toward transportation.
According to Trump's website, he wants to "implement a bold, visionary plan for a cost-effective system of roads, bridges, tunnels, airports, railroads, ports and waterways, and pipelines in the proud tradition of President Dwight D. Eisenhower, who championed the interstate highway system."
And this gives state leaders and legislators a glimmer of optimism.
Maryland State Highway Administration Administrator Greg Johnson said any talk of investment in infrastructure is positive. He pointed out Maryland's transportation funds are insufficient to fulfill needed projects.
Gov. Larry Hogan, a Republican who did not endorse Trump, allotted $14.4 billion in transportation investment for fiscal years 2017–2022.
"We have $14 billion worth of funds for the next six years and our needs are $75 billion," Johnson said about transportation spending in Maryland. "So if they can help close that gap, we're good."
In fiscal 2016, Maryland received about $1 billion in federal money for transportation, which is about 8.8 percent of the $11.6 billion the state received in federal funding. According to Maryland's Department of Legislative Services, federal funds for transportation have increased by $240.3 million since fiscal 2007, experiencing an annual growth of about 3 percent.
Trump's infrastructure plan means Maryland's Purple Line light rail and the regional Metro system could have additional funds, as both are two of the state's largest federally funded programs.
Congressman-elect Jamie Raskin, a Democrat elected to the state's 8th District, said he is hopeful that Trump's background will allow massive reinvestment in Maryland's infrastructure, especially in Metro. The president-elect is a business and real estate mogul who has developed hotels and skyscrapers.
"We need national leadership here to reinvest in a Metro system befitting a great capital city and a great capital region," Raskin told the University of Maryland's Capital News Service Tuesday. "I know Donald Trump is a builder and developer and I think he should see the importance of a great Metro system, which ... is not only going to be near his office in the White House, but his hotel, which is a few blocks away."
Raskin said Maryland's bridges and roads could use the extra attention as well.
Maryland's transportation secretary, Pete Rahn, said he also looks forward to Trump's effect on transportation.
"I am encouraged to hear any conversation that's talking about additional investment in kind of the foundation of our economy and that's what our infrastructure represents," Rahn said.
While Rahn said it is too early to predict what effect Trump might have on Maryland transportation, he said administration selections will be more telling.
"We'll know more, I think, when we see some of the selections for cabinet positions and what the philosophies are, because those cabinet secretaries then will be refining policies with the current president-elect," Rahn said.
Greg Sanders, vice president of Purple Line NOW!, agrees.
"We'll learn more when his pick for secretary of transportation is announced," Sanders said about Trump. Purple Line NOW! is a coalition of organizations that works with state officials with a mission to build the Purple Line light rail.
The Purple Line, which will run through Montgomery and Prince George's counties, is expected to cost about $5.6 billion. Maryland is expected to pay about $3.3 billion of this cost over three and a half decades, according to state officials.
But the Purple Line's progress is at a stalemate after a Judge Richard Leon of the U.S. District Court for the District of Columbia ruled in August for the Federal Transit Administration to perform additional studies on the project. His decision put $900 million in federal funding for the project on hold.
Sanders also said that while Trump has vowed for surges in infrastructure, this may
take time.
"The way infrastructure spending actually works in this country, it typically takes a few years of preparation, at least, before projects are ready to break ground and start producing construction jobs, let alone provide infrastructure benefits," Sanders told Capital News Service. "Surging infrastructure spending, to have any near-term effect, would mean building up on top of projects already in the queue rather than starting again from scratch."
In his victory speech, Trump reiterated on election night that he will rebuild a United States infrastructure that is "second-to-none."
And Maryland Senator-elect Chris Van Hollen said he and other Democrats will especially work with the new administration to bring infrastructure to the 21st century.
"We want to work with Donald Trump on the areas where there's common ground," Van Hollen said in a press release Tuesday. "Modernizing our national infrastructure—we know, around this area, how important it is."
Doctors Regional Cancer Center's Dr. Heather Lee Named Top Doctor

By PRESS OFFICER
Bonnie Heneson
BOWIE/ LANHAM, MD—Dr. Heather Lee, a board-certified radiation oncologist on staff at Doctors Regional Cancer Center, was named among the 2016 Castle Connolly Top Doctors. Lee earned her medical degree from New York University and did her residency at Thomas Jefferson University in radiation oncology.
Castle Connolly Top Doctors are selected by Castle Connolly Medical Ltd. after being nominated by peer physicians. Nominations are open to board-certified doctors and each year tens of thousands of doctors cast tens of thousands of nominations. Honorees are selected from the nominees by the Castle Connolly physician-led research team based on criteria including their medical education, training and hospital appointments.
More than 44,000 physicians—approximately 5 percent of the nation's licensed physicians—have been selected as Castle Connolly Top Doctors in their regions for their specialties. Castle Connolly Medical Ltd. publishes its list of Castle Connolly Top Doctors online and in printed directories and partner publications.
Doctors Regional Cancer Center seeks to improve the quality of life for cancer patients through radiation therapy. Accredited by the American College of Radiology, the center has locations in Bowie and Lanham, Maryland, and serves the communities of Prince George's, Anne Arundel and Montgomery counties. Doctors Regional Cancer Center is a joint venture of Doctors Community Hospital, Holy Cross Hospital and Adventist HealthCare. (www.doctorsregionalcancercenter.com)

Prince Georges County Woman Receives Distinguished Service Award From Her Alma Mater
By Press Officer
Rice House
Richmond, VA—Some graduates' lives take surprising twists and turns after they leave the EKU campus.
Not so with Onyinyechi (Onyachi) Chuku, '06. From almost day one at Eastern, she blended a certain fearlessness and ambition with a heart for service as she took advantage of every opportunity to excel as a student-athlete, grow as a leader and make a positive difference in the lives of others. And this proud daughter of Nigerian immigrants is doing much the same today—back in her native Prince Georges County, Maryland, and across the globe as a humanitarian.
It should surprise no one that Ms. Chuku's "day job" as project manager and director of community relations for a public access television station and event manager and brand/marketing consultant for several small businesses barely begins to tell the story of her community contributions. It's a story that circles back to EKU even today.
A three-time recipient of the Gold-Level Presidential Volunteer Service Award, bestowed by President Obama, for all her community service in Maryland, Ms. Chuku launched a "Fresh Start" mentoring program for graduating high school seniors and serves in many ways to empower youth. Meanwhile, she continues to work through the EKU Young Minority Alumni Group to network with fellow graduates, encouraging them to give back and mentor others who might be motivated by success stories. She is also co-founder of Minority Collegiate Connection, a student mentorship and leadership development organization.
"For me," she declared, "service isn't just what I do, but it's who I am. Daily I aspire to live a legacy of being a woman who had a desire to inspire, served others and learned that the key to a purpose-filled life isn't found in what you get, but in what you give."
Her role models at Eastern included former Assistant Track and Field Coach Tim Moore, former Associate Athletics Director Derita Ratcliffe, former Director of Multicultural Student Affairs Zenetta Coleman, the late Kimberly Merritt and Delta Sigma Theta-Eta Rho Chapter Adviser Donna Moore. "I am a product of good mentorship and strong community support. I take the time to mentor and do motivational speaking geared toward developing the next generation of 21st century leaders because I can never forget the countless people who have poured into me. Whether small or great, those mentoring moments are my defining moments.
"I am honored to be the first African American woman to be the recipient of such a prestigious award."