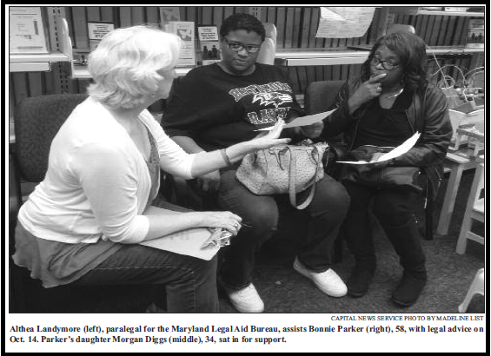 Maryland Poor Deserve Free Attorneys in Family Law Cases, Panel Finds
By Madeleine List
Capital News Service
ANNAPOLIS, Maryland – Many Marylanders without law degrees or deep pockets are acting as their own attorneys in certain civil cases. And they usually lose.
So a state task force this month recommended assigning free lawyers in certain family-law cases, and spending nearly $8 million over four years to help the poorest Marylanders work through the complex court system.
Nervous, confused and lost is what many reported feeling as they prepared to face their day in court without a lawyer to defend them.
"I don't have any clue, I don't have any idea at all what I'm doing," said Sara Smith, 22, who on Tuesday was seeking legal advice for her divorce and child custody case at the Family Law Self Help Center, a clinic based out of the People's Law Library in Annapolis, Maryland, that provides free walk-in legal advice for the lawyer-less.
Only those charged with criminal offenses in the U.S. have the right to a lawyer at public expense under the Constitution, not those involved in civil disputes. In Maryland, except for certain types of cases, like juvenile delinquency, people involved in civil matters must represent themselves in court if they can't afford a lawyer.
And few can afford the high rates, which run around $80 per hour on the cheap side, not to mention myriad other costs and filing fees involved with going to court, said John Pollock, an attorney at the Public Justice Center, a nonprofit legal advocacy organization in Maryland.
"They don't even have enough for their basic necessities," he said, "much less legal representation."
About 80 percent of low-income Marylanders involved in civil lawsuits represent themselves in court and are 3.5 times more likely to lose their case than if they had a lawyer representing them, according to a 2014 report from a state panel.
The Task Force to Study Implementing a Civil Right to Counsel in Maryland is a group of judges, attorneys, delegates and state senators that has been meeting since December to discuss the benefits of providing legal representation to low-income people involved in civil disputes.
Going through the complicated process of law can be overwhelming and intimidating without help, said Maria Rhine, 48, who was also at the law library Tuesday, seeking help filing for emergency custody of her grandchild.
"Knowing what paperwork to fill out, that's a challenge, what steps to take," she said. "It's a scary situation."
Some fear they may break down or get too emotional in court, potentially affecting the outcome of their case. Having a lawyer to speak for them could help ease that stress, said Bonnie Parker, 58, who is fighting for visitation rights for her grandchild.
"He or she could be that voice for me that I need because it is emotional," said Parker, also looking for assistance at the help center on Tuesday.
Low-income Marylanders who qualify for legal aid should have a right to a lawyer at public expense in cases involving child custody and civil domestic violence matters, two types of high-stakes cases with high rates of self-representation in Maryland, according to the report, which the task force submitted to Gov. Martin O'Malley and the Maryland General Assembly on Oct. 1.
To qualify for an attorney under the task force's recommendations, one must fall within 125 percent of the federal poverty line, meaning an annual salary of less than $14,588 for an individual and less than $29,813 for a family of four.
The majority of clients at the center are involved in custody cases, and most fall within federal poverty guidelines, although the help center's walk-in hours are open to anyone without a lawyer regardless of income, said Amanda Eden, managing attorney at the Maryland Legal Aid Bureau, a non-profit law firm that provides legal services to low-income people. Eden met clients at the law library on Tuesday.
Family law cases, which include child custody and domestic violence matters, make up over one third of all cases filed in the state, according to the Maryland Legal Services Corp., which raises funds and gives grants to legal aid nonprofits.
People involved in these types of cases need the most pro bono help of any other civil case type in Maryland, said Del. Kathleen Dumais, D-Montgomery County, who served on the task force.
At least one party had to represent themselves in 78 percent of family law cases heard in Maryland in 2010, according to the task force's report.
To address this problem, the task force suggests rolling out more than $7.8 million over the course of four years, mostly in state funding, as well as grants from the Maryland Legal Service Corp., to existing legal aid programs and to fund pilot programs that focus specifically on family law matters.
Although providing this service would be an expensive investment, it may save the state money in the long run, said Debra Gardner, legal director of the Public Justice Center.
Trials would run more smoothly and efficiently if both parties were represented by professional lawyers, she said. The state would also save on extra social services it may otherwise have to provide for people who lose their cases and need further interventions later on, she said.
"It saves money for society in other ways by preventing homelessness, instability in families, shelter costs and other kinds of costs," she said. "Paying for a lawyer handling the case may be quite cost-effective by comparison."
A bill, sponsored by Del. Sandy Rosenberg, D-Baltimore, outlining the task force's recommendations, will be introduced to the legislature at the start of the next session, which begins on Jan. 14, said Dumais, who plans to co-sponsor the bill.
Expanding Legal Support in Child Custody Cases
Low-income parents and children in custody cases involving allegations of abuse or neglect of a child already have the right to a lawyer at public expense in Maryland, but not in custody disputes where the child is not in danger. About 31,000 additional low-income parents would qualify for legal aid if that right were extended to all custody matters, according to a 2011 state justice commission report.
To serve these low-income parents, the task force suggests using the Judicare Family Law Project, an existing Maryland program funded by the Maryland Legal Services Corp., to pilot the idea of providing lawyers to parents in all types of child custody cases.
The state and The Maryland Legal Services Corp. should provide funding and grants, totaling around $3 million, over the course of the next four years to local Judicare providers in Baltimore City and Prince George's, Dorchester, Somerset, Wicomico and Worcester counties, which together represented 30 percent of all civil family law cases filed in the state in 2013, according to the Maryland Judiciary Annual Statistical Abstract, a report from the Maryland Courts.
More Lawyers for Civil Domestic Violence Cases
To aid low-income Marylanders involved in civil domestic violence cases, the task force suggests rolling out $4.8 million in state funding over the course of four years to organizations that provide legal representation, among other services, to victims of domestic violence, like the House of Ruth Maryland, a Baltimore center that assists women victims of domestic violence.
Victims of domestic violence can file for a week-long protective measure without a long legal procedure, but receiving a full restraining order involves a court process, especially if the case includes other complicating factors like child custody or financial matters, said Jane Murphy, a law professor at the University of Maryland Baltimore County.
Murphy studied the strategies used by women dealing with domestic violence and found that of those who filed for restraining orders, less than half were granted the full restraining order, according to a 2003 study she authored. Of those who had a lawyer, 83 percent were successful in getting the restraining order while only 32 percent of those without legal counsel managed to win their case, according to her study.
Lawyers should be provided for income-eligible victims as well as the alleged abusers so that the trial is fair and balanced, according to the task force.
"In my experience women don't seek (restraining orders) frivolously," Murphy said "But having an attorney on both sides is consistent with our legal system."