September 20 - September 26, 2018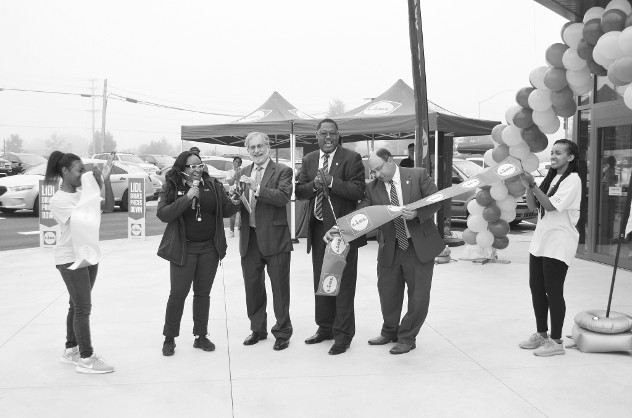 Photo credit: Prince George's County Council. Council Member Derrick L. Davis and Vice Chair Todd M. Turner join Lidl Bowie Store representatives at the grand opening of the newest store in Prince George's County and the first in Maryland.


Council Member Davis Celebrates Progress in Prince George's County During Lidl Grand Opening and Ribbon-Cutting Ceremony
Bowie Location is Company's First in Maryland
By OFFICE OF COMMUNICATIONS
Prince George's County Council
UPPER MARLBORO, MD (September 14, 2018)—Prince George's County Council Member Derrick L. Davis (D)—District 6, joined colleague Vice-Chair Todd Turner (D)—District 4, County Government officials, community partners, and County residents to celebrate the grand opening of the new Lidl grocery store in Bowie, on Wednesday, September 12, 2018.
The new store is in District 6, at 13401 Annapolis Road, the former site of Melvin Motors. The Bowie Lidl's is the company's first grocery store location in the state of Maryland.
Remarking that he already had his family's shopping list in hand, Council Member Davis, welcomed Prince George's County's newest grocer and community partner.
"I am pleased to celebrate great news for shoppers and for economic development in our community. Lidl brings new jobs for our residents and enhances our County's commercial footprint! We are not just opening a new store, but we are also opening a new investment in our community and in the residents who will shop here every day."
Vice Chair Turner, whose district borders the portion of Bowie located in District 6, and Council Member Davis, cut the ribbon on the new Bowie store, open Monday through Sunday, 8 a.m. until 10 p.m.
Lidl, based in Germany, with U.S. headquarters in Arlington County, Virginia, operates 10,500 stores in 28 countries with plans to open multiple U.S. locations.
Council Member Todd M. Turner and District 4 Residents Prepare As
Long-Awaited Highway Improvements Begin Forest Drive Intersection Safety Project Will Improve Traffic Flow and Enhance Safety on MD 3 in Bowie
By OFFICE OF COMMUNICATIONS
Prince George's County Council
UPPER MARLBORO, MD (Monday, September 10, 2018)—Council Member Todd M. Turner (D)—District 4, and City of Bowie residents are preparing for traffic changes and reduced speed limits as the Maryland Department of Transportation State Highway Administration (MDOT SHA) begins improvements to MD 3 (Crain Highway) between Forest Drive and Sylvan Drive in Bowie. The $2.9 million Forest Drive Safety Improvement Project will be completed in the fall of 2019.
Council Member Turner encourages drivers and pedestrians to use caution in work zones as the road improvements get underway.
"The Forest Drive Intersection Safety Improvement Project is the result of strong advocacy by the City of Bowie, 23rd State legislative officials and Bowie residents. We are glad to see these long-awaited road improvements begin," said Council Member Turner. "Transportation plays a critical role in our quality of life and when completed, these improvements will go a long way to ensure that residents can travel more safely and efficiently. I encourage the patience of residents, and ask that we are all mindful of the reduced speed limits and the safety of highway workers as this project gets underway."
According to MDOT SHA, the project will increase the turning radius at the southbound MD 3-Forest Drive intersection; extend acceleration and deceleration lanes using the outside shoulder of southbound MD 3; provide right-in/right-out access to Forest Drive and left-in only access to the median crossover; and provide a marked bicycle lane on southbound MD 3. Additionally, drainage inlets and storm water management facilities will be updated and all travel lanes will be patched, milled and restriped.
MDOT SHA will also address lighting outages along Route 301 surrounding Ball Park and Heritage roads. Street light outages on the southbound ramp to US301 and the eastbound ramp to US 50 will also be repaired. Work is scheduled to begin in September. For real-time traffic conditions, visit www.md511.org.
Ellicott City Mitigation Plan Met with Flood of Opinions

By HOWARD R. FLETCHER
Capital News Service
ELLICOTT CITY, MD (Sept 13, 2018)—Opinions are flowing in divergent directions over a five-year flood mitigation plan for Ellicott City, Maryland, that Howard County officials announced last week.
The county's proposal includes razing a row of 10 tall, brick row buildings dating to the 1800s along the south side of Main Street, the path of the most damaging flood water. An estimated seven homes in the West End of the city could also be razed.
County officials see the plan as their best option to save lives and prevent further flood damage.
Some residents and historic preservationists are concerned that the plan goes too far and has been pushed through too quickly. Others say it's long overdue.
Extensive rainfall on May 27, 2018, caused catastrophic flooding throughout Howard County; one person died in Ellicott City, where the downtown was quickly overtaken by flood waters.
Three people died there in a similar flash flood on July 30, 2016.
There are two primary elements to the county's new mitigation strategy: first, to retain more water higher up in the watershed; and second, expand the floodplain throughout the town so that the destructive force of the water is lessened.
The county's recommendation to remove the buildings is "a core component that would address the most immediate life safety threat on the town's lower Main Street within one year," according to the plan.
"We believe this plan is the best way save lives," Howard County Assistant Chief Administrative Officer Phil Nichols told Capital News Service.
Nichols and Mark DeLuca, deputy director of Howard County's Department of Public Works, presented the flood mitigation proposal to a Howard County Historic Preservation Commission meeting last week in Ellicott City.
Howard County's chosen plan is called the Expanded Stream Channel Model. https://www.howardcountymd.gov/LinkClick.aspx?fileticket=A3KL4ZSavCg%3d&portalid=0
The county's plan presentation was preliminary, aimed at getting feedback, according to county officials.
"The master plan and any proposed removal of structures within the Historic District require the Historic Preservation Commission to review," according to the proposal.
The commission must grant a Certificate of Approval before Howard County can proceed with the demolition, according to the proposal and statements made by officials during the hearing.
The county explored several plans to reroute the stormwater before setting on the proposal to raze buildings, DeLuca said.
The county's recommendation to demolish buildings in the heart of Ellicott City's historic district has evoked a mixture of reactions from county residents, historical preservationists and local business people.
"Saving lives and saving buildings should not be diametrically opposed," Marjorie Valin of Columbia, Maryland, remarked during the public comment portion of the preservation commission meeting.
The new plan had been described by officials as a surgical approach, but it's is more like an amputation, Valin told the historic commission.
"I urge you to thoroughly please discuss and analyze treatment options that don't start by cutting the town off at its knees," Valin said.
After the 2016 flood, Howard County hired a civil engineering firm, McCormick Taylor Inc., to "analyze projects suggested by the community, as well as by other engineers, so that all flood mitigation options would receive careful and deliberate review and consideration," according to county documents.
Many people have criticized the fact that the county has been studying the flooding problem for years without action, but now there is a sense of urgency, DeLuca said.
"We could spend $80 million, and some areas could be slightly improved, others could be significantly improved … but in the studies (of alternatives) they always showed an 8-foot wall of water going down lower Main Street," DeLuca told the commission.
The plan is estimated to cost $40 million to $50 million, and the county is seeking financial and technical assistance from the state and federal governments, according to the proposal.
It aims to divert Tiber Creek, which in the past two floods had become a river of floating cars, building materials and miscellaneous debris.
However, many historic preservationists feel that the county has not researched the problem thoroughly enough.
"In your bylaws and in preservation, you know that demolition is the option of last resort after you have exhausted everything, and we are far, far, far from exhausting every option," said Shelley Davies Wygant, a 21-year resident of Ellicott City who has authored two books about the town.
Wygant started a Facebook group called "Let's work to save Historic Ellicott City." The group has over 1,300 members.
On Facebook, the group exchanges and explores other options on how to reduce flooding, while still preserving the historic character of the city, Wygant said.
Elly Colmers Cowan, director of advocacy of Preservation Maryland, a historical preservation non-profit based in Baltimore, also expressed reservations.
"More work is needed to understand the impact of demolition of these historic structures," said Cowan. "The economic, historic and hydrologic impact must be fully understood before an irreversible process begins."
Preservation Maryland is willing to pledge funds to the study and potential planning necessary to explore alternatives to the county's plan, Cowan testified.
James A. Massey of Woodbine, Maryland, a self-proclaimed "lifelong resident of Howard County," who was "born and raised in a house overlooking Main Street," said the newest proposal is long overdue.
"I support the county's plan in the essence of public safety," Massey testified. "The time for studies is over. We've lost too many lives."
The majority of people who spoke at the historic preservation hearing were in agreement that the city needs a solution.
But some residents remain ambivalent about the proposed demolition.
"It's just weird to think that they are just going to knock down a section of buildings that have been a part of Main Street for so long," Brian Douglas, a bartender at Ellicott Mills Brewery for over 10 years, told Capital News Service. "I feel bad for businesses like Phoenix (Emporium) … who have been here for over 40 years."
Phoenix Emporium and Shoemaker Country are just a few of the several established businesses that would be displaced by the removal of the 10 proposed Main Street buildings.
"It's just a shame," said Douglas.
The plan also states that the county is planning to acquire and remove an estimated seven residential properties in the town's West End between Ellicott Mills Drive and Rogers Avenue to mitigate flooding there. The details of the West End plan have not yet been released.
Howard County Executive Allan H. Kittleman and Councilman Jon Weinstein officially announced the plan during a presentation to the County Council at a legislative session on Aug. 23.
"These storms are going to be more frequent, harder to predict and potentially more deadly," Kittleman said last month. "With all of this in mind, we can't wait any longer to act."
The next Historic Preservation Commission meeting is scheduled for Oct. 4, when county officials are expected to present the flood mitigation plan again for advisory comments, according to the Howard County Department of Public Works.
Gov. Larry Hogan Announces School Accountability Initiatives
Vows to Reintroduce Accountability in Education Act of 2019, Create Education Accountability Office to Increase Oversight of School Systems
By Press to do."