June 11 - July 17, 2019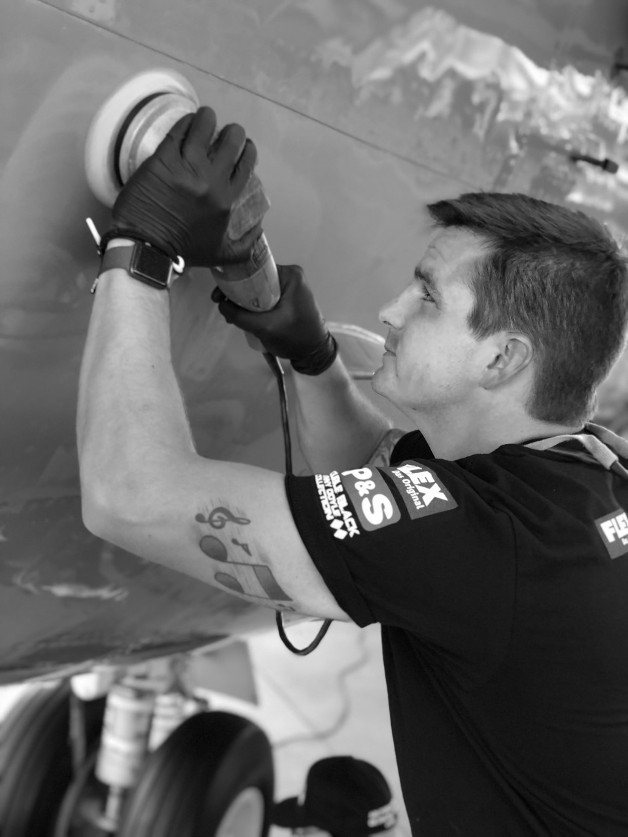 Photograph courtesy Shine Right Detailing
Prince George's County Firefighter and automotive detailer Josh Buckler
Prince George's Firefighter and Maryland Detailer Selected to 2019 Air Force One Detailing Team At Seattle's Museum of Flight
By KIMBERLY BALLARD
for Shine Right Detailing
HUNTINGTOWN, Md. (July 1, 2019)—Prince George's County Firefighter and automotive detailer Josh Buckler of Shine Right Detailing has been hand-picked for the second year to the much anticipated 2019 Air Force One Detailing Team at Seattle's Museum of Flight. He again made the cut from hundreds of detailers nationwide by the original "Detailer of Air Force One", Renny Doyle of Detailing Success. Doyle announced this year's 55-person team just in time for the Independence Day holiday, and he will lead the weeklong project at the museum, July 7–14.
For 16 years, members who are chosen for the exclusive Air Force One Detailing Team, do so voluntarily as their patriotic duty to restore, maintain and protect the original presidential jet Air Force One and more than a dozen additional historic aircraft currently on exhibit in the museum's new Airpark Pavilion.
"I trained Josh as an expert in paint and he has perfected his skill at cleaning and polishing paint and metal. When I chose him for the team last year, I was confident he was qualified for the job," said Doyle. "After a year on the team, he has proven he has the experience needed to continue our work and he can help us coordinate new team members and show them the ropes this year."
"I am just as excited this year about being chosen of the team as I was last year, but I think I bring more to the table this year than last," says Buckler. "It is an honor to be steward and caretakers for all these iconic aircraft—especially Air Force One. I am honored to have been chosen for the team again and it makes the Fourth of July holiday special this year."
In addition to Air Force One, which is currently in preservation stages after 15 years of restoration, the team will continue restoring a solid aluminum WWII B-29 Super Fortress Bomber and a recently acquired and badly deteriorating Vietnam-era B-52G Stratofortress Bomber. They will also clean and continue to maintain the first-ever Boeing "Jumbo Jet" 747; the Concorde Alpha Golf; and the first 1960s-70s-era Boeing 727-022 commercial airliner —all three, planes previous teams have begun restoring in the past 5–10 years.
Air Force One is the first presidential jet, known as a flying Oval Office for four American presidents including Eisenhower, Kennedy, Johnson, and Nixon. It entertained International dignitaries like Nikita Khrushchev and Henry Kissinger. For more than a decade, it lived on the open tarmac exposed to Seattle's notorious climate.
In 2003, a Bush-administration executive contacted Doyle about saving the deteriorating paint and brightwork on the iconic plane. Doyle was known for his skill at paint correction and restoring the shine on classic cars, as well as his knowledge in caring for expensive car collections, exotics, and aircraft.
"That beautiful jet was in such a distressed state when I first saw it in 2003, and it was just me, my wife and business partner Diane, and a few staff members who decided anything we did would help and nothing we did could make it worse," said Doyle. "There was a lot of new technology, new equipment, and innovative products coming onto the market for professional detailers 16 years ago that I had been field testing.
"Since then, those tools and products—some for which we have developed specifically based on the needs of this project, have been instrumental in bringing the plane up to the excellent condition it is in now."
Air Force One still requires an annual cleaning because even though it does not sit exposed on the tarmac, it is inside an open-air pavilion, covered but still subject to the dampness and cold that causes her paint and brightwork to get cloudy. The team also continues their restorative work on the other iconic planes on display.
---
Commissioner Wanda M. Leonard Elected New Mayor of Upper Marlboro

By KYLE SNYDER
Town of Upper Marlboro
UPPER MARLBORO, Md. (July 2, 2019) —Wanda M. Leonard, who has served as a Commissioner in the Town of Upper Marlboro for the past 18 months, was elected President of the Board of Commissioners (Mayor) for the Town of Upper Marlboro in a special meeting July 1. Leonard succeeds Tonga Turner, who resigned last month to spend more time with her husband and their young sons and to focus on her professional career.
Leonard was sworn into office by the Office of the Clerk of the Circuit Court [on July 2]. She becomes only the second African American Mayor in the town's 313-year history. She will serve alongside fellow Commissioner Linda Pennoyer.
"I am humbled and honored to have been elected as the town's new Mayor," Leonard said Tuesday. "My goals are two-fold. I certainly want to continue the great work started by my predecessor, Tonga Turner. I also want to continue to move Upper Marlboro forward with my own vision of what we can become by working together."
Leonard said today that she strongly believes in service to the community. Her personal mantra is "Service before self." Realizing that the Town of Upper Marlboro needed visionary leadership and fresh perspectives on what town residents needed to enhance their living experience, and what matters are truly important to the community, initially led her to run for public office in January 2018.
Some of Leonard's community outreach accomplishments include being a Court Appointed Special Advocate (CASA) for abused and neglected children in the District of Columbia; a board member for Family Advocacy and a Donate Life Ambassador with Washington Regional Transplant Community (WRTC); an alum of the Prince George's County Police Citizens Academy; a Prince George County Police Volunteer in Police Services (VIPS); and president of the Greater Upper Marlboro Maryland Community Emergency Response Team (CERT).
Leonard has served on the Maryland Municipal League (MML) Hometown Emergency Preparedness Ad hoc Committee (HEPAC). Additionally, she is a Fellow with the University of Maryland 2019 Academy for Excellence in Local Governance; a member of the Prince George's County Municipal Association (PGCMA); a member of the Prince George's County Municipal Elected Women Association; a member of the Prince George's County CSA 23 Leadership Council; and an associate member of the Prince George's County Fraternal Order of Police Lodge 89.
President Leonard is also a United States Army Reserve veteran.
In addition to her extensive public service, Leonard is also a seasoned leader in the health care industry. Ms. Leonard holds a Bachelor of Art in Business Administration, with an emphasis on management and a minor in finance, from the University of the District of Columbia.
A special election to select the third Commissioner on the three-member body has been scheduled for Monday, August 5, 2019.
---
Upper Marlboro Resident Appointed to UMMS Board
By SHAREESE CHURCHILL
Office of the Governor
ANNAPOLIS, Md. (June 12)—Governor Larry Hogan announced [in June] the appointment of new members to the University of Maryland Medical System (UMMS) Board of Directors. These appointments deliver on the governor's promise to overhaul the board in response to revelations of self-dealing and wrongdoing, and build on his enactment of major reforms of the way UMMS operates.
"Bipartisan reforms to fix the problems at UMMS were a good first step, but I said that—still—more needed to be done," Governor Hogan said. "I pledged that I would appoint new board members who will serve with integrity and accountability, and today, I am delivering on that promise. This is another critical step as UMMS works to restore public trust."
The following UMMS appointee is from Upper Marlboro:
Elisa Basnight, Esq. currently serves as senior vice president of supply chain for the American Red Cross. She previously served as chief of staff for the United States Mint under the Obama administration, as well as head of the Center for Women Veterans at the Department of Veterans Affairs. She has also served as executive vice president for StrategyServ in Upper Marlboro and senior vice president of Health Net Federal Services for the Centene Corporation.
Governor Hogan will make additional appointments in the coming months, consistent with the bipartisan legislation he enacted in April.
---
Prince George's County Grief Programs Include Something New For Teens and Kids
By ELYZABETH MARCUSSEN
Hospice of the Chesapeake
LARGO Md. (July 1, 2019)—Chesapeake Life Center's Prince George's County office will offer a variety of grief support groups through September at its offices at 9500 Medical Center Drive, Suite 250, Largo, Maryland, as well as at other locations in the county.
New to the schedule is its Prince George's County Teen Support Group for youth ages 13 to 18 to connect with others their age who also grieve the death of a loved one. Its first meeting will be from 6:30 to 8 p.m. Sept. 11. Call for location and to speak with a counselor prior to attending the first meeting.
Another exciting new program is the Prince George's County Children's Grief Day Camp. It will be held from 10 a.m. to 3 p.m. Aug. 17 at the College Park Airport and the Aviation Museum and will be an interactive workshop experience where children ages 6 to 12 can explore their grief, make friends and have a lot of fun. Through art, play, conversations and support, children will develop new ways to handle the difficult task of grieving while learning they are not alone. The program includes snacks and lunch and an activity in the aviation museum. The cost is $40.
Other programs offered at the center's Prince George's County office include:
• Coffee and Conversations Monthly Morning Grief Support Group, an informal gathering that provides a safe place for sharing and learning about grief while exploring coping strategies. The group will meet from 10 to 11:30 a.m. Sept. 12.
• Monthly Evening Grief Support Group is similar in format to the morning group and will meet on the fourth Thursday of the month from 6 to 7:30 p.m. Sept. 26.
• Sudden Loss Support Group is for adults who are grieving someone who has passed unexpectedly or suddenly, including from suicide, homicide, accidents or natural causes that brought death rapidly. The group will meet on the evening of Sept. 16. Call for times and to speak with a counselor prior to attending your first meeting.
• SoulCollage Grief Support Group has participants create a series of collages to commemorate lost loved ones and to visually journal the grief process. The group will meet from 5 to 7:30 p.m. Aug. 5 and Sept. 9. The cost is $10.
Children are not permitted in any adult groups. Registration is required for all groups; call 888-501-7077 or email griefinfo@
chesapeakelifecenter.org.
---
Central Gateway Communities ANC Meeting
Monday, July 15, 6:30–8:30 p.m.
Spauldings Public Library, 5811 Old Silver Hill Road, District Heights, MD 20747
Main topics: Reinvesting in the Economy in Our Established Communities; Improving Retail in Prince George's County
Main speaker: Prince George's County Economic Development Corp.
RSVP link: https://forms.gle/6mEvSWFdMftvQmSM9
TOP OF PAGE