February 8 - February 14, 2018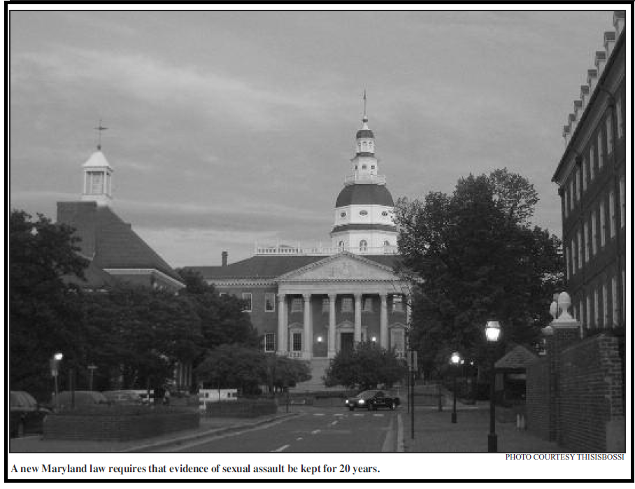 Maryland Leads the Nation in Response to Sexual Assault, Victim Advocates Say
By TRimmel Gomes
Public News Service (MD)
ANNAPOLIS, MD— Thanks to the Maryland General Assembly's rapid response and passage of several laws to help victims of sexual assault, some victim advocates say the state is leading the country in its handling of sexual harassment and assault cases.
Last year, several laws took effect, including a provision known as "no means no," saying that evidence of physical resistance is not required to prove that a sexual crime has taken place. The Maryland General Assembly now has formed a commission to examine workplace polices on sexual harassment in all three branches of state government.
Lisae Jordan, executive director and counsel with the Maryland Coalition Against Sexual Assault, has been named a member of the assembly.
"The Maryland General Assembly is ahead of the country in terms of responding to issues of sexual assault," Jordan said. "They made policy changes after the Billy Bush Trump tape and have continued to update their policies. "
The General Assembly's Workplace Harassment Commission consists of 11 other women and two men. The panel will review state policies and solicit input from business leaders, the public and policy experts and make recommendations to the Legislative Policy Committee.
Jordan said it's important to have updated policies and procedures in place to reduce incidences of sexual harassment.
"This is another step in making sure that the environment at the General Assembly and throughout the state of Maryland, including state government and the judiciary, is free of sexual harassment," she said; "and, when sexual harassment occurs, that survivors have a place to go that is independent and effective."
The General Assembly's Workplace Harassment Commission is chaired by Jeanne Hitchcock, who held two cabinet positions in former Gov. Martin O'Malley's administration and senior posts in state and local government and the private sector. The state's latest sexual-harassment policy and procedures is available at the Maryland Department of Budget Management website at, www.dbm.maryland.gov/eeo/Documents/SexHarrassPolicy.pdf.
PG County Executive Rushern L. Baker, III Testifies on Behalf of Maryland Senate Bill-92

By PRESS OFFICER
PG County Government
Upper Marlboro, MD—Yesterday, Prince George's County Executive testified before the Maryland Senate Budget & Taxation Committee on behalf of SB-92—The Maryland School Overcrowding Reduction Act of 2018. SB-92 provides state incentive funds to repair old SCHOOL buildings more quickly, reduce overcrowding, and incentivize better maintenance. To encourage local school systems to stretch their limited funds and keep schools in good condition, the bill boosts the state cost sharing for RENOVATED or new schools with costs at least 30% less per student THAN the average new school and promotes public/private partnerships to construct and maintain schools. To view the Twitter/Periscope broadcast of County Executive Baker's testimony please click here: https://twitter.com/CountyExecBaker/status/958786224398962688
"Our school system has identified over $8 billion in Capital needs over the next 20 years," testified Prince George's County Executive Rushern Baker, III. "We will never reach that level of funding through the current funding processes at the State and County levels. Senator Rosapepe understands this challenge as well as anyone, and he has worked diligently on an "outside of the box" strategy. Senate Bill 92 allows the inclusion of innovation and creativity of the private sector to increase productivity while reducing costs."
School overcrowding and building deterioration is a major problem across the state. Today, 65,297 students are in 2,839 temporary classrooms. $23.3 billion in estimated statewide school construction funding is needed for FY's 2019-2023.
"We know why too many Maryland children go to schools which are too cold, too hot or over crowded," said Senator James Rosapepe (D-District 21). "The State and counties have been slow to boost competition in bidding, use 21st century construction methods and materials, and right size design to accelerate building. SB 92 says the State will reward school systems which innovate."
Submitted Testimony of County Executive Baker
Chairman Kasemeyer and Vice Chair Madaleno, and members of the Budget and Taxation Committee, Prince George's County supports the core principles behind SB 92—flexibility and innovation.
The Public School Facilities Act of 2004 was a significant step in the right direction with the intent to provide $2 billion of funding for school construction by FY 2013, an average of $250 million annually for eight years. We applaud the State for achieving the $2 billion target ahead of schedule. However, due to various factors (aging facilities, rising construction costs, and so forth), significantly more State funding is needed across Maryland.
For example, school construction costs range from $42,800 per student for a middle school to $56,100 for a high school, according to the Interagency Committee on School Construction and the Department of Legislative Services. The $250 million annual target will not be enough in the future to adequately address the statewide school system capital needs.
Across the State of Maryland, school systems are facing a multi-billion DOLLAR construction and renovation challenge over the next two decades. In Prince George's County alone, our school system has identified approximately $8.5 billion in school facility capital needs over the next 20 years, an average of $400 million annually. Between FY 2009 and FY 2018, the State has provided approximately $397 million to the County school system. If the County would receive an average of $40 million annually over the next twenty years from the State, it would represent less than 10% of the school system's $8.5 billion in capital needs.
School systems and local governments need to be provided with flexibility, and innovative methods to successfully meet the school facility challenges today and in the future.
Alternative approaches should be authorized that provide school systems and local governments the ability to construct and/or renovate school facilities in the most efficient, cost effective manner possible in order to provide students a positive learning environment. SB 92 expands the types of alternative financing methods that could allow more schools to be constructed and/or renovated across Maryland, and with lower costs per student. It also contains provisions TO ensure that core principles remain, such as the use of minority business enterprises (MBE) and prevailing wages.
We applaud the efforts by Senator Rosapepe to assist school systems and local governments in meeting the monumental capital challenges that face us today and the future.
Giant Food Moves Headquarters Back to Prince George's County
A Statement From County Executive Baker
By PRESS OFFICER
PG County Government
Upper Marlboro, MD—Prince George's County Executive Rushern L. Baker, III, released this statement following news that Giant Food will be moving their headquarters back to Landover, MD which will result in 220 jobs and 78 new hires returning to the County.
"On behalf of the residents and business community of Prince George's County, I want to welcome back Giant Food to their home and newly renovated headquarters in Landover, MD. When Giant Food moved their headquarters out of Prince George's County to Pennsylvania following their 1998 merger with sister company Giant Martin's, our County was disappointed yet resilient and vigilant for them to someday return to Landover.
Today, we celebrate Giant Food having its headquarters in Prince George's County once again. We are proud that Giant Food is returning to a Prince George's County that is as economically strong as we have ever been throughout our history. Prince George's County has led the State of Maryland in job creation for the last 4 reporting periods. Last month, the United States Bureau of Labor Statistics ranked the County 21st in the nation in terms of job growth—highest in the State of Maryland and in the National Capital Region.
We have quickly and intentionally become the economic engine of the State and Region and today's news about the return and relocation of Giant Food is a testament that we are the 'place to be' for businesses to grow, prosper, and expand."
PGCPS Present Response to Graduation Audit to State Board
By PRESS OFFICER
PGCPS
UPPER MARLBORO, MD—Prince George's County Public Schools (PGCPS) Chief Executive Officer Dr. Kevin M. Maxwell today presented an overview to the Maryland State Board of Education of a detailed action plan sent last month in response to the State's audit of high school graduation rates. The school system's plan aims to improve accuracy and accountability in grading, and protect the academic integrity of the graduation certification process.
"We took the audit findings and recommendations very seriously and have begun making improvements," Dr. Maxwell said. "I care, a great deal, about the children in our schools and about Prince George's County as a whole. This is my home, it's where I graduated high school, and my children attended Prince George's County public schools. I began my career teaching here and I hope to finish my career by making life better for our students and county through education"
When the State auditor released its findings, PGCPS acted on the recommendations immediately. Changes enacted to strengthen academic integrity in all high schools include:
• Prior to the start of the current school year, the school system implemented stricter controls on access to student grades;
• Grade and transcript managers attended mandatory training, and professional school counselors received additional time to update all student records for graduation certification.
• New processes were implemented for monitoring excessive grade changes and weekly grade input reports, including a review of the number of grades entered per week in the gradebook, missing report card grades and excessive absences.
• Upgraded technology includes the SchoolMAX student information system, and moving the grade-change process online to improve accuracy and accountability. The new digital grade-change form and process reduces paperwork for teachers, provides better monitoring of the total number of grade changes and requires supporting documentation and proper approvals. PGCPS will launch a grade-change pilot project in a few schools this spring before full implementation in the 2018-19 school year.
• Credit recovery programs were reviewed. The quarterly learning module 'packets' were discontinued and replaced by a new online platform, Edgenuity, which offers better monitoring and the courses that students need to stay on-track for graduation.
• Regular updates on implementation of audit recommendations have been sent to the PGCPS community, in line with audit findings calling for increased communication.
• The school system will hire an independent third party to complete implementation of overall audit recommendations and conduct a random sampling of student grades and graduation requirements at select high schools annually.
In June 2017, Dr. Maxwell and a majority of the Board of Education submitted a formal request to the State Superintendent of Schools for an independent performance audit of PGCPS graduation rates. MSDE notified the school system in September about the contract award to Alvarez & Marsal Public Sector Services to conduct the audit. Findings were released Nov. 3. The school system began making improvements before the release of the State audit findings.
Police Chiefs' Association Prince George's County Installs New Officers
Sheriff Melvin C. High First Sheriff to Serve as President
By PRESS OFFICER
Office of the Sheriff
Upper Marlboro, MD—Sheriff Melvin C. High was installed as president of the Police Chiefs' Association of Prince George's County—the first Sheriff to serve as the Association president.
Sheriff High and other officers were sworn in by Judge C. Philip Nichols, Jr. during an installation ceremony at the Association's regular monthly meeting. Other Association officers sworn in were: Bowie Police Chief John Nesky—Vice-President, Prince George's County Police Chief Hank Stawinski, III—Secretary, Laurel City Police Chief Richard McLaughlin—Treasurer, and Cottage City and Colmar Manor Police Chief William Lowry—Member-At-Large.
In acknowledging recent Past President, University of Maryland Police Chief David B. Mitchell, Sheriff High said, "I'm taking over an organization that's well positioned to address the public safety concerns of the county thanks to the outstanding leadership of Chief Mitchell."
On the importance of the Association, Sheriff High said, "The Police Chiefs' Association brings together a wealth of law enforcement leadership and experience to collaborate on matters related to the safety of the communities we all serve. We are advocates and partners with our communities and a resource to the legislative bodies at the local, county, and state level. I'm proud to serve."
For more information contact the Prince George's County Sheriff's Press Information Office at 301-780-2773.