September 7 - Septemer 13, 2017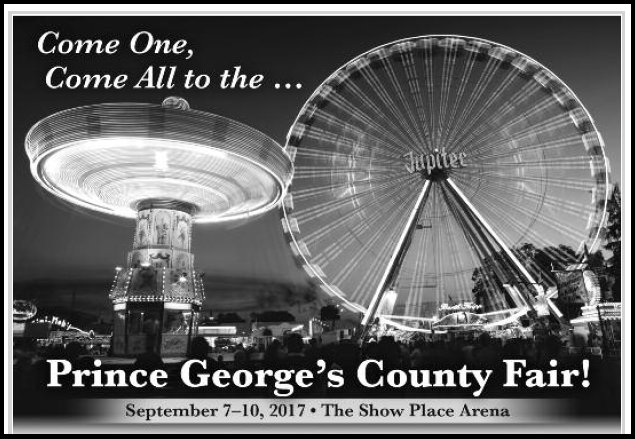 Come One, Come All to the Prince George's County Fair
September 7–10, 2017 • The Show Place Arena
Celebrating Its 175th Year, the First and Longest Running County Fair in Maryland Opens to the Public September 7th
Enjoy fun for the whole family at the annual Prince George's County Fair! The Fair will feature livestock, craft, and agriculture competitions; animal shows and petting zoo; Carnival rides, games, live music and entertainment; local vendors and exhibitors as well as a wide selection of Fair food favorites. It's sure to be great fun!
2017 Schedule Fair Schedule:
September 7–10, 2017, The Show Place Arena, Upper Marlboro, MD
Days/Hours:
Thursday and Friday, 5pm–10pm
Saturday, 11am–10pm
Sunday, 11am–6pm
Visit www.countyfair.org for more details. See you at the Fair!
PG County Elementary School Students Show Growth in PARCC State Assessments
By PRESS OFFICER
PGCPS
UPPER MARLBORO, MD—Prince George's County Public Schools (PGCPS) students in third through fifth grades showed the most growth on the state's Partnership for Assessment of Readiness for College and Careers (PARCC) tests in English and Mathematics. English Language Arts (ELA) scores were stronger overall in PGCPS and throughout the state.
The Maryland State Department of Education (MSDE) released system- and school-level results today for the third year of the PARCC exams.
"It is encouraging to see our youngest learners, who have been taught to higher standards the longest, showing the most growth," said Dr. Kevin M. Maxwell, Chief Executive Officer. "Our teachers and students continue to become familiar with the rigorous demands of the PARCC assessments as we prepare all students to enter college and the workplace. It is our priority to continue engaging parents and supporting students in meeting state standards."
PGCPS has worked to boost achievement on the state assessments through regular, school-level "PARCC Nights" for families where teachers explain and work through sample exam questions. Schools will continue hosting "PARCC Nights" this year to offer resources and support. In addition, the PGCPS Family Institute, launched last year, will seek to increase participation and collaboration between families, schools and the larger community in further support of student achievement.
Overall, 25.9 percent of students in third through fifth grades met or exceeded expectations on the English Language Arts exam, a 2.5 percentage point increase over 2016 results. Results on the mathematics test showed a half-percentage point increase over last year to 20.7 percent.
Passing rates remained constant in English and Mathematics for sixth through eighth-grade students: 29.7 percent in English this year compared to 29.0 percent in 2016; and 13.0 percent in Mathematics compared to 13.5 percent in 2016.
Nearly all student demographic groups in elementary and middle grades experienced growth. Students in third through fifth-grades improved in both ELA (2.5 percent) and Mathematics (0.5 percent). Growth on the third through fifth-grade ELA exam was highest among Asian students with an 8.8 percentage point-increase from the previous year. ELA performance among African American students grew 3.1 percentage points since 2016, the second-highest increase system-wide. Improvements were seen in math among students of two or more races (4.2 percent), Asian students (1.8 percent) and African American students (1.0 percent). Free and Reduced Price Meals (FARMS) eligible students improved in both ELA (1.4 percent) and Mathematics (0.2 percent).
In sixth through eighth grades, ELA passing rates improved slightly for White students (52.8 percent, up 1.1 percent), Asian students (59.6 percent, a 0.8 percent increase) and multiracial students (40.5 percent, up 0.4 percent). Passing rates for white students (34.7 percent) on the Mathematics exam increased one percentage point. Results for Asian students were unchanged at 38.3 percent meeting or exceeding proficiency targets.
PARCC performance at the high school level improved among students taking the Algebra II exam. In 2017, the percentage of Algebra II students who met or exceeded expectations increased 1.7 percentage points from the previous year.
Complete PARCC results are available online at MdReportCard.org
Hoyer Announces SAFER Funding for Hyattsville Volunteer Fire Department
By PRESS OFFICER
Office of Steny Hoyer
WASHINGTON, D.C.—On August 10, 2017, Congressman Steny H. Hoyer (MD-05) announced that a $699,000 grant has been awarded to the Hyattsville Volunteer Fire Department through the Staffing for Adequate Fire and Emergency Response (SAFER) Program. The award funds will be used to support the recruitment and retention of volunteer firefighters at departments throughout Prince George's County.
"I'm pleased to announce this grant that will benefit the Hyattsville Volunteer Fire Department and other volunteer fire departments in Prince George's County," said Congressman Hoyer. "The men and women who make up the volunteer fire departments put their lives on the line each day to serve their communities. Ensuring our firefighters have the support and funding they need to do their jobs remains a top priority for me. This grant will provide recruitment support and marketing programs for volunteer fire departments throughout Prince George's County."
"This Grant will be used to recruit new firefighter/EMT's, retain the experienced volunteers we have now and to improve the application process of new recruits," said Prince George's County Fire Chief Benjamin M. Barksdale. "We appreciate the efforts of our elected officials in securing this Grant that will enhance our combined fire/EMS resource service delivery to our residents."
"With the support of this SAFER grant, we will now have the tools and funding to put into motion our plans for specific strategic marketing, much-needed technology upgrades, and successful recruitment and retention events and training," said Jay Tucker, Chairman, Prince George's County Fire Commission. "We look forward to this resulting in the largest positive impact that the Prince George's County Volunteer Fire Service has seen in decades."
"The Hyattsville VFD is excited to host this incredible grant opportunity which will provide for much needed technology, infrastructure and marketing support to the volunteer fire and rescue service across Prince George's County," said Thomas Falcone, President, Hyattsville VFD.
As co-chair of the Congressional Fire Caucus, Congressman Hoyer took a lead role in helping to establish the Assistance to Firefighters Grant (AFG) Program and the SAFER Program, and each year he leads a letter with Members of Congress to the Appropriations Committee to ensure adequate funding is appropriated for the program. Over $15 million has been awarded to Fifth District fire departments since the program was established. For more information, please visit the website at https://www.fema.gov/welcome-assistance-firefighters-grant-program.
To learn more about volunteer fire departments in Prince George's County, visit http://
www.pgvolunteers.org/
ManneqART Announces 2017 Competition Winners
By PRESS OFFICER
ManneqART, Inc.
Laurel, MD—Manneq-ART, an international arts and education non-profit, has announced the winners of its 2017 national Sculptural Artworks Competition, including Best Overall and Best in each of four theme categories. 54 artworks were submitted this year by 48 artists from around the U.S. From now until mid-November, ManneqART sculptures will be on display in multiple locations throughout the region. Awards and a live floor show of the artworks on models will be featured at the November 5 ManneqART Masquerade and Annual Awards Gala at Ten Oaks Ballroom in Clarksville.
The 2017 overall "ManneqART MASTER Award" winner is Stacy Levy of Owings Mills, MD. She wins a $3,000 prize for her amazing artwork entitled "Vortex Rider."
The 2017 ManneqART theme award winners are:
Eco Award—$1,000 "Fleur D'Art" by Karen Brand of Halethorpe, MD and Gerri Hanus of Laurel, MD
Aviation Award—$1,000 "Blue Bird of Happiness" by Sharon Garry of Catonsville, MD
Ocean Award—$1,000 "The Agony and the Ecxta-Sea" by Doreen Reynolds of Highland, MD
Energy Award—$1,000 "Spectator" by Liz Ayerle of Philadelphia, PA
In addition to the ManneqART theme awards, the following special awards were announced:
Sandy Spring Museum "Inner Light" Award—$2,000 "Glacius Angelies" by Maddy Halbach and Lynne Spector of Glenwood, MD"
Innolect Corp "Growing Leaders" Award—$500 Dual Citizenship" by Adrianna Morgan of Silver Spring, MD
The Queen's Ink Award—$500 "Imagined Africa" by Judith Bird of Port Townsend, WA
Artists of all ages and skill levels were invited to create unique artworks. This year's Emerging Artist Award winners are:
College Level—Imagine Artwear Award for Excellence in Fiber Arts—$500 "The Mummy" by Myra Briley, Texas Women's University, Denton, TX
High School Level—$300 "Evolving Nest" by Amanda O'Shaughnessy, Reservoir HS, Fulton, MD
Middle School Level—$200 "Terror of the Triangle" by Blake Savoy, Oakland Mills MS, Columbia, MD
ManneqART is based in Howard County, MD. Now in its fifth year, the ManneqART mission is "to inspire creativity and reward excellence in the field of wearable art" through the annual competition, exhibits, workshops and other events. "We work with artists of all ages and skill levels to encourage people to get involved in this lesser known form of art. Once you see these works on a live model, fully made up by a professional hair and makeup artist, you realize that art doesn't have to hang on the wall to be credible and absolutely fantastic," explained Lee Andersen, founder and president of ManneqART. More information about ManneqART and upcoming events is available at www.manneqart.org. Photos of all the entries in the 2017 Competition can be seen at the ManneqART website gallery. The ManneqART Museum has recently opened and features nearly 50 artworks on display and a unique event space for birthday parties, weddings and other special events.
Cardin Addresses NAACP National Convention, Underscores Need for Unity in Ongoing Push To Advance Civil and Human Rights

By PRESS OFFICER
Office of Senator Ben Cardin
BALTIMORE, MD—U.S. Senator Ben Cardin addressed the 108th NAACP Annual Convention, calling on its members to remain unified and unwavering in the ongoing struggle to advance civil and human rights nationwide. Noting that the current political climate is not one inclined to embrace progress on key social issues, Senator Cardin spotlighted the critical role of the NAACP as a driver for change. Specifically, Senator Cardin asked NAACP members to continue to work in support of the immediate passage of two pieces of legislation he has authored, the End Racial and Religious Profiling Act and the Law Enforcement Trust and Integrity Act.
"Taken together, these two pieces of legislation can begin to heal the fractured relationships between law enforcement officers and the communities they serve. They can be the beginning of a renewed push to fully deliver all Americans the civil rights they deserve," said Senator Cardin. "Make no mistake: We are fighting for the soul of America … and we must always be in this fight together so that all people can share in the American dream."
On a panel with fellow elected officials that have championed progressive change that included fellow U.S. Senators Bernie Sanders (I-Vt.), Tammy Duckworth (D-Ill.) and Kamala Harris (D-Calif.), along with Congressman Bobby Scott (D-Va.), Senator Cardin also spoke to the irreplaceable role that
the NAACP plays in communities and policy debates across the country.
"We need the NAACP now like never before. Your agenda is America's agenda. And the stakes could not be higher," said Senator Cardin. "We're not going to get a lot of help from the executive branch of government. We don't have an Attorney General who is going to fight for the core values of diversity and inclusion. So we must be in this together, fighting for our shared values of diversity, inclusion and progress."