| | |
| --- | --- |
| | |
December 11 - December 17, 2014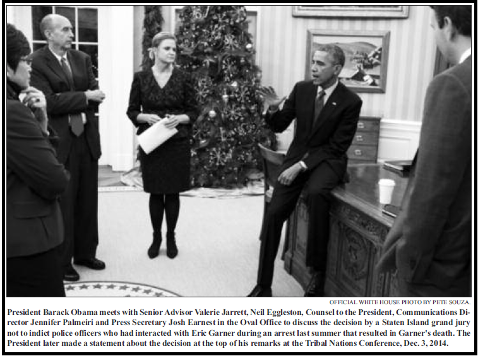 Obama Statement on the Grand Jury Decision in the Death of Eric Garner
By Press Officer
Office of the White House
Today, a grand jury in Staten Island decided not to bring criminal charges against police officers involved in the tragic death of Eric Garner.
Speaking at the 2014 White House Tribal Nations Conference this evening, President Obama delivered the following statement:
"Some of you may have heard there was a decision that came out today by a grand jury not to indict police officers who had interacted with an individual with Eric Garner in New York City, all of which was caught on videotape and speaks to the larger issues that we've been talking about now for the last week, the last month, the last year, and, sadly, for decades, and that is the concern on the part of too many minority communities that law enforcement is not working with them and dealing with them in a fair way.
"And there's going to be, I'm sure, additional statements by law enforcement. My tradition is not to remark on cases where there may still be an investigation. But I want everybody to understand that this week, in the wake of Ferguson, we initiated a task force whose job it is to come back to me with specific recommendations about how we strengthen the relationship between law enforcement and communities of color and minority communities that feel that bias is taking place; that we are going to take specific steps to improve the training and the work with state and local governments when it comes to policing in communities of color; that we are going to be scrupulous in investigating cases where we are concerned about the impartiality and accountability that's taking place.
"And as I said when I met with folks both from Ferguson and law enforcement and clergy and civil rights activists, I said this is an issue that we've been dealing with for too long and it's time for us to make more progress than we've made. And I'm not interested in talk; I'm interested in action. And I am absolutely committed as President of the United States to making sure that we have a country in which everybody believes in the core principle that we are equal under the law.
"So I just got off the phone with my Attorney General, Eric Holder. He will have more specific comments about the case in New York. But I want everybody to know here, as well as everybody who may be viewing my remarks here today, we are not going to let up until we see a strengthening of the trust and a strengthening of the accountability that exists between our communities and our law enforcement.
"And I say that as somebody who believes that law enforcement has an incredibly difficult job; that every man or woman in uniform are putting their lives at risk to protect us; that they have the right to come home, just like we do from our jobs; that there's real crime out there that they've got to tackle day in and day out -- but that they're only going to be able to do their job effectively if everybody has confidence in the system.
"And right now, unfortunately, we are seeing too many instances where people just do not have confidence that folks are being treated fairly. And in some cases, those may be misperceptions; but in some cases, that's a
reality. And it is incumbent upon all of us, as Americans, regardless of race, region, faith, that we recognize this is an American problem, and not just a black problem or a brown problem or a Native American problem.
"This is an American problem. When anybody in this country is not being treated equally under the law, that's a problem. And it's my job as President to help solve it."
State Debates Folding Tax Credit For 'House of Cards,' Other Productions
By Dani Shae Thompson
Capital News Service
Frank Underwood may be looking for a new base of operations.
Maryland tax credits worth millions have kept "House of Cards" in the state for three seasons, but a real-world budget crunch may mean Kevin Spacey — who plays the political villain — and rest of the cast and crew will head elsewhere.
A state legislative committee held a public hearing Tuesday on the feasibility of Maryland's film production tax credit, most notably associated with the Netflix series.
Film productions are exempt from state tax when purchasing goods or services related to the production, but the state is reaping only 10 cents for every dollar it gives up, according to a report from the state's Department of Legislative Services.
The report concludes that the credit does not promote long-term economic growthfor Maryland and recommends that the General Assembly allow the film production activity tax to expire as scheduled on July 1, 2016.
Legislative Services staff members who contributed to the report were present at the meeting to defend their recommendations.
"The current funding amount is about $25 million (per year). But is that what optimizes economic benefits to the state?" said Robert Rehrmann, a policy analyst who contributed to the report.
Film production tax credits have become more popular in the last decade, with 37 states and the District offering some form of incentive in 2014.
In a letter to Gov. Martin O'Malley last year, Charlie Goldstein, senior vice president of MRC Studios, which produces "House of Cards," warned that if the show does not receive tax credits, they will look to film in another state.
In total for all productions, Maryland has provided or set aside $62.5 million in tax credits from fiscal year 2012 through 2016.
Supporters of the tax say the film industry promotes economic growth in Maryland by bringing in jobs and more local spending, and that we need to offer at least $25 million in credits each year to be competitive with what other states offer.
"For many small businesses in the state, it has made the difference for keeping their doors open, the difference in hiring new staff, or the difference in making capital improvements to their property, " said Hannah Byron, assistant secretary for the Maryland Division of Tourism, Film and the Arts.
While some small businesses are reaping the benefits, the Department of Legislative Services' report estimates that Maryland is only getting a 10-cent return for every dollar of tax credits provided to the film industry.
Byron countered that another independent study calculated a return of $1.03 — or 3 percent — on every dollar in credits, and that the Legislative Services report did not focus enough on indirect benefits of production, such as the potential for film tourism.
Still, the report has a few more criticisms, one being that 96.5 percent of all credits are going to only two productions — "House of Cards" and HBO's "VEEP."
The report also points out that a few jurisdictions benefit much more than others, and also that the productions are short-lived and will not add any permanent benefit to the economy because jobs provided will be temporary.
Michael Davis, a scenery builder in Maryland for over 27 years, disagreed with this idea Tuesday in testimony before the committee.
"I worked on project after project, sometimes more than one at a time, and other times no work at all … and the pay is at least 30 percent more per hour and we will work 50 to 60 hour per week during a production," Davis said.
However, Rehrmann reminded, the report shows less than one-tenth of 1 percent of Marylanders are employed by the film industry.
The decision on whether to extend or modify the current tax credit will have to be made by the General Assembly by July 1 and could be influenced by Gov.-elect Larry J. Hogan Jr.
"We'll take a look at (the report) and have something to talk about later … there's one governor at a time," Hogan said Tuesday."
PG County Seeks to Recover Waste to Produce Clean Energy
By Press Officer
PG County Government
LARGO, MD – By 2020, the Prince George's County Brown Station Road Sanitary Landfill will phase out traditional methods of processing the County's municipal solid waste through landfilling. The County is seeking a new system to optimize the recovery of recyclables and conversion of organics into compost, fuel or renewable energy. To gain a greater understanding of innovative technologies that support these goals, the Department of the Environment (DoE) and the Office of Central Services (OCS) has issued a Request for Qualifications (RFQ) for design proposals for the development, operation and maintenance of a resource recovery facility at the Western Branch Yard Waste Processing Facility located in Upper Marlboro, Maryland.
OCS will host a Pre-Qualifications Conference on November 20, 2014 at 10 a.m. at 1400 McCormick Drive, suite 308 in Largo, Maryland. During the Conference, information about the project including objectives, design, construction, operation, finance and ongoing maintenance of the facility will be discussed. Proposals must be submitted by March 12, 2015 for review and consideration.
"This is an invitation for the new school to come into session here in Prince George's. We are changing the way we think about waste – that instead of it being a useless material thrown away in a big pile, it is a valuable resource that can be recovered, utilized and sold as compost, recycling or energy. Through this initiative, we seek a long-term sustainable and environmentally friendly solution or family of solutions that will reduce our dependency on fossil fuels while advancing our use of technology to achieve the goal of zero waste in Prince George's County," said DoE Director Adam Ortiz.
Design options should include long-term, environmentally friendly, economic and sustainable facility options. Technologies successfully producing energy outputs from waste including pyrolysis, gasification, anaerobic digestion, plasma torch, or other conversion methods producing a fuel or energy product, such as electricity, syngas, synfuel, steam, and/or useable heat at a municipal scale will be considered by the County. This technology may be used in concert with other high or low tech resource recovery systems.
The facility may utilize a variety of feedstock including MSW, yard waste, food scraps and other organic waste, construction and demolition materials, tires and MSW generated from neighboring counties. Gershman, Brickner & Bratton, Incorporated, a national solid waste management consulting firm, will assist the County with reviewing company qualifications and facility proposals.
To view the RFQ, click here. To learn more about the County's resource recovery programs, contact the Department of the Environment at (301) 883-5810.
Prince George's County Council Members Sworn in
By PRESS OFFICER
PG County Council
New Council Convenes Dec. 2 for Gavel Exchange
The nine-member Prince George's County Council was administered the Oath of Office today by Clerk of the Court Sydney Harrison during a swearing-in ceremony held on the Promenade outside of the County Administration Building in Upper Marlboro.
Three of the nine members sworn-in today, Council Members Dannielle Glaros,(D) – District 3; Deni Taveras,(D) – District 2; and Todd Turner, (D) – District 4, are serving their first terms. Council Member Derrick Leon Davis, (D) – District 6 completed a vacated term and now begins serving his first term in office. Council Members Mary Lehman (D) – District 1; Andrea C. Harrison, (D) – District 5; Karen R. Toles, (D) – District 7; Obie Patterson (D) – District 8; and Mel Franklin, (D) – District 9, are beginning their second terms in office.
Council Chairman Mel Franklin, who delivered the Inaugural Address on behalf of the County Council, said the Council looks forward to moving the County forward in partnership with County Executive Rushern L. Baker, III, also inaugurated to serve a second term today. Chairman Franklin emphasized the importance progress that the Council and County Executive have made.
"This County Government stands before you stronger, more unified, and more focused than ever before. From establishing ourselves as the place to be for economic development in this region to reducing crime to historic lows; From taking bold, unprecedented steps to reform our school system to rebuilding our health care sector; we are doing big things, on purpose, to reshape and advance the future of our great county."
The Prince George's County Council will convene tomorrow, December 2, at 11:00 a.m., to elect the Council leadership team for the 2015 Legislative Year. The session will be held at the County Administration Building, Council Hearing Room, 14741 Governor Oden Bowie Drive in Upper Marlboro. There will be a press briefing with the new Council leadership immediately following in the Council Media Room.
Top of Page
Public Safety Food Basket Program Needs Your Support
Christmas Food Baskets Reduced by 50% Due to Lack of Funds
By Press Officer
PG County Fire Department
Together, we did it again! On behalf of the more than 3,000 recipients who received Christmas Food Baskets during the 2013 Christmas Holiday and the Public Safety Assistance Program, Inc. (PSAP) – Thank You. It simply would not have been possible for the program to be so successful without your help.
We can hardly believe that this year will be the 30th year that Prince George's County's Public Safety Agencies, the Office of the
County Executive, and the Office of Homeland Security has prepared and delivered holiday food baskets for those in need through the Public Safety Assistance Program, Inc. Unfortunately, the need is great and just as in previous years, as the season approaches, we begin to receive requests. We know that many families continue to have a hard time making ends meet, and as always, we hope to do more this year than last.
We believe that we can assist more families this year than we did last year, but we can only do so with your continued generous support. Every donation – however large or small – moves us closer to our goal of helping more families. As you know, members from each of the Public Safety Agencies provide the many manpower hours needed to prepare our Christmas Baskets and they too, are committed to doing whatever is necessary.
This year, based on the amount of funds available, we will need to cut our food baskets in half. 3000 delivered last year and it appears only 1,500 this year. The requests for baskets continues to grow above and beyond last year's total and we are having to turn requests down. We need your financial support to continue to provide food baskets to those in need.
Please mail your check early and help us get started on a bigger, more generous Christmas Food Basket program. Please make your check payable to "PSAP FOOD" and mail it to us at P.O. Box 548, Upper Marlboro, MD 20773-0548. The Public Safety Assistance Program is a 501(C)3 organization and 100% of your contribution goes to the Food Basket Program. Deliveries of food baskets will be made December 11 through December 22, 2014, starting from the Bunker Hill Fire Station #855 located at 3716 Rhode Island Avenue in Brentwood, Maryland.
Thank you in advance for your support. We appreciate your generosity and wish the very best for you and your family this holiday season. If you have any questions, please contact Mr. William Milligan at 240-508-9080.

Would you like to subscribe?
Please contact our office:
15207 Marlboro Pike
Upper Marlboro, MD 20772
Tel: 301-627-0900
Fax: 301-627-6260
---
The Prince George's Post is
made up of the following staff:
Senior Editor & Publisher
Legusta Floyd, Sr.

General Manager & Legal Advertising Manager
Brenda Boice
Legal Advertising Assistant
Robin Boerckel
Subscriptions and Legals
Elizabeth Brandenstein
Editor
Michal W. Frangia
Paper Delivery
James and Betty Murphy
Web Manager
Kyler Kamp