April 21 - April 27, 2016
Click Here for 2016 Tax Sale Listings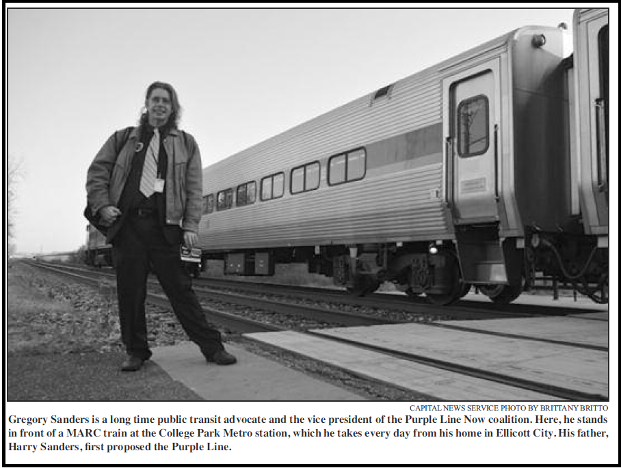 Board of Public Works approves $5.6 Billion Purple Line Light Rail Agreement
By Jessica Campisi
Capital News Service
ANNAPOLIS, MD—On April 6, 2016, Gregory Sanders put on a purple shirt and a purple tie, drove to Annapolis, and got a $5.6 billion present for his 36th birthday: a light rail transit system.
From a young age, his father, Harry Sanders, was a transit activist in Montgomery County who led the campaign to build the Purple Line and co-founded the Action Committee for Transit in 1986.
But when Harry Sanders died in 2010, his son wanted to see the vision through.
The Maryland Board of Public Works voted 3-0 on Wednesday to approve a $5.6 billion public-private partnership agreement for the Purple Line, a 16.2-mile, east-west light rail transit system with 21 stations between Bethesda and New Carrollton, giving Gregory Sanders "the best present he could have asked for."
"It's very personally meaningful," said Gregory Sanders, vice president of advocacy group Purple Line Now. "My father started working on this in the late 1980s, and along with the love of great people, citizens, and elected officers, we've achieved it."
Purple Line Transit Partners, which was chosen as the project's contractor, offered a "competitive price and maximum value," Gov. Larry Hogan said. The agreement achieves $550 million in savings for the state over the contract's lifetime, he said Wednesday.
The 36-year P3 agreement—including a six-year design and construction period and a 30-year operating period—with the Maryland Department of Transportation, the Maryland Transit Administration and the Transit Partners would be performance-based.
"This will act as an economic development catalyst to connect residents with jobs," Hogan said. "It's another sign of our shared commitment to fiscal responsibility and sound stewardship of taxpayer dollars. It's a giant step forward."
The Purple Line would run through Silver Spring and College Park and would include five stops on or near the University of Maryland's campus that would be free for students.
"People will understand why transportation is so important," said Comptroller Peter Franchot, a long-time Montgomery County resident and Purple Line supporter, who noted that areas such as College Park will benefit greatly from the light rail system. "This will make communities more liveable. Everyone is suffering a lot of economic pain ... (and) this project is a practical step to dealing with that economic pain."
Critics of the Purple Line are skeptical of the noise disruption construction and operation will cause. Franchot noted another potential challenge could come from enforcing riders to pay to ride the light rail, as Purple Line stations won't have turnstiles.
"(Having fare enforcement officers) doesn't really work," Franchot said. "People are going to be jumping on these things left and right—and we want them to use it—but we also want them to pay."
Purple Line Now President Ralph Bennett said the next steps are closing the contract and getting the Federal Transit Administration to certify a "full funding grant agreement," which will lock in federal contributions of around $2 billion to the project. $990 million of federal reserves would come in the form of direct payments, while the remaining money would be Transportation Infrastructure Finance and Innovation Act loans, he said.
To supplement state funding, more than $330 million in cash and contributions will come from Montgomery and Prince George's counties: Montgomery pledged to pay $210 million, and Prince George's County agreed to contribute $120 million to the project.
Ground will be broken for the Purple Line by the end of 2016, according to David Iannucci, assistant deputy chief administrative officer for economic development for Prince George's County. He spoke at a panel event Tuesday, where community leaders discussed the future of College Park.
Maryland Secretary of Transportation Pete Rahn said at the board meeting Wednesday that service for the Purple Line should begin in 2022.
"Anybody who's been concerned about the project is elated right now," Bennett said. "It just feels so good."
Fire Chief Presents Special Achievement Awards
By Press Officer
PG County Fire/EMS
Prince George's County, MD—Two individuals were recognized with the Fire Chiefs Special Achievement Awards recently. Prince George's County Fire Chief Marc S. Bashoor made these presentations on April 7 during a ceremony held at the First Baptist Church of Glenarden. Before making the presentations Bashoor stated, "I am honored to have the opportunity to recognize two individuals for my Special Achievement Award. The two highest awards that a Fire Chief has the honor of presenting are Unit Citations and the Fire Chiefs Special Achievement Award."
The Fire Chiefs Special Achievement Award recognizes an individual's extraordinary performance or service which contributes significantly to the overall mission of the Fire/EMS Department.
"Our first recipient willingly accepted my challenge to coordinate a large scale, multi-jurisdictional training opportunity," Bashoor said. "The Market Place Project took on a life of its own, with roof and roll-up door cutting, long-attack-line-advance drills, explosives entry training, partition wall perforating, rapid intervention training and many more opportunities. These were rare opportunities presented to the department, which required organizational commitment as well as strong and professional leadership to pull off effectively."
This Battalion Chief enthusiastically accepted to take on this responsibility. This was not a mandatory assignment—he could have taken the easy road and passed, but he did not. With the help of many others, he coordinated the effort which brought personnel from around the region, including Fire/EMS and Police Departments, K-9, Investigative teams and bomb squads. Over 1,000 personnel were afforded the opportunity to train for extended periods, days, nights, and weekends during the four month project. Making the award presentation Bashoor said, "For his tireless efforts as the Market Place Coordinator, I am honored to present Battalion Chief Christian Wargo with the Fire Chiefs Special Achievement Award.
Chief Bashoor also selected a second recipient for his Special Achievement Award. In doing so, he stated, "It is unusual that I present a 2nd Fire Chiefs award within a given year. It is equally unusual that this award will be presented to a civilian employee who works for a different County government agency."
After the tragic Christmas Eve and Christmas day fatal fires in 2014, the program now known as Adopt-a-Neighborhood was developed. The program compliments our long established smoke alarm programs, with a proactive door-to-door campaign aimed at ensuring all homes in the county have working smoke alarms and carbon monoxide detectors where needed.
One of the Departments historic problems with smoke alarm efforts has been tracking where alarms have been installed and more importantly, not installed. With advances in technology there had to be a new hi-tech effort to accomplish this. After a couple of meetings with the County Office of Information Technology and their talented staff the "right guy" was identified who had the talent and thankfully the time to help the Department leap to that hi-tech place. The ARCGIS application was developed and used with some refinements. This app is downloaded onto smart phones and updates performed on site
by firefighters.
Although it may never be "complete" the program is now being used at many of our 45 stations with paid, volunteer and civilian members using the application as we go door to door. Existing GIS data is used to track our door to door campaigns, including real time recordings of installations, failures, and rejections—the real-time database provides an instantaneous capacity for follow-up that did not exist before to ensure neighborhoods are completely protected. The development of this program has revolutionized our record keeping efforts and significantly reduced the amount of time spent managing the program and measuring effectiveness.
The program is also directly responsible for convincing several businesses to contribute to the adopt-a-neighborhood program. After developing the program, OIT personnel have accompanied us on at least three of our weekend community events. The program, which may be the first of its kind in the nation, has garnered national attention. As a result of the application effort, the OIT staff has been requested to present at several GIS Conferences.
Fire Chief Bashoor presented his Special Achievement Award to the app developer by saying, "Without his efforts, the Adopt-a-Neighborhood program would be 'just another program' on the shelf. It is my honor to recognize Senior GIS Analyst Teddy Hailegeberel for his tireless efforts, including going door-to-door with us on several Saturdays, with the Fire Chiefs Special Achievement Award."
Council Unanimously Approves Legislation Prohibiting Fracking in Prince George's County
By Press Officer
PG County Council
Upper Marlboro, MD—The Prince George's County Council, during Council session on Tuesday, April 12, unanimously approved Council Bill 3-2016, legislation prohibiting hydraulic fracturing, more commonly known as fracking, in Prince George's County.
Hydraulic fracturing is a process used to extract natural gas by pumping millions of gallons of water, sand and chemicals underground to break apart rock and release gas. Scientific evidence shows that chemicals used in fracturing may pose a threat to groundwater when waste fluids are handled and sometimes spilled on the surface.
Council Members Mary Lehman (D)—District 1, Deni Taveras (D)—District 2, Vice Chair Dannielle Glaros (D)—District 3, Todd Turner (D)—District 4, and Mel Franklin (D)—District 9, proposed the legislation in direct response to the detrimental economic, environmental, and public health effects of fracking on Prince George's County and its residents.
"By passing a fracking ban without exception, Prince George's County is once again leading the state and the nation in efforts to protect our quality of life, and the health of our planet," said Council Member Lehman. "Now it's up to the Maryland General Assembly to follow our lead and ban fracking in the state of Maryland once and for all."
Environmentalists, public health advocates and citizen activists have expressed a growing concern over the adverse effects of fracking on drinking water supplies, and the production of potentially dangerous methane and greenhouse gas emissions. Home to over 4,500 wells used for water, irrigation and farming, Prince George's County faced significant risk of contamination and environmental hazards resulting from fracking activity.
Council Member Turner, chair of the Council's Transportation, Housing and Environment (THE) Committee, says with this action, the Council has taken a proactive stance to protecting communities from this unproven and unsafe practice.
"I am glad to join with my Council colleagues in sending a strong message that we consider the fracking process as one that can create detrimental consequences to our community and our environment.
With the adoption of Council Bill 3-2016, Prince George's County becomes the first jurisdiction in the state of Maryland to impose a combined countywide ban on fracking and the transport of fracking waste.
Inaugural Municipal Appreciation Day Breeds Greater Support and Collaboration for Local Governments
By Lori Valentine
PGCEDC
Largo, MD—On March 30, 2016, the Prince George's County Economic Development Corporation (EDC) hosted its First Annual Municipal Open House and Appreciation Day at its headquarters in Largo, Maryland. More than 50 municipal officials and economic development leaders came together to engage in an interactive discussion about key economic development initiatives and programs available through the EDC to support job seekers and enhance business development.
"We are 'Activating Prosperity' in every village, and every hamlet," said EDC President and CEO Jim Coleman. "We are celebrating prosperity in our County today by bringing in
all of our mayors, town managers, council members and economic development leaders to talk about economic development and to first, share with them the wonderful resources we have at the EDC. Secondly, we wanted get their feedback, as their partners, on how we can help them get their residents back to work and help their small businesses to grow and attract more businesses to the County. I'm glad to have each of them as part of my EDC 'posse.' Let prosperity ring!"
Thomas Himler, Deputy Chief Administration Officer for Budget, Finance and Economic Development and David Iannucci, Assistant Deputy Chief Administration Officer for Economic Development, top executives from County Executive Baker's office, and the Prince George's Arts and Humanities Council were also in attendance. After breaking bread with the municipal leaders with a country style breakfast, generously sponsored by CareFirst, Mr. Coleman told the attendees how forums like these are a vital part of the EDC's 'Activate Prosperity' initiative, which seeks to raise the awareness of the business and workforce development resources the EDC has at its disposal. By local jurisdictions taking an active role in implementing the resources the EDC has for business attraction, business expansion, small business development and workforce training and placement in their communities, the EDC anticipates that home values will rise and median household incomes will increase through the creation of well-paying jobs for their residents in key industry sectors.
"It is a great time for municipal leaders to become more involved in what is going on in economic development in Prince George's County," said David Iannucci, Assistant Deputy Chief Administrative Officer for Economic Development for the Office of the County Executive of Prince George's County. "Schools are improving dramatically, public safety numbers are spectacular, and year over year, we are increasing our job numbers exponentially. There are projects going on from north to south, and this is great news for the County and our municipalities. Municipal leaders here today can learn how the EDC can help their residents get their share of jobs at MGM, and the hospital and the FBI when it comes. We need your help in identifying the workers in your jurisdictions and provide them with the skills they need to become eligible for the jobs we fought so hard to get."
Municipal leaders were pleased with the open house and in particular the programs that the EDC Workforce Development Division presented such as: the One-Stop Career Center that provides job training skills and job placements to County residents; the Hire Prince George's initiative that provides financial assistance to County employer hiring County residents; and the Youth CareerConnect Program - the prestigious $7 million grant that President Barack Obama presented in Prince George's County last year focused on students in three of Prince George's County Public Schools career academies in the fields of health and bio-science and information technology. There was also great interest in the Arts and Humanities Council presentation on the importance of building up
an arts community within each local jurisdiction.
"Arts and economic development can go hand in hand," said Rhonda Dallas, Executive Director of the Prince George's Arts and Humanities Council. "Public art can be transformative, as with a gateway community, or it can engage the small business community by messaging and branding. But having a cultural plan for a community needs to start at the municipal level and then bubble up. We have partnered with the Economic Development Corporation on several projects in the past and are looking forward to partnering with all of you in the near future."
The team from CareFirst, who sponsored today's event, congratulated the EDC on the success of its first Municipal Appreciation Day and was extremely impressed with the program presentation and the information that was provided.
"As a sponsor and a resident of Prince George's County, I was very excited and riveted to hear about all of the positive things that the EDC is doing in the County," said Denise Dunn, State and Municipal Account Executive, CareFirst. "This is not just on a local level; it is also on a global level. Based on what I have seen and heard, I will be sure to tell my friends who have small businesses in the County because the EDC has services that can be an excellent resource for them. I can't wait to spread the word."
Municipal leaders concluded the forum with a discussion on how they can individually engage the services of the EDC. There were several requests to have the EDC come to their jurisdiction and speak directly to their constituents.
"This was an amazing, phenomenal event. To bring the municipalities up to speed regarding the economic development that is going on in Prince George's County and the vision the County Executive and the EDC has to move municipalities forward is outstanding," said Council member Walter Ficklin, Town of Bladensburg. "With this type of collaboration and resources available to us, I believe that in the near future we will be a County that is recognized Statewide, nationally and internationally."
For more information about EDC programs and services, go to www.pgcedc.com.
Coach Inducted Into Maryland High School Football Hall of Fame
By Press Officer
Capital News Service
UPPER MARLBORO, MD—Frederick Douglass High School Head Football Coach, Julius C. Pinkney receives a top honor. He is as an inductee into the Maryland High School Football Coaches Hall of Fame. The Maryland Football Coaches Association selected Pinkney for his time, service, and dedication to football, as well as his promotion of the sport and the positive experiences he created for student athletes.
"Being inducted into the hall of fame is such an honor, and I am truly humbled by this accomplishment," said Pinkney. "I've coached at Frederick Douglass for almost 19 years and have forged close relationships with a lot of families in Upper Marlboro. The most rewarding part of my job is being able to see how my players progress as athletes and seeing how the sport of football has opened so many doors for them."
Pinkney attributes the life-changing effect football had on his players to his passion for the sport, coaching success, plus an 18-year career as a coach. He began coaching at Frederick Douglass High School in 1998 with the junior varsity team and received several promotions, including to head coach in 2002.
Pinkney, along with two other inductees, will participate in the hall of fame induction ceremony on Saturday, April 16 at the University of Maryland Football Gossett Field House.