November 16 - November 22, 2017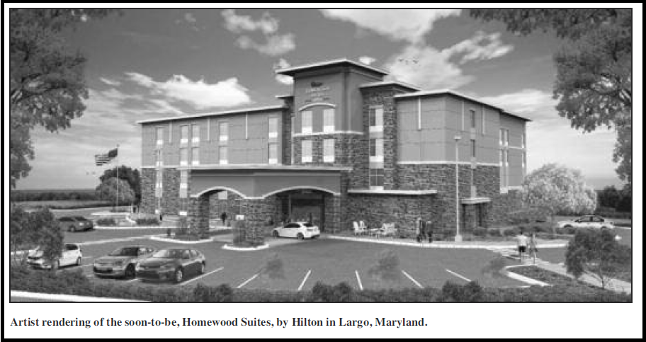 Frontier Development Breaks Ground On Largo's First Homewood Suites

By PRESS OFFICER
Frontier Development
LARGO MD—Frontier Development & Hospitality Group is bringing an award-winning extended stay hotel brand to the DC region. Homewood Suites by Hilton broke ground on Monday, November 6, 2017, at 9103 Basil Court in Largo, MD, a dynamic market just minutes away from the nation's capital.
"We're delighted to partner with Hilton to bring the first Homewood Suites to Prince George's County," says Evens Charles, President/CEO of Frontier Development. "This Homewood Suites is designed to be the extended stay hotel of choice for business and leisure travelers who want upscale accommodations—and all the comforts of home—at a value-driven price."
With 116 suites and 2,700 square feet of flexible meeting space, Homewood Suites by Hilton Largo/Washington DC is slated for completion in late 2018. The new hotel will be owned by Frontier and managed by OTO Development, a Spartanburg SC-based Johnson Management company.
Frontier already has a presence in Largo—the DoubleTree by Hilton Largo/Washington DC, adjacent to the site of the new Homewood Suites—and Charles says his company is investing further based on the market's significant business-oriented growth.
"Since the day we indicated that we wanted to build 'Downtown Largo' and make it a hub for healthcare, the business community has responded by bringing new housing, restaurants, retail and hotels like this exciting new Homewood Suites to the area," says County Executive Rushern L. Baker III, noting that Prince George's County provided $1.5 million in Economic Development Incentive (EDI) Funds toward the $20-million extended stay project, which is expected to create 41 new hospitality jobs.
"I want to thank Frontier Development & Hospitality Group for bringing Homewood Suites to Prince George's County—a great addition to Largo's current stock of hotels," Baker adds. "These are amazing times and it's exciting to watch Largo transform into the downtown area we envision."
Charles says he expects DoubleTree and Homewood to thrive side by side based on demand generators including government agencies, major corporations, commercial projects and, of course the new Regional Medical Center just a mile away. "Our new Homewood Suites brings a contemporary, upscale extended stay lodging option to Largo, providing travelers tremendous value with a variety of amenities," he says.
All suites at Homewood feature separated living and sleeping areas along with fully-equipped kitchens. Guests are provided all the essentials for a comfortable, convenient stay including free WiFi, a fresh hot breakfast every day, a fun evening social Monday through Thursday, even a grocery shopping service. There's also a recreational basketball court and outdoor patio with grill station and fire pit.
New Federal Installation to Be Built in Prince George's County
By PRESS OFFICER
PG County Council
UPPER MARLBORO, MD—The Prince George's County Council welcomes an important new neighbor. The United States Citizenship and Immigration Services (USCIS) headquarters, an agency of the U.S. Department of Homeland Security, is relocating from multiple lease locations in Washington, D.C., to its new, soon-to be-built site near the Branch Avenue Metro in Camp Springs, one of our County's most important transit-oriented development communities.
The decision to choose Prince George's County as its next home, with a commitment to a 15-year lease, will centralize this federal agency's headquarters for the first time in USCIS history. Construction is slated for completion in Fiscal Year 2020.
This week, my Council colleagues and I participated in the agency's ceremonial groundbreaking, formally announcing the construction of this $256 million project that will boost Prince George's County's regional competitiveness to create jobs and grow the economy. What a privilege to be in this incredible moment!
This project portends remarkable things for Prince George's County, the growing and thriving community of Camp Springs, and our region. The USCIS headquarters relocation brings 3,700 new federal employees, who will benefit from their proximity to the Branch Avenue Metro, and new housing and retail amenities in the neighborhood. Given the magnitude of this project, there were a few fits and starts, but in a reaffirmation of our shared commitment to create transit-oriented opportunities, the County emerged a winner.
The transit-oriented site that struggled with the impact of the Great Recession just a few years ago, is now primed to become a major economic destination for a major federal agency. This Council is filled with hope, excitement and certainty about our County's future and we are grateful to everyone—federal, local and community partners—who set out on the path that brought us to success. We look forward to continuing our work together, and to welcoming the new federal occupants at One Town Center at Camp Springs.
I salute the leadership and tenacity of my Council colleagues and County Executive Rushern L. Baker, III. We have worked hard together and it is certainly appropriate to celebrate how far we have come, but our journey is not over. There are at least 15 places across Prince George's County, where transit-oriented economic development and projects like USCIS can happen.
Congratulations Prince George's County! The best is yet to come.
Chair Davis Responds to State Audit Regarding Graduation Rates for County High Schools
By PRESS OFFICER
PG County Council
Upper Marlboro, MD—Educating our children to compete in a global economy remains a critical element to the success of Prince George's County. A world-class 21st century school system is a shared priority for all of us, and we remain committed to working together to create more high-performing schools.
The Prince George's County Council, as an education stakeholder and the County's fiscal authority, urges a careful and thorough review of the findings and recommendations of the recently-released Maryland State Department of Education audit regarding graduation rates for Prince George's County Public Schools.
This Council is very concerned about the State audit's findings of unenforced truancy policies, late grade changes without full documentation, and questionable accountability of credit recovery programs within many of our schools.
Two-thirds of the County's revenue is rightly invested in the public education of our highest priority, our young people. In its oversight role over this critical investment, this Council has long recognized the need for the continuous process of improvement of school system operations, engaging the first comprehensive assessment of County School operations in nearly 20 years.
The findings of the State audit, as well as recommendations from the joint Continuous Business Process Improvement Study, present a unique opportunity for our County and the School district to improve, and offers a critical barometer for progress as we continue our work together to achieve the world-class school system our students and Prince George's County deserve.
Now more than ever, our focus remains on the great future of our County and our public school system. All the County's education stakeholders must be steadfastly devoted to collaboration; continually identify opportunities to strengthen public school system operations, management and accountability: and commit to a full but measured response to our challenges, to ensure our school system operates at optimal levels and our students are well prepared for higher education and the demands of the workforce in our growing economy.
First Time in History, NABJ Re-Elects President to Second Term
Sarah Glover, NBC's Social Media Pro, to Lead the Mighty NABJ Through 2019
By PRESS OFFICER
NABJ
WASHINGTON, D.C.—In a historic move, members of the National Association of Black Journalists (NABJ) elected NBC Owned Television Station's Sarah Glover to a second term as president in August during its annual convention in New Orleans, Louisiana. Elections Chair John Yearwood presented the certified elections results at the NABJ board meeting last weekend.
Glover is the first "NABJ Baby" (Student Projects '95) to be elected president and now the first president to serve two terms.
"I'm humbled and honored to serve our beloved NABJ for two more years. I'm grateful for the support so many have shown the NABJ and the board under my tutelage," said Glover. "I'm excited to continue my leadership. It's a chance to help bolster NABJ to new heights and continue our transformation into a more sustainable association. I'm hyped. I've got my sleeves rolled up and I'm fast at work. Thank you for believing in me."
The certified election results for the 2017 NABJ Election (candidate and vote totals) are as follows:
Sarah Glover, candidate for President: 417
Gayle Hurd, candidate for Vice President-Broadcast: 168
Dorothy Tucker, candidate for Vice President-Broadcast: 280
Cheryl Smith, candidate for Secretary: 411
Johann Calhoun, candidate for Region I Director: 145
Ken Lemon, candidate for Region III Director: 131
Kyra Azore, candidate for Student Representative: 66
Lawrence Malloy, candidate for Student Representative: 31
Glover is dedicating her second term of service to all 44 NABJ founders and the late Michael J. Feeney, former New York chapter president. Feeney, her mentee, she believes would have been a notable NABJ president had he not died suddenly in 2016.
NABJ Founder and Past President Dewayne Wickham applauded the election results.
"Sarah has shown strong, visionary leadership," he said. "I am very proud of the steps she has taken to ensure NABJ's future. Not only is she an exceptional journalist, excelling in the workplace; Sarah understands the industry and is raising the bar not only with NABJ."
Touting zero-based budgeting, Glover said her first two years as president were spent erasing a two-year, six-figure deficit and providing accountability, while also laying the groundwork for innovative and industry-challenging programming. Both NABJ conventions in 2016 and 2017 set attendance records for the association.
Glover founded the NABJ Black Male Media Project, which launched nationwide thanks to the dynamic activation and collaboration of 21 NABJ chapters, all of whom hosted concurrent programming on June 10, 2017. Other notable accomplishments in her first term include: development and implementation of the NABJ Strategic Plan 2017–2020; eradicated deficit spending; led the board in its quest to expand NABJ investments with a $500,000 allocation; and co-founded the Poynter-NABJ Digital Leadership Academy. Her primary goals for her second term are to obtain a seven-figure, multi-year grant for NABJ, develop a new website and mobile app, expand the national office staff, further results-driven media advocacy and create a multifunctional jobs program.
A past two-term president of the Philadelphia Association of Black Journalists (PABJ) and former Chairwoman of the NABJ Council of Presidents; the organizing body of all presidents of chapter affiliates within the association, Glover is a five-term national board member. Always on the move, working for NABJ from her laptop and oftentimes on the train, she resides outside of Philadelphia and is based at 30 Rock in New York City, where she works on the NBCOTS national digital team, providing social strategy and coverage for NBC's 12 owned TV stations. She earned a dual bachelor's degree in Photojournalism and African American Studies from Syracuse University in 1996 and a master's in Communication Studies from Edinboro University of Pennsylvania in 2007.
Former NABJ board member Cheryl Smith, a newspaper publisher-editor based in Dallas, Texas, was elected secretary and Dorothy Tucker, a reporter for CBS Chicago, was re-elected Vice President-Broadcast at the annual convention.
Tucker earned a bachelor's in Radio, Television and Film from the Medill School of Journalism, Media, Integrated Marketing Communications at Northwestern University in 1977. Born and raised in Chicago, Tucker has been on-air at the same station for more than three decades -- a standout accomplishment in local television.
A native of Newark, New Jersey, Smith earned a bachelor's in Journalism from Florida A&M University in 1980 and a master's in Human Relations and Business from Amberton University in Dallas, Texas in 1986. Smith's journalism fellowships have focused on health disparities, obesity and technology.
An award-winning reporter with the distinction of having won the National Newspaper Publishers Association's coveted Messenger Award three times, Smith currently publishes Texas Metro News, I Messenger and Garland Journal.
Additionally, Johann Calhoun was re-elected Region I Director, Ken Lemon and Kyra E. Azore were elected Region III Director and student representative respectively. All will serve a two-year term on the board.
Calhoun is News and Special Projects Editor for The Philadelphia Tribune and an adjunct instructor at Temple University. He received a bachelor's degree in Mass Communications (Print) from Southern University in Baton Rouge, Louisiana in 2001 and a Graduate Certificate in Communications from the University of Pennsylvania in 2007.
Lemon is a reporter for WSOC-TV and an instructor for Carolina School of Broadcasting. A graduate of the University of North Carolina - Wilmington in 1992, he is a trained conflict resolution mediator and certified IRE watchdog reporter.
Azore, a junior broadcast journalism major with a Spanish minor, is currently studying at Howard University in Washington, D.C.
There was no candidate for the Vice President-Digital position. Region IV Director Marcus Vanderberg resigned for personal reasons, therefore, both positions were vacant. Glover has appointed Terry Collins, a senior reporter at CNET based in Oakland, to the Region IV Director position and the Vice President-Digital position is to be announced.
Returning NABJ board members include: Vice President-Print Marlon Walker, Treasurer Greg Morrison, Region II Director Vickie Thomas, Media-Related Representative Tanzi West Barbour and Academic Representative Michelle Johnson.
Beltsville Native Serves Aboard Guided Missile Cruiser in Japan

By Mass Communication
Specialist 1st Class Tim Miller
NOCO
YOKOSUKA, Japan—A Beltsville, Maryland native and 2012 High Point High School graduate is serving in the U.S. Navy aboard the guided missile cruiser, USS Chancellorsville.
Petty Officer 3rd Class Zahrina Hutchins is a logistics specialist aboard the forward deployed Ticonderoga-class guided missile cruiser operating out of Yokosuka, Japan. Chancellorsville is one of three cruisers forward-deployed in Yokosuka.
A Navy logistics specialist is responsible for purchasing and procurement, shipping and receiving, and issuing of equipment, tools, consumable items or anything else obtained through the naval supply system.
"Growing up I learned from my brother to always follow through with what I start, even if I don't like it which helps in my Navy career," said Hutchins.
With more than 50 percent of the world's shipping tonnage and a third of the world's crude oil passing through the region, the United States has historic and enduring interests in this part of the world.
"Our alliance is rooted in shared interests and shared values," said Adm. Harry Harris, Commander, U.S. Pacific Command. "It's not hyperbole to say that the entire world has benefited from the U.S.-Japan alliance. While our alliance helped stabilize the region after the Second World War, it also enabled the Japanese people to bring about an era of unprecedented economic growth. And for the last six decades, our Soldiers, Sailors, Airmen, Marines and Coast Guardsmen have worked side by side with the Japan Self Defense Force to protect and advance peace and freedom."
Approximately 300 men and women serve aboard the ship. Their jobs are highly specialized and keep each part of the cruiser running smoothly, according to Navy officials. They do everything from maintaining gas turbine engines and operating the highly sophisticated Aegis weapons system to driving the ship and operating small boats.
Forward-deployed sailors are crucial to the success of the global Navy mission and earn high praise from their leaders.
"I really enjoy the culture and experiences in Japan. I'm the first person in my family to join the military and I believe I made a great choice," said Hutchins. "I'm proud of the fact that I'm able to be self-sufficient. Additionally, finishing my degree in psychology during my time in the Navy is a great accomplishment."
Sailors serving abroad in Japan are highly motivated and quickly adapt to changing conditions, explained Navy officials.
"We get to do things that most people never have the opportunity to do," added Hutchins. "It's an honor to work with different people from all over the world."
A Navy cruiser is a multi-mission ship that can operate independently or as part of a larger group of ships at sea. The ship is equipped with a vertical launching system, tomahawk missiles, torpedoes, guns and Phalanx close-in weapons systems.
Sailors play a vital role in the overall military mission around the world.
"The U.S.-Japan alliance remains the cornerstone for peace and stability in the Indo-Asia-Pacific region," said Harris.