August 11 - August 17, 2022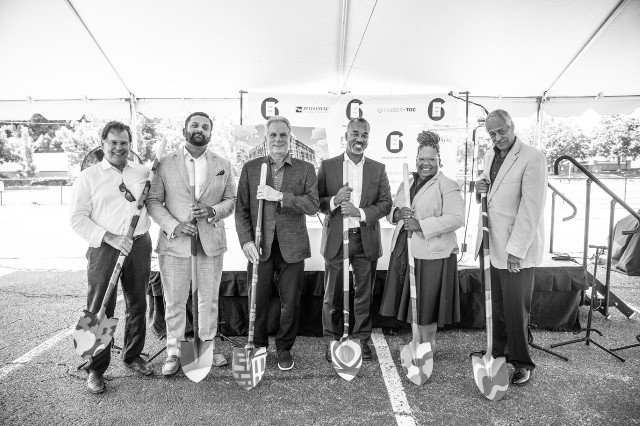 Photo credit: Courtesy of Lancer Photography
Left to right: William Messori: Managing Director of Real Estate Development, Griffin Capital Company; Nihar Shah: Partner, Perseus TDC; Robert Cohen: CEO / President, Perseus TDC; Rich Jordan: Managing Director, Potomac Investment Properties; Angie Rodgers: Deputy Chief Administrative Officer for Economic Development, Prince George's County; Robert Croslin: Mayor of Hyattsville
Perseus TDC, in Partnership with Potomac Investment Properties, Griffin Capital and Eaglebank, Celebrate Groundbreaking of New Mixed-Use Apartment Residences: The Six
The Mayor of the City of Hyattsville, Robert Croslin, Welcomes Prince George's County's First Multifamily Development Designed for National Green Building Standard Gold Certification
By PRESS OFFICER
Perseus TDC
HYATTSVILLE, Md. (Aug. 4, 2022)— Perseus TDC, in partnership with Potomac Investment Properties, Griffin Capital and EagleBank, today celebrated the groundbreaking of The Six, a 316 unit, 400,000-square-foot mixed-use development in the University Town Center area of Hyattsville, MD. Joined by the Mayor of the City of Hyattsville, Robert Croslin, county officials, stakeholders from Parks & Planning and DPIE, Perseus TDC shared their vision for The Six and honored it as the City of Hyattsville and Prince George's County's first multifamily development designed for National Green Building Standard Gold certification.
"As we mark the beginning of construction, we're thrilled to be adding an innovative residential offering to The City of Hyattsville that will forge meaningful ties to this vibrant community, connect future residents to public transit corridors and provide them with a thoughtfully and sustainably designed oasis to rest, recharge and connect," said Nihar Shah, Partner at Perseus TDC. "With strong ties to the arts through indoor/outdoor murals commissioned by local artists and an abundance of sustainable elements, The Six exemplifies a commitment to building a better community for Hyattsville."
"The City is thrilled to celebrate the groundbreaking of the new multi-family Residences at The Six development project," said The City of Hyattsville Mayor Robert Croslin. "Expanding affordable housing has always been at the forefront for my colleagues and me, so we are pleased that the Perseus TDC team and partners have chosen to invest and commit to developing sustainable and affordable housing units in Hyattsville."
The Six helps to achieve all three goals set forth by the Metropolitan Washington Council of Governments (MWCOG). This includes providing new housing near high-capacity transit and having at least 75 percent of new housing be affordable to low- and middle-income households, which MWCOG has determined to be $2,499/month or less. The development also injects capital into an Opportunity Zone, thus achieving regional and federal goals with its construction and future operations.
Located at 6400 America Boulevard, The Six will feature over 21,000-square-feet of thoughtfully designed, community-centered amenity space including a dual-level fitness center, lush courtyard with ample gathering space and a rooftop pool terrace with fireplaces and grilling stations. Residents will also have premier access to a dedicated pet spa with grooming stations and ample bicycle parking and bike workshop for reduced carbon-emissions commutes.
Amenity spaces, designed by STUDIOS Architecture, accentuate textural and hand crafted themes found in artistic hubs to foster an atmosphere that inspires the creativity of future residents and emphasizes wellness and connection to nature. The retreat-style residences feature open floor plans and luxurious features for reimagined, modern living. The Six is nestled in an urban, highly walkable community with an eclectic, thriving Arts District complete with galleries, parks, nightlife, shopping, breweries and restaurants. The residences are easily accessible with nearby access to the Hyattsville Crossing metro station and just eight Metro stops from DC's Central Business District.
Pre-leasing is projected to begin Q2, 2024. To learn more about The Six, please visit www.thesixliving.com
Perseus TDC, an affiliate of Transwestern Development Company, invests alongside its financial partners in well-located Washington, D.C., metro area properties, adding value through skilled entitlement planning, design, risk management and operations. The firm draws upon its principals' expertise in developing office, hospitality, multifamily, retail and mixed-use real estate, refined through decades of experience. Based in Washington, D.C., Perseus TDC wields the capabilities of a national firm with the dexterity of a local developer. Visit perseustdc.com for more information.
Transwestern Development Company (TDC®) creates value through the execution of development projects for itself, its partners and valued clients throughout the United States. Part of the Transwestern companies, the diversified business develops logistics, multifamily, office, mixed-use and healthcare properties, with a pipeline of projects in process or completed since 2012 exceeding $7.1 billion.
Griffin Capital is a leading alternative investment asset manager headquartered in El Segundo, California. Founded in 1995, Griffin Capital has owned, managed, sponsored or co-sponsored investment programs encompassing approximately $22 billion in assets.1 The Company's senior executives and employees have co-invested over $300 million in various investment verticals, aligning Griffin Capital's interest with those of its more than 200,000 investors. The Company leverages the breadth and depth of its cycle tested investment management teams to capitalize on long-term economic trends and secular growth opportunities in the real estate sector through direct investment strategies.
Includes estimated total project costs for assets under construction. Additional information is available at: www.griffincapital.com
Eagle Bancorp, Inc. is the holding company for EagleBank, which commenced operations in 1998. EagleBank is headquartered in Bethesda, Maryland, and conducts full service commercial banking through 17 offices, located in Suburban, Maryland, Washington, D.C. and Northern Virginia. EagleBank focuses on building relationships with businesses, professionals and individuals in its marketplace.
---
Gdavis Productions and Alzheimer's Association Present "Unforgettable"
Stage play will debut in Bowie, MD on Sunday, September 18
By CINDY SCHELHORN
Alzheimer's Association National Capital Area Chapter
McLean, Va. (Aug. 8, 2022)—Gdavis Productions and Films, LLC and the Alzheimer's Association have joined together to create a new stage play titled Unforgettable. The play will debut in Bowie, MD on Sunday, Sept. 18 at the Bowie Center for the Performing Arts.
The dynamic and emotional stage play will showcase the effects of caring for a loved one with Alzheimer's and the importance of understanding early detection and participating in clinical trials while introducing them to the plethora of resources offered via the Alzheimer's Association.
Gdavis Productions has been touring the country and raising awareness for Alzheimer's disease and caregiving in communities of color for more than 13 years with the critically acclaimed stage plays Forget Me Not and Mama's Girls. Over the last decade, Forget Me Not has toured over 27 cities in 10 states in an attempt to close the health disparities gap in underserved and disproportionately affected communities.
"This is the next phase of what we originally started with the Alzheimer's Association 13 years ago. To come full circle and to be in a position to take the Forget Me Not project to Unforgettable is truly a humbling moment and I am looking forward to the impact that will be made in communities of color across the nation," said creator and award-winning playwright and filmmaker Garrett Davis.
According to the Alzheimer's Association, older Black Americans are twice as likely to develop Alzheimer's disease than White Americans. Black Americans are also less likely to receive a timely diagnosis, with many receiving a diagnosis much later in the disease, when their medical needs are greater.
"Unfortunately, there's a lack of culturally appropriate and tailored programming that resonates with Black and Hispanic/Latino audiences as it relates to Alzheimer's and other dementia research, care and support," said Carl V. Hill, Ph.D., M.P.H., Chief Diversity, Equity and Inclusion Officer at the Alzheimer's Association. "This community theater will give us the opportunity to deliver important education, awareness, support and other resources to these communities in a fun and entertaining way that will resonate well with audiences that have been vastly underserved."
Unforgettable features a stellar cast of characters who were a part of the drama series Daddy's Boys including Dartez Wright and Kenneth Pierce, as well as American Idol finalist Scott Savol, LeJuene Thompson from Donald Lawerence and the Tri-City Singers, and Yessie Rodriquez from the drama series My Family.
The theme song was written by songwriter and vocalist Blanche McAllister, one of the lead singers from the Grammy award-winning group Donald Lawrence and at the Tri-City Singers.
For more information about Unforgettable and to reserve your free ticket for the performance, visit www.unforgettableplay.com
Gdavis Productions and films is an urban theater/film company that has been touring stage plays since 1994. Gdavis Production is committed to bringing real life situations to the stage that will bring light to issues and concerns that affect our community in hopes of creating a change for a better quality of life for everyone. Visit gdavisproductions.net for more information.
The Alzheimer's Association is a worldwide voluntary health organization dedicated to Alzheimer's care, support and research. Our mission is to lead the way to end Alzheimer's and all other dementia—by accelerating global research, driving risk reduction and early detection, and maximizing quality care and support. Our vision is a world without Alzheimer's and all other dementia®. Visit alz.org or call 800.272.3900.
---
Watershed Implementation Plan a Work-In-Progress
Department of Environmental Science and Technology soil and water quality scientist secures $3.2M for EPA collaboration to improve Chesapeake Bay water quality
By PRESS OFFICER
University of Maryland Extension
COLLEGE PARK, Md. (Aug. 4, 2022)—Restoration goals for the Chesapeake Bay cannot be realized overnight; it takes years of coordination, cooperation, and compromise to induce the changes needed to positively affect water quality. Gurpal Toor, professor, extension specialist, and associate chair in the Department of Environmental Science and Technology at the University of Maryland College of Agriculture and Natural Resources (AGNR), secured an Environmental Protection Agency (EPA) grant for $3.2M to continue working under the Chesapeake Bay Watershed Agreement to deliver research-based science to the Chesapeake Bay Program regarding agriculture and its contribution to water quality issues.
"The partnership between UMD and federal and state agencies to help Chesapeake Bay restoration allows us to use science to guide the policy-making in our backyards," said Toor, who leads a project team of three faculty members. "It's a complex project with huge ramifications for improving water quality in the Chesapeake Bay, and the university has a long history of working with the EPA."
The goal of the project, with funding in effect through 2027, is to tackle water quality goals by understanding agricultural and other nonpoint source inputs of nutrient pollution like nitrogen and phosphorus, and to a lesser degree, sediments. Agriculture is a critically important component of food production for 18+ million inhabitants of the Chesapeake Bay Watershed that includes parts of six states—Delaware, Maryland, New York, Pennsylvania, Virginia, West Virginia—and the entire District of Columbia. At the same time, agriculture is also a primary source of nutrient pollution in the Bay. "Most of the project efforts are focused on agriculture, with a side conversation about urban and other nonpoint sources, but it's really about the nutrients and how the transport of nutrients from land affects water quality in the Bay," said Toor. "Having this project at AGNR allows us to demonstrate our familiarity with our local resources and allows us to provide research-based science to help make policy decisions that take our farmers into consideration."
The work encompasses several objectives that will support the implementation of best management practices and provide better data inputs into models that inform programs and policies related to water quality goals for the Bay and its tributaries throughout the watershed region.
"One of the EPA's main goals is protecting water quality, and the best tool they have is the Chesapeake Bay model to help understand agricultural nutrient loads from different places in the watershed," Toor said.
"We want to improve agricultural model input data…to more accurately represent current agricultural contributions of nutrients and sediments to the tidal Chesapeake Bay and its tributaries," said Mark Dubin, Senior Agricultural Advisor on the project. Dubin devises research projects in partnership with other universities and agencies to develop more robust and accurate information on input sources and their variability to close identified gaps in the model. A member of the project since 2006, Dubin also assists agencies and partners with developing approved methods to track, report, and verify implemented Best Management Practices (BMPs) to reduce nutrient and sediment pollution.
"There are a lot of complicated factors in tracking nutrient inputs, so the model has to consider those factors," said Toor. "There's variability in the landscape, and the model tries to capture that variability."
The Chesapeake Bay model informs each state's Watershed Implementation Plan (WIP) regarding how much nitrogen and phosphorus from nonpoint sources like agriculture and urban stormwater, is allowed to run off into tributary waters. This amount is the region's Total Maximum Daily Load, or TMDL, and each region/state has a target TMDL determined by the numerous factors in the Chesapeake Bay model.
Decisions on regional TMDLs and BMPs, like field buffers or cover crops, are informed through a comprehensive collaboration by the Chesapeake Bay Program Agricultural Workgroup (AgWG). This group of stakeholders, made up of county, state and federal government agencies, non-governmental organizations, industry representatives, and university scientists, provides expertise in agriculture management, scientific research, programs, and policies, says Loretta Collins, Coordinator of the AgWG.
"The AgWG provides expertise on the latest findings in research related to best management practices in agriculture and identifies areas where more needs to be understood," said Collins, who has been a part of the project for over five years.
"We have a unique thing in that we coordinate all agriculture activities around the Chesapeake Bay, so the workgroup discusses things happening in the federal landscape, and what things are on the horizon that could potentially be affecting farmers," said Toor. Then, the workgroup is given the problem, members discuss the issue with subject matter experts, and the panel makes recommendations and produces a report, which is escalated to the EPA's Water Quality Goal Implementation Team, Toor said. "It's all a matter of compromise—how can we get the cleanest environment while still allowing for farms and small businesses to make a profit."
While regulatory decisions are made at the federal level, local Bay jurisdictions must take the initiative to honor the original 2014 watershed agreement to take the recommended steps to reduce nutrient runoff in the watershed. Maryland offers many incentive programs for farmers to adopt BMPs for better water quality, but other regions have a less vested interest due to their proximity to the Bay.
For the past three years. Ruth Cassilly, Nonpoint Source Policy Analyst on the project, has advised each Bay jurisdiction on potential ways to decrease pollution sources to meet their TMDL target. "I play a role in facilitating the development and use of precision conservation and other technical tools that analyze nutrient loads and sources, allowing stakeholders to target best management practices to maximize nutrient and sediment reduction," said Cassilly. "My work is providing stakeholders with the information they need to more effectively leverage limited resources to achieve maximum pollution reduction results."
Improving Bay water quality has several benefits, not only for Maryland, but the surrounding watershed as well. Home to populations of highly sought blue crabs, oysters, and multiple fish species, the Bay provides both work and recreational opportunities for the Mid-Atlantic region.
"I think most everyone working on these efforts understands that things begin at the local level," said Collins. "Folks need to care and contribute to the improvement and maintenance of their local streams and rivers, which will, in turn, benefit the Bay."
---