May 23 - May 29, 2019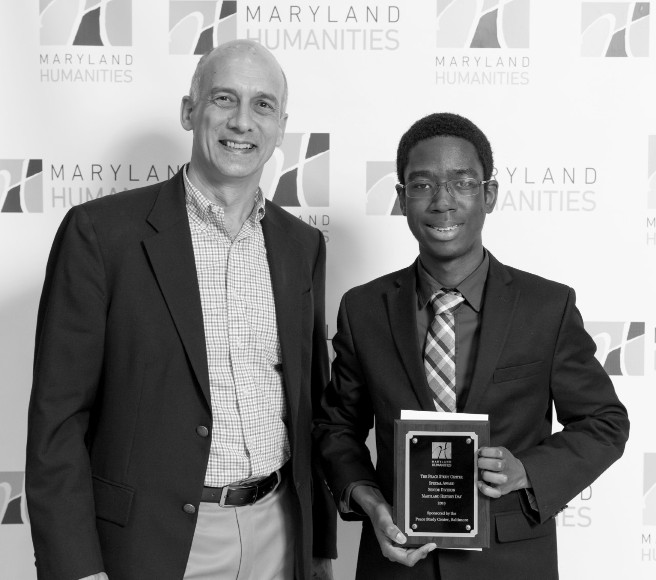 Photograph credit Mitro Hood Photography
Daniel Bates (R) and The Honorable Mark Semanie, Executive VP and COO of Old Line Bank. Old Line Bank is one of the event sponsors.
Five Prince George's County Students Win Awards at Maryland History Day
Outstanding Maryland Teachers Also Honored
By CHRISTINE (CHRIS) STEWART
Maryland Humanities
Baltimore, Md. (May 14, 2019)—Nearly 700 middle and high school students gathered to present their extensive historical research at the 2019 Maryland History Day competition. The competition, held on May 12 at University of Maryland, Baltimore County (UMBC), is the culmination of a year-long program from Maryland Humanities. In 2019, more than 25,000 Maryland students participated at the school level.
Working solo or in small groups, students create original documentary films, exhibits, performances, research papers, or websites exploring a historical topic of their choice on an annual theme, which this year is "Triumph and Tragedy in History." Maryland History Day sparks critical thinking and helps develop skills in research and analysis, writing, and public speaking. The program is open to public, private, parochial, and homeschool students in grades 6 through 12.
Competitors at Maryland History Day have already won first or second place in their category at school and district levels. Students from sixteen Maryland counties and Baltimore City received special awards, designated for outstanding Maryland History Day projects that cover specific subjects.
Students from seven Maryland counties and Baltimore City will represent Maryland at the National History Day competition, where they will compete among 3,000 participants from across the country and beyond. National History Day is June 9–13, 2019 at the University of Maryland in College Park. The competition involves students from all 50 states plus the District of Columbia, Puerto Rico, Guam, American Samoa, and international schools in China, Korea, and South Asia. Maryland History Day is an affiliate of National History Day, a non-profit education organization that promotes an appreciation for historical research among middle and high school students through multiple annual programs, including the National History Day Contest.
Support for Maryland History Day is provided by the State of Maryland through the Maryland State Department of Education, Old Line Bank, Thalheimer-Eurich Charitable Fund, Columbia Gas of Maryland, and Wegmans.
Maryland History Day Winners 2019 PRINCE GEORGE'S COUNTY Special Prize Winners:
Student: Daniel Bates
Award: Special Prize, Peace Study Awards, Senior Division, sponsored by Peace Study Center, Baltimore
Topic: The Destroyer of Worlds
Category: Exhibit
School: Homeschool
Teacher: Robin Bates
Students: Kamali Burns and Samiya Burns
Award: Special Prize in Legal and Constitutional History, Junior Level, sponsored by Cynthia Raposo and Joseph Furey
Topic: Family, Religion, Sales: How Christmas Became
A Federal Holiday
Category: Exhibit
School: Benjamin Tasker Middle School
Teacher: Gloria Cuthbertson
Students: Abigail Gross and Gabrielle Stewart
Award: George Washington Leadership Prize, sponsored by George Washington's Mount Vernon
Topic: Tragedy in the Continental Army: The Winter at Valley Forge
Category: Documentary
School: Kenmoor Middle School
Teacher: Irene Prescott
Maryland History Day District Teacher of the Year:
Dr. Omar Price, Duval High School
Maryland Humanities is a statewide nonprofit organization that creates and supports educational experiences in the humanities that inspire all Marylanders to embrace lifelong learning, exchange ideas openly, and enrich their communities. For more information, visit www.mdhumanities.org. Maryland Humanities is generously supported by the National Endowment for the Humanities, the State of Maryland, private foundations, corporations, small businesses, and individual donors. Join the conversation on the Maryland History Day Facebook and Twitter pages. Connect with Maryland Humanities on Facebook, Twitter, and Instagram.
National History Day ® (NHD) is a non-profit education organization headquartered in College Park, MD. Established in 1974, NHD promotes an appreciation for historical research among middle and high school students through multiple annual programs. More than half a million students participate in the annual National History Day Contest. These research-based projects are entered into contests at the local and affiliate levels, where the top entries are invited to the National Contest at the University of Maryland at College Park. NHD provides professional development opportunities and curriculum materials for educators of all levels. For more information, visit www.nhd.org.
---
Interim PGCPS CEO Announces Salary Step Restoration Plan For Staff Impacted By Recession
The proposal will impact nearly 8,300 eligible employees.
By OFFICE OF COMMUNICATIONS
Council Responds to Interim Schools
CEO Employee Salary Step Restoration Plan
Upper Marlboro (May 14, 2019)—The Prince George's County Schools Interim CEO, Dr. Monica Goldson, has announced a multi-year, $46.5 million proposal to restore recession-related salary cuts to support nearly 8,300 school employees. Scheduled step increases for school staff have remained frozen over the last ten years.
The Prince George's County Council supports Prince George's County Schools funding, including operational, formula and construction spending. The proposed salary step restoration plan would be supported with funding from the State Kirwan Commission and nearly $20 million in school system cuts, none impacting classroom resources.
The Council welcomes Dr. Goldson's efforts to address this longstanding issue for dedicated school employees who have continued to serve the system and its students, despite fiscal challenges.
As the County's fiscal authority, and in consideration of the current Fiscal Year 2020 Budget Review Process, the County Council will perform its due diligence and conduct a fiscal impact analysis of the salary step restoration proposal on the Board of Education Budget.
—Karen D. Campbell, Prince George's County Council Media
Prince George's County Public Schools
UPPER MARLBORO, Md. (May 14, 2019)—Today, Prince George's County Public Schools (PGCPS) Interim CEO Dr. Monica Goldson announced a salary step restoration proposal to compensate dedicated employees. Teachers, principals and support staff whose raises were frozen during the economic downturn yet remained with PGCPS consistently for the last 10 years will receive a restorative salary increase over the next three years. All eligible employees will receive a 3 percent salary increase in addition to any current negotiated compensation enhancements. In total, nearly 8,300 employees are eligible for the salary restoration proposal. The plan will be funded through a combination of state Kirwan funding and nearly $20 million in cuts from across the school system, none impacting resources in the classroom.
"For the last decade our community and employees have been slowly recovering from one of the worst economic recessions in the nation's history. Along with teachers, our bus drivers, school nurses and custodians bore the brunt of lost wages and have seen the least increase in their paychecks over the last 10 years," said Dr. Goldson. "Through it all, these employees were committed to serving our students and building the next generation. Taking this step forward demonstrates our commitment to retaining employees and recruiting the best to join us in the years to come."
During the economic downturn, numerous cost-savings strategies were used to limit the impact on students and schools, including a "freeze" on employee salary increases from 2009 to 2012. Based on draft estimates from a PGCPS compensation study, the $46 million commitment to restore the lost salary steps will impact close to 8,300 employees, including nearly 3,500 teachers and over 3,650 support staff. The proposal provides one step increase annually for the next three fiscal years. This will cost just under $16 million annually for the next two years and approximately $15 million for the third year.
PGCPS will continue working with its four union partners —ACE-American Federation of State, County and Municipal Employees (AFSCME) Local 2250, Association of Supervisory and Administrative School Personnel (ASASP), Prince George's County Educators' Association (PGCEA) and Service Employees International Union (SEIU) Local 400—to formally negotiate compensation items.
---
Anne Arundel Medical Center and Doctors Community Health System Announce Intent to Form New Health System
By ARMINTA PLATER
Anne Arundel Medical Center
ANNAPOLIS, Md. and LANHAM, Md. (May 13, 2019)—Anne Arundel Medical Center (AAMC) and Doctors Community Health System (DCHS) are taking the first step in the formation of a new health system that will serve the region. The two hospitals are working toward a definitive agreement pending completion of a due diligence process and standard regulatory approval.
Last year, DCHS began the search for a partner to help strengthen its existing services, make new investments, and to continue to meet the needs of patients and the Prince George's County community.
"Partnership is essential for independent hospitals that are working to navigate the rapidly changing health care environment," said Philip Down, CEO of DCHS. "We vetted many affiliation opportunities, and ultimately chose Anne Arundel Medical Center because of our shared values of community service and quality care."
While the hospitals have primary locations in separate counties, there are bordering service areas between the two, with AAMC serving patients in Prince George's County through locations
in Largo and Bowie, and DCHS serving patients in its Crofton location.
"Our contiguous service areas make this an ideal opportunity to come together and provide care to our collective community," said Victoria Bayless, president and CEO of AAMC. "We determined that our counties share more than just a border, and we want to make the region in which we operate healthier as a whole. Together, we believe that we can bring better care to the residents of Prince George's and Anne Arundel counties."
Through the new health system, AAMC plans to invest up to $138 million over five years in the existing DCHS campus and its IT infrastructure, expand inpatient and outpatient services, and launch much-needed programs that support the Prince George's County Community Health Needs Assessment.
"We are excited by the opportunities this partnership is designed to deliver and look forward to working with the team at AAMC to learn from one another," said Rene LaVigne, chairman of Doctors Community Hospital's Board of Trustees. "We admire the high level of care that AAMC provides its patients, and the incredible abilities of its staff, which is why we view them as an ideal partner as we plan for how to best serve this region in the years ahead."
"AAMC is excited by the opportunity to partner with DCHS and to expand and enhance care across Prince George's County. Together, the two systems can meet the unique needs of this region and grow, even in a complex and challenging health care environment," said John Belcher, chairman of AAMC's Board of Trustees.
Due diligence discussions are expected to continue for the next 30 days. A name for the new health system will be announced this summer.
---
---