October 14 - October 20, 2021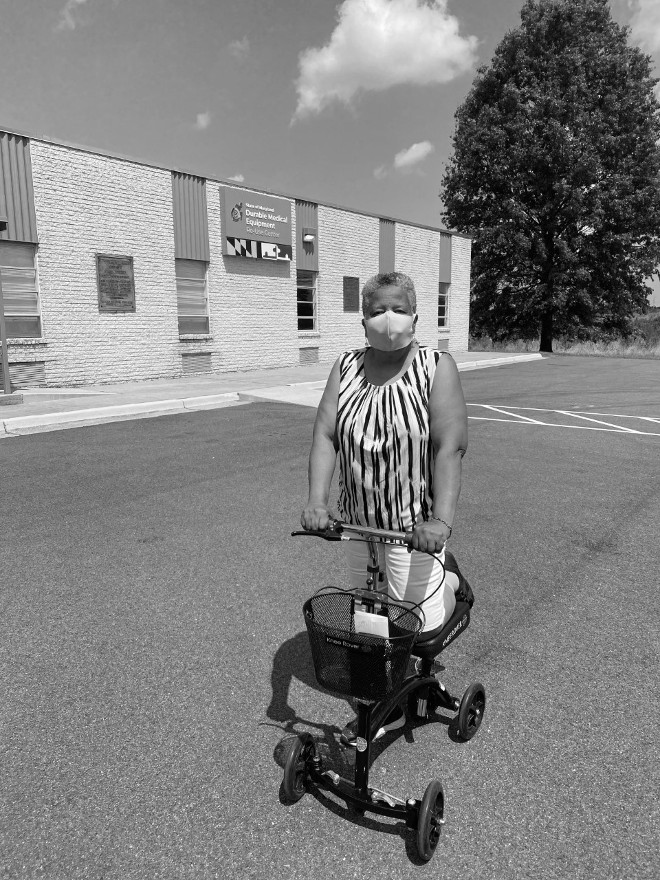 Photo courtesy of Program Director Ian Edwards
Janice Joyner in front of the Durable Medical Equipment Re-Use Headquarters in Cheltenham, Maryland, on August 27, 2021.
Maryland Residents Eligible for Free Medical Equipment
By BETHANY PROBST
Capital News Service
ANNAPOLIS, Md. (Oct. 6, 2021)—From the moment doctors said she would have to undergo intensive foot surgery, Prince George's County resident Janice Joyner knew she would have to pay for more than just a procedure.
A mobility device was needed for her recovery. However, Joyner said, Medicare couldn't cover the cost of the scooter.
"I was searching online for some kind of equipment that could help me and I didn't want to pay an arm and a leg for it," she said.
After numerous Google searches, she said she came across the Maryland Durable Medical Equipment Re-Use Program.
This program provides Maryland residents with donated equipment—such as wheelchairs, walkers, hospital beds, scooters and even pediatric equipment that have been sanitized and repaired—at no cost.
Applicants do not have to meet any income requirements to receive equipment.
Marylanders with any disability, illness or injury can receive this equipment regardless of age, according to the program website.
Joyner said she thought the program was too good to be true.
"At first I was skeptical (wondering) 'Why is this place offering free resources?'," she said. "But everything on there was true and I was amazed."
Disability healthcare costs in Maryland can reach as high as $21,118 per person each year, according to a 2019 Disability and Health Data report the Centers for Disease Control and Prevention issued.
After a month and a half of mobility assistance, Joyner said, she plans on returning her scooter to the program's headquarters for another person to use.
"Before, I could only hop five steps to my bathroom and back," she said. "Having this scooter made it possible for me to get out of bed."
Ten percent of Maryland adults have a mobility-related disability, according to the CDC report.
This makes it the highest reported disability among other types such as cognitive, self-care and independent living.
Program Director Ian Edwards said despite numerous attempts to raise awareness for this program, many people still don't know it exists.
"We started things up in January but with COVID fears, we weren't really sure how the program would be perceived because it is previously used equipment," he said.
Once the majority of Marylanders received their vaccines, Edwards said more equipment started going out to the public in March.
"We faced a lot of difficulties at the start," he said. "But the equipment is (now) here and we have it ready for people who have no other means of obtaining it."
Edwards said the program has received over 5,000 items since collections began.
Although the program does not currently deliver, he said they have multiple satellite sites around the state where people can pick up equipment.
The program hosts 11 donation centers across the state, including three major landfills where people can drop off equipment.
Edwards told Capital News Service that they partnered with county landfills to set up containers and raise awareness for the re-use program.
He said while the program serves to help residents, they also want to ease financial strains among other contributors.
"Whether it's the healthcare system, hospital providers or even Medicare," he said. "If we can save them money, with the inventory we have now, we're hoping to help in any way."
Secretary of Aging Rona Kramer said Maryland is the first state to offer this statewide durable reuse program.
"There are very few programs in the country that are this expansive," she said. "We have the most sophisticated one. We are giving people their lives back."
More information about the program: https://aging.maryland.gov/pages/DME.aspx
---
Hoyer, Democrats Press Senate to Act on Removing Statues of Confederates, Racists From Capitol
By MICHAEL TOUMA
Capital News Service
WASHINGTON (Oct. 8, 2021)—Standing in National Statuary Hall in the United States Capitol Building, visitors are taken on a journey through 250 years of American history. While some of the room's figures, like Rosa Parks and Thomas Edison, exemplify the nation's diverse and exemplary history, others representing a darker side of the past remain.
Statues of Confederates and white supremacists in the Hall and elsewhere in the Capitol have not surrendered to widespread public pressure to remove them - even after the House passed legislation in June to do so.
House Majority Leader Steny Hoyer, D-Mechanicsville, is leading a group of Democrats —including Maryland's Democratic House members—to renew efforts to get the Senate to follow the House.
"The names and faces of those who championed slavery, sedition, and segregation have no place in this temple of American freedom and democracy," Hoyer and the other Democrats said in a Sept. 24 letter to Senate Majority Leader Chuck Schumer, D-New York. "These sacred spaces should be reserved for those we revere: honorable Americans of whose deeds and legacies we can all be proud."
Hoyer and 17 other Democrats sponsored the legislation passed by the House to remove the bust of Chief Justice Roger Brooke Taney from the Capitol and replace it with a bust of Associate Justice Thurgood Marshall. The measure also targets 13 other Confederate politicians and soldiers as well as white supremacists.
The bill's co-sponsors included Maryland Democratic Reps. Anthony Brown, D-Upper Marlboro; Kweisi Mfume, D-Baltimore; Jamie Raskin, D-Kensington; Dutch Ruppersberger, D-Timonium; John Sarbanes, D-Towson; and David Trone, D-Gaithersburg. All also were on the letter to Schumer.
Taney, a Maryland native and former slave owner, wrote the majority opinion in Dred Scott v. Sandford in 1857, contending that blacks, whether they were enslaved or free, could not sue in a court because they were not American citizens; he also said Congress couldn't free slaves in U.S. territories.
"The Dred Scott decision was a blot on our history and represents the tragic legacy of slavery and racism that should not be celebrated in our country," Hoyer said in a statement. "In my home state of Maryland, a statue of Chief Justice Taney was removed from the grounds of the State House, and it's past time that we follow suit in the U.S. Capitol."
Each state is allowed two statues in the Capitol to honor people who have made a significant impact in that state's and nation's history.
But among the figures immortalized in Statuary Hall is Confederate President Jefferson Davis of Mississippi. His vice president, Alexander Hamilton Stephens of Georgia, is standing nearby.
A bust of Taney stands in the Capitol's Old Senate Chamber, later used by the Supreme Court until 1935.
Not only do these statues symbolize divisive times in U.S. history, but also they stand as barriers to healing racial and political divisions, lawmakers said.
"On January 6th, we experienced the divisiveness of Confederate battle flags being flown inside the U.S. Capitol," House Majority Whip James Clyburn, D-South Carolina, said in a statement. "Yet there are still vestiges that remain in this sacred building that glorify people and a movement that embraced that flag and sought to divide and destroy our great country."
Removing the objectionable statues will "demonstrate that as Americans we do not celebrate those who seek to divide us," Clyburn said.
Hoyer's bill is part of a host of efforts around the nation, especially in the South, to remove the statues of Confederate and segregationist figures in state capitals and other public spaces.
The decision to remove the Taney statue from the Maryland State House "reflects our growth as a state as we have confronted the most difficult parts of our history," Hoyer said.
The Maryland congressman won House passage of his statue bill in July 2020, but it was never considered by the Senate, then controlled by the Republicans.
This time around in the House, 218 Democrats and 67 Republicans voted in favor of the bill, while 120 GOP lawmakers voted against it.
"The House has now advanced our legislation twice," Hoyer wrote to Schumer. "We would hope that the Senate would now move this legislation. Every moment we delay is a missed opportunity to correct historical wrongs."
Schumer's office did not respond to a request for comment.
---
The Prince George's County Family Justice Center, an Initiative of the Circuit Court, Awarded Nearly One Million Dollar Grant From the Department of Justice Office on Violence Against Women
By JOCELYN STEELE
The Circuit Court for Prince George's County
Upper Marlboro, Md. (Oct. 7, 2021)—The Circuit Court for Prince George's County is pleased to announce that the Prince George's County Family Justice Center (PGCFJC), an initiative of the Circuit Court, was recently awarded the Department of Justice – Office on Violence Against Women Improving Criminal Justice Responses to Domestic Violence, Dating Violence, Sexual Assault, and Stalking Program grant. As a recipient of the grant, PGCFJC will receive $978,436. The additional funding will help PGCFJC enhance operations and increase its physical reach within Prince George's County.
Prior to the establishment of the PGCFJC, Prince George's County had the highest number of domestic related fatalities in Maryland. With the additional funding, PGCFJC will extend hours of operation to include evenings and weekends to better serve citizens in the County who are in crisis and need help to escape abusive situations and conditions. With more accessible hours, citizens can obtain protective orders, access safety planning crisis intervention counseling, file police reports and receive other services provided by law enforcement outside of the work week. The new enhanced hours of operation will be Friday evenings, 5–10 p.m. and Saturdays from 10 a.m.–10:00 p.m. The projected date for the new hours of operation is Nov. 18, 2021.
"Domestic violence is not a nine to five issue, and we recognize that there is a need to expand our services and reach due to the growing demand for help by abuse victims in Prince George's County," said Dr. Denise McCain, Director of the PGCFJC. "We are elated to utilize the funding to reach more abuse victims throughout our County who need help, and this will open a larger door of opportunity for us to spread hope to citizens and potentially save more lives from the devastating and often fatal consequences of abuse."
PGCFJC will also use the newly awarded funding to open seven (7) new satellite offices to provide more accessible services to citizens across Prince George's County. PGCFJC's new office locations will include the following: Prince George's County Police Department – Districts I and VII (northern and southern Prince George's County); four municipal police departments (City of Bowie, Bladensburg, Cottage City and Mount Rainier); and Bowie State University. Officers in each location will facilitate services via virtual intake and people in need will have greater access to obtaining services such as emergency shelter, protective orders and crisis intervention.
To accommodate these new locations and enhanced operational hours, PGCFJC will use the grant award to hire additional staff that will be needed to cover evening and weekend hours. The Center will also partner with the Prince George's County Office of the Sheriff and the Prince George's County Police Department to ensure that deputies and officers are assigned to PGCFJC's headquarters to secure the facility and ensure that victims and survivors have immediate access to law enforcement services.
In July 2016, the Prince George's County Family Justice Center (PGCFJC), an initiative of the Circuit Court was established to improve the systems' response to survivors of domestic violence, sexual assault, human trafficking and elder abuse with the co-location of 22 local government, criminal justice and community-based organizations under one roof for a "one-stop shop" survivor-driven resource. Partnering organizations include law enforcement, prosecutor's office, social and family service agencies, health department, local hospital (domestic violence/sexual assault unit), local domestic violence, sexual assault and human trafficking service provider agencies and civil legal law firms. Other nonprofit organizations provide temporary housing, mental health services, outreach/education and support for elderly victims of domestic abuse. The implementation of this coordinated community response to Intimate Partner Violence (IPV) provides a holistic, victim-centered and trauma-informed service delivery process that makes the path to safety and healing more efficient and efficacious.
---