September 22 - September 28, 2022

Prince George's Film Festival Closes on Sunday, September 25, 2022 at the MGM National Harbor with Richard Lawson and Tina Knowles Lawson
Veteran Actor, Director, WACO Theater Center Founders, and Philanthropists to host in-depth discussion on revolutionary characters and moments in film with Tressa Smallwood and Russ Parr
By PRESS OFFICER
PGAHC
Largo, Md. (Sept. 14, 2022)––Prince George's Film Festival (PGFF) is pleased to announce that veteran actor and director Richard Lawson and philanthropist and renaissance woman, Tina Knowles Lawson will headline its closing festival event. PGFF is September 22–25 and will convene local and national filmmakers, film lovers, actors, producers, animators, writers, digital creators, and County stakeholders for a four-day celebration of cinematic arts. PGFF is purposed to highlight Prince George's County as a blossoming filmmaking destination, bolster the local filmmaker community, provide a platform to showcase local independent films, and network with industry experts, creatives, and film enthusiasts.
"We're honored to have industry powerhouses Richard Lawson and Tina Knowles Lawson to close this year's festival and are equally as thrilled to have the dynamic Russ Parr and filmmaker Tressa Smallwood to join in on this rich discussion." says Donna Foster, Prince George's Film Office General Manager. "Mr. Lawson is a veteran in the film industry having been featured in over 120 films and television shows throughout his career. Mrs. Tina Knowles-Lawson has been in the entertainment industry for over 20 years working behind the scenes spearheading the images and careers of iconic and legendary superstars. They both continue to influence countless artists all over the world. We are excited and know this is going to be an extraordinary closing event at our inaugural festival."
Richard Lawson has had a long and distinguished career as an actor and master teacher that spans six decades. Some of his selected films include Steven Spielberg's Poltergeist, Walter Hill's Streets of Fire, Stick with Burt Reynolds, The Main Event with Barbra Streisand and Ryan O'Neal, Coming Home with Jane Fonda and Jon Voight, Audrey Rose with Anthony Hopkins and Marsha Mason, Wag the Dog starring Robert De Niro and Dustin Hoffman, How Stella Got Her Groove Back starring Whoopi Goldberg and Angela Bassett, Guess Who starring Bernie Mac and Ashton Kutcher, For Colored Girls starring Janet Jackson, Whoopi Goldberg, Thandie Newton, Kerry Washington, and a host of others. A few well-noted indie projects include Blue Hill Avenue, The Last Stand, and Love for Sale. He was a series regular on The Days and Nights of Molly Dodd, Dynasty, and Chicago Story. He has also guest-starred on popular series such as MacGyver (recurring character spun off to a pilot called The Coltons), Wiseguy, Amen, The Parent 'Hood, St. Elsewhere, Picket Fences, Judging Amy, The Division, NYPD Blue, All of Us, Numb3rs, and Real Husbands of Hollywood, The Royal Feast and The Royal Family Christmas and Saints and Sinners to name a few.
Tina Knowles Lawson is a fashion designer who has been featured in a slew of publications including Vogue, Cosmopolitan, Harper's Bazaar, L'official, InStyle, and Sports Illustrated. Tina was a designer and stylist for the superstar group, Destiny's Child, designing original garments for the group's tours, magazine shoots, and television appearances, including the Video Music Awards (VMAs), BET Awards, and the Grammys. She has also designed for Beyoncé's tours and television performances, including The Academy Awards.
Tina designed costumes for several hit movies including Dreamgirls, Pink Panther, Austin Powers in Goldmember, Obsessed, and Cadillac Records.
The Prince George's Film Festival is the premier event for new film works from up-and-coming and established independent filmmakers with diverse voices. PGFF venues include the MGM National Harbor, Sunset Room at the National Harbor, and Bowie State University. Learn more at www.pgfilmfestival.com
View the full event schedule at https://www.pgfilmfestival.com/line-up
Festival Passes and Information
Festival Passes are on sale now. Pass options include:
• VIP - Unlimited access to all features of the festival including the festival opening and closing ceremonies as well as screenings, and workshops for $125.
• Unlimited Workshops and Panels - Get unlimited access to workshops and panels and mixers during the festival for $50.
• Unlimited Screenings - Excludes panels, workshops, and opening and closing ceremonies for $40.
• Single Film Ticket - Access to just ONE film for $15 each.
Passes can be purchased online at https://pgff2022.eventive.org/passes/buy
Founding Festival Partners
The Prince George's Film Festival is founded and generously supported by the Prince George's Arts and Humanities Council, Experience Prince George's, and Bowie State University.
About Prince George's Film Office: Prince George's County is steadily becoming a prominent destination for both local and national filmmakers. In 2013, the Prince George's Arts and Humanities Council established the Film Office to assist filmmakers with telling stories through film. Their mission is to streamline the path to completing film projects in Prince George's County by helping filmmakers navigate state and county permits, production protocols, and resources hassle free and expeditiously. As the legislated local arts agency for Prince George's County, PGAHC fosters and expands art opportunities for all County citizens and visitors to create a world-class cultural environment where high-quality arts and humanities programs are diverse, equitable, and inclusive.
---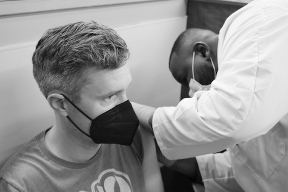 Photo credit Abby Zimmardi/
Capital News Service
State health department officials are trying to speed up the number of state residents getting the new booster and their flu vaccine. In some locations like Howard County, the number of people being vaccinated is high, while in others like Anne Arundel County the interest is pretty low, county health department officials said.
Maryland Launches Outreach to Speed Up Rollout of New COVID Boosters
By SHANNON CLARK
Capital News Service
ANNAPOLIS – After a relatively slow start to the rollout of the new COVID-19 booster, the Maryland Department of Health began a outreach program [last] week, aimed at increasing the booster vaccination rates in the state.
Maryland Gov. Larry Hogan, R, announced the state's already established 'COVIDReady' campaign will focus on encouraging residents to get the updated COVID booster and flu shot at the same time, to maximize protection against the upcoming flu season and the Omicron variant.
"The new bivalent booster shot is another important tool in our toolbox to help Marylanders stay COVIDReady," Hogan said in a press release on Tuesday, Sept. 13.
So far, the response to the booster has been uneven.
For example, only 11 people received the vaccine at a pop-up booster event Sunday (Sept. 11) hosted by the state health department at the Salvadoran Independence Festival at the Montgomery County Fairgrounds in Gaithersburg.
In Howard County, the health department's first booster clinic Monday was "completely full," said Lisa DeHernandez, director of communications and public information. The department so far has given out 300 vaccinations, she said.
"We are seeing a very positive response from the Howard County community," DeHernandez said. "The interest is there and people continue to protect themselves and their families from serious illness."
In Anne Arundel County, 242 boosters have been administered since shots began on Sept. 12, said Megan Pringle, communications director of the Anne Arundel County Health Department.
"The demand is pretty low as of right now," Pringle said. "We have doses for about 814 people, and obviously it would be great if we could get more people signed up, but I just don't think it's at the forefront of people's minds right now."
The state's GoVax Call Center is currently notifying Marylanders who are booster eligible through phone calls and text messages. The boosters are now available at over 850 pharmacies and drugstores, according to the governor's office, but some chains like Walmart said they are still waiting on doses to arrive. State healthcare officials recommend Marylanders use the state's COVID Vaccination Site Searcher for the most updated locations with boosters available.
"We continue to encourage all Marylanders to be COVIDReady by getting vaccinated and boosted when eligible," said Chase Cook, deputy director of media relations for the state health department.
---
The Department of Parks and Recreation, Prince George's County Celebrates the Diverse Hispanic Community During Hispanic Heritage Month
By PRESS OFFICER
Prince George's County Department of Parks and Recreation
RIVERDALE, Md. (Sept. 15, 2022)—September 15th marks the start of Hispanic Heritage Month. Each year the M-NCPPC, Department of Parks and Recreation, Prince George's County celebrates our Hispanic community. More than 18% of the county's population has roots in Mexico, El Salvador, Puerto Rico, Colombia or one of many other Spanish speaking countries. Come celebrate this rich culture at one of our events that commemorate Hispanic Heritage Month. Some of the programs for 2022 include:
Hispanic Heritage Month Opening Reception
Thursday, September 29, 6–8 p.m.
Publick Playhouse, 5445 Landover Road, Cheverly, MD 20784
Enjoy an evening of art, live music, delicious cuisine, and interactive activities that are fun for the whole family! Meet featured exhibition artist Fran Oviedo and receive a free 2022 Hispanic Heritage Month poster. While you're there, don't forget to pick up our Hispanic Heritage Month guide featuring a full month of art, music, film, and dance throughout Prince George's County.
Latinas in Aviation Global Festival
Saturday, October 1, 10 a.m.–4 p.m.
College Park Aviation Museum and Airport, 1985 Corporal Frank Scott Drive, College Park, MD 20740
Join the College Park Aviation Museum to honor Latinas in Aviation. Watch how pilots featured in the book Latinas in Aviation fly into the College Park airport and share their unique experiences and passion for aviation. This unique event is an opportunity to meet and hear from contributing authors while learning about the magic of aviation. There will displays, vendors, interactives, book signing, children's activities, music performances and much more.
Fiesta de la Familia
Sunday, October 16, 1–4 p.m.
Lane Manor Park, 7601 West Park Drive. Adelphi, MD 20783
Enjoy live music, folkloric dances, children and youth areas, information tables, and food vendors. Scheduled entertainment includes Elena la Fulana, Grupo Miel (Salsa and Bachata music) and Marimba Princesa Xinabajul (traditional group from Guatemala). Children ages 5–10 can participate in a free soccer skills clinic and win prizes during the celebration.
For more information on more Hispanic Heritage Month Events, visit https://www.pgparks.com/2855/Hispanic-Heritage-Month
The M-NCPPC, Department of Parks and Recreation delivers an award-winning park system through progressive, innovative leadership and a commitment to the community and the environment in Prince George's County. For more on the Department of Parks and Recreation, visit www.pgparks.com and stay connected on Facebook, Twitter, PhotoShelter, and Instagram. The Department of Parks and Recreation encourages and supports the participation of individuals with disabilities in all programs and services. Register at least a minimum of two weeks in advance of the program start date to request and receive a disability accommodation.
---
Prince George's County Recognizes September as National Preparedness Month
County's Office of Homeland Security's Emergency Management Division encourages residents to take action now to prepare for disasters and emergencies
By ALEXANDRA HARRIS
Office of Homeland Security Prince George's County
LANDOVER, Md. (Sept. 13, 2022)—September is National Preparedness Month, an annual observance that highlights the importance of individuals, families and communities being prepared for a disaster or emergency. During this month, the Office of Homeland Security's Emergency Management Division encourages County residents to take the necessary steps to ensure they are prepared.
"Emergency preparedness is a year-round effort," said Ronald E. Gill Jr., Director of the Office of Homeland Security. "From the snow we received in January, to the multiple heavy rain and thunderstorm events we experienced this summer, residents need to always be in disaster preparedness mode. Emergencies and disasters can happen anytime and anywhere without notice."
This year's National Preparedness Month theme is "A Lasting Legacy," which recognizes the importance of being prepared for a disaster or emergency so that you can create a lasting legacy for your family and future generations. Protecting your legacy doesn't need to be difficult or expensive. The Emergency Management Division encourages residents to start with these simple steps to help you be better prepared. Be sure to include each member of your household, so that everyone has a part in safeguarding the future.
• Learn your risks and make a plan. Ready.gov offers free resources to learn more about the disasters you may face and what to consider when planning for them.
• Sign up for Alert Prince George's on https://www.princegeorgescountymd.gov to receive life-saving information from your local government.
• Verify your home is fully insured for the disaster risks in your area. Talk to your insurance agent to ensure there are no gaps in your coverage, but also remember you should shop around to get the best rate. Ask about discounts that may be available and consider increasing the deductibles to reduce your premiums.
• Make sure everyone in the house knows how to turn off the electricity, gas, and water in case of emergency.
• Store important documents and information in a safe place. Items like passports, birth certificates, maps and electronics should be put in a flood-safe place such as a high shelf or upper floor in resealable, water-tight plastic bags to help waterproof them. Store important documents like insurance policies digitally. Make sure you put important phone numbers somewhere besides just your cell phone.
• Build your emergency supply kit over time. Start with items you may already have in your home, like a flashlight, extra batteries, copies of important documents, water, and non-perishable food. When you go to the grocery store, pick up an extra item each time that you use regularly. Community food banks are a potential resource for food-insecure families to stock their emergency supply kits. Also consider battery-free supplies, like wind-up flashlights and weather radios. It's also a good idea to have an external phone charger at the ready in case of a power outage.
• Download the Prepare Prince George's app to keep yourself educated, prepared, and informed before, during, and after an emergency or disaster whether natural or manmade. Go to the App store for your iPhone or Android to find and download the Prepare Prince George's app.
For more information about National Preparedness Month and how to be ready for a disaster or emergency, visit the
National Preparedness Month website https://www.ready.gov/september?utm_medium=email&utm_source=govdelivery or the Prince George's County Preparedness Center at https://www.princegeorgescountymd.gov/782/Preparedness-Center?utm_medium=email&utm_source=govdelivery
---