October 12 - October 18, 2017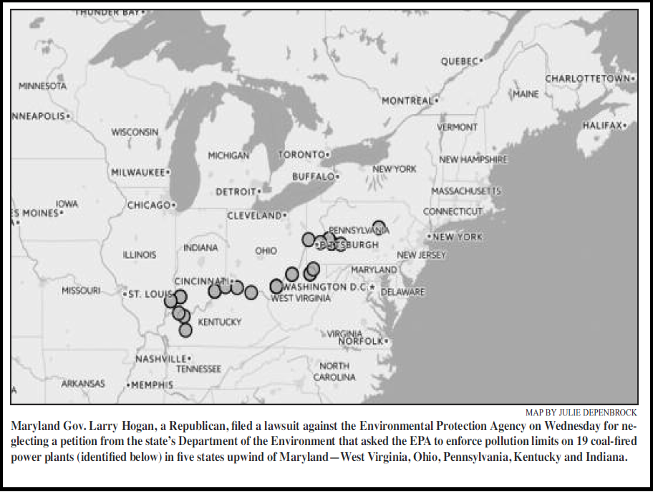 Hogan Sues EPA Over Power Plant Pollution From Neighboring States

By F. MEILS and
JULIE DEPENBROCK
Capital News Service
COLLEGE PARK, MD—On Wednesday, Spetember 27, 2017, Maryland Gov. Larry Hogan announced a lawsuit against the federal Environmental Protection Agency for failing to enforce limits on air-pollution control at 19 mostly coal-fired power plants in five states upwind of Maryland.
"We want the EPA to step in and make sure provisions of the Clean Air Act are followed," said Ben Grumbles, Maryland's secretary of the environment. "This is necessary to protect air quality and the Chesapeake Bay."
The 19 plants have installed "smog controls," according to the Maryland Department of the Environment. "But they're not always running them when they should be," Grumbles said.
About one-third of the nitrogen that ends up in bay
waters comes from "air sources," according to the EPA, which did not respond to multiple requests for comments by press time.
The original petition to the EPA requesting that the agency regulate the plants—in Ohio, Kentucky, Pennsylvania, Indiana and West Virginia—was filed by the MDE in November. The EPA granted itself a six-month extension on the original 60-day deadline. By July, the agency still had not responded to the petition.
The Hogan administration and MDE contend the power plants in question have not "effectively" operated their pollution control systems during the summer months, also known as "ozone season," and some have not used their pollution control systems at all.
Although most parent companies of the power plants cited in the Maryland petition did not respond to requests for comment by deadline, the Tennessee Valley Authority, which operates Paradise, a coal-fired plant in Kentucky, challenged Maryland officials' claims.
"We do have emissions controls. They run when the plant is operating," said Jim Hopson,TVA's manager of public relations, who said he was not aware of the Maryland lawsuit. "They reduce sulfur dioxide and nitrous dioxide levels in excess of 90 percent and they eliminate particulate matter … All of our plants have those."
The EPA defines the ozone season for Maryland and all the states named in the EPA petition as April through October, with the exception of Indiana, whose ozone season is April through September. Ozone levels are believed to be at their worst during the summer on sunny, hot days, particularly in urban environments, according to the EPA.
"Pollution from out-of-state power plants also harms our in-state streams, rivers and the Chesapeake Bay," said Jon Mueller, vice president of litigation at the Chesapeake Bay Foundation, which plans to file a similar lawsuit with partners in the coming weeks. "Studies show nitrogen oxides from coal plant emissions degrade our water, and harm our fish and other aquatic life."
In its original petition to the EPA, MDE expressed concern that nitrogen oxide emissions from the offending plants could prevent the state from achieving the required air-quality standards mandated by the Clean Air Act.
According to estimates in the Maryland petition, about 39,000 tons of nitrous oxide emissions could have been prevented in 2015 had the 19 power plants in question "run their control technologies efficiently." In 2014, MDE said those same power plants had profited to the tune of $24 million by either not using their pollution controls or not using them effectively.
A request for comment from the American Coal Council as to why or why not a coal-fired power plant would employ pollution controls was not returned by press time.
"Maryland has made significant progress in improving our air quality in recent years, and that progress is in jeopardy due to a lack of action by the EPA that dates back to the previous administration," said Hogan, a Republican, in a statement. "We strongly urge the EPA to approve the petition and enforce the air pollution controls …"
PGCPS Continues Testing to Ensure Safe Drinking Water in All Schools and Offices
By PRESS OFFICER
PGCPS
UPPER MARLBORO, MD—Prince George's County Public Schools (PGCPS) continues testing drinking water sources to ensure the safety of students, staff, families and community members in schools and offices. Information on the PGCPS Water Quality Program was sent to staff and families today. Testing is expected to conclude by the end of January 2018.
"Prince George's County Public Schools is exceeding the U.S. Environmental Protection Agency action level by using a more stringent water quality testing standard to ensure safe drinking water in our schools and offices," said Dr. W. Wesley Watts Jr., Chief Operating Officer. "We will continue to address this issue aggressively."
Earlier this year, PGCPS began comprehensive sampling and testing of drinking water sources in school buildings. These sources include water fountains and sinks in health rooms, teachers' lounges and kitchens. PGCPS takes action to remediate or turn off any water supply that tests for lead above 10 parts per billion (ppb), which is a stricter limit than the EPA action level of 15 ppb.
Non-potable water labels have been placed above valved-off drinking water sources that previously tested above U.S. Environmental Protection Agency (EPA) action levels and non-drinking water sources, such as sinks in classrooms, bathrooms, custodial closets and work areas.
The final phase of the PGCPS Water Quality Program will allow for retesting of all drinking sources currently in use and the installation of filtered water fountains throughout the school system.
Since 2004, PGCPS has methodically addressed lead in water, with drinking sources as a priority. The final phase of this four-pronged work launched in April. Prior actions included several phases of remediation to address drinking water sources with elevated lead levels, as mandated by the EPA. These actions have included flushing the system; replacing pipes and fixtures; completely shutting off fixtures; and providing bottled water when drinking sources could not be cleared expeditiously.
The last system-wide testing for lead was completed in 2009-2010. There are no federal or state mandates for annual testing. Additional tests have been conducted since then as needed; the actions taken complied with EPA guidelines. Future plans include retesting schools every three years.
PG County Association of Realtors Installs 2018 Officers and Directorsst
By PRESS OFFICER
PGCAR
Largo, MD—REALTORS®, friends, family and colleagues joined last week to attend the Installation Ceremony of Prince George's County Association of REALTORS® (PGCAR) 2018 President, Cheryl Abrams Davis, (Associated with RE/MAX United Real Estate in Upper Marlboro, MD). Cheryl took the helm of the 3000 member trade group (PGCAR) on October 1st. This year, PGCAR was honored to have Delegate Marvin Holmes, Jr. (District 23B) install President Abrams Davis while Maryland REALTORS® 2018 President, Boyd Campbell, installed the Officers and Directors at a gala event on September 27th at Camelot in Upper Marlboro, MD.
Abrams Davis has served PGCAR in a number of capacities through the years most recently as President-Elect. Last year Cheryl Chaired the REALTORS® Political Action Committee where she was charged with meeting the Association's political fundraising goals...Which she did! Cheryl is a tireless volunteer who will take on any challenge.
President Abrams Davis plans to establish a REALTOR "Future Thinkers" Task Force that will study and keep abreast of changes affecting real estate. Cheryl will also guide PGCAR's late fall move into their new headquarters in Landover.
Other installed officers and directors include:
Officers
President—Cheryl Abrams, RE/MAX United Real Estate
President-Elect—Veera Phillips, Keller Williams Preferred Properties
Secretary—Yolanda Muckle – Long and Foster Real Estate
Treasurer—Paul "Carlos" Lancaster, Exit Right Realty
Past President Director—Patricia Dowtin, Long and Foster Real Estate
Directors
Donald Frederick, RE/MAX United Real Estate
Melanie Gamble,
RE/MAX Supreme
Sherman Hardy, Exit Landmark Realty
Larry Hudson, RE/MAX Leading Edge Inc.
Fredericka Lloyd, Lloyd & Associates Real Estate
Shameeka Price, Capital Structures Real Estate
Willie Rhone , Weichert REALTORS
Gene Sementilli, Century 21 New Millennium
University of Maryland Announces Unprecedented Investment from the A. James & Alice B. Clark Foundation
By PRESS OFFICER
University of Maryland
COLLEGE PARK, MD—On October 4, 2017, the University of Maryland announced a
transformative investment of $219,486,000 from the A. James & Alice B. Clark Foundation. Building Together: An Investment for Maryland will increase college access and affordability, inspire the next generation of engineering leaders and spark innovations that tackle today's most daunting problems.
This investment, the largest in UMD history and among the largest to a public research institution in the 21st century, will propel UMD and the A. James Clark School of Engineering to the forefront of education and research by establishing and funding an array of need-based scholarships, graduate fellowships, distinguished faculty chairs and operational and capital projects.
"This investment is historic in scope and transformational in impact, and I do not say this lightly," University of Maryland President Wallace D. Loh said. "Access to higher education is essential, if we are to solve urgent national problems. Creating this path for the most promising students in engineering and other fields may well prove to be Mr. Clark's greatest legacy."
"Without question, my dad loved the University of Maryland," said Courtney Clark Pastrick, board chair of the A. James & Alice B. Clark Foundation. "College Park was instrumental in educating and equipping him as an engineer and successful businessman. However, his legacy is in his community engagement and generosity. Our family and the Foundation look forward to seeing the impact of this gift in the decades to come."
"Thousands of University of Maryland students already wake up in dorms or study in academic halls that bear the mark of the Clark name," said Maryland Governor Larry Hogan. "Today, the Clark spirit of generosity is on full display yet again. With this new investment in STEM education, the Clark family and the Clark Foundation are ensuring that this university continues to be a national and global leader, where the next fearless idea is developed."
The gift was announced at an event today with Loh, Pastrick, Governor Hogan, Mrs. Alice B. Clark, Clark Foundation President Joe Del Guercio, Maryland Speaker of the House Michael Busch, and Chancellor of the University System of Maryland Robert Caret. More than 150 students who have received previous scholarships from the Clark Foundation were also in attendance.
Increasing College Access & Affordability
Access to an affordable college education to promising students has guided the Clark family's longstanding investments. New scholarships and fellowships made possible by this donation build on the Foundation's—and Mr. Clark's—fundamental belief in connecting effort with opportunity, by helping those who demonstrate determination and perseverance.
The Clark Challenge for Maryland Promise, a campus-wide scholarship matching program that engages the philanthropic community, aims to generate a $100 million fund to support students with financial need. In partnership with the university, the Clark Challenge grant will catalyze support from alumni and friends to ensure an education for high-performing students with the greatest need.
Building Together: An Investment for Maryland will also help expand the Clark Opportunity Transfer Scholarship Program, which supports transfer students from Maryland community colleges to pursue their engineering education at UMD. The investment will also support high-performing undergraduate engineering students with financial need with the launch of the A. James Clark Scholars Program, the Foundation's signature academic program combining engineering, business, leadership and community service. At the University of Maryland, A. James Clark Scholars will also participate in the National Academy of Engineering's Grand Challenges Scholars Program, charging students to solve some of engineering's greatest challenges in the 21st century, from sequestering carbon to reverse-engineering the brain.
Building the Next Generation of Engineering Leaders
"This investment will transform the university, and especially engineering," said Clark School Dean and Farvardin Professor of Engineering Darryll J. Pines. "For today's engineering students, this gift promises not only to open doors to a world-class engineering education, but also to inspire hearts and empower minds through the example set by Mr. Clark. By learning about the industry leader and philanthropist, students will feel driven to develop solutions to help people lead better lives."
The investment will fuel innovation that paves the way for engineering excellence at UMD by expanding the Clark School's innovative research through programs, facilities and by recruiting promising students and faculty. The investment will also substantially increase the number of graduate fellows through the establishment of the Clark Doctoral Fellows Program.
Solving Today's Problems
Building Together: An Investment for Maryland will also enable UMD to support faculty working in the interdisciplinary fields that are critical to the knowledge-based economy of the future, such as data analytics, neuroscience, virtual and augmented reality, and cybersecurity.
Funded by the Foundation, five Clark Leadership Chairs with shared appointments in colleges across campus will conduct important cross-cutting research on emerging issues that are most pressing to the future of our global society. The Foundation will also establish eight Clark Distinguished Chairs, faculty positions that directly address the most critical research areas set forth by the 2020 Strategic Plan for the Clark School.
To learn more about Building Together: An Investment for Maryland, visit buildingtogether.umd.edu
What People Are Saying About This Transformative Investment
"For generations, public universities like the University of Maryland have opened doors to students with high potential and promise," said Joe Del Guercio, president and CEO of the Foundation. "We know that cost remains a barrier for too many students especially first-generation college students. The Clark Foundation is committed to ensuring that college is both accessible and affordable; as a result, need-based aid and financial support to students are a cornerstone of this investment."
"One of the most important contributions to the quality, stature, and impact of a major university is its faculty. The Clark Leadership Chairs will make it possible to attract and retain the very best people in critically important fields such as neuroscience, virtual reality, cybersecurity, and big data—fields that are key to solving our greatest societal issues," said Mary Ann Rankin, Senior Vice President and Provost of UMD. "The A. James & Alice B. Clark Foundation's investment in Clark Leadership Chairs will catapult the university forward in these critically important fields, while touching programs across the entire university."
Building Together: An Investment for Maryland Programs
• The Clark Challenge for Maryland Promise: Gifts from other donors in support of this new program will provide need-based scholarships to hundreds of students every year from all majors. If fully matched, this program aims to generate a $100 million fund to support students with financial need.
• A. James Clark Scholars Program: A new program providing scholarships to 40 high-performing engineering undergraduates. Reflecting the Clarks' commitment to the local community, priority will be given to in-state students.
• Clark Opportunity Transfer Scholars Program: The endowment of a pilot program which will provide need-based scholarships to 40 engineering majors coming from Maryland community colleges.
• Clark Distinguished Chairs: The creation of eight faculty chairs for stellar engineering researchers that directly address engineering's most critical research areas, such as additive and advanced manufacturing, autonomy and robotics, and energy and sustainability.
• Clark Leadership Chairs: The establishment and endowment of five faculty chairs throughout the campus in interdisciplinary fields that are critical to the knowledge-based economy of the future, such as data analytics, neuroscience, virtual and augmented reality, and cybersecurity.
• Clark Doctoral Fellows Program: An endowment supporting 30 additional first-year doctoral fellowships, allowing the Clark school to increase research productivity and graduate more outstanding Ph.Ds every year.
• New engineering building: A new space that secures the university's stronghold in engineering innovation by helping recruit and retain world-class faculty and facilitating collaborations between disciplines with institutional and business partners.
• IDEA Factory: An expansion of the Clark School's signature Jeong H. Kim Engineering Building which will foster innovation with new cutting-edge labs, start-up space, and areas dedicated to cross-disciplinary research.
• Mpact: The 125th Anniversary Fearless Ideas Mpact Challenge is the A. James Clark School of Engineering's "moonshot" engineering program to spur innovative engineering research solutions. Commemorating the school's 125th Anniversary in 2019, this program provides funding for Clark School teams to develop solutions to engineering problems and innovations in engineering research that have the potential to improve the lives of millions of people.
Bowie State Bulldogs Overcome Turnovers To Defeat Fayetteville State 64-31

By PRESS OFFICER
Bowie State University
FAYETTEVILLE, NC—The #21 ranked Bulldogs of Bowie State University continued its unbeaten streak after defeating Fayetteville State University 64–31 on Saturday afternoon at the Luther "Nick" Jeralds Stadium. With the win, Bowie State improves its record to 5-0 on the season (2–0 CIAA) while Fayetteville State dips to 1–4 overall (0–2 CIAA).
Junior Amir Hall (Bowie, Md.) threw for 329 yards, completing 22-of-32 passes (two interceptions) and four passing touchdowns and redshirt senior Robert Chesson (Annapolis, Md.) rushed for a personal season-best 172 yards on 15 carries and scored two touchdowns to pace the Bowie State offense. Redshirt junior Brandon Britton (Columbia, Md.) recorded game-highs of nine receptions and 129 yards to lead all receivers. The Bulldogs defense was led by senior Johnny Littlejohn (Silver Spring, Md.) with nine total tackles.
As a team, Bowie State rolled up 626 yards of total offense (297 rushing and 329 passing) compared to 344 total yards (206 rushing and 138 passing) for Fayetteville State.
Hall walked into the FSU end zone at the 11:52 mark of the first quarter on Bowie State's opening drive of the game and sophomore Gene Carson (Accokeek, Md.) added the extra point for the early 7–0 lead. Bowie State scored on its very next possession, when Hall connect with redshirt senior Kerrick Pollock (Miami, Fla.) for a 12-yard, pass, catch and score to give the Bulldogs 13–0 advantage at the 8:10 mark.
Fayetteville State's Jacobe Clement (Charlotte, N.C.) gets a pick six and returned it 32 yards to trim the Bowie State lead to 13–7 with 5:04 left in the opening quarter.
The Bulldogs got those points back in a hurry on a Hall to junior Lansana Sesay (Bowie, Md.) 82-yard touchdown pass. Carson's extra point gave Bowie State a 20–7 lead. Redshirt sophomore Brandon Abrams (Baltimore, Md.) punched it in from 1-yard out to give the Bulldogs a 27–7 cushion at the 12:41 mark of the second quarter.
Marquise Watts (La Plata, Md.) recorded his second touchdown of the season, catching an 8-yard pass from Hall at the 10:25 mark to push the Bowie State lead to 34–7 in the second quarter.
David Lamb (Pineville, N.C.) kicked a 28-yard field goal with 5:34 remaining before halftime to cut the Fayetteville State deficit to 34–10. Nigel Peele (Greensboro, N.C.) intercepted a deflected pass from BSU's Hall and returned it 25 yards for a Fayetteville State touchdown with 5:21 remaining before halftime, but the Broncos trailed 34–17.
Another Bowie State turnover was costly as Fayetteville State capitalized to trim the Bulldogs lead to 34–24 with 1:51 left in the second quarter. Stevie Green (Washington, N.C.) rushed seven yards for the score.
Bowie State capped off a 7-play, 75-yard drive with a Hall to Britton 25-yard touchdown with 16 seconds left in the first half to give the Bulldogs a 41–24 advantage.
Bowie State capitalized on an interception by redshirt freshman Tevin Singleton (District Heights, Md.) and converted the Fayetteville State turnover into six points on a 3-yard score by Chesson. Chesson scored again following another Broncos turnover. This time Chesson rushed for another 3-yard score to pad the Bulldogs lead at 55–24 at the 10:57 mark of the third quarter.
Junior Maurice Williams (Baltimore, Md.) scored on a 2-yard run with 1:48 remaining in the third quarter to increase Bowie State's lead to 61–31.
Bowie State's Carson put the final nail in the coffin with 3:20 remaining in the game, following a 44-yard field goal to account for the final margin of 64–31.
The Broncos were led by quarterback Devin Knudsen (Fresno, Calif.) with 131 passing yards (14-30-2) and Donshel Jetton rushed for 94 yards on 20 carries.