| | |
| --- | --- |
| | |
April 2 - April 8, 2015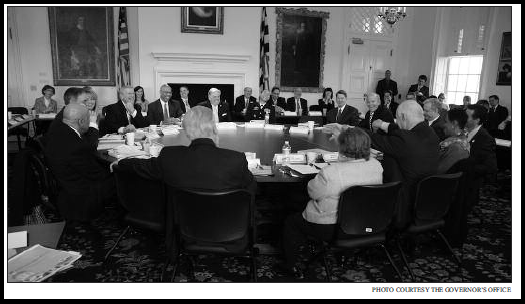 Governor Larry Hogan Meets Maryland Congressional Delegation to Discusses Federal Priorities


Bringing FBI Headquarters To Prince George's County A Key Goal
By Press Officer
Office of the Governor
ANNAPOLIS, MD – Congressman Steny H. Hoyer (MD-5) and the entire Maryland Congressional delegation met with Governor Larry Hogan to discuss the state's federal priorities, and to develop strategies to ensure the delegation and administration are jointly focused and working as a team to do what is best for the state.
A main emphasis of the meeting was the relocation of FBI headquarters from Washington, D.C., to Prince George's County—a move that would bring an estimated 11,500 jobs to Maryland. Currently, the largest proportion of the FBI's workforce resides in Maryland.
They were joined by Prince George's County Executive Rushern Baker at a press conference after the meeting to highlight that officials are united at the federal, state, and local levels in making sure the FBI headquarters relocates to Prince George's County. Strategic assets like Joint Base Andrews and the National Security Agency, as well as access to mass transit, make Prince George's County an ideal location.
Other key topics discussed included business and economic development, infrastructure, labor, licensing and regulation, housing and community development, the Maryland National Guard, and transportation.
"I'm proud that our federal, state, and local officials are fully committed to Prince George's County as the next home of the new FBI headquarters," said Congressman Steny Hoyer. "This project would bring thousands of jobs to Maryland and more economic opportunities to the County and throughout our state. I look forward to continuing to work together with Team Maryland and Governor Hogan to ensure this headquarters is relocated to Prince George's County."
Both members of the delegation and the administration pledged to remain in regular contact and to work together to make lasting improvements to the state.
Comments from the rest of the delegation and governor are as follows:
"I'm so pleased the entire Maryland congressional delegation could join with us today. Supporting essential state programs and infrastructure is something we all agree on and can work together to achieve. If there is one issue on which we are speaking in a unified voice, it is the relocation of the FBI headquarters to Prince George's County. This is something we all want to see happen for the good of our state." –Governor Larry Hogan
"We're working together, standing shoulder to shoulder, to retain, expand, and attract jobs and opportunity to Maryland. Our state is home to leading federal assets that are job magnets packing a one-two punch, supporting federal employee jobs and creating new jobs in Maryland's private sector. We're united in bringing the new FBI headquarters to Maryland and Prince George's County, keeping our country and the American people safe while working for new jobs in Maryland. The FBI must have 21st-century resources to take on 21st-century threats." –Senator Barbara Mikulski
"Prince George's County has two of the three sites on the short list for the new FBI headquarters for good reasons: We have the best locations, the best infrastructure, the best people, and the best local, state, federal, academic, and private-sector assets to support a full consolidation. Maryland's congressional delegation has worked together tirelessly throughout this process, and it sends a strong message that Governor Hogan chose to make this effort to bring the FBI to Maryland such an early priority." –Senator Ben Cardin
"I hope we can move forward with plans and bring the FBI to Maryland. Aside from the thousands of jobs it will bring to the area, having the FBI headquartered here will be great for both the economy and local communities." –Congressman Andy Harris, M.D. (MD-01)
"Bringing 11,000 high-paying jobs to Maryland by choosing Prince George's County for the new FBI headquarters is a no-brainer. The bulk of FBI employees—more than 40 percent—already call Maryland home. We also have the infrastructure to accommodate an influx of federal workers, and our proximity to other federal agencies will encourage close cooperation." –Congressman Dutch Ruppersberger (MD-02)
"Relocating the FBI headquarters to Maryland would bring thousands of jobs to our state, resulting in a positive impact on our local economy and on our local communities. I'm honored to work together with officials at the local, state, and federal levels to make this project a reality." –Congressman John Sarbanes (MD-03)
"Locating the new headquarters of the Federal Bureau of Investigation in Maryland is a win-win for the FBI and our state. In Prince George's County, the FBI would be in close proximity to Metro stations, our nation's capital, Joint Base Andrews, and first-class educational and research facilities. With the 11,000 jobs the FBI would bring to the area, it would help spur tremendous economic development for the county and the state. I thank our delegation, state and local officials, and all concerned parties for the incredible cooperation, and we will continue with that effort to bring the FBI to Prince George's County, Maryland." –Congresswoman Donna Edwards (MD-04)
"Even though the new FBI headquarters wouldn't be in Maryland's Sixth District, here's the absolute bottom line: Bringing the FBI to Maryland is good for the people of our state, from the mountains to the Bay and points in between. Moreover, with the strengths Maryland has to offer, our state is the best location for the federal government and the FBI. Building the FBI headquarters in Maryland will mean Maryland jobs and a stronger Maryland economy, and Team Maryland is united on this." –Congressman John Delaney (MD-06)
"Bringing the FBI headquarters to Maryland is a win-win proposition. Not only would our state benefit from the economic boon that 11,000 FBI employees would bring, but Prince George's County would also provide a more convenient location for the many FBI workers who live here. Team Maryland on the federal, state, and local levels will continue to work together with the unified mission of demonstrating to the GSA the numerous benefits of selecting Maryland as the new home of the FBI." –Congressman Elijah Cummings (MD-07)
"An elite institution deserves a top-notch place to call home, so there's no question Prince George's County is the ideal location for the new FBI headquarters. It is convenient for the FBI's existing workforce, close to strategic assets like Joint Base Andrews and leading cybersecurity resources, and has the real estate necessary to build a secure campus tailored toward the Agency's current and future needs. I look forward to working with Governor Hogan, County Executive Baker, and the entire Maryland congressional delegation to ensure our state is the next home of the FBI." –Congressman Chris Van Hollen (MD-08)
"Maryland's leadership is 'all in' to bring the FBI to our state, and we are continuing to work together to ensure that one of our two sites is selected as the new location for FBI headquarters. I am proud to stand united with Governor Hogan and the entire Maryland congressional delegation as we advocate for bringing this once-in-a-generation opportunity to Prince George's County. Today, we welcome Governor Hogan to the team. His support will be a tremendous asset in our quest to bring the FBI to Prince George's County, Maryland." –Prince George's County Executive Rushern L. Baker III.

Shortage of IT and Cyber Security Industry Talent Linked to Cost and Availability of Training
By Press Officer
Weiss PR
Greenbelt, MD – When it comes to how companies are approaching IT training for their employees, most have significant training requirements, and many predict the demand for available IT training will grow over the next year, while the bulk of them want employees with security compliance and governance skills. The costs associated with IT training, however, present a considerable barrier to meeting these needs, according to survey published today by Cybrary.
When Cybrary, the world's first and only tuition-free massive open online course (MOOC) for IT and cyber security, asked 405 senior-level technology professionals about their companies' plans for IT training in 2015, 61 percent said employees in their company need it, while 55 percent predicted an increased need this year and beyond for available IT training for employees. Security compliance and governance, followed by programming and app development and business intelligence and analytics, ranked as the top IT skills desired by hiring managers in 2015.
About 42 percent of companies plan to hire more IT staff over the next year, 40 percent weren't sure about hiring needs, and the remainder said they had no plans to hire. Most companies plan to spend the same amount of money on IT training for 2015 as they did in 2014, which accounts for as much as 10 percent of overall IT budgets. Less than a quarter allocate 10 to 20 percent of their IT budgets to training, while 11 percent said they don't provide any money for IT training because it's too expensive.
"The data we've compiled suggests that companies do not provide enough means for IT training, despite a lack of IT talent and ever-increasing technology and cyber security challenges," said Ryan Corey, co-founder, Cybrary. "Additionally, the current state of IT training makes it very difficult for employees to advance in their careers and for people to break into the IT industry, thereby eliminating a lot of talent from the start."
The greatest impediment to IT training is cost, according to respondents, while 35 percent cited a lack of other resources, including time and staff. Another obstacle was lack of management buy-in. When companies do invest in IT training for employees, it's predominantly for those who need it (41 percent), and often just for those in IT. More than 50 percent believe the cost of quality IT training will climb in 2015.The most important and/or popular areas for training are in security, Microsoft, and Cisco, followed by CompTIA and VMWare.
In terms of what makes for a preferred IT training environment, most respondents want a reputable company, variety in content and courses, affordability, and collaboration with other IT learners. According to Corey, IT and cyber security professionals enjoy sharing industry accomplishments and knowledge, making collaborative learning a critical element in IT training.
Cybrary conducted this survey from November 2014 – January 2015. A complete copy of the results is available at http://www.cybrary.it/wp-content/uploads/pdfs/Cybrary-Survey-Presentation.pdf
About Cybrary.IT
Founded in 2015, Cybrary.IT gives aspiring and practicing IT professionals what they have long deserved and been denied: access to free, high-quality, open-source and results-focused IT and cyber security training that will help start and advance their careers. A MOOC provider whose top managers have nearly 15 years of experience in IT training, Cybrary.IT offers free online training to anyone, anywhere and at every skill level in systems administration, network administration and cyber security. For more information on how Cybrary.IT is liberating IT knowledge by liberating training, visit http://www.cybrary.it/.
MD Awarded Grant to Continue Foreclosure Prevention Efforts
By Press Officer
MDDHCD
Crownsville, MD – The National Foreclosure Mitigation Counseling program has announced grant awards totaling more than $44.8 million, including $747,000 for foreclosure prevention counseling in Maryland.
More than 1,100 nonprofit counseling agencies and local NeighborWorks organizations across the country are expected to be engaged in the NFMC Program as a result of this, the ninth round of funding awards.
To date, more than 1.89 million families in all 50 states, including the District of Columbia and the U.S. Territories have received foreclosure counseling through the NFMC program since it began in 2007. An additional 129,600 families facing the threat of foreclosure will be directly assisted with these awards. Many more will be helped by the training of foreclosure counselors, provided through the NFMC program. NeighborWorks expects to train 1,600 counselors with the ninth round of NFMC funding.
Maryland, under the leadership of Governor Larry Hogan and Lt. Governor Boyd Rutherford, consistently ranks near the top in putting its funds to work. HOPE NOW ranks Maryland second in the nation in the percentage of homeowners who have received proprietary bank modifications between 2009 to September 2014, with almost 84,000 homeowners. The state ranks fifth in the utilization of the federal Home Affordable Modification Program, benefitting 119,000 homeowners and 11th in utilization of the federal Home Affordable Refinance Program, with nearly 92,000 homeowners.
Maryland also has been a national leader in using funds from the National Attorney General Mortgage Settlement to benefit financially beleaguered homeowners directly.
Dr. Henry A. Wise Jr. High School Students Win Local Competition
By Press Officer
PGCPS
UPPER MARLBORO, MD – Two teams of students from the Academy of Health and Biosciences at Dr. Henry A. Wise Jr. High School recently took top honors at the Patriots' 6th Annual Biomedical Competition, held at Greenbelt Marriott on February 19, 2015.
The team who calls themselves the "Wise Dr's," is comprised of students Golden Daka, Kailah Fields, Ariyana Larkins, Xavier Parker and Ayanna Powell. They presented their research on meningitis, while the "Lady Pumas" team of Victoria Taylor, Mariam Sannoh, Covir Maju, Raven Stewart and Taylor Green presented on Parkinson's disease. The teams placed first and second respectively, winning the competition based on their research paper, website, brochure, display board and presentation.
"Winning the competition made me feel like I had succeeded," said Xavier Parker, a junior on Wise Dr's team. "You spend months learning and becoming experts on a specific disease, knowing that you will have to present it in front of other experts."
"It was intimidating, but when they announced our team as the winner, I felt like I met the challenge and it made me more confident in my capabilities to maybe one day pursue a career in the medical field," he added.
The biomedical competition provides students with the opportunity to explore the relationship between common diseases or conditions and environmental exposures.
The organization's Competition Advisory Team assigns the health outcomes for participating teams. Presentations are judged by a panel of healthcare professionals, including members of the U.S. Public Health Service Commissioned Corps, MedStar Health, National Institute of Health and Baxter Healthcare.
This year, eight local high schools competed, including five other Prince George's County Public Schools: Bowie, Bladensburg, Charles H. Flowers, Frederick Douglass, and the Academy of Health Sciences at Prince George's County Community College.
"We are extremely proud of our students and their ability to showcase their research skills and medical comprehension," said Charoscar Coleman, principal of Dr. Henry A. Wise, Jr. High School. "Their participation was voluntary, but they were dedicated and committed to the work required of them from the beginning to the end."
Members of the winning team received a prize for their accomplishment. First place winners received a gift card valued at $100, while second place winners received a gift card valued at $50.
This was Wise's first year participating in the competition. Academy Coordinator Pamela Davis, and Academy Instructors Tanya Adkission and Dr. Portia Barnes supervised the teams.
The Academy of Health and Biosciences is a rigorous academic program that prepares students for initial employment or post-secondary training in the health field or biosciences industry. Students enrolled in the program will explore various health care professions or study the full application of biomedical science using current and future technologies. PGCPS offers the program at four of its high schools: Dr. Henry A. Wise Jr., Bladensburg, Friendly, and Largo.
Top of Page
Hospital Offers New Wheelchair Seating and Positioning Clinic
By Press Officer
Doctors Community Hospital
Lanham, MD – Doctors Community Hospital now offers a Wheelchair Seating and Positioning Clinic that helps people reduce their risks of wheelchair-related injuries (e.g. ulcerations and pressure sores) and enhance postural alignment. The only such program in the area, the clinic's rehabilitation therapists provide personalized wheelchair assessments, recommendations and fittings using advanced pressure mapping technology. It helps therapists identify more effective wheelchair cushions based on resistance and pressure measurements taken when users are sitting or moving.
On a Roll: Specialized Support for Wheelchair Users
Approximately 2.2 million people in the United States depend on a wheelchair for day-to-day tasks and mobility [1]. Each of those wheelchair users has unique needs that may cause different injuries and require individualized equipment strategies. It's not one size fits all.
Maher Kharma, MHS, OTR/L, CEAS, from Doctors Community Hospital's newly opened Wheelchair Seating and Positioning Clinic discussed how proper assessments help both users and their caregivers reduce injuries and opti-mize function.
What should I expect during my seating and positioning appointment?
The assessment will be completed by a rehabilitation therapist and a wheelchair vendor. They will collaborate to complete the assessment as well as provide optimal seating solutions that are tailored to your individual needs. The appointment takes about an hour and is billed to your insurance company. This team will share recommendations with you that may include a manual/motorized wheelchair, custom molded seating for your back and/or cushions. A representative will help coordinate all requirements (e.g. doctor's visits, additional paperwork, etc.), and you will be contacted when the recommended product(s) is ready for you.
What services do the Wheelchair Seating and Positioning Clinic provide?
The clinic cares for wheelchair users ages 16 and older who have varying medical conditions:
• Wounds
• Strokes
• Cerebral palsy, multiple sclerosis or amyotrophic lateral sclerosis
• Orthopedic ailments
• Spinal cord injuries
• Geriatric concerns
Simultaneously, given the roles of caregivers who assist people get in/out of wheelchairs and adjust seating to increase comfort, finding the right equipment and accessories is also important to protect these helpers from developing contractures, wounds, muscle sprains and other injuries.
The clinic's services are covered by most insurance companies.
How can the Wheelchair Seating and Positioning Clinic help me?
Each of our clinic's highly trained rehabilitation therapists have ten or more years of experience and specialize in addressing concerns unique to wheelchair users. We offer advanced technology called "pressure mapping," which identifies areas that need adjustment to reduce risks of pressure ulcers and other complications – sometimes even before they begin.
With comprehensive rehabilitation, occupational, physical and speech therapy available on-site at Doctors Community Hospital, we provide assessments and support to address a wide range of eating, communication as well as mobility concerns.
What is most important when being fitted for a wheelchair?
Depending on the injury, illness or condition, people may have different mobility needs, requiring different seats, cushions or fastenings for support. So, well-fitted wheelchairs that will allow people to maintain or improve the quality of their lives are extremely important.
Other specialized equipment (e.g. "reachers," lifts, shower bars, etc.) can help prevent further injuries like stress fractures. Additionally, the right amount of support for the head, back, arms or legs can help further prevent pressure sores while allowing for greater comfort and ease of use.
For more information, visit DCHweb.org/wheelchair or call 301-DCH-4YOU (301-324-4968).

Would you like to subscribe?
Please contact our office:
15207 Marlboro Pike
Upper Marlboro, MD 20772
Tel: 301-627-0900
Fax: 301-627-6260
---
The Prince George's Post is
made up of the following staff:
Senior Editor & Publisher
Legusta Floyd, Sr.

General Manager & Legal Advertising Manager
Brenda Boice
Legal Advertising Assistant
Robin Boerckel
Subscriptions and Legals
Elizabeth Brandenstein
Editor
Michal W. Frangia
Paper Delivery
James and Betty Murphy
Web Manager
Kyler Kamp