July 9 - July 15, 2020


COVID-19 Update: Prince George's County Enters a Full Phase Two Reopening as of Monday, June 29 at 5 PM
"I was so glad to welcome Dr. Pines to his new role as President of the University of Maryland, College Park today. For more than 25 years, Dr. Pines has been an integral part of the Terp family. His leadership and experience serving as Dean of the A. James Clark School of Engineering has prepared him well for this important new role.
"Dr. Pines takes the helm of UMD at a critical time for our University, for our state, and for our nation as a whole. I am confident that he will put the needs of our students first and address the challenges we face without hesitation.
"Under Dr. Pines' leadership, I'm confident the University of Maryland will continue to be a world-class institution. I look forward to working with him to support the students, faculty, and staff at the University of Maryland."
—July 1, 2020
---
Aisha Braveboy Receives 2020 'Leadership in Law' Award
By DENISE SMITH
Office of the State's Attorney, Prince George's County
UPPER MARLBORO, Md. (June 30, 2020)—Prince George's County State's Attorney Aisha Braveboy received The Daily Record's 2020 "Leadership in Law" Award in recognition of her outstanding professional achievement, innovation and leadership yesterday at a virtual awards celebration.
"I am deeply honored to be named one of The Daily Record's 2020 Leadership in Law honorees and I am humbled to be among the 26 luminaries who received this award," Braveboy said. "This award recognizes not just those who have excelled personally, but those who have made a significant impact on the legal profession. So, this is confirmation that my office's work to reform our criminal justice system is moving in the right direction. I am extremely proud of the work we have done to reduce our jail population, spearhead bail and youth justice reform, advance the State's first sentencing integrity unit and expand diversion programs. Additionally, my office led in the passage of legislation to strengthen Maryland's hate crime and strangulation laws, and mandate training requirements for Special Police Officers. What we have accomplished this first year and a half is amazing and we are just getting started."
Leadership in Law recognizes Maryland's legal professionals—lawyers and judges—whose dedication to their occupation and to their communities is outstanding. During this event, The Daily Record also honors up-and-coming lawyers through the Generation JD award and identifies exemplary careers through the Lifetime Achievement Award. Winners are selected by an outside panel of legal and business leaders.
Normally more than 300 people attend this prestigious celebration annually. This year, due to COVID-19 and social distancing requirements and to ensure the safety of winners and other attendees, Leadership in Law was hosted virtually. Each winner was celebrated for their achievements through video storytelling. Guests had the opportunity to participate in the program with their congratulations and cheers using social media platforms.
---
Annapolis Native, Dr Henry A. Wise Jr. High School Graduate Reenlists Aboard USS James E. Williams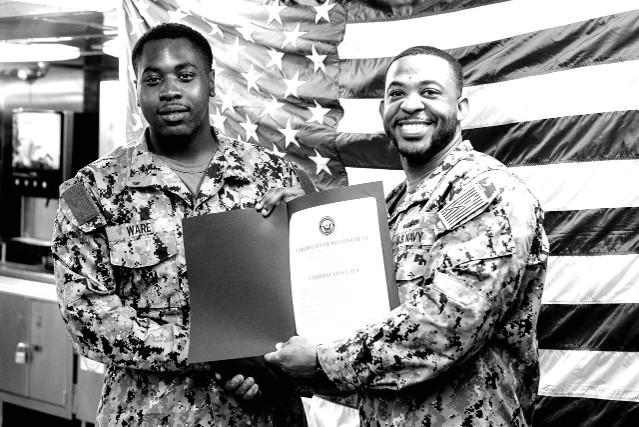 Photo Courtesy Navy Office of Community Outreach
Petty Officer 3rd Class Julian Ware, a native of Annapolis, Maryland and a 2015 graduate of Dr Henry A. Wise Jr. High School, recently celebrated his reenlistment in the U.S. Navy with a ceremony aboard the guided missile destroyer, USS James E. Williams.
By MEGAN BROWN
Navy Office of Community Outreach
ARABIAN SEA (July 1, 2020)—Petty Officer 3rd Class Julian Ware, a native of Annapolis, Maryland and a 2015 graduate of Dr Henry A. Wise Jr. High School, recently celebrated his reenlistment in the U.S. Navy with a ceremony aboard the guided missile destroyer, USS James E. Williams. The ship is currently on deployment in the Persian Gulf.
"I learned back home something that most people wouldn't understand until they are older," said Ware. "Nobody is going to get anything for you, you have to get those things for yourself. For example, qualifications, appointments and
motivation."
Ware joined the Navy four years ago to travel the world and experience new opportunities. Now he is serving as a culinary specialist responsible for being the supervisor in the kitchen aboard the ship.
"In my profession, I control the morale of the crew," said Ware. "My favorite part is know they have had a good day because of a good meal away from home."
James E. Williams is the namesake of Chief Petty Officer James Elliott Williams, one of the Navy's most highly decorated enlisted sailors. Through his 20 years of service, Williams earned 18 awards including the Medal of Honor and Purple Heart (with two gold stars). The ship is currently deployed to the Atlantic Ocean and is capable of conducting Anti-Air Warfare, Anti-Submarine Warfare and Anti-Surface Warfare.
Though there are many ways for sailors to earn distinction in their command, community and career, Ware is most proud of earning the Good Conduct Ribbon.
"Growing up as a troublemaker, it's an accomplishment for me to know I can perform superbly in a professional environment," said Ware.
For Ware, serving in the Navy is a tradition passed down from generations and one Ware hopes to continue.
"My dad served in the U.S. Navy and the discipline that he has instilled in me carried weight," said Ware. "I feel like I would be missing out on a big investment if I didn't carry on the tradition."
As a member of the U.S. Navy, Ware, as well as other sailors, know they are a part of a service tradition providing unforgettable experiences through leadership development, world affairs and humanitarian assistance. Their efforts will have a lasting effect around the globe and for generations of sailors who will follow.
"Serving gives me a sense of honor, courage and commitment, protecting my country and my family," added Ware.
---
Bowie State University National Alumni Association (BSUNAA) Elects Darren Swain, Former Md. State Delegate, to Be Their Next President
By PRESS OFFICER
BSUNAA-Alumni Association
Bowie, Md. (June 27, 2020)—On June 27, Mr. Darren M. Swain (1993) [was] sworn in as the 32nd President of the BSUNAA. Swain has a long history with Bowie State University serving as Student Body President in 1991–1992. He is a 2-time graduate of Bowie State University and served as an administrator with the University for almost 13 years.
"The significance of attending a Historically Black College and University becomes more pronounced with each passing year," said Swain, noting that the importance of this legacy was a cornerstone of his election effort. "One thing that has remained unchanged is the self-defining certainty that comes from attending a HBCU. Without institutions like Bowie State University, doors of opportunity would be shut to future generations. I look forward to working with our alumni and the community to increase support for Bowie in the years to come."
Swain's administration includes Monique R. White Chiselom (1993), Vice President; Anthony Jefferson (1994), Treasurer; and Deborah McFarland (1969), Recording Secretary. Mr. Swain is very enthusiastic about the opportunity to serve his alma mater and is looking forward to ushering in "new" energy that will expound upon the rich legacy of the BSUNAA. "I am excited to see my former legislative team member and fellow Bulldog continue his service to Bowie State", said State Senator Joanne C. Benson of the 24th Legislative District, "He LOVES BSU and has my full support". The breath of Mr. Swain's network is far-reaching, here is what At-Large Member Prince George's County Council, Calvin Hawkins said about Mr. Swain, "Darren is the right person for this position and I look forward to supporting him". "Darren has assisted the University in its fundraising efforts in many capacities, said Gordon Sampson, Bowie State University Foundation Board Chair, "I look forward to working more closely with him, as he leads our National Alumni Association, to grow our endowment even more".
Swain's Transition Team is led by Weyden W. Wedderburn (1996) and Renada Johnson (2002).
Mr. Swain plans to hit the road running by addressing the Bulldog Nation via a video message on July 1; followed by a series of Listening Forums to hear from all of his constituents:
• July 9: Listening Forum with Alumni & Friends of Bulldog Nation (7–8:30 p.m.)
• July 16: Listening Forum with BSUNAA Chapter Presidents (7–8:30 p.m.)
• July 23: Listening Forum with Bulldog Strategic Think Tank (7–8:30 p.m.)
• TBD: Listening Forum with Dr. Breaux & Administration (6–7:30 p.m.)
The primary purpose of the Bowie State University National Alumni Association, Inc. are the following:
(1) to advance the cause of education
(2) to establish a mutually beneficial relationship between Bowie State University and the National Alumni Association, Inc.
(3) to financially aid students who wish to attend Bowie State University, and
(4) to financially aid Bowie State University.
---