September 12 - September 18, 2019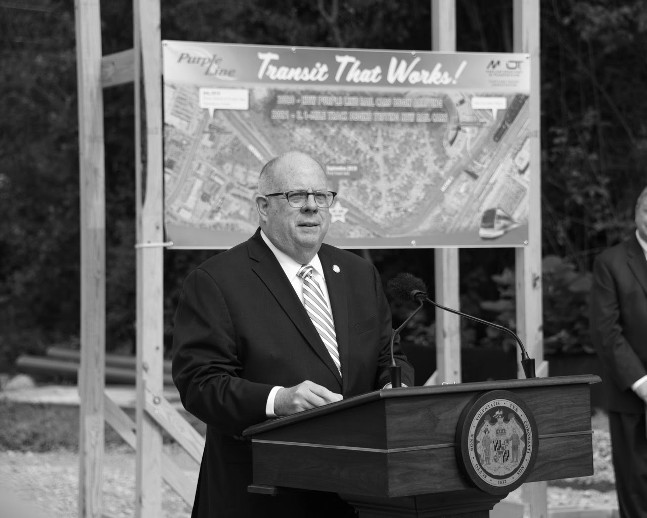 PHOTOGRAPH COURTESY MARYLAND GOVERNOR'S OFFICE.
Governor Hogan Announces Installation of First Purple Line Track
Celebrates Milestone for Largest Public-Private Transit Partnership in North America
ANNAPOLIS, Md. (September 5, 2019)—Governor Larry Hogan has announced the installation of the first section of Purple Line transit track for the historic $5.6 billion project, which is the largest public-private partnership (P3) transit project in North America. The governor was joined by Maryland Department of Transportation (MDOT) Secretary Pete K. Rahn, MDOT Maryland Transit Administrator Kevin Quinn, Chairman of the Board and Chief Executive Officer of Purple Line Transit Partners (PLTP) Peter van der Waart, and Purple Line advocates.
"In Maryland we are proud to be setting an example for the rest of the nation and the Purple Line is at the heart of our state's infrastructure success story," said Governor Hogan. "Two years ago when we broke ground on the Purple Line, I climbed into an excavator and personally helped get the construction underway. Since then, we've been grading, moving utilities, tunneling, and now we have begun building and laying the first segments of track."
The Purple Line is a 16-mile light rail system that will run from New Carrollton in Prince George's County to Bethesda in Montgomery County. It will run east to west inside the Capital Beltway, with 21 stations connecting to: Metrorail's Orange, Green, and Red lines; the MARC Brunswick, Camden, and Penn lines; and Amtrak at New Carrollton. Governor Hogan broke ground for the project almost two years ago at the Glenridge site.
The Purple Line is one of several state projects Governor Hogan has championed in his commitment to bring long-awaited traffic congestion relief to Maryland drivers. The Hogan administration has taken a balanced, all-inclusive approach to infrastructure while moving forward on nearly all of the highest priority transportation projects in every jurisdiction across the state and investing a record $14 billion in transit.
To learn more visit purplelinemd.com/en/.
---
PGCPS to Host Capital Improvement Program Public Hearing
By Office of Communications
Prince George's County Public Schools
UPPER MARLBORO (September 4, 2019)—The Prince George's County Board of Education will host a Capital Improvement Program Public Hearing on Thursday, September 12 to share priorities for school improvements, renovations and new construction.
The hearing will be held in the Sasscer Administration Building Board Room, located at 14021 School Lane in Upper Marlboro, at
6 p.m.
To register to speak, call the Board Office at 301-952-6115 or sign up online. Comments can also be emailed to testimony@pgcps.org.
For more information, visit www.pgcps.org/cip or email capital.programs@pgcps.org.
---
2019 Walk to End Alzheimer's—Prince George's County
By PRESS OFFICER
Community Connections Newsletter
The 2019 Prince George's County Walk to End Alzheimer's will be held on Saturday, September 14 at National Harbor. This year, County Executive Alsobrooks will serve as the Honorary Chair of the Walk. Prince George's County will host the first event out of seven total for the National Capital Area Chapter, and we are looking to set a powerful example for the rest of our region.
There are an estimated 14,000 Prince Georgians living with Alzheimer's, so this walk is personal to our community. We are encouraging every Prince Georgian to participate in the Walk and help raise money for Alzheimer's care, support and research. Please consider creating a team or joining a team that is already participating on September 14. For more information about the Walk to End Alzheimer's and to sign up to participate, visit the Walk website at https://act.alz.org/site/TR/Walk2019/DC-NationalCapitalArea?fr_id=12125&pg=entry.
Time:
Registration at 8 a.m.
Ceremony at 9 a.m.
Walk at 9:30 a.m.
Location:
National Harbor Carousel
137 National Plaza
Oxon Hill, Maryland 20695
Contact:
Carrie Myatt
703-766-9031
cemyatt@alz.org
---
Fifth Mid-Maryland Mission of Mercy Free Dental Clinic to Take Place September 13 and 14
Event will provide free dental care to more than 1,000 patients in need
By Alexandra Schauffler
Catholic Charities of the Archdiocese of Washington
COLLEGE PARK, Md. (September 5, 2019)—Catholic Charities of the Archdiocese of Washington, the University of Maryland School of Public Health, and the Maryland State Dental Association Foundation will host the Mid-Maryland Mission of Mercy & Health Equity Festival at the Xfinity Center at the University of Maryland from 7 a.m. to 5 p.m. on September 13 and 14. The event will transform the Terrapins' basketball court into a mobile dental clinic and health and wellness festival to provide more than 1,000 underserved patients with more than $1 million in free dental care.
Approximately 1,000 volunteers, including licensed dentists, hygienists, and dental assistants will provide full-service, professional dental services, including cleanings, fillings, extractions, silver nitrate treatment, oral hygiene education and more. Many of the volunteer clinicians come from the University of Maryland School of Dentistry, an event partner. The two-day event will also feature the Health Equity Festival, which will offer health screenings and preventive services to patients who may experience other chronic health issues.
Maryland remains one of just 15 states that does not fully cover dental care for adults on Medicaid, the government health insurance program for low-income people. Studies regularly show that a staggering number of adults have not had a dental visit in the past year, with many living with untreated dental issues. Low-income adults, in particular, encounter barriers to accessing dental services, including cost, lack of dental insurance, lack of access to dental services, fear of dental procedures, or lack of awareness. Poor oral health can contribute to other health problems such as diabetes, cardiovascular disease, and adverse pregnancy outcomes. If not treated, tooth infections can even lead to death.
Care will be provided to adults over the age of 18 on a first-come, first-served basis. Through the Health Equity Festival, patients will also be connected with healthcare resources and social services to support their ongoing health and well-being.
This year's event is made possible with generous support from the Cigna Foundation, presenting sponsor of the Mid-Maryland Mission of Mercy, and Kaiser Permanente, presenting sponsor of the Health Equity Festival and other sponsors.
---
Maryland Communities and D.C. Receive Youth Homelessness Grants
By GABRIELLE WANNEH
Capital News Service
CAPITOL HEIGHTS, Md. (September 5, 2019)—Baltimore, Prince George's County and the District of Columbia are among
23 communities receiving a total of $75 million in federal funds to combat youth homelessness.
The $75 million was awarded as part of the Department of Housing and Urban Development's Youth Homelessness Demonstration Program, which started in 2016.
The third year of the program is a significant expansion over the $33 million awarded to 10 communities in 2017 and the $43 million awarded to 11 communities in 2018.
"The goal of the funding was (initially) to really make a big impact in a few communities on youth homelessness." Norm Suchar, director of HUD's Office of Special Needs Assistance Programs, said at a Thursday [September 5] press conference.
Much of the program and the grant application process was designed with input from homeless youth.
"People with lived experience with homelessness? They're the experts, right?" Suchar said. "So we need to listen to them and they need to be involved from A to Z…in every part of the process."
Gloria Brown Burnett, director of Prince George's County's Social Services Department, agreed.
"We're not going to do this for them without them," she said.
Of the $75 million awarded, Prince George's County received $3.5 million, Baltimore $3.7 million, and the District $4.3 million.
Deborah Shore, executive director of Sasha Bruce Youthwork in the District, anticipates that the funding will help homeless service providers within the area improve their current programs.
"The money follows the plan that gets developed," Shore said. "The first part of all of this will be to create a planning process that takes into account everything that's necessary."
Prince George's County government officials joined other state and federal officials at the press conference at the Promise Place shelter in Capitol Heights. The officials accepted their grants from HUD Regional Administrator Joseph DeFelice.
The county's grant will support its "Prince George's Promise" initiative, which assists youth ages 10–24 with housing, education and training.
DaeJanae Day, a first-year graduate student, mother, and former resident of Promise Place, said she hoped more programs like the county's could be created to "help college students, or high school students, or anybody in Prince George's County become a valuable citizen and responsible adult."
Maryland Sens. Ben Cardin and Chris Van Hollen, both Democrats, and Reps. Elijah Cummings, D-Baltimore, Dutch Ruppersberger, D-Timonium, and John Sarbanes, D-Towson, issued a joint statement last week praising the grant to Baltimore and other communities.
"Every young person in Baltimore and around the nation deserves a safe place to call home. Connecting homeless youth with the services that they need will make an enormous difference in the course of their lives," the lawmakers said.