December 7 - December 13, 2017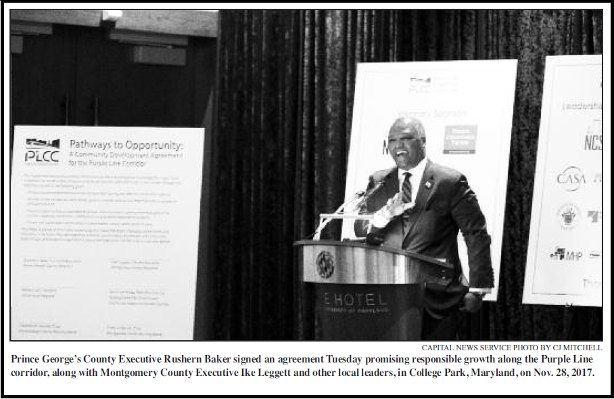 Maryland Officials Sign Agreement On Purple Line Development
By CJ Mitchell
Capital News Service
COLLEGE PARK, MD—Community, public, and private stakeholders signed an agreement Tuesday promising responsible economic development, including affordable housing, along the pending Purple Line light rail project.
Prince George's County Executive Rushern Baker and Montgomery County Executive Ike Leggett pledged to commit to responsible economic and social development along the route of the Purple Line. The 16.2 mile light-rail line is planned to cut through both counties, from downtown Bethesda to New Carrollton, Maryland.
The agreement emphasizes four goals for community leaders and government officials along the corridor: support and grow local businesses, increase the local labor market, ensure housing for all incomes, and promote sustainable and vibrant communities.
University of Maryland, College Park President Wallace Loh also signed the agreement, committing to equitable development of the corridor that includes five stops in and around the College Park campus.
"It is certainly a moral obligation. It is an institutional obligation to make sure that the community and economic benefits of the Purple Line spread throughout our whole region," Loh said.
Loh also shared a story of an hours-long lunch he and Baker shared, where they agreed "the future of the university is tied to the future of the surrounding community."
Gustavo Torres, executive director of the immigrant advocacy group CASA and Gerrit Knaap, executive director at the National Center for Smart Growth at the University of Maryland, also signed the agreement.
"By providing residents with better access to both education and employment opportunities, the Purple Line has the potential to make the corridor labor market even stronger and more balanced," said Torres.
David Bowers, vice president of Enterprise Community Partners, a nonprofit invested in creating opportunities for affordable housing, gave the fiercest speech of the day, urging those leaders in the room to make the agreement come to fruition, to learn from the mistakes of previous efforts at community development, and to insure affordable housing along the corridor can stay affordable.
"You can go 15 minutes down the road, to the nation's capital, and look at neighborhood after neighborhood after neighborhood where investments have been made and because there was not sufficient proactive steps taken, you look and say, 'Wow, councilmember, a lot of folks who used to live there don't live there anymore. A lot of businesses, councilmember, that used to be there aren't there anymore,'" said Bowers.
Some of the concern for the retention of affordable housing stems from low-income, diverse neighborhoods in Prince George's County such as Langley Park and Riverdale Park, as well as Long Branch in East Silver Spring, according to Torres.
Although the agreement, titled "Pathways to Opportunity," is not legally enforceable, the political and community leaders in attendance at The Hotel at the University of Maryland, College Park said they hope it will serve as a moral guide to those who will be leading economic development after the Purple Line is projected to be completed in 2022.
The Purple Line Corridor Coalition was established in 2013 to create opportunities for those living and working along the rail line, a route being built under the state's $5.6 billion contract with Purple Line Transit Partners that was approved in April 2016.
Bowie State's Amir Hall Named as One of Ten Finalists for Hill Trophy
By PRESS OFFICER
Bowie State University
FLORENCE, AL—A field of 34 initial nominees has been trimmed to 10 national finalists in regional voting for the 2017 Harlon Hill Trophy as the NCAA Division II College Football Player of the Year. The finalists were selected by the NCAA Division II sports information directors in regional voting and will now be placed on the national ballot where all 169 of the division's SIDs will select the award's 32nd winner. The top two players from Super Region 3 and Super Region 4 advanced to the national ballot, while three players advanced from Super Region 1 and Super Region 2 due to ties in the voting. The list of 2017 finalists is comprised of five quarterbacks, three running backs, one receiver and a defensive lineman. Five of the finalists helped lead their teams into the 2017 NCAA Division II playoffs and two are on team's competing in this weekend's quarterfinal matchups.
Advancing from Super Region 1 are senior quarterback Connor Jessop of Shepherd University (WV), junior running back Marc Jones of Gannon University (PA) and senior defensive end Marcus Martin of Slippery Rock University (PA). Super Region 2 is represented by junior quarterback Amir Hall of the Bowie State University (MD), junior running back and kick returner Devontae Jackson of the University of West Georgia and junior quarterback Harry Satterwhite of the University of West Alabama. The top vote getters in Super Region 3 are junior quarterback Brook Bolles of the University of Central Missouri and senior receiver J.T. Luper of the University of Central Oklahoma. Advancing from Super Region 4 are senior running back Ja'Quan Gardner of Humboldt State University (Calif.), and senior quarterback Luis Perez of Texas A&M University-Commerce.
Martin is just the tenth defender in 32 years to be named a Hill Trophy finalist and is the first since 2007. Perez and Satterwhite will quarterback their respective teams in this weekend's NCAA Division II quarterfinal playoff games, while Gardner was the 2015 Hill Trophy runner-up. There have been 645 all-time Harlon Hill Trophy nominees since 1986 from 161 different NCAA Division II institutions.
National voting will conclude on December 9 and the winner of the 2017 award, which is presented by the National Harlon Hill Award Committee, will be announced on Friday, December 15. The winner will be honored at a luncheon on the University of North Alabama campus on January 5, 2018. The Hill Trophy is sponsored by the City of Florence, Ala., Opti-Net, Herff Jones and the Marriott Shoals Hotel and Spa.
North Dakota State quarterback Jeff Bentrim won the initial Hill Trophy in 1986, followed by three-time winner—Texas A&I (now Texas A&M-Kingsville) running back Johnny Bailey—in 1987, 1988 and 1989. Another North Dakota State quarterback, Chris Simdorn, claimed the 1990 award, followed by Pittsburg State receiver Ronnie West in 1991, Pittsburg State running back Ronald Moore in 1992, New Haven running back Roger Graham in 1993, Valdosta State quarterback Chris Hatcher in 1994.
North Alabama linebacker Ronald McKinnon became the first and so far only defensive player to win the award in 1995, followed by Truman State running back Jarrett Anderson in 1996, Bloomsburg University running back Irvin Sigler in 1997, Emporia State running back Brian Shay in 1998 and Northern Colorado quarterback Corte McGuffey in 1999. The award had its second two-time winner when Valdosta State quarterback Dusty Bonner claimed the Hill Trophy in 2000 and 2001.
Grand Valley State quarterback Curt Anes won the Hill Trophy in 2002, followed by North Alabama quarterback Will Hall in 2003, Colorado School of Mines quarterback Chad Friehauf in 2004 and East Stroudsburg's Jimmy Terwilliger in 2005. Four straight Hill Trophies were won by running backs, beginning with Chadron State's Danny Woodhead in 2006 and 2007. Abilene Christian's Bernard Scott won in 2008, followed by Wayne State (Mich.) running back Joique Bell in 2009. Central Missouri quarterback Eric Czerniewski was the 2010 Hill winner, followed by Mars Hill running back Jonas Randolph in 2011, Shippensburg's Zach Zulli in 2012, Bloomsburg running back Franklyn Quiteh in 2013, Ferris State quarterback Jason Vander Laan in 2014 and 2015 and Colorado School of Mines quarterback Justin Dvorak in 2016.
Maryland State Fire Marshall's Arson Fighting Canine Passes Away
By PRESS OFFICER
State Fire Marshall's Office
Pikesville, MD—It is with deep regret that State Fire Marshal Brian S. Geraci announces the death of "Charlie", he was previously one of four Accelerant Detection Canine (ADC) teams the Office of the State Fire Marshal operates. He passed away this morning, Saturday, November 25, 2017 after a sudden illness. Charlie passed away peacefully with his partner/handler, Senior Deputy State Fire Marshal John Nelson and his family at his side. Charlie should be remembered for all of his hard work and dedication to the field of arson detection and fire prevention. He had been recognized over the years for his outstanding work including him and Senior Deputy Nelson being awarded 2010 Deputy State Fire Marshal of the Year. As a Bureau of Alcohol, Tobacco, Firearms & Explosives (ATF) trained dog he also traveled far and wide on a variety of cases. It is estimated Charlie worked over 500 cases in his career.
Senior Deputy State Fire Marshal Nelson and K-9 partner Charlie were an exceptional tool used against arson in the State of Maryland. He was trained at the Bureau of Alcohol, Tobacco, Firearms & Explosives (ATF) canine training facility in Front Royal, Virginia. Charlie was a member of ATF's Accelerant Detection Canine (ADC) Class #81. Charlie successfully completed six weeks of "imprintation" training, as well as five weeks of "handler and dog" training. Canines have proven to be an invaluable tool in assisting arson investigators determining if flammable liquids were used to start a fire. Charlie was trained to find ignitable liquids such as gasoline, kerosene, lighter fluid, etc. He graduated in December 2008 and retired in October 2016.
Senior Deputy State Fire Marshal Nelson is a thirteen and half year veteran of the Office of the State Fire Marshal. He has been assigned to the Southern Regional Office, consisting of Charles, St. Mary's and Calvert counties, his entire career. Upon Charlie retiring, S/DSFM Nelson accepted the responsibility of another canine and continued his career as a K-9 handler, partnering with K-9 "Zorro" in December 2016.
"During times like this, no words can possibly express the sorrow we all feel in the loss of our beloved friend, partner and co-worker. We ask, however, as a fitting tribute that we recall those fond memories he brought to us and reflect on the many accomplishments he achieved during his life time" stated State Fire Marshal Brian S. Geraci
Second Quarter Surge Leads Bowie State Women's Basketball to 72–56 Win

By PRESS OFFICER
Bowie State University
WILMINGTON, DE—Sophomore Kyaja Williams (Baltimore, MD) notched a double-double of 16 points and 10 rebounds to lead the Bowie State University Bulldog women's basketball to a 72–56 non-conference win at Wilmington (DE) University on Monday evening.
Seniors Kyah Proctor (Capital Heights, Md.), Kiara Colston (Burtonsville. Md.) and Ty-Nita Baker (Houston, MS) added 15, 12 and 11 points respectively in the win. Graduate student Sade Chatman (Minneapolis, MN) chipped in eight points and ranked second on the team in rebounds with seven while redshirt junior Pere Alexander (Baltimore, MD) contributed four points and a pair of rebounds for Bowie State. Senior Lisa Jing (Laurel, MD) along with sophomores Amel Duggins (Largo, MD) and Dynaisha Christian (Pocomoke, MD) rounded out the Bulldogs' scorers with two points apiece.
Neither team shot the ball very well, with both teams coming back after games on Saturday. But the Bulldogs (4–0) remained perfect by outscoring the Wildcats (2–3), 30–17, in the second quarter to take a 17-point lead into the halftime break.
The Wildcats assisted on 14 of their 21 made baskets, but the Bulldogs turned 20 Wilmington turnovers into 25 points, as compared to the Wildcats' 15 points off 16 Bulldog turnovers. The Bulldogs also outscored the Wildcats in the paint, 30–26, and second chance points, 16–11.
After the Bulldogs opened the game with a 15–11 advantage in the first quarter, they came out and shot 58.8 percent from the floor, including a perfect 9-of-9 from the foul line in the second quarter to seize the momentum.
Bowie State came out and scored the first seven points of the second quarter, en route to a 16–4 run for a 31–15 lead. Wilmington's Macy Robinson closed the quarter by hitting three three-pointers for the Wildcats, but Alexander hit a jumper as time expired to take a 45–27 lead into the locker room.
The Bulldogs held a 21-point advantage with 5:01 left in the third quarter, as Colston hit a three-pointer to give Bowie State a comfortable 54–33 lead. The Wildcats charged back with a 10–4 run of their own to cut the deficit to 58–43 with 1:38 left in the quarter, but the Bulldogs closed out the stanza with the final six points of the quarter for the 64–43 lead after three.
Bowie State scored the first two points of the fourth quarter for their largest lead of the game, 66–43, before Ebonee Dixon sparked an 8–0 run for the Wildcats. She put home an offensive rebound opportunity before Nyree Grant made back-to-back layups. Robinson capped the 8–0 run with another layup, trimming the Bulldogs' lead to 66–51 with 5:13 showing on the clock. LaShyra Williams brought the Wildcats to as close as 14-points with a pair of free throws, but that would be as close as they would get the rest of the game.
Bowie State's Bulldogs will entertain the Crimson Hawks of Indiana University of Pennsylvania on Wednesday evening at 5 p.m. in BSU's A.C. Jordan Arena.
Prince George's County Youth CareerConnect Partner Lands Major Bid
SGT Is Selected Among GSA Information Technology Bid Winners
By R. Joshua Reynolds
Capital News Service
Beltsville, MD—Three weeks ago, long-term Prince George's County Youth CareerConnect employer partner and information tech company SGT Inc. was selected as one of the winners of what some are calling the largest government Information Technology contract in the past ten years. As one of 61 companies that were awarded the contract, SGT is the only Prince George's County based firm to receive this award. Prince George's County Economic Development Corporation President and CEO, Jim Coleman, expressed his excitement that a Prince George's County firm is among the winners of this lucrative government IT contract.
"At the EDC, we're grateful for the wonderful partnership we've had with SGT," said Coleman. "Since becoming an employer partner for the Prince George's County Youth CareerConnect program, they have employed several of our youth, exposing them to careers in Information Technology. We are more than excited that they have won this lucrative contract and will be able to continue the great work that we know them for. We look forward to their continued success and contributions to Prince George's County and our future leaders!"
The Washington Business Journal recently announced that SGT Inc. was among the many firms that were awarded contracts as a part of the "Alliant 2 Unrestricted Vehicle", which is expected to be worth a total $50 billion. The contract, which is being managed by the General Services Administration, will start out as a 5-year contract with an option to last for a total of 10 years. The purpose of the contract is to enhance "systems design, software engineering, information assurance and enterprise architecture products."
In addition to their outstanding work in the field of information technology, SGT Inc. has been a partner with the Prince George's County Youth CareerConnect program for the last few years. Throughout that time, they have mentored students and provided them with internships which has exposed them to careers in the Information Technology industry. Students who were impacted by SGT Inc. have remarked about how much they've learned as well as expressed that they've developed a love for a career path they once never knew was possible. The recent bid win ensures that opportunities to develop the future leaders will still be possible.
The EDC offers its sincerest congratulations to SGT, Inc. for this monumental win.