August 11 - August 17, 2016
Click Here for Tax Sale Listings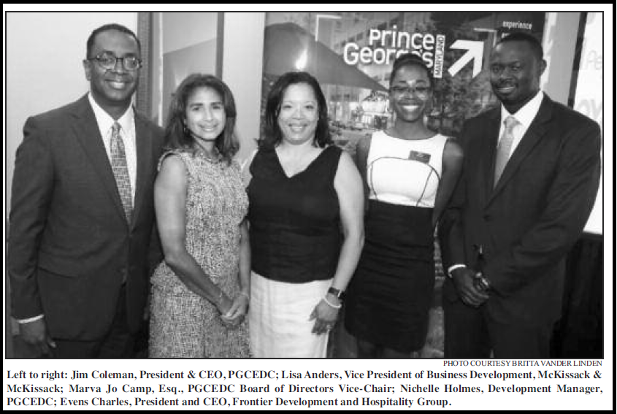 EDC Proposes 2017 Prince George's County Retail Showcase
$1 Million Branding and Marketing Campaign to Build Massive Awareness About County Assets and Opportunity
By Britta Vander Linden
PGCEDC
Largo, MD—The Prince George's County Economic Development Corporation held a sponsor appreciation breakfast hosted by the DoubleTree Hotel Largo and McKissack & McKissack, for nearly 60 of the County's top business and real estate development leaders to thank them for their support of the County's participation in the International Council of Shopping Centers (ICSC) conference in May 2016.
During this exciting breakfast meeting, EDC President and CEO Jim Coleman presented a proposed plan to accelerate the acquisition of targeted premium retailers and developers by bringing them directly to the County for a two-day Showcase and deal-making strategy session.
"We are here to thank you and to celebrate the incredible accomplishments that we delivered at this year's ICSC Conference in Las Vegas," said Coleman. "We will continue to have a presence at the 2017 ICSC Conference, and we will sharpen our focus on premium retailers like The Capital Grille, Ruth's Chris Steak House, Apple and Lord & Taylor."
At ICSC 2016, the County had 23 pre-scheduled meetings and 60 walk-up booth meetings with high-level executives from top retailers, major developers and international food outlets and grocery stores. Nearly 500 convention attendees representing retailers and developers stopped at the County's booth to gather more information about expanding their business into Prince George's County.
However, to take Prince George's County's retail opportunities to the next level, Coleman proposed a two-day "Top-to-Top" Showcase Tour for 25 CEOs of targeted retail concepts from around the globe to take place in 2017. The travel and accommodations for these CEOs and CFOs was proposed to be sponsored by the business community. Strategy meetings would be pre-booked between targeted retailers and our local real estate developers and shopping center owners to discuss financing and incentives. Financing and incentive options would include guaranteed first year profitability, financing of the first thirty days and aggressive leasing pricing.
This showcase effort would be completed with a tour of the County's most in-demand and emerging areas such as National Harbor, College Park, Greenbelt, Woodmore Towne Centre, Bowie Town Center, Hyattsville, Prince George's Plaza, Suitland and more.
"I think it behooves the County to bring the companies that they want and show them what we've got," said Jeff Berman, Vice President, Berman Enterprise LP. "Showing them a brochure or pointing to Prince George's County on a map is not tangible. It's tangible when you're on the ground and you can see our proximity to Washington, D.C., our access to transportation and the businesses that are already here. I would be very supportive of the EDC's proposal."
Coleman also presented the EDC's Fully Integrated Branding and Marketing Campaign, which aims to raise $1 million from the private sector in order to raise massive awareness about Prince George's County's record economic growth, commercial and residential real estate development, as well as its strong and vibrant assets. The campaign includes a highly-targeted interactive marketing strategy, leveraging social media, earned media and direct mail.
The breakfast was sponsored by the DoubleTree Hotel Largo and McKissack and McKissack.
"We're delighted to be here in the County," said Evens Charles, President and CEO, Frontier Development and Hospitality Group. "The EDC and the County have opened up their arms and offered support in every aspect that we've needed with the DoubleTree Hotel and with the Hilton that we are developing next door. From the assistance we received with the EDI Fund to the assistance we received with the permitting process, we have been made to feel very special and we are very appreciative of that."
To become an EDC partner, contact Nichelle Holmes at naholmes@co.pg.md.us or call (301) 583-4621.
Maryland Earns Barely Passing Grade of 'C' in New Study of Workplace Policies That Support New Parents
By Press Officer
NPWF
Washington, D.C.—A new state-by-state analysis released two days before the 23rd anniversary of the day the federal Family and Medical Leave Act (FMLA) took effect shows that few states have expanded upon the FMLA's unpaid leave protections or adopted other supports to assist expecting and new parents who are employed—and Maryland has not done nearly as much as it could to provide critical help. Expecting Better: A State-by-State Analysis of Laws That Help Expecting and New Parents is the most comprehensive analysis to date of state laws and regulations governing paid leave and other workplace rights for expecting and new parents in the United States. Maryland earns a grade of "C" for its policies.
The analysis was conducted by the National Partnership for Women & Families. The full study grades all 50 states and the District of Columbia based on their passage of select laws that offer greater leave or workplace protections than federal law provides. California is the only state to receive an "A." The District of Columbia and New York earn grades of "A-" and 11 states earn grades of "B." However, 10 states earn grades of "C," 15 states earn grades of "D," and 12 states receive grades of "F" for failing to enact a single workplace policy to help expecting or new parents.
"Despite some meaningful progress, too many working families in this country struggle at the very time they should be focused on giving children their best possible starts in life. Twenty-three years after the country took its first major step to help people manage job and family by implementing a national unpaid family and medical leave law, our new study reveals that people in too few states are guaranteed access to paid leave and other workplace protections they urgently need," said Debra L. Ness, president of the National Partnership, which drafted and led the fight for the FMLA. "At this time when women are both caregivers and breadwinners, and when voters want and need supportive workplace policies, too many lawmakers are letting them down. America's families expect and deserve much better."
The poor grades are striking, Ness continued, considering women make up nearly half of the country's workforce and 68 percent of children live in households in which all parents are employed. Similar workforce participation and demographic data for all 50 states and the District of Columbia can be found here. As Expecting Better argues, the nation's public policies have not kept pace with the changing demographics and pressures affecting families, workplaces and our economy today—and low-wage parents and parents of color suffer disproportionately.
In Maryland, advocates and lawmakers are pressing for the adoption of a statewide paid sick days law. A proposal was approved by the Maryland House of Delegates this year in the final days of the legislative session. Maryland voters are strongly supportive of the measure, according to polling conducted by the University of Maryland and the Washington Post.
Nationally, public support for family friendly policies like paid family and medical leave, paid sick days and pregnancy accommodations is strong, as is voters' favorable opinion of elected officials who advance them. A growing body of evidence shows that these policies promote the health and economic security of families while strengthening businesses and the economy. Yet the new study finds that lawmakers in most states have done too little or nothing to expand upon minimum federal protections. However, 11 states and the District of Columbia did improve their grades since the 2014 edition of Expecting Better.
The first edition of Expecting Better was released in 2005. As the fourth edition, released today, notes, over the past 11 years key workplace policies have been adopted in:
• New Jersey, New York and Rhode Island, which joined California in enacting paid family leave programs;
• California, Connecticut, Massachusetts, Oregon, Vermont and the District of Columbia, which enacted laws guaranteeing workers the right to earn paid sick days;
• Colorado, Maine, Maryland, Massachusetts, Minnesota, Oregon, Washington and Wisconsin, which expanded workers' access to unpaid, job-protected family and medical leave;
• Maine, Maryland and Minnesota, which expanded workers' access to flexible use of sick time;
• Twelve states and the District of Columbia, which passed laws requiring employers to provide pregnant women with reasonable workplace accommodations; and
• At least 10 states and the District of Columbia, which have enacted laws to protect the rights of nursing mothers in the workplace.
"Our new study shows that progress is possible, and it is wonderful that some states are showing real leadership by
establishing standards that provide vitally important help to workers and families while helping pave the way for national change," explained National Partnership Vice President Vicki Shabo. "But sadly, most states are not doing nearly enough. People's ability to meet the dual demands of job and family should not depend on where they live or work or what job they hold. Lawmakers at all levels and in every part of the country should commit to strengthening existing family friendly policies and adopting new ones, and pressing for federal laws that will benefit all workers, families and businesses while strengthening our economy."
At the national level, attention to and backing for policies that support expecting and new parents has increased significantly in recent years. Hundreds of diverse organizations, including the National Partnership, are calling on Congress to pass federal legislation such as the Family And Medical Insurance Leave (FAMILY) Act, which would establish a paid family and medical leave insurance program; the Healthy Families Act, which would set a paid sick days standard; and the Pregnant Workers Fairness Act, which would help combat pregnancy discrimination.
This most recent edition of Expecting Better highlights the impact that access to paid family and medical leave in particular can have on the health and well-being of expecting and new parents, as well as their children, families, employers and local economies. The United States is one of only a few countries among the 185 surveyed by the International Labor Organization that do not guarantee paid leave: 183 other nations guarantee paid maternity leave and 79 guarantee paid paternity leave. It is also the only high-wealth country that doesn't provide paid maternity leave. Expecting Better finds that just four states guarantee paid family leave for expecting and new parents who work in the private sector.
To determine the state grades included in this edition of Expecting Better, the National Partnership reviewed different but overlapping public policies aimed at helping new parents in each state and the District of Columbia. Researchers looked at laws governing both private and public sector employees. The study includes a special section on state policies that more broadly help family caregivers—both parents and workers overall—in addressing their families' needs. It is available in its entirety, along with state-specific graphics, at NationalPartnership.org/ExpectingBetter.
Coleman Says 'Ni Hao' to Top Chinese Investors
Connects Investors to $10 Billion in County Pipeline Opportunities
By R. Joshua Reynolds
PGCEDC
Washington, D.C.—On the evening of June 22, the Prince George's County Economic Development Corporation (EDC) President & CEO Jim Coleman spoke at the Welcoming Reception for the Chinese/Hong Kong Delegation at the Phillips Collection in Washington, D.C. The reception, which kicked off the 'Select USA Global Investment Summit' was hosted by the Greater Washington China Investment Center and co-sponsored by the EDC. Over 150 Chinese investors attended the event to learn about investment opportunities in Prince George's County, the District of Columbia, and Arlington County Virginia.
"Prince George's County has $10 Billion in the pipeline," said Coleman. "During our mission trip to China last year, County Executive Baker and the EDC worked with our friends and identified key areas that are most beneficial for Chinese investors. With 8 universities, 15 Metro stops and billions of dollars in healthcare and IT projects currently happening, Prince George's County is where you want to invest!"
Prior to speaking to the large crowd, Coleman had the opportunity to meet with U.S. Ambassador and former U.S. Senator Max Bacaus as well as other regional leaders in Economic Development including Brian T. Kenner, the Deputy Mayor for Planning and Economic Development for Washington, D.C. and Victor L. Hoskins, Director of Arlington Economic Development.
"I'm very proud of the dynamism of the Greater Washington Area," said Bacaus. "Each region has its strengths and as a whole, the area is a very powerful vessel. You will find your investments here to be very rewarding."
To connect with Chinese investors, join Team EDC on August 22nd for our 'Mutual Briefing with China' at the EDC's headquarters in Largo, MD where Business to Business meetings are facilitated. To learn more about the briefing, please contact Isabelle Wang at (301) 583-4650.
Library Applauds PLA for its Every Child Ready to Read ASAE 2016 Power of A: Summit / Gold Awards
By Press Officer
PGCMLS
Largo, MD—The Prince George's County Memorial Library System (PGCMLS) congratulates the Public Library Association (PLA), the proud recipient of two American Society of Association Executives (ASAE) awards for Every Child Ready to Read's (ECRR's) co-creation and implementation. The two ASAE Power of A Awards earned by PLA are: 2016 Power of A Summit Award and 2016 Power of A Gold Award. The goal of ECRR is to empower and encourage parents and caregivers to support the early literacy development of children from newborn to age 5.
Prior to PLA's and the Association for Library Service to Children's (ALSC's) creation of ECRR, libraries focused on the child, rather than on educating the parent or caregiver with respect to early literacy. "The ECRR toolkit, available in both English and Spanish, includes background and research which validates the approach and educates library professionals about early literacy science. The core toolkit elements are the presentation tools for six workshops; four are for patrons and two are designed to increase library staff skills," states a recently issue PLA media release by Kara O'Keefe, Manager, Membership Marketing.
PGCMLS has incorporated ECRR in its training of library staff and in café's that provide parents and caregivers with the tools needed to enhance the early literacy experience of young children. "We built upon the theme, with Ready 2 Read centers and backpacks with amazing success," said Michelle H. Hamiel, Chief Operating Officer for Public Services. "We highly commend PLA on its awards for this much needed service and have already seen positive results in the 2015-2016 Kindergarten Readiness Assessment (KRA) conducted by the Maryland State Department of Education (MDSE) for preschoolers in Prince George's County."
About the Prince George's County Memorial Library System
The Prince George's County Memorial Library System (PGCMLS), consisting of 19 branches, offers strategies for lifelong learning. Early literacy resources are: Ready 2 Read Centers, Ready 2 Read Backpacks, ABCmouse, AWE Early Literacy Stations, Beanstack and Playaway Launchpads. All these services are free with your PGCMLS library card. Skills development library resources include: Rosetta Stone Library Solution, Lynda.com, Brainfuse's HelpNow and JobNow, ArtistWorks for Libraries and Learning Express Library. Also, enjoy Minecraft, 3D printing, DREAM (Digital Resources for Electronic Applications in Media) lab, Chess Clubs and MAC (Manga and Anime Clubs) free at your library. Try out our new PGCMLS app too! Learn more about what your Library has to offer at www.pgcmls.info.
About the Public Library Association (PLA)
PLA is the largest association dedicated to supporting the unique and evolving needs of public library professionals. Founded in 1944, PLA serves nearly 9,000 members in public libraries large and small in communities across the United States and Canada, with a growing presence around the world. PLA strives to help its members shape the essential institution of public libraries by serving as an indispensable ally for public library leaders. For more information about PLA, visit www.pla.org or contact the PLA office at 1 (800) 545-2433, ext.5PLA, or pla@ala.org.
About the Association for Library Service to Children (ALSC)
ALSC is the world's largest organization dedicated to the support and enhancement of library service to children. From creative programming and best practices to continuing education and professional connections—ALSC members are innovators in the field of children's library service. ALSC's network includes more than 4,000 children's and youth librarians, children's literature experts, publishers, education and library school faculty members, and other adults dedicated to creating a better future for children through libraries. To learn more, visit www.ala.org/alsc.
Senator Ben Cardin Statement on Fatal Flooding in Ellicott City
By Press Officer
Office of Senator Ben Cardin
BALTIMORE, MD—U.S. Senator Ben Cardin (D-Md.), a senior member of the Senate Environment and Public Works Committee, released the following statement on the deadly flooding in Ellicott City. He will join Howard County Executive Allan H. Kittleman at an information session Monday evening to talk with residents and help compile a request for federal disaster assistance. Senator Cardin and Executive Kittleman also plan to visit affected businesses in Ellicott City Tuesday.
Senator Cardin: "Marylanders are heartbroken by the devastation that has hit our community. My condolences go out to the families and friends who lost loved ones in this tragedy. I want to especially thank the first responders who have worked tirelessly to save lives and property after the historic flooding in Ellicott City on Saturday night.
"Over the next few days I will work with Senator Barbara Mikulski, Governor Larry Hogan, Congressman Elijah Cummings and County Executive Kittleman to review the need for federal disaster assistance from the Federal Emergency Management Agency (FEMA). Our Congressional delegation will move quickly to facilitate the emergency help needed for families, communities, homeowners, and small businesses to recover from this disaster."