September 22 - September 28, 2016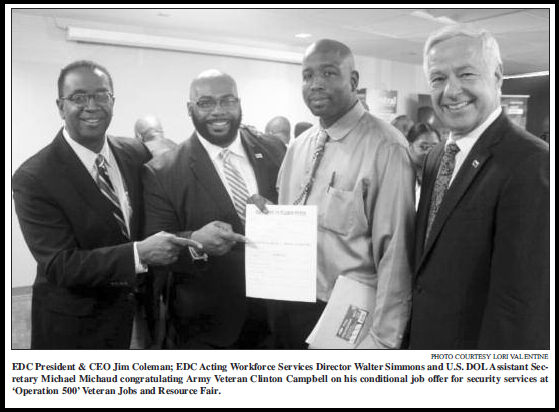 Top Obama Official Endorses Economic Development Corporation Veterans Initiative
Dozens of Veterans Hired on the Spot
By Lori Valentine
PGCEDC
Largo, MD—Today, the Prince George's County Economic Development Corporation (EDC) welcomed top Obama official Michael Michaud, Assistant Secretary for Veterans with the U.S. Department of Labor, as it deployed its second installment of 'Operation 500,' the Veteran jobs and resource initiative geared toward securing high wage jobs for 500 Prince George's County Veterans by January 2017. More than 30 private sector employers and resource partners participated in the Jobs and Resource Fair in which 40 Veterans walked away with solid job opportunities. Employers were excited about the amount of talent that the Prince George's County Veteran community displayed.
"'Operation 500' is committed to our Veterans," said EDC President and CEO Jim Coleman. "I have a strong belief in serving those who have served us. It is unacceptable for any veteran who wants to work to be unemployed, particularly when there are more than $10 billion in projects in the pipeline in this County. The momentum is growing for job opportunities, and thanks to our employer partners, our veterans are well on their way to get back to work. We are leaving no veteran behind in Prince George's County."
Department of Labor Assistant Secretary Michaud kicked off today's event by praising the EDC for collaborating with the veteran community to decrease the unemployment rate. Michaud was impressed by the EDC's being able to pair up businesses with those who are looking for jobs.
"I'm glad to be here this morning, and I commend Jim Coleman and Walter Simmons for their hard work in pulling together this great event specifically for veterans," said Michaud. "Having had the chance to speak with a number of the employers here today, they are very excited about hiring veterans and are committed to doing so. As the Assistant Secretary of Labor for Vets, part of my job is to ensure that veterans get into jobs. We will be partnering with the EDC's workforce division to give them the assistance they need from the federal government. That's what it is all about. Look forward to our partnership."
Walter Simmons, Acting Director of the EDC Workforce Services Division told employer partners and veterans why 'Operation 500' is the best solution to the veteran unemployment issue.
"Maryland consistently ranks top in veteran unemployment. Thanks to the vision of Jim Coleman and the support of County Executive Baker, we are going to put a stop to veteran unemployment," said Simmons. "If you are a veteran looking for a job, the Prince George's One Stop Center is here to help you. If you are an employer looking for veterans and have had trouble finding them, look no further."
Melissa Peterson, President and CEO of Blue Sky Innovative Solutions has benefitted from the EDC's Hire Prince George's program and was excited to participate in today's event.
"As of a few days ago, we are officially a Prince George's County company," said Peterson. "We have had great time today interviewing candidates for positions we have available at Blue Sky, both at the senior and entry levels. One of the reasons we are so interested in veterans is because they bring a wealth of experience, not only in IT and consulting, but also in leadership, which is critical. We are happy that the EDC has helped us identify people to work with internally, as well as with our clients."
Army veteran Carol Dew was one of the Veterans who attended the Jobs and Resource Fair and was very pleased with number of employer partners on site and the information they shared.
"Not only was I offered a position, all of the employers gave us great insight on what type of credentials we need to be successful with our job search," said Dew. "I also learned today that the EDC will give us the skills we need if you're eligible, and I am really looking forward to that. Today's event was awesome."
Clark Construction, another employer partner who has consistently recruited through the Prince George's County Workforce Services Division, was also pleased with the quality and talent-pool of veterans who came out today.
"It is always wonderful to partner with the Prince George's County Economic Development Corporation to find professional and qualified individuals who may not always have traditional means of finding a job themselves," said Nico Ramos, Business Manager for Clark Construction Group. "Coming to an event like this, where we can have a face-to-face conversation is beneficial for both parties. Today, we have met quite a few individuals that we will be following up with for employment. The EDC's 'Operation 500' is the first veteran-targeted hiring outreach that was sponsored by a single county that we have ever seen, and I am delighted. This should be the norm for all local jurisdictions."
Air Force Veteran Nicole Shaw was extremely excited to receive two conditional offers for employment today.
"Last week, I came to the EDC's One Stop Career Center and they helped me with my resume and to get ready for today's job fair," said Shaw. "This is the first time I have ever attended one of these events. I just came in and started talking to everyone and now I have two conditional job offers. I'm very grateful for this opportunity."
The EDC will host its next 'Operation 500' recruitment event on October 13th where select employers will be on site to conduct interviews and recruit veterans for open positions. This customized recruitment event will take place at EDC headquarters, 1801 McCormick Drive, Suite 140, Largo, MD 20774 from 10am to 12pm. To reserve your seat for the October Fair, visit www.pgcedc.com/events or call Nicole Edwards at 301-583-4650.
Follow the EDC's LinkedIn company page at 'Prince George's County EDC' to stay up-to-date on the 'Operation 500' initiative.
Broadcasters Announce Campaign to Address Nationwide Opioid Epidemic
Partnership for Drug-Free Kids Teams with Local Radio and TV Stations
By Press Officer
NAB
WASHINGTON, D.C.—Local radio and TV broadcasters will undertake a national effort to address heroin and prescription drug abuse that is impacting communities across America, the National Association of Broadcasters (NAB) announced at a press conference on Capitol Hill today. NAB has teamed with the Partnership for Drug-Free Kids (Partnership), a national nonprofit committed to helping families struggling with their son or daughter's substance use, on a multi-faceted campaign through the end of 2017 to raise awareness about the rising opioid epidemic.
Driven by abuse of prescription painkillers, opioid addiction has soared in recent years, particularly among teens and young adults. Every day in the U.S., 2,500 youth (12 to 17 year-olds) abuse a prescription pain reliever for the first time. An addiction to legally prescribed pain medication has led many people to heroin, a cheaper and more easily available alternative. According to the Centers for Disease Control and Prevention, 45 percent of people who used heroin were also addicted to prescription opioid painkillers. Deaths from opioid abuse increased 248 percent between 2010 and 2014, with 78 Americans now dying every day from an opioid overdose.
At today's press conference, NAB highlighted news coverage that local and network radio and TV broadcasters have devoted to bringing awareness to the opioid crisis. In addition to regular news programming, in the past year broadcasters have produced and aired documentaries, in-depth investigations, and town hall forums on the impact of the epidemic on local communities. CBS TV Network, ABC-owned TV stations and iHeartMedia have also carried more than $15 million in Partnership for Drug-Free Kids anti-opioid PSA messaging in the last year, and broadcasters such as NBC, FOX, Univision, Telemundo and hundreds of other local TV and radio stations have devoted enormous resources to this issue.
Representatives of the broadcasting industry who attended the press conference and pledged support for the initiative were: Art Brooks, President, Arizona Broadcasters Association; Rebecca Hanson, Senior Vice President of Strategy and Policy, Sinclair Broadcast Group; Ginny Morris, Chair and Chief Executive Officer, Hubbard Radio Group; and Jordan Wertlieb, President of Hearst Television.
Also on hand to show support for the campaign were a bipartisan group of U.S. Senators and House members. Speakers included Sens. Chuck Grassley (R-IA), Amy Klobuchar (D-MN), Patrick Leahy (D-VT), Joe Manchin (D-WV), John McCain (R-AZ) and Chris Murphy (D-CT) and Reps. Judy Chu (D-CA), Bob Goodlatte (R-VA) and Frank Pallone (D-NJ).
In collaboration with the Partnership, local radio and TV stations are renewing their commitment to help educate the public and aid in the fight against opioid abuse and addiction. NAB announced today that broadcasters will:
• Air Partnership-produced public service announcements (PSAs) directing viewers and listeners to life-saving resources;
• Develop long-form programming and special news reports, as well as hold town hall meetings and provide critical information online;
• Develop a printed and online toolkit for broadcast stations across the country on facts and statistics related to the epidemic, and ideas for prevention, programming and community outreach;
• and produce and distribute new PSAs in conjunction with NAB's bi-annual Congressional PSA Campaign.
"As first informers in times of crisis, broadcasters understand the power of the public airwaves to educate Americans about dangers affecting their lives," said NAB President and CEO Gordon Smith. "Today, we are pledging those airwaves and other resources to combating an epidemic that has touched the lives of millions of our citizens. We're proud to join with the Partnership for Drug-Free Kids in finding solutions to opioid addiction, and in making a positive difference for families across America."
"Today's opioid crisis requires an 'all hands on deck' approach to affect change and reverse this public health epidemic," said Marcia Lee Taylor, President and CEO of the Partnership for Drug-Free Kids. "All of us have a role to play, and we and all of the families we serve are so thankful to the National Association of Broadcasters for playing the very important role of using the airwaves to reach homes and communities, driving awareness and directing parents to life-saving resources for their loved ones."
Full remarks by Gordon Smith and Marcia Lee Taylor are available at the website http://www.nab.org/documents/newsRoom/releases/091316_heroin_press_conference_remarks.html. Video of the press conference will be available on nab.org.
Economic Development Corporation Entices Top Talent from George Washington University
By Lori Valentine
PGCEDC
Largo, MD—The Prince George's County Economic Development Corporation (EDC) hosted a delegation of ten graduate students and alumni from the George Washington University Elliott School of International Affairs who are looking to learn about the international activities and employment opportunities that Prince George's County has to offer. EDC President and CEO Jim Coleman, along with his international business development and human resources teams engaged in an interactive discussion with the student delegation about the County's focus on expanding internationally as well as the role the Economic Development Corporation plays in connecting top talent with well-paying careers in high growth companies in Prince George's County and abroad.
"The EDC is doing a lot of outreach to the major universities in the region looking for fresh talent for our job creators. These international graduate students from George Washington University are another step the County is taking to build bridges to the future," said Coleman. "And the best way to build bridges is to have architects that can help you to build that bridge. Today, we identified ten future architects of international business development that can help County Executive Baker build that bridge to the future and all over the world. Their eagerness and desire can help us to create more employment opportunities for our residents and job creators in Prince George's County. We look forward to welcoming them to Prince George's County and the EDC to help us activate prosperity all over the world."
As part of the EDC's efforts to bridge the gap between college students and the jobs of the future in Prince George's County, it reached out to The Elliott School of International Affairs to participate in their 2016 Employer Site Visits program. Members of the delegation were extremely interested to learn that the County has deliberately targeted Mexico, China, Canada, Korea, South Africa and Nigeria as part of its international strategy primarily because they are the fastest growing economies in the world. The students were also interested to hear that County Executive Baker is planning a Business Exploration Mission Trip to Cuba this fall, to open relationships with Cuban businesses and officials to discuss business and investment interests in the future.
"I am very excited to be here today to hear all about the international business development going on with the Economic Development Corporation," said Ryan Li, Delegation leader and second year student at the Elliott School of International Affairs, studying International Trade and Policy. "Working with the EDC would be an ideal career for me. As an international student (from Beijing, China), it was good to learn that using my background from my own country can make me a more valuable employee in the United States and could help my home country in the process."
EDC Human Resources Director Roxanne Rush and Senior Human Resources Generalist Tiffany Johnson spearheaded today's visit as part of the EDC's effort to bring the best talent to the agency and to the County. For 18 years, the Elliott School's Graduate Student Career Development Office has coordinated annual employer site visits to introduce incoming graduate students to some of the most influential and reputable organizations and professionals in the field of International Affairs. The students were also impressed with the EDC's focus on connecting local businesses to clients and partners around the world.
"Today's event gave me a new perspective on employment opportunities right at my back door," said Joan Lindo, GW Elliott School Alumni. "I liked how the EDC outlined its focus on creating jobs, but I was especially impressed at how they look beyond jobs to the market and trade. That really resonated with me. They talked to us about the linkage between local employers connecting abroad and doing foreign direct investment here. That is a benefit to everyone."
For more information on employment opportunities with the Economic Development Corporation, contact Roxanne Rush (rrush@co.pg.md.us) or 301-583-4650. For more information on the EDC's International Business program, contact Martin Ezemma (muezemma@co.pg.md.us) or 301-883-4642.
PG County Asks Residents to Take Action Now to Prepare
September is Maryland Preparedness Month
By Press Officer
PG County Government
Landover, MD—The Prince George's County Office of Homeland Security/Office of Emergency Management reminds residents that September is a good time to review preparedness information for severe weather and other emergencies throughout the year. September is both National Preparedness and Maryland Preparedness Month and government agencies, businesses, community groups, schools and families will be participating in events to help promote disaster preparedness.
"Emergency preparedness is a year round effort," said Ronald E. Gill Jr., Director of Emergency Management. "From the record breaking snow we received in January, to the three storms in the Atlantic over the past week, residents need to always be in disaster preparedness mode. Emergencies and disasters can happen anytime and anywhere without notice."
Making preparations when threats are not imminent can make communities more resilient. Hazards common to Prince George's County include flooding, high wind, severe thunderstorms and winter storms. Several online sources provide good emergency preparedness information for these and additional threats:
• Prince George's County Preparedness Center
• Maryland Emergency Management Agency
• Federal Emergency Management Agency
• National Weather Service
Buck Lodge Middle School Science Teacher Receives Presidential Honor
By Press Officer
PGCPS
UPPER MARLBORO, MD—Buck Lodge Middle School science special education teacher Elizabeth Lazaro was recently selected as a recipient of President Obama's Presidential Award for Excellence in Mathematics and Science Teaching.
Lazaro is among 213 K–12 science and mathematics educators from across the nation who were selected by a panel of distinguished scientists, mathematicians, and educators for the award.
"The Presidential Award is a living testament in celebrating the accomplishments of students with significant cognitive disabilities," said Lazaro. "The award captures a milestone in bringing to the fore how these students are able to access the general curriculum with instructional modifications. Ultimately, the award recognizes special education students who do not give up on their dreams despite life's challenges."
As a winner of the Presidential honor, Lazaro will receive a certificate signed by President Obama during an awards ceremony on September 8 and a $10,000 award from the National Science Foundation. She will also attend several educational and celebratory events, take part in professional development opportunities, and visit with members of the President's administration.
"Lazaro's name is added to a growing list of Prince George's County Public Schools educators who are receiving national recognition for the work they're doing in the classroom and beyond," said Dr. Kevin M. Maxwell, Chief Executive Officer for Prince George's County Public Schools. "I am proud of her recent success and motivated by the daily impact she's making in her students' academic lives."
Lazaro has been a special education teacher at Buck Lodge Middle School since 2005. She teaches students in grades six through eight, and has served as Science Department Chair since 2008. Lazaro uses a variety of strategies to address the different learning styles of her students, including using pictures, visuals, and manipulatives; incorporating hands-on activities; and embedding video/technology presentations. She is committed to learning, and frequently takes part in professional development opportunities.