January 23 - January 29, 2020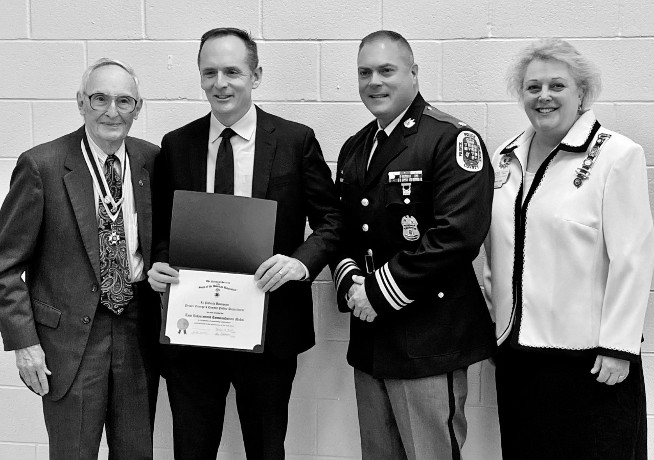 Photograph courtesy Harmony Hall Chapter NSDAR
Pictured left to right is Doug Stuart, President of the John Hanson Chapter SAR; Lt. Patrick Hampson, Maj. Sunny Mrotek, and Deanna Lutz, Regent of the Harmony Hall Chapter NSDAR

Harmony Hall Chapter NSDAR Joins With John Hanson Chapter SAR to Honor Local Law Enforcement Officer
By DEANNA LUTZ
Harmony Hall Chapter NSDAR
•2020 Award Recipient is Lieutenant Patrick Hampson, Commander of RID/North/RST of the Prince George's County Police Department.
•This award is presented annually at a joint meeting of the Harmony Hall Chapter NSDAR and John Hanson SAR chapters of Fort Washington, MD.
FORT WASHINGTON, Md. (Jan. 12, 2020)—At the joint January meeting of the Harmony Hall Chapter NSDAR and John Hanson SAR chapters of Fort Washington, MD, Lieutenant Patrick Hampson, Commander of RID/North/RST of the Prince George's County Police Department was recognized for his leadership, expert investigative skills and sound police tactics that resulted in the apprehension of two violent repeat felons, a loaded handgun, and illegal narcotics, demonstrating a personal commitment to the Prince George's County Police Department and safety of the residents they serve. Members of Lt. Hampson's family joined in the honoring, along with his commanding officer, Major Sunny Mrotek of the Regional Investigation Division, and members of both the SAR and NSDAR chapters.
---
Eight PGCPS Students Awarded Posse Scholarships
Posse Scholars receive full four-year college scholarships to select institutions
By Office of Communications
Prince George's County Public Schools
UPPER MARLBORO, Md. (Jan. 16, 2020)—Eight Prince George's County Public Schools (PGCPS) high school seniors have been named Posse Scholars and will receive four-year, full-tuition college scholarships from The Posse Foundation's partnering schools.
Next fall, Posse Scholars from across the nation will enter colleges and universities in multicultural groups of 10 known as "posses." Throughout their college career, they will support each other and receive ongoing assistance from The Posse Foundation. Posse Scholars have a 90 percent college graduation rate and demonstrated potential to positively impact their professions.
Each scholarship is worth approximately $140,000. More than 40 PGCPS students have received Posse scholarships since 2013.
Posse Scholars from Prince George's County include:
Name, High School, Posse University
Chidera Nnawuba, Largo High School, Bucknell University
Endia Scales, Friendly High School, Bucknell University
Joyce Chen, Eleanor Roosevelt High School, Bucknell University
Delana Turner, Academy of Health Sciences at Prince George's Community College, Sewanee: The University of the South
Neziah Osayi, Parkdale High School, University of Rochester
Vanessa Velas Romero, High Point High School, University of Rochester
Karlos Aguilar Lopez, Oxon Hill High School, University of Rochester
Darius Lassiter, Academy of Health Sciences at Prince George's Community College, University of Wisconsin-Madison
For more information on The Posse Foundation and the Posse program, visit www.possefoundation.org.
---
Now the Good News: Death Toll Plummeted to Multi-Year Low Along Indian Head Highway (Maryland Route 210) During 2019
Three Persons Lost Their Lives On Roadway Dubbed The "Highway of Death"
By PRESS OFFICER
AAA Mid-Atlantic
WASHINGTON (Jan. 17, 2020)–– Traffic fatalities dropped to the lowest level in years on Indian Head Highway (Maryland Route 210) in 2019. Three persons lost their lives on the corridor during 2019, including a pedestrian on a service road parallel to MD 210. Increased enforcement and other factors at play may have saved lives otherwise lost.
Although the number of traffic fatalities tends to fluctuate over a period of time, it is a remarkable sea-change on Indian Head Highway. Nearly 70 persons have lost their lives on MD 210 over the course of the past dozen years. The death toll and the carnage along MD 210 mobilized area residents and community and civic groups. They sounded the alarm for aggressive enforcement on a heavily traveled highway with a history of violent and deadly crashes. They also called for strategic infrastructure improvements and long-term upgrades that engender safer passage for all users on the high-risk roadway. Residents also issued the clarion call for speed cameras along the high-speed highway.
During 2019, more than 30,000 drivers and scofflaws were slapped with citations for various traffic infractions along Indian Head Highway. Prince George's County Police Department officers on patrol pulled over nearly 11,000 errant drivers on the roadway in 2019 for sundry violations, including impaired driving, aggressive driving, distracted driving and speeding. In addition, nearly 8,000 drivers were ticketed by a triad of speed cameras along the MD 210 Corridor inside Prince George's County in 2019.
"Fostering a traffic safety culture along Indian Head Highway has proven to be a tedious and tenacious work in progress. The transformation to a safer Maryland Route 210 is moving in a favorable direction," noted Rev. Dr. Robert L. Screen, 210 Traffic Safety Committee. "This is a work borne of the long-haul. It entails a sustained cooperative and coordinated effort among stakeholders, agencies, and the community. It requires pushing hard against deeply rooted degrees of selfishness that apparently compel some drivers to repeatedly flout traffic laws and endanger the lives of others. Such laws are designed for the common good, civility and public safety."
Meeting monthly at the grassroots level, neighbors in local residential communities lining the highway and advocacy groups are working in tandem with the Prince George's County Police Department, traffic engineers with the Maryland Department of Transportation State Highway Administration (MDOT SHA), state and local elected officials and other decision makers and stakeholders, to change the traffic safety culture along MD 210, and to facilitate infrastructure improvements at intersections, interchanges and service roads on the state-owned roadway inside Prince George's County.
"While it is encouraging that traffic fatalities declined on MD 210 from 2018 to 2019, there are still way too many bad actors on the roadway," said Ron Weiss, Indian Head Highway Area Action Council. "The question is how will we get them to change their mindsets and become responsible drivers? It is a tough, long-term problem, but solving it will save lives."
To improve road safety, the county police also regularly conducted ongoing DUI patrols and checkpoints, an effort heightened after the deaths of three siblings on Indian Head Highway in late 2018.
"It is axiomatic: most improvements in traffic safety are episodic and incremental, and in far too many cases, tragically temporal and fleeting. Time will tell. We cannot afford to rest. We must continue to move the needle downward. The old bromide is still true, 'one traffic death is too many, and one traffic crash is still one too many,'" said John B. Townsend II, AAA Mid-Atlantic's Manager of Public and Government Affairs. "The safety improvements along Indian Head Highway is proof positive that the community members and residents found the status quo unacceptable. Together, they emerged as untiring advocates for safer roadways and safer communities."
In terms of the 2019 death toll on MD 210, the Prince George's County Police Department's Collision Analysis and Reconstruction Unit reports:
•A passenger in a vehicle stopped at a red light was killed, and three other persons were injured during a multiple-vehicle crash on Indian Head Highway at Berry Road in Accokeek on President's Day. The fatal crash claiming the life of 59-year-old Juan Menendez Castillo occurred Monday night, February 18, 2019.
•On June 23, 2019 a pedestrian was hit and killed by a car on a service road of Route 210 (Indian Head Highway) and East Swan Creek Road. The decedent was identified as 43-year-old Lawrence Sedgwick of Constellation Court in Fort Washington. The service road runs parallel to the 11000 block of MD-210.
•Jose Miguel, age 34, of Rockville was killed after he was struck by a passing vehicle while he and another person were attempting to repair his broken-down truck on the shoulder of the I-295 southbound exit ramp on southbound Indian Head Highway. The incident occurred September 21, 2019.
In comparison, five fatalities occurred in 2018 on MD 210. The tragic roll call of victims on "the cruelest road" includes three young siblings, 5-year-old twins, Alexander Mejia and Rosalie Mejia, and their 13-month-old brother, Isaac Mejia. They were killed upon impact in a violent rear-end collision on Indian Head Highway on December 30, 2018. Their parents sustained severe injuries in the crash triggered by a suspected drunken driver. At least eight persons lost their lives on MD 210 in 2017. All told, as least 66 traffic fatalities occurred on MD 210 from 2007 to 2018. What is more, hundreds of crashes resulting in severe injuries have also occurred along the roadway in the southern region of the county during the period.
Indian Head Highway is the scene of almost one traffic crash per day, including 354 crashes in 2018. Patrol units with the Prince George's County Police Department District VII, commanded by Major Jeffrey D. Mitchell, and other patrols, issued more than 30,000 citations on MD 210 during 2019. Police officers made 10,649 traffic stops on the roadway last year. The automated traffic enforcement units issued 7,877 tickets to motorists caught on camera while exceeding the posted speed limit by 12 miles per hour or greater inside the 13-mile corridor. "We have continued aggressive enforcement along Indian Head Headway," states the Prince George's County Police Department. "We need the public's partnership in these efforts to keep our roadways safe. We are urging drivers to obey all driving laws and to keep your eyes on the road at all times."
Long-awaited infrastructure improvements on Indian Head Highway are in the works. Such projects will also improve traffic operations and enhance highway safety, area residents say. They laud the Maryland SHA and county planning agencies for shifting into high gear to help improve road safety, lighting, marking, for upgrading pedestrian signals and regulatory signage along the MD 210 corridor, and for making progress in constructing a new interchange at the intersection of MD 210 and Kirby Hill Road/Livingston Road. With synergy, community members and stakeholders are more determined than ever to reduce traffic-related deaths and injuries to zero along the corridor they call their "Main Street." To that end, MD 210 community forums are now held like clockwork each third Monday night of the month at the PGCPD District VII Police Station.
---
Housing, Guns Bills Priority of New Senate Committee Chairman
By RYAN E. LITTLE
Capital News Service
ANNAPOLIS, Md. (Jan. 14, 2020)—A bill that would make it illegal for landlords to discriminate against voucher holders is the top priority of the new chairman of the state's powerful Senate Judicial Proceedings Committee.
Sen. William "Will" Smith Jr., D-Montgomery, will also push to require background checks for private sales of rifles and shotguns, appropriate more funds to hire state prosecutors and address racial disparities in the state's prison population.
Smith sponsored but withdrew the housing bill last session, when the committee was led by his predecessor, Sen. Bobby Zirkin, D-Baltimore County, who resigned from the Senate in December.
If made law, the Home Act would forbid landlords in Maryland from discriminating against would-be renters paying with government housing vouchers. The legislation has yet to be filed in either chamber of the General Assembly this year but was filed in each of the last three years.
It has been opposed by housing and real estate agent associations that have said voucher programs burden landlords with more rules than they would otherwise face.
Passing the legislation addresses another of Smith's priorities.
"It's part of a comprehensive approach to reduce crime," Smith told Capital News Service, emphasizing that "providing economic opportunities" can be an effective tool to fight crime.
The 348 deaths in Baltimore in 2019 loom over the General Assembly's proceedings. Fighting crime in Baltimore is a top priority of Gov. Larry Hogan, R, and Democratic lawmakers in both chambers.
Hogan has said that he would put legislation forward that would increase penalties against offenders who use or possess illegal guns, require restitution for crime victims, and crack down on witness intimidation. Smith said he would not comment on the proposals until he had read them. Hogan has also proposed funding 25 more prosecutors.
The "long guns" legislation was another bill introduced last session that didn't make it to the governor's desk. Zirkin angered the bill's supporters by delaying a Judicial Proceedings Committee vote until late in the session. The delay ultimately meant lawmakers ran out of time to pass identical bills in both chambers.
Last year's sponsor, Sen. Susan Lee, D-Montgomery, is also a member of the committee. She said the bill—still not filed in the Senate this session—is a priority.
"We need to stand up as a state and pass it," she said.
She expects Smith to help get it through.
"He's been very good. He understands the issues," Lee said. "I'm very, very happy he is our leadership."
In his first committee meeting Thursday, Smith said he wanted members from both parties to come to a consensus, or he would at least "ensure that everyone had their fair say." Keeping things non-partisan was "one thing that Bobby got right," he said.
Smith's commitment to bipartisanship is important to Sen. Michael Hough, R-Frederick and Carroll, a member of the Judicial Proceedings Committee since 2015.
"We have to be," Hough said. "We are the one committee that, if we make a mistake, it can mean people's lives."
Smith made news last session when he was deployed to Afghanistan 10 days before the end of the 2019 session. He is a lieutenant in the United States Navy Reserve. He returned home in October.
A November report from the Justice Policy Institute found that black people make up 71% of the state's prison population—the highest disparity in the nation and more than double the national average of 32%. Black people made up 31% of the state's 2018 population, according to estimates from the U.S. Census Bureau.
"That should raise eyebrows," Smith said. "And no one is talking about it."