October 22 - October 28, 2020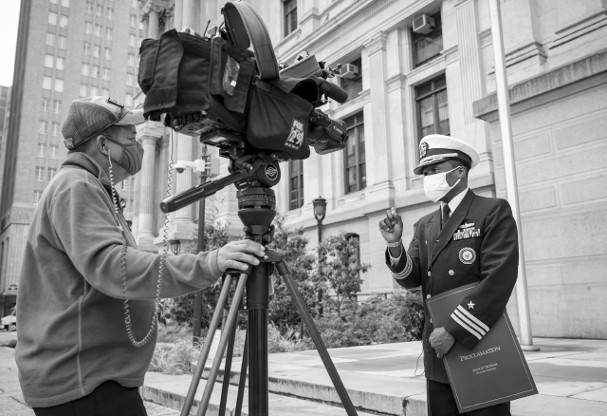 Photo credit: U.S. Navy photo by Mass Communication Specialist 1st Class Diana Quinlan/Released
Hyattsville Native Speaks to a News Reporter During A Flag Raising Ceremony at NTAG Philadelphia
01013-N-WF272-1085 PHILADELPHIA (Oct. 13, 2020) Cmdr. Kemi Elebute, from Hyattsville, Md., commanding officer of Navy Talent Acquisition Group Philadelphia, speaks to a News Philadelphia FOX29 reporter during a Navy flag raising ceremony as part of the Navy's 245th birthday celebration held in front of Philadelphia City Hall. NTAG Philadelphia encompasses regions of Pennsylvania, New Jersey, Delaware, Maryland and West Virginia, providing recruiting services from more than 30 talent acquisition sites with the overall goal of attracting the highest quality candidates to ensure the ongoing success of America's Navy.
---
MVLS Volunteers in Prince George's County Provide Pro Bono Legal Help for Residents Experiencing Financial Hardships
By PRESS OFFICER
MVLS
BALTIMORE (October 13, 2020)—Maryland Volunteer Lawyers Service (MVLS), the largest provider of pro bono civil legal services to Marylanders experiencing financial hardships, announced today that in the past 12 months Prince George's county-residents received free legal services from MVLS volunteers to overcome their civil legal challenges. Below is a full list of volunteers and the total number of cases they accepted from MVLS.
Moges Abebe, Esq. - 1 case
Sarah E. Adkisson, Esq. - 7 cases
Genevieve A. Augustin, Esq. - 2 cases
Richard O. Bagudu, Esq. - 1 case
Mayabanza Bangudi, Esq. - 2 cases
Glyn W. Cashwell, Esq. - 1 case
Denisha D. Daughtry, Esq. - 1 case
Shadawn N. Deas, Esq. - 9 cases
Annette DeCesaris, Esq. - 3 cases
Kathleen L. DeNobile, Esq. - 1 case
June W. Dillard, Esq. - 4 cases
Anne S. Gold-Rand, Esq. - 13 cases
Leta M. Jackson, Esq. - 6 cases
Ibrahim Koroma, CPA - 1 case
Philip P. Kuljurgis, Esq. - 2 cases
Geralyn R. Lawrence, Esq. - 1 case
Nicole Lemon, Esq. - 8 cases
Margaret Maguire, EA - 1 case
Sean G. McGuern, Esq. - 16 cases
Steven B. Mudd, Esq. - 21 cases
Regina W. Njogu, Esq. - 4 cases
Jumoke F. Oladapo, Esq. - 2 cases
Danielle Ann-Marie Parkinson, Esq. - 1 case
John Robotham, Esq. - 1 case
Lanet R. Scott, Esq. - 1 case
Krystil E. Smith, Esq. - 1 case
Mark O. Sobo, Esq. - 1 case
Raquel White, Esq. - 4 cases
Cameron A. Williams, Esq. - 1 case
Juanita Wills, Esq. - 2 cases
In the past year, 602 MVLS volunteers across the state assisted with 4,459 cases through individual representation or assistance at a clinic. Our volunteers donated 15,243 hours of pro bono legal services, which is valued at more than $6,097,440. MVLS's network of volunteers provides services for criminal record relief and expungements, divorce and child custody proceedings and other family law matters, landlord-tenant disputes, foreclosure, bankruptcy, estate planning, deed issues, and tax controversy issues as well as many other civil legal challenges.
"We are extremely honored to have a network of volunteer attorneys across Maryland who give their time and expertise to help the less fortunate fight for their families, homes and livelihoods through the legal system," said Susan Francis, executive director, Maryland Volunteer Lawyers Service. "The current pandemic is giving rise to increased legal needs—from income tax controversies to landlord/tenant issues—so we are asking all attorneys in Maryland to take a pro bono case. You can pledge to take a case on our website at mvlslaw.org. The need is real, and we need your help now."
MVLS will honor its MVLS volunteers for their commitment to providing pro bono legal services at its annual Celebrate Pro Bono celebration October 25-31, 2020. Due to the COVID-19 pandemic restrictions, MVLS transitioned its annual in-person Celebrate Pro Bono Awards ceremony to a virtual celebration. To learn more, please visit http://www.mvlslaw.org/cpb2020.
If you know someone in need of free civil legal services, please visit www.mvlslaw.org or call MVLS's intake line at 410-547-6537 or 1-800-510-0050 Monday through Thursday 9 a.m. to 12 p.m. If you're an attorney, CPA, or enrolled agent interested in volunteering, please visit MVLS's Pro Bono Portal at http://www.mvlslaw.org/probonoportal/ to review available cases.
For nearly 40 years, Maryland Volunteer Lawyers Service (MVLS) has been serving Marylanders facing financial hardships by offering free legal services and full representation for their civil legal cases. MVLS matches clients with volunteer lawyers and staff attorneys who represent them in a wide range of consumer finance, family and housing situations, including foreclosure, bankruptcy, and income tax disputes, estate planning, divorce/custody, deed changes, and criminal record expungements. MVLS advocates for racial equity in Maryland's legal system and works in concert with community partners to move closer to achieving this goal for future generations. Visit www.mvlslaw.org.
---
Prince George's County Is Proud to Support National Disability Employment Awareness Month
Department of Family Services Hosts Disability Sensitivity Training and Thanks Supportive Employment Agencies for Their Commitment to Working with Persons with Disabilities
By JERMONI DOWD
PGC Dept of Family Services
CAMP SPRINGS, Md. (October 14, 2020)—Held each October, National Disability Employment Awareness Month (NDEAM) aims to educate about disability employment issues and celebrate the many and varied contributions of America's workers with disabilities. This year's theme, "INCREASING ACCESS AND OPPORTUNITY," celebrates the ingenuity people with disabilities bring to America's workplaces.
NDEAM is led by the U.S. Department of Labor's Office of Disability Employment Policy, but its true spirit lies in the many observances held at the grassroots level across the nation every year. This year marks not only the 75th observance of NDEAM, but also the 30th anniversary of the Americans with Disabilities Act (ADA).
Reflecting this year's theme, the Department of Family Services kicked off the NDEAM celebration by hosting a Disability Sensitivity training webinar on October 1, 2020.
"As our workforce continues to grow, so has the number of employees and clients with differing abilities," said Elana Belon-Butler, Department of Family Services Director. "Through this training we educated participants and provided them with the tools to communicate with respect and sensitivity when interacting with persons with differing abilities."
The Department of Family Service's disability apprenticeship program, Project HIRE, would also like to recognize the following Supportive Employment agencies for their commitment and dedication towards ensuring that persons with disabilities in Prince George's County have a positive work experience where they can grow both professionally and personally:
• Cerenity, Inc.
• EBED, Inc.
• Full Citizenship of Maryland
• Maryland Community Connection
• Maryland State Department of Education Division of Rehabilitation Service (DORS)
• Melwood
• New Horizons
• The ARC of Prince George's County
• Sunrise Community
• Work Opportunities Unlimited
The NDEAM celebration continues with the Job Development 3-part Training series for persons with disabilities on November 3, 10, and 17, 2020. Participants will learn how to create a resume and cover letter, how to prepare for a job interview, and how to get job ready once you land a job. To register, please contact Valerie Berkeley at VFBerkeley@co.pg.md.us.
For more information on National Disability Employment Awareness Month, visit dol.gov/odep/. If you are an individual with a disability and would like to participate in County-sponsored services, programs, or activities, please call the Department of Family Services, Aging and Disability Resource Center at 301-265-8450 or Maryland Relay 711.
History of National Disability Employment Awareness Month:
In 1945, Congress enacted a law declaring the first week in October, each year, "National Employ the Physically Handicapped Week." In 1962, the word "physically" was removed to acknowledge the employment needs and contributions of individuals with all types of disabilities. In 1988, Congress expanded the week to a month and changed the name to National Disability Employment Awareness Month.
---
It Is an Unforeseen Tragedy—Pedestrian Deaths Spiking Along Indian Head Highway Despite Drop in Driving Amid Covid-19
Ahead of National Pedestrian Safety Month, 7 persons were killed on MD 210 so far in 2020
By PRESS OFFICER
AAA Mid-Atlantic
WASHINGTON (October 13, 2020)––In a year upended by the coronavirus pandemic and a summer of social unrest, it is an unforeseen tragedy. Traffic deaths, overwhelmingly involving pedestrians, are spiking along Indian Head Highway (Maryland 210) in 2020, although fewer cars are traversing the highway this year.
As the carnage continues to unfold on Maryland 210, at least seven persons lost their lives in crashes on the hard-luck roadway to date. In a year like no other due to the virus, it is an unexpected development on a roadway that mercifully experienced a precipitous drop in traffic deaths in 2019.
Heading into the tenth month of this calendar year, more than the double the number of people have already perished on the star-crossed roadway, then in all of last year. That tragic tally includes five people on foot, "vulnerable highway users," and two car deaths.
Five of those mortalities—all pedestrians—occurred within a two month period. This compares to only three fatalities along the roadway in 2019. Of the three demises in traffic on Indian Head Highway in 2019, two were foot-travelers, or 66.6 percent or two thirds.
As the fatal pedestrian toll rises on Maryland 210, October is declared as National Pedestrian Safety Month, for the first time. Perilously, pedestrian deaths are up 150% on this arterial this year, as of October. Prince George's County is a hot spot for lethal pedestrian episodes and an epicenter for traffic deaths. The County topped the metro area in all traffic deaths—112 persons—in 2019, 36.6 percent of the regional total.
A third of the region's pedestrian deaths befell the County in 2019. That year, 30 pedestrians perished across the County, including two souls on MD 210. Another 480 pedestrians were injured on roads countywide. In 2019, 92 pedestrians perished in the region: 17 in Fairfax County; 14 in Montgomery County; and 12 in the District
"Unfortunately, we are witnessing a tragic spate of traffic fatalities and deadly pedestrian crashes along Indian Head Highway (Maryland 210) in the year 2020," said John B. Townsend II, AAA Mid-Atlantic's Manager of Public and Government Affairs. "Ominously, this time around, pedestrian fatalities comprise 71.4 percent of traffic deaths along this arterial, so far in 2020. This deathly scenario 'reared its ugly head' amid stay-at-home and social distancing protocols induced by coronavirus mitigation efforts, and the subsequent phased re-opening of the Prince George's County economy and the regional economy."
Indian Head Highway has emerged as the singular "road to perdition," or one of the most dangerous arterials, in the Washington metro area and across Maryland. Nearly 80 persons have lost their lives on Maryland 210 over the course of the past dozen years or so.
"Road casualties along this major corridor dropped to its lowest level in a decade in 2019," noted Ron Weiss, Indian Head Highway Area Action Council. "This year, however, loss of life is heartbreakingly up 133.3 percent along Maryland 210."
With the big drop in traffic on the roadway during the pandemic, residents along Maryland 210, and traffic safety advocates, were hopeful of a sea-change. They were expecting fewer traffic deaths this year. Instead, traffic deaths spiked, with five pedestrians struck down and killed since the first Sunday in August.
• A 56-year-old pedestrian was killed in a hit-and-run crash while out walking along Indian Head Highway, around 9:30 p.m. October 4, 2020. He was not in or near the crosswalk at the time he was struck by a vehicle that fled the scene, the police said. The incident took place that Sunday night near the intersection of Indian Head Highway and Salisbury Road in Oxon Hill.
• A 39-year-old pedestrian lost his life on Indian Head Highway, after reportedly attempting to cross the roadway mid-block, the night of September 4, 2020. The driver of the striking vehicle remained on the scene. This tragic incident, which occurred at 10:45 p.m., marked the second pedestrian death within a week on Indian Head Highway, and the third pedestrian fatality on the roadway within a two week period.
• A 38-year-old woman, with no fixed address, afoot in Indian Head Highway was killed by a vehicle on August 31, around 10:45 p.m. Police investigators tried to determine why the victim was in the road when fatally struck between Livingston Road and Bald Eagle Road. The driver remained on the scene.
• On August 24, Osadolar Omozee, a 16-year-old standout student-athlete, at Woodbridge High School, was killed in fatal collisions on Maryland 210 at Palmer Road. He was reportedly struck by two vehicles. Police responded to the crash scene at 9:45 p.m. Both drivers remained on the scene.
• A 60-year-old Virginia man perished early Sunday morning, August 2, while strolling in the 17000 block of Maryland 210 north in Accokeek. Both drivers were still on the scene as a police investigation revealed he wasn't in a crosswalk when struck by two vehicles in the traffic lanes after midnight, 12:55 a.m.
Without a "suit of armor," pedestrians are most at risk in traffic, as well as motorcyclists, school children, seniors, and cyclists, notes the National Institutes of Health (NIH). During 2019, "99 people were killed while out walking and biking in metropolitan Washington," reports the National Capital Region Transportation Planning Board. "This accounts for nearly one third of all traffic fatalities across the region."
"Once more, Indian Head Highway is recapturing its telling sobriquet 'one of the deadliest arterials' in the entire region. This year it seems as if it is full of 'landmines' rigged for pedestrian fatalities," said Rev. Dr. Robert L. Screen, Maryland 210 Traffic Safety Committee. "Long before the pandemic, many drivers along Maryland 210 were prone to dangerous driving and excessive speeding."
Nowadays, a triad of speed cameras on MD 210 are capturing drivers zipping at 143 mph and over 161 mph.
Episodes of Egregious Speeding along Maryland 210
from January 1–Mid-September 2020
Excessive Speeds Clocked by Tally of Drivers
Speed Cameras Captured by Speed Cameras
More than 100 miles per hour 414 motorists
80–100 miles per hour 495 motorists
80–90 miles per hour 1,400 motorists
70–80 miles per hour More than 10,000 motorists
Despite a big drop-off in the number of cars and traffic along Maryland 210 in the wake of pandemic, speed cameras stationed along the roadway generated more than 18,000 photo-enforced tickets, carrying a face value of $720,000 in fines, in the period from January through September. Episodes of egregious speeding cropped up on Indian Head during the early stages of the on-going coronavirus pandemic, which continues into fall and winter. Hundreds of errant drivers captured by speed cameras in 2020 were repeat violators.
From January through September police officers patrolling Indian Head Highway issued 3,157 citations to dangerous drivers and traffic scofflaws for manifold traffic infractions and/or impaired driving. Police-issued citations were down 80 percent, compared to the same period a year earlier. In any given prior year, Indian Head Highway (Maryland 210) ranks as one of the most congested arterials (non-freeway) in the entire state of Maryland during peak travel periods, and during both the a.m. and p.m. rush hours.
---