March 14 - March 20, 2019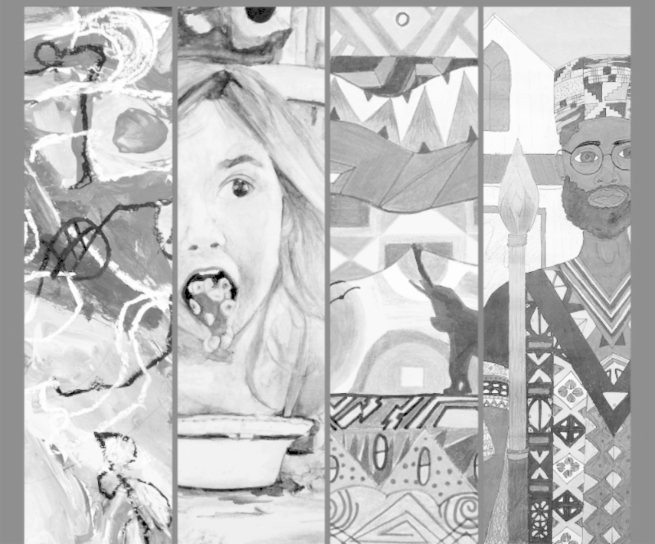 Prince George's County Public Schools Student Art Exhibits
Artwork created by Prince Georges' County Public Schools' students will be on display in two locations this March and April. All are encouraged to visit the exhibitions and witness the wealth of talent and creativity in Prince George's County! Dates and Locations: North County, March 22–April 2, 2019, Opening Reception: March 28, 6:30–8 p.m., The Clarice Smith Performing Arts Center, University of Maryland, 8270 Alumni Dr, College Park, MD 20742; South County, April 1–April 11, 2019, Opening Reception: April 4, 6:30–8 p.m., Harmony Hall Arts Center, 10701 Livingston Rd, Fort Washington, MD 20744.
—R. Joshua Reynolds, PGAHC
Interim CEO Goldson Relaunches Adopt-A-School Initiative at State of The Education System Luncheon
Dr. Monica Goldson urges business community to adopt every school by fall
By OFFICE OF COMMUNICATIONS
Prince George's County Public Schools
UPPER MARLBORO, Md. (March 6, 2019)—Today, Dr. Monica Goldson, Interim Chief Executive Officer, unveiled the Adopt-A-School engagement initiative while speaking at the 2019 State of the Education System luncheon hosted by the Greater Prince George's Business Roundtable. The Adopt-A-School program calls on business to provide in-kind or financial resources to enhance local schools and provide ladders to success for students.
Under Dr. Goldson's leadership, PGCPS wants to strengthen its relationship with the local business community to improve student and community outcomes. Approximately 90 schools do not have current partnerships with business, nonprofit or faith-based organizations.
"There are over 130,000 students in our school system and every one of them can benefit from your expertise and generosity," said Dr. Goldson. "This is why we encourage you to adopt multiple schools to maximize the impact. My challenge to the business community is to make sure that every school—from elementary to high school—is adopted by the start of next school year."
The Adopt-a-School program is designed to align school needs with desired community outcomes and strengthen the bond with the local business community.
The initiative requests three specific commitments:
College and Career Exposure: Showcasing college or career pathways through field trips, career days or mentorship sessions.
Financial Support: Contribute at least $5,000 through a direct contribution or in-kind services based on areas of expertise.
Volunteer Service: Participate in at least one service activity at an adopted school.
MDOT SHA to Hold Six Public Workshops on Alternatives for the I-495 & I-270 Managed Lanes Study
By COMMUNICATIONS OFFICER
MDOT SHA
Baltimore (March 7, 2019)—The Maryland Department of Transportation State Highway Administration (MDOT SHA) will hold its next round of public workshops in April for the I-495 & I-270 Managed Lanes Study, which considers improvements along two of the state's most congested highways: I-495 (Capital Beltway) and I-270 (Dwight D. Eisenhower Memorial Highway).
Multiple studies over the last decade have shown that the National Capital Region is one of the most congested in the nation, and Marylanders face the second highest commuting times in the country. On average, travelers navigate between 7 and 10 hours of daily traffic congestion on I-270 and I-495.
To address this congestion, the Federal Highway Administration (FHWA) and the Maryland Department of Transportation State Highway Administration (MDOT SHA) are completing the I-495 & I-270 Managed Lanes Study. This study aims to provide a solution that addresses congestion, improves trip reliability, and enhances existing and planned mobility and connectivity for other modes of travel, including transit. The study begins on I-495 south of the George Washington Memorial Parkway in Virginia, includes addressing the serious regional bottleneck at the American Legion Bridge and extends to west of MD 5. The study also includes I-270 from I-495 to I-370.
Since presenting the preliminary range of alternatives in July 2018, MDOT SHA completed an initial screening that reduced the preliminary alternatives to seven recommended screened alternatives. Public workshops are being held to present the traffic, environmental, and financial analyses for the recommended screened alternatives, along with the recommendations for the alternatives to be retained for detailed study in the Draft Environmental Impact Statement.
The upcoming April 2019 public workshops will give the public another opportunity to provide input to MDOT SHA, specifically on the alternatives to be retained for detailed study. In response to public feedback, MDOT SHA has added more public workshop dates and times, including opportunities for the public to meet on Saturdays in both Montgomery and Prince George's counties.
Public workshops will be held at the following locations and times in Montgomery and Prince George's counties:
Thursday, April 11, 2019
6:30–8:30 p.m.
Prince George's Sports and Learning Complex
8001 Sheriff Road
Landover, MD 20785
Saturday, April 13, 2019
10:00 a.m.–12:00 p.m.
Pyle Middle School
6311 Wilson Lane
Bethesda, MD 20817
Tuesday, April 23, 2019
6:30–8:30 p.m.
Eleanor Roosevelt High School
7601 Hanover Parkway
Greenbelt, MD 20770
Wednesday, April 24, 2019
6:30–8:30 p.m.
Eastern Middle School
300 University Blvd., East
Silver Spring, MD 20901
Thursday, April 25, 2019
6:30–8:30 p.m.
Thomas Wootton High School
2100 Wootton Parkway
Rockville, MD 20850
Saturday, April 27, 2019
10:00 a.m.–12:00 p.m.
Suitland Community Center
5600 Regency Lane
Suitland-Silver Hill, MD 20746
The workshop materials will include: informational displays; handouts; and interactive and hard copy mapping. Staff will be available to answer questions. During the week, two presentations will occur at 6:30 p.m. and 7:30 p.m. On Saturday, two presentations will occur at 10:00 a.m. and 11:00 a.m. Presentations are the same and will provide an overview of where we are today, with time for questions and answers.
Contact Information: The public also is encouraged to comment online at www.495-270-P3.com, via email at 495-270-P3@sha.state.md.us or by hard copy during the workshops. Handwritten comments will be received at the public workshops or verbal comments may be provided to a court reporter. Comments from the meeting can also be mailed to:
I-495 and I-270 P3 Office
Maryland Department of Transportation State Highway Administration
707 North Calvert St., Mail Stop P-601
Baltimore MD 21202
Request For Assistance: The Maryland Relay Service can assist teletype users at 7-1-1. People requiring assistance to participate, such as an interpreter for hearing/speech difficulties or assistance with the English language, should contact the project toll-free number at 833-858-5960 by April 1, 2019. For more information, please visit www.495-270-P3.com.
Bill Eliminates Subjectivity Surrounding Threats of Mass Violence
By JARED BEINART
Capital News Service
ANNAPOLIS, Md. (March 7, 2019)—Emergency legislation that would streamline penalties for those convicted of threats of mass violence—brought about by an increase in threats of mass shootings made in recent years—has passed the Maryland Senate and is advancing in the state House.
This new legislation, which would simplify the state's ability to prosecute perpetrators threatening to commit an act of mass violence, was prompted by attacks like the Stoneman Douglas High School shooting in Florida last year and threats such as those made to the University of Maryland, College Park in 2012.
Regardless of whether it is carried out, threatening to commit a crime of violence is only prosecuted under the state's current criminal law if five or more people are in reasonable fear for their safety, and if a threat caused them to evacuate, move to or remain in a "dwelling, storehouse or public place."
"As prosecutors, we have to identify the five people (and) confirm they were in reasonable fear, which means the police have to do that investigation," Andrew Rappaport, states attorney for Calvert County, said during a Senate bill hearing on Feb. 7. "With social media, which is the vehicle for many of these threats, it is difficult to identify the five specific people."
Senate bill 139, cross-filed with House bill 420, would eliminate the need to investigate a threats' potential danger but rather prosecute threats that would—if carried out—immediately put five or more people in substantial risk of their safety, said bill sponsor Sen. Susan Lee, D-Montgomery.
The Senate passed its bill last month and sent it to the House for review. The House version of the bill advanced after a vote on the chamber floor on Thursday.
Under current law, those convicted of threatening to commit an act of violence are guilty of a misdemeanor and subject to 10 years in prison with a fine of up to $10,000.
This bill would not alter the penalty for the crime, just the circumstances under which someone can be convicted of it.
"Would I like it to be a felony? Yes. (Do) I think it could be passed as a felony? No," said Maryland State's
Attorneys' Coordinator Steve Kroll during a House bill hearing on Feb. 19. "This is one bill I'll say I'll take a misdemeanor happily."
The bill would redefine the elements of a mass violence threat to be more in line with components of an arson threat, according to Lee.
Lee emphasized that while both crimes have a 10-year misdemeanor penalty, only a threat of mass violence requires a subjective proof-of-fear element, which makes it difficult for officials to prosecute.
"If I say I am going to set off a pipe bomb at a school, I could be charged with threat of arson," Rappaport said. "But if I say that I am going to shoot up the school, there is no charge as it currently sits."
According to Rappaport, as the law currently stands, his threat does not immediately identify five or more people at potential risk, so he would not be charged with making a threat of mass violence.
Within the first month following the shooting in Parkland, Florida, last year, U.S. schools experienced an average of 59.4 threats and incidents of violence per school day.
This is a 300 percent increase from the average prior to the shooting, according to a report by The Educator's School Safety Network.
The report notes that threats were delivered via social media 45.6 percent of the time following the Parkland incident.
In 2012, a student at the University of Maryland, College Park made an online threat of mass violence directed toward the school and students, Lee said during the hearing.
Lee acknowledged that this incident brought forth the legislation since only a few students saw the messages online at the time, making it difficult to fully prosecute under current law.
The student pleaded guilty to two out of eight charges, including disturbing a school and telephone misuse, according to Maryland Judiciary case search report.
The bill was introduced and passed in the Senate during the 2018 regular session, however, it was too late in the session for it to go through the House, said House bill sponsor Delegate Charles Sydnor, D-Baltimore County.
The legislation was introduced as an emergency bill this session, which means it would immediately go into effect if it passes through the House and Senate.