June 2 - June 8, 2016
Click Here for 2016 Tax Sale Listings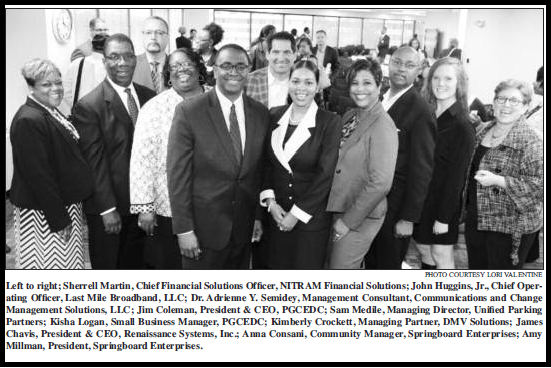 EDC's "Dolphin Tank" Companies Give Perfect Pitch
Springboard Helps County Start-Ups Become the Next Fortune 500 in Prince George's County
By Lori Valentine
PGCEDC
Largo, MD—Today, more than 75 local entrepreneurs were given the unique opportunity to get their feet wet at the Prince George's County Economic Development Corporation's first "Dolphin Tank and Networking Event," hosted in partnership with Springboard Enterprises and the Maryland Technology Development Corporation. Five companies from the Economic Development Corporation Accelerator Program jumped in to pitch their business to a panel of seasoned entrepreneurs, investors and influencers, all dedicated to building high-growth companies without the feeding frenzy of a shark. Panelists and attendees, in turn, shared what they liked about the company pitch, provided feedback on what the company may want to think about as its next steps, and made suggestions about who the company should connect with to improve its business model and grow.
"There's nothing worse than having a great idea and nobody picking up on it because you don't know how to get their attention," said EDC President and CEO Jim Coleman. "Sometimes, entrepreneurs don't know what they don't know and need help in getting on the right track. There is no time for cooling off in Prince George's County these days. There are too many people looking for what your business is selling for you to not brag about your company, because when you are successful, the County is successful and jobs are plentiful. It's just that simple."
For more than a decade, Springboard has served as a nationwide platform for recruiting, coaching, showcasing, promoting and supporting women entrepreneurs who want to grow their companies exponentially. The Dolphin Tank is a supportive, vision-expanding experience that allows entrepreneurs to get real-time advice from knowledgeable industry experts who can help them change their message to get the attention their business needs and deserves. Combined with the networking component, the strategic connections made at today's event have the potential to catapult these businesses forward to even greater success.
"The Economic Development Corporation is the biggest cheerleader and champion that I have seen for small businesses around the country," said Amy Millman, President of Springboard Enterprises. "When companies are in the throes of building their business, they are so involved in all of the details that they forget the most important reason of why they started the business - to make them successful. We use these programs to remind these amazing entrepreneurs how incredibly valuable what they are doing is, how expert they are, and letting them know why they will be successful. If we are nothing more than cheerleaders, I think we did our job."
The EDC Accelerator is a program that supports Prince George's County startups that have high-growth potential and are developing innovative products or services. Through a combination of low overhead, one-on-one business consulting, mentorship, and exclusive networking activities, the EDC Accelerator works to take a company from startup to success within six months.
"I am grateful to Springboard for bringing the 'Dolphin Tank' concept to the EDC's Accelerator clients. It is important for them to be able to clearly articulate what they do in order to sell their services to others," said Kisha Logan, EDC Small Business Services Manager. "Our job is to make sure that our local companies aren't afraid to jump from a small pond into the ocean. Forums like Dolphin Tank are great for giving them the confidence and the edge they need in a friendly, supportive atmosphere."
The presenting companies, DMV Solutions, LLC, NITRAM Financial Solutions, Communications and Change Management Solutions, LLC, Renaissance Systems, Inc., and Last Mile Broadband, LLC pitched their services to panelists as well as the other businesses attending the Dolphin Tank; and the attendees were not shy with their beneficial feedback.
"I think this was a great event. All of the attendees had something to gain from the comments from the panel as well as the presentations," said Kenneth Clark with Peake Financial Group. "It has allowed me to rethink how I am pitching my own company with respect to clients as well as businesses."
Presenters were encouraged to begin their pitch with a call to action - what they want from the audience, and state their case with clarity and simplicity, no matter how complicated.
"This Dolphin Tank was an awesome experience," said James Chavis, President and CEO of Renaissance Systems, Inc. in Upper Marlboro. "I love the recommendations and EDC has been extremely helpful in getting the word out about our business and getting it off the ground. I'm very thankful."
"It was exciting to present my company and my idea to everyone and get great feedback as well as recommendations and opportunities," said Sherrell Martin, Chief Financial Solutions Officer of NITRAM Financial Solutions in National Harbor, MD. "I was pleasantly surprised by the amount of people today telling me to come see them so that we can connect. The EDC's networking events and small business manager, Kisha Logan, have been a great help in getting us ready to move out of the nest."
Today's "Dolphin Tank" was sponsored by a grant from the Maryland Technology Development Corporation. For more information on the EDC Accelerator Program or workshops and forums to support small businesses, contact Kisha Logan, EDC Small Business Services Manager at 301-583-4650 or kvlogan@co.pg.md.us.
International High School Educator Named 2016 Christa McAuliffe Outstanding Teacher
By Press Officer
PGCCPS
UPPER MARLBORO, MD—Christine Gilliard-Arthur, founding physical education and health teacher at the International High School at Langley Park (IHSLP), was recently selected as recipient of the 2016 Christa McAuliffe Outstanding Teacher Award. Gilliard-Arthur was chosen for this honor by a committee of her peers from Prince George's County Public Schools (PGCPS).
"Ms. Gilliard-Arthur is a passionate educator who is dedicated to ensuring her students' success," said Dr. Kevin M. Maxwell, Chief Executive Officer for PGCPS. "Students at her school are not only learning English for the first time—many have left their homes to avoid gang violence and a life of poverty. Ms. Gilliard-Arthur's ability to engage and empower these students embodies all that our Christa McAuliffe award stands for."
The Prince George's County Board of Education and school system administrators will honor Gilliard-Arthur during the annual Employee Recognition Dinner on May 26 at Martin's Crosswinds in Greenbelt. In addition, her name will be added to the Christa McAuliffe award plaque displayed in the Board Meeting Room at the Sasscer Administration Building in Upper Marlboro.
Gilliard-Arthur has 16 years of teaching experience, 13 of them spent sharing her passion for health and physical education with students in Prince George's County public schools. Besides teaching health and physical education at IHSLP, she also serves as athletic director, soccer coach, and student Success Coach. School staff nominated her for the award not only for her effectiveness as an educator, but also for her leadership, creativity, and collaboration skills; excellent rapport with families; and advocacy for students.
"Ms. Gilliard-Arthur is, more than anything, an inspiring top-notch educator who will go the extra mile for all of our students," said her school's founding principal Carlos M. Beato. "Her dedication to the classroom, the supports she gives our scholars beyond the classroom, and her ability to be reflective are just some of the things that make her an outstanding educator."
Prior to becoming a founding teacher at the new International High School at Langley Park last fall, she served students for five years at Gladys Noon Spellman Elementary School, where she was instrumental in the school earning the National Healthy School Programs Bronze Status. Additionally, Spellman was named a Maryland State Department of Education (MSDE) Physical Education Demonstration School, the first and only school recognized as such in Prince George's County.
Gilliard-Arthur is a lifelong learner who also shares her talents as a mentor teacher. She earned a bachelor's degree in kinesiology/physical education from the University of Maryland, College Park. She is currently working on her master's degree in educational leadership from Grand Canyon University.
The Christa McAuliffe Award honors an outstanding educator based on competitive standards of excellence established by other teachers. The award is a tribute to McAuliffe, America's Teacher-In-Space, who was lost in the January 1986 explosion of the Space Shuttle Challenger. McAuliffe taught in Prince George's County from 1971 to 1978.
The following teachers joined Gilliard-Arthur as nominees for this year's award:
• Wanda Dixon, Springhill Lake ES
• Lauren Duewer, Rockledge ES
• Maria Frontanes, Springhill Lake ES
• Dana Olfus, Benjamin Tasker MS
• Karuna Skariah, Robert Goddard Montessori
• Shana Sterkin, Springhill Lake ES
• Nancy Stewart, Glenarden Woods ES
• Sylvia Watkins, Phyllis E. Williams Spanish Immersion
• Priscilla Zanghi, Ridgecrest ES
• Heide Zeiszler, Ridgecrest ES
County Officials Honor PG County Youth CareerConnect Program 1st Graduating Class
By Lori Valentine
PGCEDC
Largo, MD—Yesterday, County Executive Rushern Baker and Prince George's County Economic Development Corporation (EDC) President and CEO Jim Coleman joined officials from the Prince George's County Public Schools and Prince George's County Youth CareerConnect Program (YCC) business partners in honoring the first graduating class of the YCC at the Prince George's Community College. The Youth CareerConnect Program is a part of President Obama's STEM initiative geared toward providing employers with a skilled workforce in healthcare and information technology immediately following high school. Parents, friends and local officials came out to the Senior Celebration to highlight the accomplishments of the 44 seniors who participated in the YCC at Bladensburg and Fairmont Heights High Schools.
"What a great time to graduate! The YCC experience that these honor roll students have received is truly a game changer in their lives," said Coleman. "The country is looking for dynamic young people like these in the fields of healthcare and information technology. Those are some of the top industry sectors the County is targeting to create the workforce of the future. They are the 'best of the best' and are going into important industries that will give them a unique opportunity to alter their lives for generations to come. Having a hand up in these high-demand, high wage careers is exactly how we will keep Prince George's County moving forward. We are excited about this next generation of multi-millionaires coming out of Prince George's County Public Schools. Our future is in good hands."
County Executive Baker also encouraged the graduates to travel as far as their imaginations could take them, and told them that they are an essential part of the Prince George's County workforce pipeline.
"President Obama announced the YCC grant at Bladensburg High School right after our Administration launched its Transforming Neighborhoods Initiative which addresses critical needs in areas of the County that were sometimes overlooked. The timing was perfect for the Administration and this program to get more involved in education," said County Executive Baker. "I congratulate the seniors as they move along in their careers. We are proud of the hard work of the students and proud of the partners who have invested in this program and in Prince George's County. This is one of many steps we are taking to move Prince George's County forward."
The EDC manages the $7 million grant the County received for this program and is pleased to be working with our business partners, Lockheed Martin and Dimensions Healthcare Systems. The EDC also partners with the Prince George's County Public School System, Ashlin Urban Institute, Hillside Work Scholarship Connection, Latin American Youth Center (LAYC), Prince George's County Community College and The Maryland Center at Bowie State University.
"Tonight we were able to celebrate some of our rising stars that have graduated from the Prince George's County Youth CareerConnect Program. All of them are going to college or serving in the military, and we couldn't be more proud of them," said Yolanda Tully, EDC Youth CareerConnect Program Director. "Throughout their high school career, the students have been learning and building on their skills in the health and IT field. Some have extensive certifications in nursing and IT; skills that are competitive and in demand in today's workforce. These are the future leaders that will take Prince George's County by storm."
This year marks the second school year of the YCC; a four-year STEM program for Prince George's County Public School high school Career Academy Pathways. The three schools participating in the program are Bladensburg, Potomac and Fairmont Heights. The program focuses on health, bio-science and information technology and has over 440 students enrolled to date. Each of the graduating seniors, a majority of whom are honors students, have been accepted by the top colleges in the country, including the University of Pennsylvania, Georgetown University, George Washington University and Howard University.
"I was undecided about my career path and couldn't decide whether I should go into engineering, computer science or be a medical doctor," said Gabriel Aboragadi, from Bladensburg High School and attending the University of Maryland with a full Gates Foundation Scholarship. "Because of the YCC program, I was able to have internships and explore all types of medical and IT fields. This helped me decide to go into the medical field and eventually pursue my Ph.D."
Companies interested in partnering with the Prince George's County Youth CareerConnect Program for summer job opportunities, internships or mentoring contact Yolanda Tully, YCC Program Director at 301-618-8400 or yttully@co.pg.md.us.
$30K Grant Award Supports PGCPS Arts Integration Efforts
By Press Officer
PGCPS
UPPER MARLBORO, MD—Prince George's County Public Schools (PGCPS) was recently awarded a $30,000 Art Works grant from the National Endowment for the Arts (NEA) that will support district wide efforts to integrate the arts throughout the curriculum.
"We know that arts integration engages students and raises academic achievement," said Dr. Kevin M. Maxwell, Chief Executive Officer for PGCPS. "It is one of the many ways we are working to enrich our curriculum and expand opportunities for students to tap into their creativity."
This year, NEA awarded more than $82 million in Art Works grant awards for arts projects nationwide. The Art Works category supports the creation of work and presentation of both new and existing work, lifelong learning in the arts, and public engagement with the arts through 13 arts disciplines or fields.
PGCPS plans to use this grant award to support the Teaching Artist Institute, an arts integration professional development project for teachers. Through a summer institute, periodic one-day sessions throughout the school year, and collaboration with master teaching artists, teachers will learn to integrate the arts into their classrooms.
Local partnerships with the Arts Education in Maryland Schools Alliance and Young Audiences of Maryland will support the project by providing experienced curriculum specialists to coach and lead workshops.
"The arts are all around us, enhancing our lives in ways both subtle and obvious, expected and unexpected," said NEA Chairman Jane Chu. "Supporting projects like this one in Prince George's County Public Schools offers more opportunities to engage in the arts every day."
For details about all NEA programs and grants, visit www.arts.gov.
Governor Larry Hogan Signs 144 Bills into Law
By Press Officer
Office of the Governor
ANNAPOLIS, MD—Governor Larry Hogan was joined by Senate President Mike Miller and Speaker of the House Michael E. Busch for a bill signing ceremony at the State House in Annapolis, which included a number of bills aimed at protecting Maryland citizens and modernizing Maryland's criminal justice system. In total, the governor signed 144 bills into law.
Among the bills signed today was SB 945, more commonly known as Noah's Law, which will require ignition interlock devices for anyone convicted of drunk driving in the state of Maryland. The legislation, which was strongly supported by the Hogan administration, was named for Montgomery County police officer Noah Leotta, who was struck and killed by a suspected drunk driver last December.
"I was proud to strongly support Noah's Law, and I want to thank everyone involved who helped get it passed," said Governor Hogan. "This, along with the bill we are signing to dedicate a portion of Maryland Route 924 as Heroes Highway, is an important way to honor the incredible legacy and sacrifice of our brave heroes. I am also incredibly proud to sign the Justice Reinvestment Act today, which will help transform and modernize our state's criminal justice system."
The governor also signed SB 1005, the Justice Reinvestment Act, which represents the largest, most comprehensive criminal justice reform to pass in a generation. By investing more in drug treatment and incarcerating nonviolent inmates less, this new law will result in safer communities and produce significant cost savings for Maryland's taxpayers.
Additionally, the legislation models state law after the federal Racketeer Influenced and Corrupt Organizations Act (RICO) to allow prosecutors to target high-level drug traffickers. The Justice Reinvestment Act legislation follows eight bills supported and signed by Governor Hogan last year that addressed public safety and community relations issues, including smarter options to reduce recidivism and help for ex-offenders to transition back into society.
Additional bills signed today include:
HB 409—Criminal Law—Providing Alcohol to Underage Drinkers—Penalties (Alex and Calvin's Law)—Prohibits a person from knowingly and willfully allowing an individual under 21 years old to possess or consume an alcoholic beverage at a residence the person owns or leases; and in which the person resides or furnishing an alcoholic beverage for consumption to an individual under 21 years old if the adult knew or reasonably should have known the individual would operate a motor vehicle and did operate the vehicle under the influence of alcohol and caused serious injury or death.
SB 864—Public Safety—Internet Crimes Against Children Task Force Fund—Establishment—(Alicia's Law)—Establishes the Internet Crimes Against Children Task Force Fund to provide grants to local law enforcement agencies for salaries, training, and equipment to be used for the investigation and prosecution of Internet crimes against children.
HB 1016—Public Safety and Policing Workgroup—Recommendations—Prohibits retaliatory personnel action against a law enforcement officer who discloses specified information; authorizes the appointment to an administrative hearing board a member of the public who has received specified training; establishes the Maryland Police Training and Standards Commission as an independent commission in the Department of Public Safety and Correctional Services; establishes the Community Law Enforcement Program Fund.
SB 417/HB 420—Individuals With Disabilities—Minimum Wage and Community Integration (Ken Capone Equal Employment Act)—Phases out the authority for the Commissioner of Labor and Industry to authorize a work activities center or other sheltered workshop to pay a subminimum wage to an employee with a disability. It also restricts the authority of a work activities center or other sheltered workshop to pay a subminimum wage and/or a sub-prevailing wage to an employee with a disability. Beginning October 1, 2020, the Developmental Disabilities Administration (DDA) may not fund providers that pay individuals less than the minimum wage under a specified federal certificate.
SB 1104/HB1624—Transportation—Highways—Heroes Highway—Requires the State Highway Administration to dedicate the portion of Maryland Route 924 (Emmorton Road) between its intersections with Maryland Route 24 and Singer Road as Heroes Highway in honor of Harford County Sheriff Deputies Mark F. Logsdon and Patrick B. Dailey.