December 5 - December 11, 2019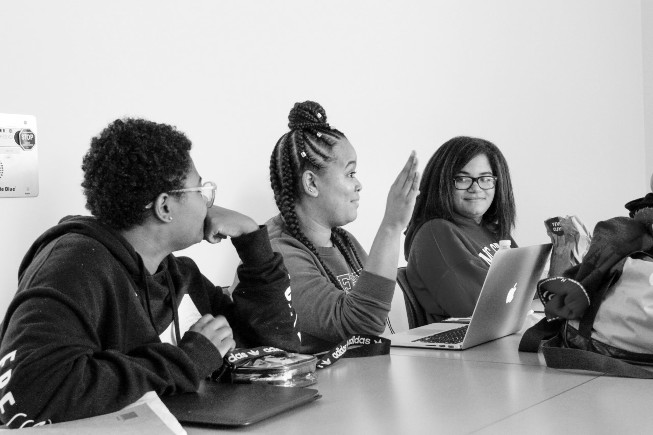 Photograph Courtesy Young Playwrights' Theater.
PGCC playwriting students Jade, Maya and Lauren discussing their one-act plays.

Young Playwrights' Theater Celebrates New Partnership with Prince George's Community College
Special collaboration expands college's theater arts curriculum and transforms students into playwrights
By TESHONNE POWELL
Young Playwrights' Theater
Prince George's County, Md. (November 26, 2019)—This fall, Young Playwrights' Theater (YPT) has partnered with Prince George's Community College (PGCC) to provide playwriting workshops to PGCC students. The partnership grew from PGCC's desire for playwriting to be integrated into the college's theatre arts courses and curriculum. With the help and coordination of Artistic Director of Student Programming Gary Fry and Theatre Coordinator Peggy Yates, and with support from the Prince George's Arts and Humanities Council, YPT Program Director Jared Shamberger implemented PGCC's first playwriting workshop series within Yates's Script Analysis course. Throughout the fall, students learned the core principles and strategies of dramatic writing and incorporated what they learned into original, imaginative short plays. Those plays will be presented in a public, staged reading featuring professional actors on December 4 at PGCC's Center for the Performing Arts.
For YPT, this partnership is unique. Historically, YPT has facilitated playwriting workshops for students in 3rd grade through 12th grade. However, as YPT moves into its 25th year, the organization seeks to expand the demographic of young people that it serves. YPT acknowledges that some young people complete secondary education without having access to arts-oriented courses and YPT would like to fill that need. "After 25 years of cultivating playwrights in K–12 environments, primarily in Washington, DC, we are excited and poised to expand our impact to the college-level and in Prince George's County," said YPT Program Director Jared Shamberger.
This partnership is also a testament to the impact of PGCC's new performing arts center on the college and highlights that PGCC is a beacon and an asset to the community.
The fall program will culminate in the PGCC Young Playwrights' Showcase, a staged reading of the students' original one-act plays on Wednesday, December 4, 2019, at 7 p.m. at the Center for the Performing Arts at Prince George's Community College. The reading will feature professional actors with direction from Jared Shamberger.
This event is free, and guests can visit https://bit.ly/YPTShowcase to reserve seats.
Young Playwrights' Theater inspires young people to realize the power of their own voices. Young Playwrights' Theater believes that creative expression and theater are valuable tools for the education, enrichment and self-actualization of young people. Through our programs and productions, we fulfill their creative vision by hiring professional artists to guide and perform original youth-generated work for their peers and for the public. YPT believes that it is important that youth, especially those whose voices are often minimized, have access to high-quality arts education that centers their experience and is culturally competent and affirming for all young people involved.
---
County Council Adopts Fair Housing Act to Ban Source of Income, Immigration Status and Citizenship Status in Housing
County's Fair Housing Act Updated with Additions to Protected Housing Categories
By KAREN D. CAMPBELL
PG County Council Media
Upper Marlboro (November 25, 2019)—The Prince George's County Council voted unanimously on Tuesday, November 19, 2019, to adopt Council Bill 38-2019, a Fair Housing Act establishing Prince George's County's policy of ensuring equal opportunity and eliminating discrimination in all housing accommodations.
The Fair Housing Act, proposed by Council Member Dannielle Glaros (D) – District 3, and Council Member Deni Taveras (D) – District 2, amends the County's existing law to prohibit discrimination in housing based on proof of immigration or citizenship status; a required screening process that forces a buyer to reveal citizenship status without providing a reasonable alternative option; or source of income.
Council Member Glaros comments, "I appreciate the work and support of the Prince George's Human Relations Commission, the County's civil and human rights education and enforcement agency charged with ensuring equity and inclusion Prince George's County residents. I am also grateful to the Housing Initiative (HIP) Partnership and CASA, for urging passage of this important and timely legislation."
CB-038-2019 also updated language in the County Code related to persons with disabilities. Council Member Glaros thanks Independence Now for its advocacy for this update, and looks forward to updating this language throughout the division, next year.
Through her work as Chair of the Council's Planning, Housing, and Economic Development Committee and as co-chair of the Prince George's County Housing Opportunity for All Workgroup, Council Member Glaros maintains a focus on the County's housing policy. The Housing Opportunities for All Workgroup, established by Council Resolution 16-2019, is charged with assisting the County with setting priorities and implementing the Comprehensive Housing Strategy Report, entitled "Housing Opportunity for All" for Prince George's County. Learn more about the Housing Opportunities for All Workgroup.
---
Trained to Serve: Maryland's Natural Resources Police K-9 Unit
By CODY A. WILCOX
Capital News Service
ANNAPOLIS, Md. (November 25, 2019)—According to the square Army green patch on the back of his harness, this officer's "Beast Mode" is always "ON." Rider, a 30-pound K-9 assigned to the state's Natural Resources Police, may offer the department more brains than brawn.
For the hound-terrier mix and his trainer, Sgt. Ben Lillard, the insignia demonstrates that his 30-pound frame does not hinder his ability to perform regular patrol duties.
Rider is one of four Maryland Department of Natural Resource Police dogs, which are specially selected and trained to execute tasks like detecting poached wildlife, tracking violators, searching and locating missing individuals and detecting human remains.
Maryland's Department of Natural Resource K-9 program, which began in 1994, seeks dogs that have a strong drive—the most important trait.
Sgt. Devin Corcoran said that any dog that the Department of Natural Resources Police acquires must combine a high level of determination with a playful demeanor.
A dog that is willing to crawl under a parked car to retrieve a toy is preferred over a dog that does not demonstrate the initiative, said Virginia's Department of Game and Inland Fisheries Conservation Police Officer Jim Patrillo, handler of a 3-year-old black Labrador retriever named Bailey.
"Everything we do with our dogs is toy-rewarded," Patrillo said. "When we test dogs, puppies, we look for a high energy and a toy drive."
Maryland's Department of Natural Resources operates under similar measures.
"If they have drive and motivation … and some intelligence, we can train them," Corcoran said.
Along with Rider, the Department of Natural Resources Police cares for and maintains three other dogs, including two yellow Labs, Beacon and Badger, and a Chesapeake Bay retriever, Ruckus.
Prior to 2016, Maryland's Department of Natural Resource's K-9 units received training from locations in Florida, Kentucky and Indiana, according to Corcoran.
Indiana Conservation Officer Jeff Millner has instructed about 72 dogs, including three from Maryland, since 1997.
In 2014, Millner trained Corcoran, who is one of three conservation officers who have attended Millner's training.
Millner, handler of an 11-year-old Labrador retriever, breaks his training regimen down into three different phases, including mantracking, wildlife detection and article search, with each lasting approximately three weeks.
Corcoran, who completed a 2015 Train the Trainer Course with K2 Solutions in Southern Pines, North Carolina, due to a contribution from the Humane Society of the United States, said that he brought a similar approach to Maryland.
Maryland's training usually lasts about nine weeks and varies from 400 to 480 hours, according to Corcoran.
Although the dogs enjoy searching for and locating wildlife, mantracking is the most difficult part of the training, according to Millner.
"Most dogs track naturally, but don't track humans naturally," Millner said.
Dogs typically follow a scent but can often get redirected, compelling the handler to reassess the situation and give the canine a moment to regather the scent, according to Millner.
"Reading the dog is key," Millner said. "(Handlers) learn every sign that the dog gives them."
Maryland's canine training has since transpired in-house—for reasons including proximity and cost, and it allows the department to tailor the training to Maryland's geofactors.
Although the department's four dogs are located on the Eastern Shore and in Montgomery, Prince George's and Baltimore counties, Corcoran said that he does not uniquely train each dog for its region, and that the dogs can travel state-wide.
When the dogs locate an item or person of interest—what Corcoran classifies as the "ultimate goal"—Maryland's Department of Natural Resources trains them to use a passive action that is easily visible to indicate the find, such as sitting or laying down.
Corcoran trains the dogs to execute a passive action instead of an aggressive one, such as scratching or biting, to ensure that the dog and the evidence or item of interest remain safe.
The canines are then rewarded for their work by the department's handlers, granting them play time with a toy of their choice.
Millner said that he recommends handlers to utilize a variable reward system, which causes a build up of anticipation and a rush of endorphins.
"Whatever motivates the dog … is what I want the handler to use," Millner said. "Nationwide, KONG is the toy of choice—probably the dog's favorite choice."
KONG toys are made out of rubber that can withstand lengthy chewing and can be filled with snacks.
The K-9's training program is based around positive reinforcement and high praise—tactics that are most effective when instructing dogs, according to Millner.
Two of the department's dogs—Rider and Ruckus—arrived as donations from county animal shelters, while Beacon was donated by a family.
Badger, the Natural Resource cadaver, or human remains, dog was purchased for $700 from private yellow Labrador breeder Scott Stapleford in Delaware.
The Maryland State Police can pay more—anywhere from $3,500 to $9,000 based on the type of dog, where it is procured, the length of warranty, and the amount of training the dog may already have, according to the department. The state police have 42 dogs, including German shepherds, Belgian Malinois, Labrador retrievers, bloodhounds and a springer spaniel.
The state police obtained one German shepherd from a rescue facility, according to the department.
Maryland State Police dogs are trained in both police activities and detection of material, including narcotics and explosives, according to Brenda Carl, public affairs officer for the Maryland State Police.
Their training is also done in house with department trainers and lasts between 12 and 20 weeks depending on the dog and its handler, according to the department.
Millner also cited the execution of obedience as another factor in the longer training of police dogs.
After tearing his right cranial cruciate ligament, which is similar to an anterior cruciate ligament in humans, in June, Rider tore his left cranial cruciate ligament in October—not an uncommon occurrence for dogs, the department said.
But after Rider makes a full recovery—as the department expects—Beast Mode will be back on duty, tracking down illegal activity involving Maryland's natural resources.
---