February 23 - March 1, 2017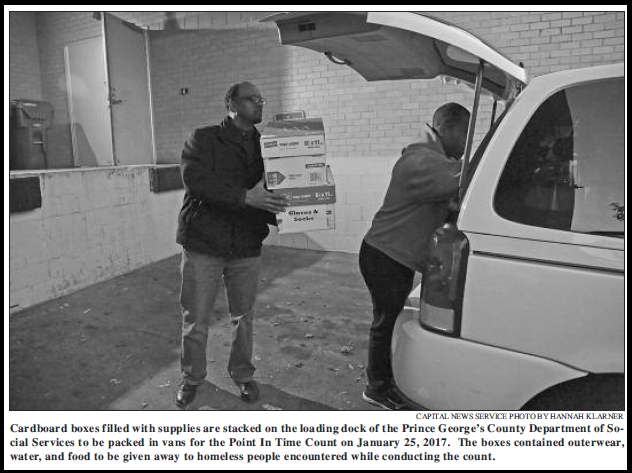 Homeless Count Attempts to Find Needy in Suburban Shadows
By Hannah Klarner
Capital News Service
HYATTSVILLE, MD—It was dark at 6 a.m. when volunteers started searching for homeless people in Prince George's County, Maryland, and it was dark after 11 p.m. when they stopped.
Volunteers and Department of Social Services workers canvassed the county by breaking it into geographic sections as a part of the annual Point In Time Count for parts of Virginia and Maryland surrounding Washington, D.C.
One of the many challenges that we face in Prince George's County is the invisible nature of suburban homelessness.
"It's not what you stereotypically think of—a homeless person pushing a grocery cart or carrying a lot of bags," said Katherine Carter, a volunteer from Brandywine, Maryland. "It's more subtle here. I think it takes a little more time and outreach to … locate them."
"When I was a kid, I thought all homeless people were the same. People who had been rejected by society," said one formerly homeless teenager who requested that his name be withheld to protect his privacy.
This break from the stereotype of a homeless person is one of the main issues that the general public needs to understand, according to John Summerlot, an outreach and engagement manager from the county's Department of Social Services.
"I think the main thing that people don't understand about homelessness in Prince George's County is that it exists. It is an issue," he said.
Literal homelessness has been on the decline in Prince George's County since 2013, when they counted 686 homeless people, according to the Point In Time Survey from that year. The numbers have been consistently declining, including 544 literally homeless in 2016, the most recent year with data.
In order to find people, volunteers and staff were divided into teams to load mini-vans with supplies, and sent to different regions of the county on Jan. 25. The donated supplies included hats, gloves and scarves, bottled water, sandwiches, chips and toiletries.
Driving slowly in the dark, Renee Pope, assistant director of community services, sat in the front seat of one van, eyes constantly scanning the roadside for signs of homeless people.
Before volunteers began canvassing, they were told some key indicators of homelessness: Look for people who appeared to be carrying everything they own, who may look unkempt.
Armed with the description, identifying the suburban homeless was still a challenge.
One man, repairing a car in an auto supply store parking lot did not stand out, but when asked, said he had been homeless for well over a decade.
As the sun set, the mild January day turned into a cold winter night, and volunteers bundled up and kept searching.
Volunteers were told they could ask panhandlers whether they were homeless, but to let those who may be sleeping be, and if any person did not want to be interviewed for the Point In Time Count, that would be respected.
The Point In Time Count includes a 21-question survey, conducted either on a smartphone or on paper printouts.
Questions include age, veteran status, health needs, and for the initials of a respondent, but not their full name. The questionnaire also asks for gender, with answers for male, female, transgender, or "does not identify as Male, Female or Transgender."
Summerlot said that homelessness disproportionately impacts the LGBTQ community, especially younger members.
Homelessness is largely viewed negatively. Carter thinks that may have an impact on people's willingness to find assistance.
"There is a stigma with homelessness. People are ashamed. They might not want it to be known. It leaves them not wanting to seek out housing or support services," she said.
Pope said that one idea they try to repeat is that "Homelessness is a housing condition, not an identity."
To that end, the team at Social Services categorizes people's situations differently. "Unstably housed" is a lot like couch surfing, whereas "chronic homelessness" is defined as being continuously homeless for one year, or being homeless for the duration of one year during a three-year period.
Age may play into people's perceptions of their own homelessness, too, according to Summerlot.
"If someone in their 30s or 40s is homeless, they've generally been homeless for longer," he said. "And so they've figured out how to navigate their situation and maybe they're not as reluctant to identify as homeless because they are sort of more profoundly homeless."
The team pressed on through the night, visiting gas stations, libraries, strip malls, and Metro stations.
Tips come in for locations from police departments, community groups and churches, among others.
Emergency housing is just one aspect of help offered by the agency. By contacting the county's homeless hotline, they secure emergency housing for the night, and case workers can begin the process of assessing the person's individual needs.
Social Services can work to get identification, set up Social Security benefits, or find permanent or rapid housing.
Without street outreach programs, the only way for a person to get access some resources is through shelters, however some, like the formerly homeless youth, 18, are reluctant to go.
"I never really wanted to go," he said. "I had a lot of anxiety about going there at first, but it was one of the best decisions of my life."
Some places to find a homeless person are obvious, like near grocery stores, municipal buildings, public transportation and bathrooms. Others are less so, such as Laundromats, where homeless people can find new clothing or replace some of their existing clothing from the discards. Homeless youth rely on basketball courts for low-cost social interaction with their peers, according to Summerlot.
The once-homeless teen is a youth ambassador with Social Services and a part of the newly formed Youth Advisory Board.
Reaching out to younger homeless people and providing them with a community, according to the 18-year-old, is one of the benefits outreach programs and shelters provide. "When I was homeless, I was super alone," he said.
Summerlot thinks it is important for people to know, "it's not just a social services issue … it's connected to a lot of other issues," like affordable housing, living wage jobs, appropriate and affordable health and mental health services. "There are a lot of ways that individuals can experience a crisis that ends up with them sleeping in a car or being unstably housed."
For the homeless in suburban areas, their lack of visibility can work against those trying to help them. "We don't need to make them more visible, we need to make them feel like they are not invisible," the teen said.
Prince George's Police Prepare to Roll Out Body Camera Program
By J.F. MEILS
Capital News Service
COLLEGE PARK, MD—At some point before April, 70 officers from the Prince George's County Police Department will go to work with a new piece of gear: body cameras.
Advocates hope the PGPD program—smaller in scope than similar efforts by police forces across the nation—will bring more accountability to a department with a long history of wrongdoing.
"There is still a belief in the Prince George's community that police officers are corrupt, hiding things and will lie to avoid responsibility for doing something improper," Steven Vinick, a local defense attorney who handles police misconduct cases, told Capital News Service.
The PGPD was last released from Justice Department monitoring in 2009 after "an alleged pattern or practice of excessive force throughout" the department. But concerns over police misconduct persist. The PGPD, the 27th largest force in the nation, tallied more than 700 allegations of misconduct in 2015, according to County's Citizen Complaint Oversight Panel.
As police forces rush to implement body camera programs nationwide, it's not clear if they will solve systemic policing issues like those identified by the Justice Department in New Orleans, Ferguson, Baltimore or Chicago.
It's an open question in Prince George's County, too. The County Council provided significantly less support than requested for the PGPD pilot program—about $135,000—with the department itself contributing $65,000 from its asset forfeiture program. The initial estimate from Carlos Acosta, the department's inspector general and architect of the program, presented to the council was $3.5 to $5 million for three years to outfit a total of 1,000 officers.
By comparison, Baltimore County, whose police force is only slightly larger than the 1,700 officers in Prince George's, signed a $12.5 million, 8-year contract with Taser a year ago, in addition to kicking in $1.5 million in annual operating costs for a staff of 19 to administer the program.
"This [body camera program] is a much-needed reform," said Cary Hansel, a civil rights attorney who won a landmark case against the PGPD for coercive interrogation practices in 2006, and again on appeal in 2011. "But before we applaud it, we really need to see it implemented."
Acosta is well aware of the department's past. He was raised in Langley Park and worked as a deputy state's attorney in Prince George's. He thinks the body camera program will help improve the relationship between the public and police.
"I believe the person behind the camera and the person in front of it will behave better," he said.
For Prince George's 900,000 residents—two-thirds of whom are black—the PGPD's reform efforts are still a work in progress. But some residents share Acosta's optimism.
"Citizens of the county overwhelmingly view body cams as a step in the right direction," said Rashawn Ray, a University of Maryland sociologist working with the PGPD on a range of studies, including community perceptions of body cameras.
Change and the PGPD
The 1999 Justice Department inquiry that led to a decade of federal monitoring began in the PGPD's canine section. A Washington Post investigation that year cited 18 lawsuits involving assaults by PGPD dogs during a six-year stretch in the mid-1990s. According to the Post, "Prince George's County police sometimes let dogs loose to attack whomever they encounter and, at other times, order them to bite suspects already subdued or handcuffed."
A number of recent high-profile incidents have not helped the department shed its reputation for brutality.
In January 2016, former PGPD officer Jenchesky Santiago was sentenced to five years in prison for putting his gun to the head of a Maryland man in May 2014, claiming the victim was illegally parked in front of his own home.
PGPD officer Juan Hernandez was indicted by a grand jury in December 2016 for using a police car to strike an unarmed suspect who was running away, according to John Erzen, a spokesman for the Prince George's County State's Attorney's Office and court records.
In 2012, PGPD officer Jerry Thomas was caught on video punching a handcuffed 15-year-old in the face twice after the teen jawed at Thomas in a county jail cell. Thomas received probation and was found guilty of misconduct, according to court records.
Lastly, there was the on-campus beating of University of Maryland student John McKenna following a University of Maryland basketball victory, which led to a 2nd-degree-assault conviction for PGPD officer James J. Harrison.
Would body cameras have prevented these incidents?
Hansel cited the department's experience with dashboard cameras, a 10-year-old program, as a reason for skepticism. "Unfortunately, what happens is when video helps the police, it's readily available," he said. "When it doesn't help the police, the camera was broken that day, or not working or the data was corrupted—I've heard it all."
A 2015 report from the Prince George's Civilian Complaint Oversight Panel confirmed Hansel's concerns: "Unfortunately, a pattern has continued over the past several years where many older police cruisers either have no audio-visual equipment; have obsolete or malfunctioning equipment; or officers have demonstrated a lack of training in properly deploying the equipment …"
The county's body camera program will go live against a backdrop of fluctuating complaint numbers over the last decade.
Of the 746 allegations of misconduct against the PGPD reported by the County's Citizen Complaint Oversight Panel in 2015, 185—or one in four—were related to use-of-force.
The department's internal affairs division, which pursues investigations of misconduct, sustained 97 of the allegations and exonerated officers in 104 instances. In 179 cases, the allegations were determined to be "unfounded," or not true, and 366 allegations were "non-sustained," defined as: "The evidence fails to prove or disprove the alleged act(s) occurred," according to the CCOP.
The 2015 report from the CCOP also noted that the percentage of allegations sustained by the department's internal affairs division in 2015 fell by 22 percent from the prior year and by 16 percent from 2013.
A Pilot Program
When the program launches, one squad of 10 officers from each of the county's seven districts will be outfitted with body cameras. A second squad from each district without cameras will serve as a control group, to facilitate a larger group of studies being done by the University of Maryland.
The partnership, hatched almost two years ago by Acosta and Patricio Korzeniewicz, the University of Maryland's sociology department chair, includes a number of initiatives designed to assess the PGPD's body camera program.
"Some officers don't want them," Ray said. "But the majority are in favor because they feel the body cams will reduce the number of complaints they receive."
Charles Wellford, former criminology department head at the University of Maryland, concurred. "Instituting body cameras almost always has an impact in reduced number of complaints," he said.
However, Wellford also pointed to a recent study by Cambridge University that revealed two surprising new findings: Rates of assault against police officers wearing body cameras increased 15 percent compared to those without them; and if officers have discretion about when to activate body cameras, use-of-force incidents rise by more than 70 percent.
"We're trying to engineer the decision process [for activating cameras]," said Acosta, who was only willing to share parts of the PGPD body camera policy with Capital News Service because it was still being negotiated with the county's lodge of the Fraternal Order of Police.
When the policy is finally released, it will be closely scrutinized by community and civil rights groups.
"The policy must give enough direction to officers so the public can be assured," said David Rocah, an attorney with the ACLU of Maryland. "But it must also be clear enough that it can be enforced when cops don't follow it."
Rocah also knocked the PGPD for failing to offer the policy for public review and comment before it goes into effect, as Baltimore County did.
Essentially PGPD officers must turn on their cameras when they are dispatched on a call or at "… the initiation of any proactive enforcement action." Officers may also " … use BWCs to record initial interviews of victims, complainants and witnesses[,]" according to portions of the draft policy shared by Acosta.
PGPD officers will also be able to review footage of incidents where their actions are under investigation before making statements or writing reports—an issue that was contentious when Baltimore County's policy was negotiated. In Baltimore City, the working group assembled by then-Mayor Stephanie Rawlings-Blake to make recommendations for the city's body camera policy did not favor officers reviewing their footage in "non-routine" incidents, though Baltimore's policy ultimately allowed it.
"[Officers reviewing footage] destroys the integrity of an investigation," Rocah said. "It wouldn't happen in almost any other context and is really a way police officers are treated different from others."
John "Zeek" Teletchea, president of the Prince George's County Fraternal Order of Police, disagreed.
"Our position is that officers should be able to review cam footage, especially in cases of criminal incidents," he said. "It's been proven that immediately after an incident, you don't have the ability to recount it perfectly. It only helps the officer and agency to compile a complete account of what happened."
Teletchea is also concerned about protecting the privacy of police officers.
"When not doing official functions as a police officer, that video should in no way, shape or form come back to them as discipline for behavior that may not be appropriate for the workplace," he said.
The Cost of Transparency
"At the end of the day, we're going to spend X amount of dollars … What did we accomplish? Are we changing behavior?" Acosta asked, explaining how the PGPD program will
be judged.
"We know that complaints go down," said Wellford, who has worked with more than 20 police departments, including the PGPD. "But we don't know why. Is it the officer that changes or the citizen?"
If Acosta is right, it's both. If he's wrong, the public and the department will find out soon enough.
State Leaders Touting Greatness Taking Place in Prince George's County
EDC Capitol Access Networking Event Highlights Legislative Priorities and Economic Momentum
By Lori C. Valentine
PGCEDC
Annapolis, MD—On February 9, 150 business owners from Prince George's County traveled to Annapolis for an exclusive opportunity to network, share their ideas and concerns with some of the most influential leaders in State and County government as the Prince George's County Economic Development Corporation (EDC) hosted its second annual 2017 Prince George's County Capitol Access VIP Reception. Business leaders that have benefitted from the open lines of communication between the business community and government regulators enthusiastically crowded into Harry Browne's restaurant on State Circle as the Baker Administration unveiled its legislative priorities for the 2017 legislative session.
In a statement about the event, County Executive Rushern L. Baker, III said:
"I want to thank the business owners and stakeholders of Prince George's County for taking time out of their valuable schedule to have their voices and concerns heard by our legislators in Annapolis," said Prince George's County Executive Rushern L. Baker, III. "Over the last six years, the growth of the Prince George's County business community has been recognized around the Region, State, and nation. My administration and the Prince George's County Economic Development Corporation is dedicated to continuing this success."
EDC President and CEO Jim Coleman welcomed the standing room crowd, calling them all VIP's because of their commitment to making Prince George's County one of the most dynamic jurisdictions in the State of Maryland. Mr. Coleman also provided the crowd with information about County Executive Baker's upcoming business mission to Korea and China in April and stressed the importance of preparing and connecting local companies with international investment partners and exporting opportunities.
"The EDC is proud to host important networking events like this, that connect our residents and business community to the valuable resources they need, want and deserve," said Coleman. "As business has grown, our unemployment rate is shrinking, our assessable tax rate is increasing, our homes are more prosperous and our business community created more than 5,000 jobs last year. Whether you are a business owner, a member of the House of Delegates, or the Senate of Maryland, or the County Council or a part of the Baker Administration or the Hogan Administration, all of you are critical parts of making Prince George's County the best place in the world to live, work and play."
County CAO Nick Majett, and Assistant Deputy Chief Administrative Office David Iannucci were among the dignitaries in attendance from the Baker Administration. Baker's chief legislative office, J. Kenneth Battle briefly outlined his legislative priorities, which include: securing operating and capital funding State funding for the Regional Medical Center, securing State commitment for infrastructure improvements and capital budget allocation at one of the two County sites under consideration for the Federal Bureau of Investigation headquarter relocation. Mr. Battle also stated that the County is focused on operating and construction funding for K–12 public school education, which includes significant expenditures to repair, renovate or replace schools as needed. State funding for critical road projects, mass transportation, pedestrian safety and public safety throughout the County are also top priorities that they County is working to protect.
Senate President Thomas V. Mike Miller, Governor Hogan's Deputy Chief of Staff Britta Vander Linden, and House Delegation Chair Jay Walker were also among the State officials in attendance and that commended the business community for their part in bringing economic change to Prince George's County.
Maryland Commerce Secretary Mike Gill talked about the greatness that is taking place in Prince George's County.
"Momentum is everything and Prince George's County has the momentum. And you have the momentum on leadership, the momentum on location, and the momentum on culture and are passionate about what you are doing," said Gill.
Tonight's event was generously sponsored by CPJ & Associates, Washington Gas, JGL Law, Civility Management Solutions and FSC First.
The next EDC networking opportunity will be on March 15th when the EDC, in partnership with the TechBreakfast, hosts its first in the series 'TechBreakfast Prince George's'—a fun, supportive "pitch-free" environment for innovators and influencers in the tech ecosystem to share their innovations and get interaction and constructive feedback from the audience. This event will be held from 8 a.m. to 10 a.m. in National Harbor at Spartan Business & Technology, 161 National Plaza, Suite 200, Oxon Hill, MD 20745. To attend the next meeting please RSVP to Nicole Edwards (naedwards@co.pg.md.us) at 301-583-4650. Sponsorship opportunities are available. Contact Nichelle Holmes, EDC Development Manager (naholmes@co.pg.md.us) or 301-583-4621.
Maryland Agencies Pursue Program to Reduce Lead Poisoning, Asthma Cases
By Press Officer
DHMH
Baltimore, MD—The Department of Health and Mental Hygiene announced today that it—in partnership with the Department of the Environment and the Department of Housing and Community Development —has applied to the U.S. Centers for Medicare and Medicaid Services (CMS) to develop an initiative to reduce lead poisoning and to improve asthma, two conditions related to environmental conditions in housing.
The program would leverage federal funds available through the Maryland Medicaid Children's Health Insurance Program (CHIP) to eliminate sources of lead poisoning in housing, to build capacity in local health departments to reduce lead poisoning and asthma related to housing conditions, and to address lead and asthma health disparities.
"We know that housing conditions can severely affect a child's health, and this program would enable us to get to the root of the problems for many children," said Health and Mental Hygiene Secretary Dennis R. Schrader. "It would go beyond merely treating a child with asthma or lead poisoning—it would seek to prevent exposures to the triggers, causes and social determinants of these conditions, which is the best means of preventing the life-long impacts of these diseases."
The new program would have two parts. The first component would involve a partnership between Health and Mental Hygiene and Housing and Community Development to expand lead identification and abatement programs delivered by the latter agency. The second would expand local health departments' programs that help families and health care providers to identify and to eliminate sources of lead exposures and asthma triggers in homes. The programs would both be coordinated with the Department of the Environment's Childhood Lead Poisoning Prevention Program, prioritizing people affected by lead.
"We look forward to working with the departments of Health and Mental Hygiene and the Environment to ensure healthy housing for Maryland's families," said Housing and Community Development Secretary Kenneth C. Holt.
If approved, up to $3.7 million dollars in CHIP federal matching funds could be available to the State, to supplement $500,000 that Governor Larry Hogan authorized Medicaid to use in fiscal year 2017 for
lead abatement purposes. An additional $2.6 million could potentially be available to the State in fiscal year 2018 to fund the local health departments' programs that serve families with children affected by lead or asthma.
"This continues Governor Hogan's emphasis on eradicating the lingering problem of lead poisoning through comprehensive, coordinated, and creative actions," said Department of the Environment Secretary Ben Grumbles.
PG County Launches New Government Mobile App for Smart Phones


By Press Officer
PG County Government
Largo, MD—Prince George's County recently launched a new mobile application to help Prince George's County residents become more connected to County government news and events through their mobile devices. The new app, "Mobile Prince George's," allows residents access to county government news, contacts, calendars, forms, meeting agendas, County code information, juror information, as well as employment opportunities.
The Prince George's mobile application can be downloaded for free by using the Apple App Store or Google Play. To download a copy, please visit the following sites from your smartphone:
• Apple App Store
• Google Play
"Over the last six years, my administration has used technology to better engage our citizens, stakeholders and visitors," said Prince George's County Executive Rushern L. Baker, III. "From CountyClick 311 to CountyStat to streamlining our permitting processes, technology innovations have allowed the County to be more effective, efficient, and user friendly. The new Prince George's County mobile app will now allow the entirety of the County government to be at the fingertips of Prince Georgians."
The new mobile application was developed by the Office of Information Technology's business partner, CivicPlus. This application is a simplified version of the website offering time sensitive information, emergency and non-emergency alerts, locations of County facilities, staff and departmental listings, juror information, and a link to the employment site.