January 18 - 24, 2018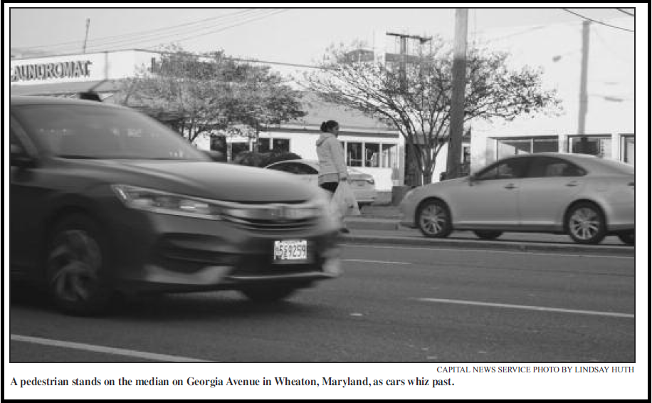 Pedestrian Accidents Pile Up on State Roads Across Maryland
By LINDSAY HUTH,
ANGELA ROBERTS,
JAKE GLUCK
Capital News Service
WHEATON, MD—Consuelo Anglarill, 82, took a bus to the Safeway on Georgia Ave. on Jan. 15. Her daughter, Elizabeth, suspects the retired nanny was simply bored that Sunday morning.
"She doesn't like being home alone."
As the elderly woman crossed the busy state highway in front of the grocery store, a car struck and killed her.
Just three days earlier, a woman was hit and seriously injured at the same intersection.
It's among the most dangerous spots for pedestrians on Maryland state roads, a Capital News Service analysis of accident data found.
Since 2015, 22 people have been hit on Georgia and 20 more on one of three other state-maintained roads that criss-cross the Washington suburb of about 50,000 where the Wheaton Metro station, Westfield shopping mall and a large walking community of Hispanic immigrants are located.
The Maryland State Highway Administration (SHA) has known about the problem for years. The area around Georgia and Reedie Drive where Anglarill was hit had been flagged by Montgomery County in 2011 as hazardous for pedestrians.
The SHA eventually extended the walk signal at the intersection by two to three seconds, in either 2015 or 2016, SHA assistant media relations manager Shanteé Felix said.
More is needed, residents and pedestrian safety advocates say. The SHA could reduce the distance between crosswalks, install median fences on Georgia to discourage jaywalking and lower speed limits.
"People are flying up and down here like it's major highway," said Courtney Jones, 40, who lives nearby and frequently walks to stores and public transportation. "Here, I'm telling you, it's really dangerous."
In June, CNS reported that at least 138 pedestrians had been hit—including eight killed—along a dangerous two-mile stretch of University Boulevard in Langley Park between 2009 and 2016, yet the SHA has done little to address the danger on all but a single intersection of the busy highway in the low-income, immigrant community. After the story ran, the agency re-painted pavement markings at some of the highlighted intersections but said other improvements would be made when the new Purple Line is built. The 16-mile light rail line, which will traverse University, is scheduled to open in 2022.
CNS then analyzed statewide accident data and identified 100 areas on state and U.S. roads maintained by SHA where there were clusters of five or more pedestrians involved in accidents in the past two and a half years. The analysis did not include interstates or Baltimore city, which maintains roads within its limits.
Sean Emerson, an activist with the Action Committee for Transit in Montgomery County, said the SHA is slow to address problem areas.
"In the SHA's mind, even something that might delay the average driver 10–15 seconds, it's like 'Oh, we can't do that,'" said Emerson, who is also a legislative aide to Bethesda state delegate Marc Korman. "It's so inconsequential, yet it would have a huge benefit to the person walking alongside the road."
SHA media relations manager Charlie Gischlar said the idea that SHA cares more about cars than pedestrians is "false." The problem, he said, is that many accidents occur because drivers are careless or pedestrians are texting or using their mobile devices, not paying attention and walking into roads. That is based on his own observations, not SHA statistics, he added.
"Engineering will have little effect on people that are in a trance texting while walking, which is why we say that the majority of pedestrian crashes are, sadly, on the part of highway user [driver or pedestrian] behavior," Gischlar wrote in an email. "We can only educate by asking pedestrians to look up and look out."
Wade Holland, a data analyst with the Montgomery County government, said that while he encourages people to avoid distractions, he has seen no evidence of an "epidemic of pedestrians being struck due to cell phone use." It is possible the problem is underestimated because pedestrians and drivers report their own device use to police after crashes, he said.
However, engineering, coupled with enforcement and education, have reduced serious pedestrian injuries and fatalities on county-maintained roads by a third since 2007, when Montgomery County launched a pedestrian safety initiative, a county report says. As part of the initiative, the county lengthened pedestrian traffic signals, installed new sidewalks and implemented traffic calming projects.
Roads in many postwar suburbs were built for drivers, not pedestrians, said Michael Farrell, program manager for Street Smart, the pedestrian safety campaign of the Metropolitan Washington Council of Governments. Now that demographics have changed in communities like Wheaton and Langley Park—with more low-income residents who walk and take public transportation—pedestrians must contend with high traffic speeds, large crossing distances and few intersections for safe passage.
"The reason why we have so many fatalities is not just behavior—it's that so many of the facilities for walking are inherently unsafe," Farrell said.
SHA officials told CNS they investigate the site of every fatal crash. They said they also conduct safety audits along one-mile stretches of state road where 10 pedestrian crashes have occurred over a five-year period to determine if improvements are needed. SHA officials said the audit recommendations are advisory and not all are adopted.
The agency provided a list of 22 locations where audits have occurred but denied a CNS Public Information Act request for copies of them. The letter denying the request said disclosure would be "contrary to the public interest" because "it could be used to attempt to discover MDOT SHA's thought process regarding decisions affecting highway safety."
All but two of the 22 were among the 100 problem spots identified in the CNS analysis.
CNS analyzed Maryland State Police accident data on vehicle collisions with pedestrians on state and U.S. roads outside Baltimore and excluding interstates. SHA maintains most state and federal roads in the rest of the state. On those roads, there were 2,281 accidents involving 2,402 pedestrians, including 509 bicyclists, from 2015 to the first half of 2017. Of those, 1,366 were seriously injured and 147 died.
CNS used a mapping program to identify areas with a high density of accidents on state and US roads. The mapping program used a clustering algorithm that identified 100 areas where a pedestrian was hit within 1,800 feet (about one-third of a mile) of where at least four others were struck.
Georgia was one of the worst state roads, with four clusters of pedestrian accidents on an eight-mile stretch in Montgomery County:
• In Wheaton, 20 of the 42 pedestrians struck by vehicles were seriously injured. One person, Anglarill, was killed.
• To the north in Aspen Hill, 23 people were hit, including 13 who were seriously injured, near the intersection of Georgia and Connecticut Avenue, another state road.
• South of Wheaton, seven people were hit around the intersection of August Drive, including three who were seriously injured. No one was killed.
• Further south, in downtown Silver Spring, 45 were hit, including 25 who were seriously injured and one who was killed.
Asked about pedestrian safety improvements, SHA officials cited four-year-old sidewalk, curb, and gutter repairs and crosswalk restriping in Aspen Hill. They said the agency reconstructed ramps in 2015 for disabled pedestrians in Silver Spring and upgraded traffic signals and bus stops.
In Wheaton, cars often whiz through the tight intersections in an area packed with a Metro station, office buildings, retail shops and a major shopping mall. Sidewalks are narrow in some areas and provide no buffer between pedestrians and the road.
"It's very dangerous," said Michael Sauh, 21, who lives on Georgia near Reedie. "There are lots of people of all types, elderly people, young people … crossing through here."
Construction projects frequently obstruct sections of the sidewalk, he said, and cars often speed and turn corners while pedestrians have the walk sign.
"It's just so stupid right here," he said. "I don't know what can be done to change it."
In College Park, SHA added a traffic light, lowered the speed limit and installed a fence in the median strip after public outcry following the deaths of three pedestrians in a series of accidents on Baltimore Avenue adjacent to the University of Maryland.
In Ocean City, a popular tourist destination, the agency added pedestrian walk signals and walkways and reduced speed limits along the eight-lane Coastal Highway after a rash of accidents, including two fatalities, in 2012.
The highway remains among the most dangerous in the state. The CNS analysis identified four clusters of accidents in Ocean City involving a total of 83 pedestrians since 2015. That included 59 serious injuries and two deaths. SHA is installing a 40-block median fence, set to be complete by the summer tourism season, to try to reduce the toll.
In contrast, Montgomery County entered into negotiations with the SHA in 2010 about the construction of a median fence on Georgia to deter jaywalking, but the two agencies failed to reach an agreement, said Jeff Dunckel, former pedestrian safety coordinator for the Montgomery County Department of Transportation. He now heads the pedestrian and bike safety program at the state's highway safety office.
Felix said the SHA is still open to negotiations.
Last January, Consuelo Anglarill began crossing Georgia at Reedie Drive about two car lengths outside a crosswalk, according to a police report and witness interviews. She waited on the median strip until a car in the closest lane stopped to let her cross to the other side. But another car sped through the intersection, traveling over 50 mph in the 35 mph-zone, according to the police report. The driver slammed the brakes when he saw Consuelo, but the car skidded into her, flinging her into the air, witnesses said.
"There was no way he could've seen her," said Bernadette Hall, who witnessed the accident. "He hit the brakes, but by that time, it was too late."
Consuelo was taken to Suburban Hospital and died 14 days later.
Her family felt her absence this Thanksgiving, their first holiday spent without her, said her daughter Elizabeth Anglarill, 48, of Silver Spring. The Bolivian immigrant had two children and two grandchildren. Marinating and seasoning the turkey had always been Consuelo's duty, and Elizabeth had worried about preparing it this year, nearly outsourcing the job to catering before her husband stepped in to help.
Her mother was the "heart of the family," Elizabeth said.
City of Bowie Announces Special Election to Fill Vacancy
District 2 Special Election Set for March 12 to Fill Vacancy Created by Recall
By PRESS OFFICER
City of Bowie Maryland
The City of Bowie will hold a Special Election on Monday, March 12, 2018 to fill a vacancy in the District 2 Councilmember seat. The vacancy was created when a majority of District 2 voters supported the recall of Councilmember Diane Polangin in December.
The Recall Election took place on December 19, 2017. In that election, 70% of the voters voted "yes" on the question of recalling incumbent Councilmember, Diane Polangin. According to provisions in the City Charter, following a successful recall initiative, the City must hold another Special Election to fill the vacancy within 60–90 days.
Only voters of District 2 will be eligible to vote in this election. Residents who are interested in filing to run should contact City Clerk Awilda Hernandez at 301-809-3029 or ahernandez@cityofbowie.org. Candidate information can be found at the website: www.cityofbowie.org/election. A candidate for the seat must live in District 2, be a registered voter, and have lived in the City for at least one year. The filing deadline is February 9, 2018.
Polling places for the Special Election will be the same as those for the Recall Election. District 2A voters will vote at Christian Community Presbyterian Church and District 2B voters will vote at the Kenhill Center. Polls will be open from 7 a.m. to 8 p.m. on election day. Voters also have the option of voting by absentee ballot.
District 2A consists of the following neighborhoods: Belair Town, Bowie Forest, Fairview, Glenridge, Grady's Walk, Highbridge Park, Meadowbrook (only the streets south and west of Millstream Drive), Somerset, Stewart's Landing, and Tulip Grove. District 2B neighborhoods include Buckingham, Derbyshire, Forest Hills, Foxhill, Longridge, and Kenilworth.
Comcast Foundation Awards $265,000 to 16 Washington, D.C. Area Nonprofits
By PRESS OFFICER
Comcast
WASHINGTON, D.C.—On January 2, 2018, The Comcast Foundation announced that it had awarded $265,000 in grants to 16 nonprofit organizations across the Washington, D.C. metro area in 2017. The grants help grow the impact of programs aimed at expanding digital literacy, promoting service and mentoring tomorrow's leaders.
The Boys & Girls Clubs of Greater Washington, Easter Seals DC, MD, VA and The Arc of Prince George's County are among the many local organizations that are making a significant difference in the community and were supported by the Comcast Foundation this year. Comcast is dedicated to working with these organizations to shape the future of the areas its employees, customers and friends and families live in.
"Comcast is proud to award these grants to our partner organizations that share our commitment to improving communities and enriching lives," said Donna Rattley Washington, Vice President of Government & Regulatory Affairs for Comcast's Beltway Region. "Thanks to the tireless and extremely important work of these nonprofit organizations, the Washington, D.C. area is a better place to call home."
The organizations receiving Comcast Foundation grants in the Washington, D.C. metro area include:
• Boys & Girls Clubs of Greater Washington (DC)
• Boys & Girls Clubs of Southern Maryland (North Beach, MD)
• Byte Back (DC)
• College Bound (DC)
• Crittenton Services of Greater Washington (Silver Spring, MD)
• Easter Seals DC MD VA (Silver Spring, MD)
• Edu-Futuro (Arlington, VA)
• Greater Washington Urban League (DC)
• Identity, Inc. (Gaithersburg, MD)
• Junior Achievement of Greater Washington (DC)
• Latin American Youth Center (DC)
• Northern Virginia Urban League (Alexandria, VA)
• Rappahannock Big Brothers Big Sisters (Fredericksburg, VA)
• The Arc of Prince George's County (Upper Marlboro, MD)
• United Planning Organization (DC)
• YWCA National Capital Area (DC)
Including the support in the Washington, D.C. metro area, the Comcast Foundation in 2017 has donated about $20 million to nonprofit organizations in the communities it serves nationwide. In addition to the grants from the Comcast Foundation, Comcast also responds to community needs through local sponsorships and in-kind support, such as airing public service announcements, employee volunteerism, and providing technology equipment and services to organizations across the country. Looking ahead to 2018, the Comcast Foundation will build on its efforts through an added focus on expanding access to technology to promote digital inclusion, helping individuals build skills for the digital economy, and encouraging innovation and entrepreneurialism.
About the Comcast Foundation
The Comcast Foundation was founded by Comcast Corporation in June 1999 to provide charitable support to qualified non-profit organizations. The Foundation primarily invests in programs intended to have a positive, sustainable impact on their communities. The Foundation has three community investment priorities—expanding digital literacy, promoting community service, and building tomorrow's leaders. Since its inception, the Comcast Foundation has donated more than $200 million to organizations in the communities nationwide that Comcast serves. More information about the Foundation and its programs is available at the following comcast web address www.comcast.com/community.
How the State of Maryland Decides to Make Roads Safer For Pedestrians
By LINDSAY HUTH,
ANGELA ROBERTS
and JAKE GLUCK
Capital News Service
COLLEGE PARK, MD—A drunk driver struck and killed Matthew Cheswick, 22, on Memorial Day weekend in 2012 as he walked on Coastal Highway in Ocean City, a popular tourist destination on the Atlantic coast.
The Towson University student was one of 40 people hit by vehicles on the state highway that year, and one of two fatalities.
In response, the Maryland State Highway Administration ran a pedestrian education campaign with the city that featured a cartoon crab name "Cheswick" in his honor. They also installed a mid-block pedestrian walk signal in 2014 near the spot Cheswick was killed.
A project to improve lighting and install a two-mile-long median fence along Coastal Highway is scheduled to be completed before the 2018 tourism season.
"I have to give it to [the transportation agencies]," Cheswick's mother, Cecilia Roe, said. "They have been wonderful."
But improvements have progressed more slowly elsewhere across the state. Sections of Branch Avenue and Curtis Lane, in the low-income area surrounding the Naylor Road Metro Station in Hillcrest Heights, have been slated for pedestrian and biking improvements in each year's capital projects plan since 2012.
While awaiting completion of the project, at least 24 pedestrians have been hit on Branch and other state roads within two miles of the station since 2015.
The Maryland Department of Transportation funds major state road construction projects through the Consolidated Transportation Program, the department's six-year capital projects plan. It picks which projects to include based in part on annual priority letters submitted by counties with the governor and legislature's approval.
The county priority lists are dominated by car-focused projects—such as reducing traffic congestion on I-270 in Montgomery County and improving car access to the Greenbelt Metro in Prince George's County. Both counties placed pedestrian safety improvements near the bottom of their letters.
"Although not specifically included in the attached list, Prince George's county believes it is imperative that the State address the lack of safety features included on and along State-maintained roadways," the Prince George's County 2013 letter says.
Montgomery County specified Georgia Avenue as one of its "highest need" locations for pedestrian improvements. But that too was mentioned near the bottom of its priority list, below major car-related projects.
The SHA rarely undertakes capital projects dedicated solely to major pedestrian improvements along roadways. But Charlie Gischlar, the agency's media relations manager, said the state looks for ways to include pedestrian safety improvements in most major road projects.
"When we make a road improvement, let's say to break congestion, we also will put in, usually most of the time, sidewalk or a bike lane or something of that nature," Gischlar said.
Making the list doesn't assure swift action.
Like Georgia Avenue in Wheaton, Branch experiences the heavy pedestrian traffic that comes with a Metro station. The fading crosswalk in front of the Naylor Metro had no functioning pedestrian signals when Capital News Service visited in October.
Sidewalks were crumbling or missing entirely. Pedestrians have worn dirt paths in the grass along the southern side of the Naylor Road Metro station because sidewalks are only accessible from the north. Some restaurants and businesses pedestrians pass along Branch Avenue to get to the station have no sidewalks, forcing pedestrians to cut through parking lots along the edge of the six-lane highway.
Gischlar said the agency is adding sidewalks along those parking lots, replacing and widening others and repainting crosswalks, but completion has been delayed while the agency redesigns the project to address drainage and other problems. He said work will restart next year. But while the drainage pipes are replaced, no sidewalks are available across the street from the Metro station.
SHA-Funded Pedestrian Safety Improvements
The SHA also can select and fund pedestrian safety improvements through the System Preservation program.
The agency established the Pedestrian Road Safety Audit in 2012 to identify areas with high numbers of pedestrian crashes, said Lora Rakowski, SHA education and marketing manager. Anyesha Mookherjee, deputy director of SHA's Office of Traffic and Safety, said the audit is "one of the biggest tools we have" to address pedestrian crash areas.
Engineers compile a list of one-mile sections of state roads where 10 or more pedestrian crashes occurred in a five-year period, ranked by the number of accidents.
"There is no real statistical reasoning behind why we chose 10 and not eight or for that matter one," Gischlar said.
The 10-accident threshold was based on "engineering judgment," said Mookherjee. "Whichever has the highest [number] of crashes, we get to it first."
To conduct the audit, the agency forms a multidisciplinary group of engineers, fire and EMS officials and community members to look into the areas, Mookherjee said.
Small-scale improvements can be implemented in 30 to 90 days, while larger projects may take one or two years, or longer, Mookherjee said. Many of SHA's seven district offices can pay for the smaller improvements within their jurisdiction themselves. Larger ones are often funded in stages, from design through construction, and officials ask for components of the project, like a new traffic signal, from the statewide budget.
At many locations, the agency has completed its short-term projects but long-term ones are still in progress. These audits led to the extended walk light in Wheaton and the pedestrian walk signals, lower speed limit, pedestrian walkways and median fence in Ocean City, Gischlar said.
But the agency denied a records request to obtain the audit results, saying releasing the records would be against the public interest because it "could be used to attempt to discover MDOT SHA's thought process regarding decisions affecting highway safety." Rakowski provided a list of 22 roads identified through the audit but provided no accident statistics or what improvements, if any, were made.
SHA also investigates the site of every fatal crash, Gischlar said.
"So we'll go out and take a look if there's anything we can do right off the bat, trim branches to improve sight distance, maybe freshen up on some pedestrian pavement markings," he said.
SHA investigates "pretty much everything" citizens or counties bring to its attention, Mookherjee said.
"Any concern they [citizens] have, we will have an engineering study," Mookherjee said.
SHA uses a 1,000-page book called the Maryland Manual on Uniform Traffic Control Devices (MUTCD) to assess whether additions like crosswalks or pedestrian signals are warranted at a particular location.
"That pretty much is the Bible of traffic engineers," Mookherjee said.
Sean Emerson, an activist with the Action Committee for Transit in Montgomery County, said SHA responds to most requests for pedestrian improvements by citing the MUTCD passage that says it's not necessary.
For the SHA to okay the painting of a new crosswalk, the section of road in ques-
tion must meet all of the criteria outlined in MUTCD, said Emerson, a legislative aide
to Bethesda state delegate Marc Korman.
"The SHA will come back and say, 'Sorry, it's not warranted,'" Emerson said.
Rather than making engineering changes, the state often handles high-crash areas through driver and pedestrian education initiatives, such as its "Look Up, Look Out" campaign and the Maryland Department of Transportation's "Toward Zero Deaths" pedestrian safety page, which features tips like, "Watch for turning vehicles," and "Use pedestrian pushbuttons."
Council Chair Responds to Federal Decision to End Immigration Protections
Free Legal Services May be Available for County Residents Detained and Facing Deportation
By PRESS OFFICER
PG County Council
Upper Marlboro, MD—The Prince George's County Council and the residents we serve celebrate the strength of diversity in our communities. Immigrants are an integral part of the vibrant fabric of America and in Prince George's County, and they continue to make immeasurable contributions to our collective community story.
The January 8th policy announcement by the Trump Administration and the U.S. Department of Homeland Security, cancels Temporary Protected Status (TPS), provisional residency permits for hundreds of thousands of Salvadorans, who could now be forced to leave the United States.
The TPS program has protected immigrants from deportation when there is conflict or natural disaster in their home countries. Under the new federal policy however, such protection is ended, and Salvadorans now have until September 2019 to leave the U.S. or find a way to reside legally. Federal immigration decisions ending the offer for temporary legal status are also similarly affecting Haitians, Nicaraguans, and Hondurans.
The state of Maryland is home to one of the largest community of Salvadorans across the nation under the TPS program, and many of them reside here in Prince George's County. As contributing members of our communities, these residents are parents, family members, homeowners, business owners, workers and neighbors. We agree with our colleague, Council Member Deni Taveras, who represents many of the County's immigrant residents. Their sudden deportation under this new policy will have a significant impact.
"Maryland, and Prince George's County, would lose millions of dollars annually in economic costs and much greater social costs if residents with TPS status are forced into the shadows. These residents have made Prince George's County their home after fleeing violence, war, or natural disasters. They are local entrepreneurs, homeowners, and our neighbors. We all will be affected if thousands of Prince George's County residents are uprooted after, in many cases, being part of our community for decades."
The Prince George's County Council is working to support our County's immigrant population, and stands in solidarity with those who oppose ending the TPS program and forcing the deportation of immigrants who have lived and worked in our country and communities for many years. We urge Members of Congress to act quickly to create legislation that provides a viable path to citizenship or legal permanent residency.
County residents who are detained and are facing deportation may be eligible for free legal services through the Immigrant Services and Language Access Initiative or ISLA, a partnership of the Prince George's County Council, Prince George's County Government, the Capital Area Immigrants' Rights Coalition (CAIR), the Vera Institute of Justice, and CASA de Maryland.
If a family member has been detained, contact 202.331.3320, extension 7027 to leave a voicemail. Your call will be returned. If you are detained, follow posted instructions at the correctional facility to call the CAIR Coalition, then dial *1686. Calls are answered Monday through Friday from 9:00 a.m. to 5:00 p.m. Visit www.caircoalition.or/need-help.