March 26 - April 1, 2020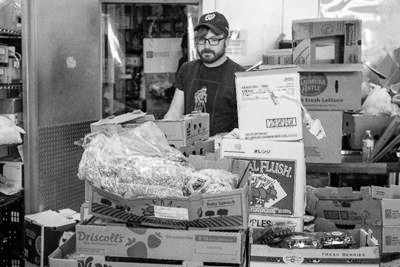 Photo courtesy MGM National Harbor
MGM National Harbor donated food to the local community.

MGM National Harbor Donates 45,000+ Meals to Nourish Now
By PRESS OFFICER
MGM National Harbor
NATIONAL HARBOR, Md. (March 19, 2020)—Days after MGM National Harbor temporarily closed its doors to the general public, the company opened its doors to donate food to the local community. This week, MGM National Harbor contributed 22 pallets of food to community partners such as Nourish Now. The food will provide more than 45,000 meals to Maryland residents.
"This unprecedented climate has paralyzed communities locally and nationally and there is no greater time than now to exercise the meaning of community," says Melonie Johnson, President and COO of MGM National Harbor. "Partners like Nourish Now extend deep into the community and providing local families with access to healthy meals is more significant than ever."
To assist in this effort, Brett Meyers, Nourish Now founder and executive director, contacted local catering and food donor partner Simply Fresh Events who immediately jumped in to support these efforts. Simply Fresh Trucks, along with Nourish Now vehicles, arrived at MGM National Harbor acquiring and transporting approximately 55,000 pounds of food to Nourish Now warehouses where the meals will be put together.
"We at Nourish Now are thankful for partners who are always there to give back and support our mission to end food waste and hunger," says Meyers. "Because of our existing relationship with MGM National Harbor, it proved to be a quick and seamless process that now allows us to get meals to families in need much quicker, which is our only goal right now."
Children and families throughout Montgomery County and Prince George's County will be the beneficiaries of this fast-acting partnership and true spirit of everyone working together for the greater good. Meals will be available for pick up Thursday, March 19 from 10:00 a.m. to 4 p.m. at Nourish Now, 1111 Taft St, Rockville, MD 20850.
---
PGCPS Adds More Student Meal Sites
Student enrichment packets available at meal sites and online
By OFFICE OF COMMUNICATIONS
Prince George's County Public Schools
UPPER MARLBORO, Md. (March 18, 2020)—Starting Thursday, March 19, Prince George's County Public Schools (PGCPS) students can get "grab and go" meals at 10 new sites, bringing the total number to 36.
In addition, student enrichment packets for use during the statewide school closings are now available at all meal sites and online for prekindergarten through 12th grade students. Packets are also available for students attending Community-Referenced Instruction programs, a special education program for high school students with special needs, or regional programs. The packets provide additional review in grade-level content areas.
"This week we have served thousands of students at our meal sites," said Dr. Monica Goldson, Chief Executive Officer. "I am committed to meeting the community demand by doing our best to help children with daily meals and making it easier for them to obtain learning enrichment packets. As a community, we are at our best when we come together."
The new student meal sites are Calverton, Clinton Grove, Gladys Noon Spellman, Laurel, Lewisdale, Springhill Lake, Thomas S. Stone and Waldon Woods elementary schools, and Benjamin Stoddert, Kettering and Oxon Hill middle schools.
Breakfast, lunch and a snack will be available weekdays from 10 a.m. to 1 p.m. School system staff will be on hand to distribute meals in the cafeteria or parking lot depending on the weather. Students may pick up all three meals, which may include cold cereal, a sack lunch, fruit and milk, in one visit. Parents and guardians are not required to accompany students, but adults may not pick up meals for children. Student IDs are not required.
The full list of sites is below:
Andrew Jackson Academy, 3500 Regency Parkway, Forestville
Benjamin Stoddert Middle School, 2501 Olson Street, Temple Hills
Benjamin Tasker Middle School, 4901 Collington Road, Bowie
Buck Lodge Middle School, 2611 Buck Lodge Road, Adelphi
Calverton Elementary, 3400 Beltsville Road, Beltsville
Carmody Hills Elementary, 401 Jadeleaf Ave., Capitol Heights
Clinton Grove Elementary, 9420 Temple Hill Road, Clinton
District Heights Elementary, 2200 County Road, District Heights
Drew-Freeman Middle School, 2600 Brooks Drive, Suitland
Dwight D. Eisenhower Middle School, 13725 Briarwood Drive, Laurel
Gladys Noon Spellman Elementary, 3324 64th Avenue, Cheverly
Hillcrest Heights Elementary, 4305 22nd Place, Temple Hills
J. Frank Dent Elementary, 2700 Corning Ave., Fort Washington
John Bayne Elementary, 7010 Walker Mill Road, Capitol Heights
Judge Sylvania Woods Elementary, 3000 Church St., Glenarden
Kenmoor Middle School, 2500 Kenmoor Drive, Landover
Kettering Middle School, 65 Herrington Drive, Upper Marlboro
Langley Park-McCormick Elementary, 8201 15th Ave., Hyattsville
Laurel Elementary, 516 Montgomery St., Laurel
Lewisdale Elementary, 2400 Banning Place, Hyattsville
Longfields Elementary, 3300 Newkirk Ave., Forestville
Martin Luther King Jr. Middle School, 4545 Ammendale Road, Beltsville
Nicholas Orem Middle School, 6100 Editors Park Drive, Hyattsville
Oxon Hill Middle School, 9570 Fort Foote Road, Fort Washington
Port Towns Elementary, 4351 58th Ave., Bladensburg
Samuel Chase Elementary, 5700 Fisher Road, Temple Hills
Springhill Lake Elementary, 6060 Springhill Drive, Greenbelt
Stephen Decatur Middle School, 8200 Pinewood Drive, Clinton
Suitland Elementary, 4650 Towne Park Road, Suitland
Templeton Elementary, 6001 Carters Lane, Riverdale
Thomas S. Stone Elementary, 4500 34th Street, Mount Rainier
Thurgood Marshall Middle School, 4909 Brinkley Road, Temple Hills
Waldon Woods Elementary, 10301 Thrift Road, Clinton
Walker Mill Middle School, 800 Karen Blvd., Capitol Heights
William Paca Elementary, 7801 Sheriff Road, Landover
William Wirt Middle School, 6200 Tuckerman St., Riverdale Park
For more information, visit www.pgcps.org/coronavirus.
---
Statement: County Council Chair Todd M. Turner Updates Council Response to Coronavirus in Prince George's County; Council Adopts Emergency Measure
By KAREN D. CAMPBELL
Prince George's County Council Media
Upper Marlboro, Md. (March 17, 2020)—The Council is deeply concerned about the catastrophic impact of the Coronavirus (COVID-19) pandemic on the health and safety of Prince Georgians, and we are working together with County Executive Angela D. Alsobrooks and the County Health Department to address this public health crisis.
COVID-19 has changed life as we know it, and at least for now, it is also changing the way the County Council operates, and how we engage our residents in important Council processes. In the current Federal, State and County states of emergency, the Council must continue to balance its responsibility to serve the community to the fullest extent possible, as a legislative body, the County's Board of Health, and under its land-use and fiscal authority, with an equal duty to protect the health, welfare and safety of all Prince Georgians and our staff.
During Council Session on Tuesday, March 17, the Council adopted Emergency Resolution, CR-10-2020, which as a result of the coronavirus public health emergency, significantly adjusts Council operations, sessions and committee meeting schedules, and presents alternative public participation pathways for our residents to remain engaged in required Council meetings and operations.
Under this emergency measure, which has the force and effect of law, all public meetings, sessions and hearings of the Prince George's County Council, sitting as the District Council on land-use matters, the Office of the Zoning Hearing Examiner, and Board of Appeals are stayed for a period of 60 days or until the statewide emergency is lifted.
The time within which any individual, agency or official must submit a recommendation and/or response to the District Council, Zoning Hearing Examiner or Board of Appeals for consideration during these proceedings, is also stayed, for the same 60-day period.
The Council will continue to monitor the rapidly evolving coronavirus crisis and assess any need for additional adjustments. As we begin the FY 2021 Budget Review and Adoption process, and further the ongoing Zoning Ordinance Rewrite/Countywide Map Amendment processes (The Council and the Prince George's County Planning Board of the Maryland-National Capital Park and Planning Commission have jointly agreed to postpone the March 23rd Joint Public Hearing—further information to be provided), we remain committed to the continuity of government operations, maintaining essential processes, and providing opportunities for critical public engagement.
While the current and imminent threat to health and safety challenges in-person participation in Council processes, CR-10-2020 provides for alternative public participation options, including utilization of digital technology, teleconferencing, the web, email, and live streaming, where such meetings, sessions or hearings are mandated.
We encourage you to visit the County Council at online at https://pgccouncil.us for additional information and updates.
The County Council continues to encourage County residents and employees to practice the guidelines provided by the CDC and Health Department, including:
• Social Distancing—Remember six feet of safety. Stay six feet or more away from others in public settings.
• Avoid Shaking Hands—Use the elbow bump or wave as an alternate greeting.
• Cover Your Cough or Sneeze with a tissue, your sleeve or elbow.
• Wash your hands often with soap and water, for at least 20 seconds; and if that's not available, use an alcohol-based hand sanitizer with at least 60% alcohol.
• Avoid touching your eyes, nose or mouth.
• Avoid close contact with people who are sick. If you are sick, stay at home, except to get medical care.
For the latest updates on COVID-19 in Prince George's County, please visit the Health Department's dedicated web page, health.mypgc.us/coronavirus, or call the Health Department Coronavirus Hotline at 301.883.6627, daily between 8 a.m. and 8 p.m.
The Council wishes to especially thank the members of the County Council staff and administration, for their work and commitment to our County, during this difficult time.
We are proud of how Prince Georgians have come together to address this health emergency. Please continue to pray for those directly impacted by this crisis, and for our world, the United States, Maryland and Prince George's County.
---
Horacio Sierra Receives Faculty Award for Excellence in Teaching
By DAMITA CHAMBERS
Bowie State University
BOWIE, Md. (March 9, 2020)—A Bowie State University literature and cultural studies professor who uses experiential learning to promote student success is being honored with a Faculty Award for Excellence in Teaching by the University System of Maryland (USM) Board of Regents. The Faculty Awards are the highest honor granted to exemplary USM faculty.
Associate Professor Horacio Sierra uses out-of-the-box teaching methods to encourage his students to apply their knowledge and critical thinking skills. As part of the curriculum, he leads field trips to live performances of William Shakespeare plays and exhibitions at art museums in the region. He regularly invites guest lecturers to speak to his classes, including state legislators, pop culture icons and civil rights activists. In 2018, he led students on a cultural immersion trip to Mexico City during spring break.
Each Faculty Award carries a $2,000 prize provided by the institutions and the USM Foundation. USM Chancellor Jay A. Perman and Board of Regents Chair Linda Gooden will present the awards at the next scheduled meeting of the full board on Friday, May 1 at Bowie State University.
"Dr. Horacio Sierra is passionate about teaching and loves seeing his students apply the knowledge and critical thinking skills that they have acquired to real-life situations and for human improvement," said Bowie State University President Aminta H. Breaux. "He is unique with his pedagogy, because his teaching involves experiential learning, creative or innovative curricular, and dynamic learning designs. Dr. Sierra has a guiding belief in the importance of immersing students in extracurricular activities to enable them to gain rich cultural experiences that widen their mental horizon."
Dr. Sierra has designed innovative courses that challenge traditional approaches to teaching literature and language analysis, including the first queer cultural studies course at a historically black college or university (HBCU). He also started a course on graphic novels and another one on popular songs and artists. He established an English internship program, so that students can earn academic credit for work related to their degree.
With his class assignments, he promotes the use of technology and creative expression to assess student learning, instead of traditional research papers. With this flexibility, some students have performed Shakespeare scenes in acting troupes, produced podcasts and mini-documentaries, created a research-based Playbill and worked with a campus librarian to develop an artifact-rich public exhibit.
He also secured grants to fund innovations to improve student learning performance. In 2017, he helped students in an introductory English course save money on textbooks by providing access to free open source educational materials, using a $1,500 Maryland Open Source Textbook grant from USM's William E. Kirwan Center for Academic Innovation.
In addition to the USM Board of Regents Faculty Award, Dr. Sierra has received recent teaching honors, including the 2019 Bowie State University Presidential Excellence in Teaching Award.
---
Maryland Lawmakers Pass Legislation to Strengthen the Hate Crime Statute and Make Strangulation a First-Degree Felony
By DENISE SMITH
Office of the State's Attorney, Prince George's County
UPPER MARLBORO, MD (March 17, 2020)—Prince George's County State's Attorney Aisha Braveboy announces the successful passage of her two priority pieces of legislation to strengthen Maryland's hate crime statute and to make strangulation a first-degree felony by the Maryland General Assembly. The passage of these bills, during a compressed legislative session, demonstrates the State's Attorney's leadership and strong relationships in Annapolis.
Yesterday, lawmakers passed Senate Bill 606 (SB606) and House Bill 917 (HB917), "Criminal Law—Hate Crimes Basis – 2nd Lieutenant Richard Collins, III's Law." The legislation strengthens the current statute, clarifying that hate does not have to be the sole motivation for a hate crime.
"I want to thank our legislative partners for sponsoring this bill. I am especially grateful for the strength and commitment of the Collins family to not only seek justice for their son, but justice for all," Braveboy said. "In 2019, there were zero convictions in all of Maryland's Circuit Courts under the current hate crime statute. The 2nd Lt. Richard Collins III Law will ensure that individuals who commit a hate crime are prosecuted to the fullest extent of the law."
In addition, lawmakers passed House Bill 233 (HB233) and Senate Bill 212 (SB212), "Criminal Law - Assault in the First Degree - Suffocation or Strangulation." This legislation will make strangulation a first degree felony assault.
"Strangulation is one of the most lethal forms of domestic violence. A victim of strangulation is seven times more likely to end up a victim of a homicide. Victims may experience unconsciousness within 5­–10 seconds and death within minutes," said Braveboy. "This law will result in more appropriate charging decisions and sentencings and enable state's attorneys in Maryland to save more lives and protect the public."
After the governor's signature, it is anticipated that these laws will become effective on October 1, 2020.
State's Attorney Braveboy's recent Op-ed on making strangulation a first degree felony assault was published in the Baltimore Sun. Visit the following link to read more: https://bit.ly/2TQ6kh4.
State's Attorney Braveboy's recent Op-ed on strengthening Maryland's hate crime statute was published in the Washington Post. Visit the following link to read more: https://wapo.st/39097bA.
---