January 12 - January 18, 2017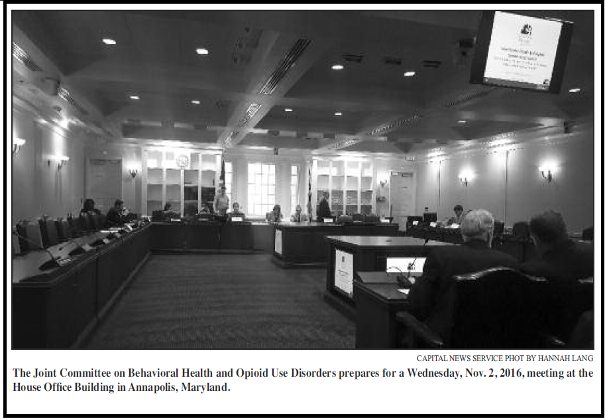 Opiate Declines in Maryland Prisons After Cut From Medicaid List
By Hannah Lang
Capital News Service
ANNAPOLIS, MD—Since Suboxone film strips were removed from the Medicaid Preferred Drug List in July, the amount of the drug recovered in Maryland correctional facilities as contraband has decreased by 41 percent, according to Maryland's Department of Public Safety and Correctional Services.
Suboxone—a drug used to treat opiate addiction—has a high risk of addiction and dependence, and can even lead to death when paired with other drugs or alcohol, according to the Food and Drug Administration.
The medication is easily smuggled into state prisons and jails when it is in the form of a strip, designed to be placed under a user's tongue, said Gary McLhinney, the director of professional standards at the Maryland Department of Public Safety and Corrections.
"It is an epidemic, the amount of Suboxone that comes in," said Terry Kokolis, the director of corrections for Anne Arundel County, Maryland, at Wednesday's meeting of the legislature's Joint Committee on Behavioral Health and Opioid Use disorders. "Strips come in, they're sold, they're bartered, they're cut into four pieces and the inmate population is always looking for Suboxone. It's the preferred drug."
In May, the Maryland Medicaid Pharmacy and Therapeutics Committee made recommendations for the Medicaid Preferred Drug List.
The Department of Health and Mental Hygiene removed Suboxone from the preferred list and instead made comparable Zubsolv tablets preferred on July 1, making Maryland the first state to do so.
The tablets are more difficult to smuggle into prison than the film strips, which can be easily concealed.
If a drug is on the Medicaid Preferred Drug List, a person covered by Medicaid can obtain that drug for a small co-pay. If a drug is denoted as non-preferred, a person must get prior authorization for the medication through a doctor or prescriber in order for it to be covered or partially covered by Medicaid, according to the Maryland Medicaid Pharmacy Program.
On Sept. 23, 35 states—including Maryland—and Washington, D.C., filed a class action lawsuit against Indivior, the company that produces Suboxone. The states allege Indivior impeded the sale of generic versions of Suboxone in tablet form until it forced other generic alternatives out of the market, driving up the price of the film strips, according to a Sept. 27 release from Indivior.
The release is the only comment the company has on the lawsuit or on the Medicaid restrictions at this time, said a representative from Indivior.
Between July 1, when the film strips were removed from the Medicaid Preferred Drug List, and Oct. 31, the Department of Public Safety and Corrections has recovered 940 pieces of Suboxone film strips, compared to 1,603 recovered from July 1 to Oct. 31 in 2015.
"We've also had our teams monitor inmate calls and they're overhearing some frustration about not being able to obtain the strips behind the walls as easily as it was prior to July 1," said McLhinney.
The disparity between the asking price of contraband Suboxone strips has also sharply increased since July 1. The street price for a film strip is only $5, while the price behind bars can be up to $500, said McLhinney.
Typically, the film strips are cut into four pieces and sold separately within prisons to increase an inmate's profit margin, Kokolis said.
"We've done numerous cases where Suboxone has been smuggled in the jail behind stamps or in envelopes or where the paper was colored with Suboxone and then the inmate would get the paper and eat it," said Dan Alioto, the commander of the vice/narcotics division at the St. Mary's County Sheriff's Office.
Though the amount of the drug recovered in St. Mary's County has declined slightly since July, Suboxone strips are still being abused and traded for other drugs within jails and prisons, he told the University of Maryland's Capital News Service.
"I think it has slowed down, but it's still an old trick, so it takes a little while for the next thing to emerge," he said.
Local jails have become the "biggest detox facilities in the state of Maryland," Kokolis said. However, 85 percent of the prison and jail population who reported using drugs prior to being sentenced also reported using heroin within 24 hours of imprisonment, while they were incarcerated, he said.
"All of the good that we try to do is very easily compromised by the easy intake of Suboxone," he said.
Maryland officials are also working to collect more data on heroin and opioid use statewide, said Glenn Fueston, the executive director of the Governor's Office on Crime Control and Prevention.
"We need to make sure that we're getting more access to that data as a whole so we can make better decisions and better understand the current threat that we have," he said. "Understanding the threat is a very important part of this problem.
Eight PGCPS Students Awarded Posse Scholarships
Posse Scholars Receive Full Four-Year College Scholarships to Select Institutions
By PRESS OFFICER
PGCPS
UPPER MARLBORO, MD—Eight Prince George's County Public Schools (PGCPS) seniors have been named Posse Scholars and will receive four-year, full-tuition college scholarships from The Posse Foundation's partnering schools.
Next fall, Posse Scholars from across the nation will enter colleges and universities in multicultural groups of 10 known as "posses." Throughout their college career, they will support each other and receive ongoing assistance from The Posse Foundation. Posse Scholars have a 90 percent college graduation rate and demonstrated potential to positively impact their professions.
Each scholarship is worth approximately $140,000. Thirty-two PGCPS students have received Posse scholarships since 2013.
"Thanks to the generosity of the Posse Foundation, our students are able to realize their dreams of higher education," said Dr. Kevin M. Maxwell, Chief Executive Officer. "We are proud that our latest class of Posse Scholars continues the proud tradition of excellence, scholarship, leadership and ambition."
Posse Scholars from Prince George's County include:
Student School College
Jocelyn Lewis Charles H. Flowers High School University of Wisconsin -Madison
Hamza Shittu School: Charles H. Flowers High School Bucknell University
Clennie Murphy School: Fairmont High School Lafayette College
Shomari Todd School: Friendly High School Sewanee: The University of the South
Jonathan Arrington Friendly High School Lafayette College
Joziah Mays School: Friendly High School University of Wisconsin - Madison
Seriah Wyatt Oxon Hill High School Sewanee: The University of the South
The eight students joined 42 others Tuesday evening for The Posse Foundation's annual awards ceremony in Washington, D.C.
For more information on The Posse Foundation and the Posse program, visit www.possefoundation.org.

Take Matters into Your Own Hands at Your Library
By Press Officer
PGCMLS
Largo, MD—MakerSpace Spotlight and Do It Yourself (DIY) Research in EBSCO's Hobbies & Crafts Reference Center are the latest electronic resources of the Prince George's County Memorial Library System (PGCMLS). No 3D printer? No problem. You can still be a Maker. Take matters into your own hands using these new Library digital resources.
The MakerSpace Spotlight feature offers step-by-step instructions on diverse projects such as robotics, model building and needlecrafts. Spark your imagination by researching these additional DIY subjects: Kid's crafts, scrapbooking, collecting, performing arts, technology, gardening and more.
Hands @ Your Library A Library customer had this to say about the DIY reference centers. "Wow! I just discovered the new Hobbies & Crafts Reference Center on the PGCMLS website," Lynn exclaimed. "I love to sew and quilt. I am always looking for new patterns and ideas. The Needlecrafts and Textiles section has everything that I need, including techniques and patterns for applique and quiltmaking," she added. "It looks like there are a lot of other articles and ideas for many kinds of craft projects in this resource, too!"
Make your own discovery! Visit our website at www.pgcmls.info or stop by your local library, and start that MakerSpace or DIY project that you have always dreamed of doing. Be a Maker! Make your dreams come to life at your Library.
About Prince George's County Memorial Library System
The Prince George's County Memorial Library System (PGCMLS), consisting of 19 branches, offers strategies for lifelong learning. Skills development library resources include: Rosetta Stone Library Solution, Lynda.com, Brainfuse's HelpNow and JobNow, ArtistWorks for Libraries and Learning Express Library. Early literacy resources are: Ready 2 Read Centers, Ready 2 Read Backpacks, ABCmouse, AWE Early Literacy Stations, Beanstack, Playaway Launchpads and PebbleGo. All these services are free with your PGCMLS library card. Also, enjoy Minecraft, 3D printing, DREAM (Digital Resources for Electronic Applications in Media) lab, chess clubs and MAC (Manga and Anime Clubs) free at your library. Engage with us on social media: Facebook, Twitter, Flicker, Pinterest, Instagram and YouTube. Check out our mobile apps! Learn more about what your Library has to offer at www.pgcmls.info.
EDC Holiday Extravaganza Thanks Local Business Community for a Great 2016
By Lori C. Valentine
PGCEDC
Mitchellville, MD—Last week, the Prince George's County Economic Development Corporation Team (EDC) rang in the holidays by hosting its Annual Holiday Extravaganza at the Country Club at Woodmore to express its appreciation to the business community for their continued support, commitment and dedication to making Prince George's County the best place in the world to do business. EDC President and CEO Jim Coleman welcomed over 300 business leaders, State and County officials, and EDC Board members to the festive gathering. Among those joining in the festivities were Maryland Senate Majority Leader Douglas J.J. Peters, County Councilmember Todd Turner, and the County's Assistant Deputy Chief Administrative Officer David Iannucci. Also in attendance were EDC Board members Marva Jo Camp, Thomas Graham, Eric Henderson, and Sylvia Syphax.
"I am so grateful to our partners in the business community and government for their unwavering dedication to making Prince George's County the economic engine of the State of Maryland," said Coleman. "Because of the business community, more than 9,000 jobs were created this year and the median household income in the County increased by $5,000. Everything that should be up, is up. Everything that should be down, is down. It's been a great 2016, and we are looking forward to continuing this momentum with our business partners' and making 2017 even better!"
David Iannucci, who spoke to the holiday gathering on behalf of County Executive Rushern L. Baker, III who is currently out of town, also expressed his excitement about the progress the EDC, along with its partners at FSC First have accomplished this year. The Baker Administration attributes the great progress taking place in the County to thoughtful planning.
"The success the County is currently experiencing is no accident', said Iannucci. "The County had a plan that dealt with public safety and education. The missing link was economic development. None of this success is possible with the private sector believing in Prince George's County. Now, true economic development is happening in Prince George's County with MGM's grand opening, the Regional Medical Center breaking ground in the Spring, and, we believe, the FBI coming to Prince George's County."
Many of the business leaders in attendance expressed their appreciation for the support the EDC provides to small businesses through the Small Business Development office and Workforce Services Division.
"I am delighted to be here to say 'thank you' to the Prince George's County Economic Development Corporation for all the help I received from them," said Laverne Johnson, owner of Security Education Environmental Design Services, LLC, a minority, woman-owned security safety consultant business in Temple Hills, MD. "From business plan assistance through getting Small Business Administration 8A certification, the EDC has been with me every step of the way."
Holiday Extravaganza sponsors included Safeway, Marva Jo Camp, Esq., Forestville Plaza and Carrollton Enterprises.
"This evening was a great opportunity for Safeway, along with other corporations to network with small business owners, who give life into the community," said Stephanie Ridore, Safeway Labor Relations Manager. "The partnership Safeway has established with the EDC has been a tremendous success in bringing more jobs into the community, and we believe will continue to grow."
Join the EDC on January 19th for its Clean Tech Demo Day where commercial real estate brokers and investors can learn energy solutions from clean tech entrepreneurs to reduce energy costs and increase competitiveness. This event will take place at EDC Headquarters, 1801 McCormick Drive, Suite 140, Largo, MD 20774.
To reserve your seat, contact Crystal Ballard at 301-583-4650 or visit www.pgcedc.com/events to register. Space is limited!
Quitline Provides Free Services to Help Marylanders Quit Tobacco
By PRESS OFFICER
DHMH
Baltimore, MD—Quitting tobacco use is the single most important step a tobacco user can take to improve the length and quality of his or her life. According to the American Lung Association, within 20 minutes of smoking that last cigarette, a smoker's body begins a series of changes. The longer a person goes without using tobacco, the larger the benefit to his or her health. The start of a new year provides an opportunity for Marylanders to formalize a plan for kicking their tobacco habits and to start enjoying the benefits of healthier lives.
"We know how difficult it can be and how many attempts it can take to quit tobacco for good, which is why we are pleased to offer the free, effective, and confidential Maryland Tobacco Quitline to state residents," said Secretary Dennis R. Schrader.
Equipped with a good plan, residents trying to quit can work through symptoms of withdrawal and become tobacco-free. Five steps that can help:
1. Set a quit date. The start of a new year is a great time to quit, along with many other people around the country. Or choose another quit day within the next 2 weeks.
2. Get support. Share your quit date with the important people in your life and seek support. The Maryland Tobacco Quitline offers free, effective, and confidential coaching for Maryland residents 13 and older, and offers free patches or gum to eligible participants. Tobacco users can call 1-800-QUIT-NOW or can visit www.smokingstopshere.com to enroll in the program.
3. Anticipate and plan for challenges. The urge to use tobacco is short, usually only 3 to 5 minutes. Before your quit day, write down healthy ways to cope.
4. Remove cigarettes, other tobacco, ashtrays, and lighters from your home, car and workplace. Tobacco odors and paraphernalia can cause cravings.
5. Talk to your doctor or pharmacist about medications. Nicotine patches, gum, or other medicines may help with cravings.
Provide these resources to a friend or family member as a gift of support for a New Year's resolution. We have also developed a short video titled Reasons to Quit that gives an overview about free Quitline services. Watch it at https://goo.gl/SYJ6UF. Thousands of Marylanders have quit using tobacco with help from the Maryland Tobacco Quitline. Hear some of their stories in their own words here: http://smokingstopshere.com/media/. Visit www.smokingstopshere.com or Call 1-800-QUIT-NOW to talk to a live Quit Coach 24 hours a day, seven days a week. Counseling is provided in English, Spanish, or other languages. Make 2017 the year you quit for good.
Marylanders who need help finding substance-use-disorder treatment resources should visit http://goo.gl/nIfGm0 or call the Maryland Crisis Hotline, which provides 24/7 support, at 1-800-422-0009. For information on many of the policies currently implemented to fight addiction and overdose in Maryland, see http://goo.gl/KvEzQw. If you know of someone in need of treatment for a substance use disorder, treatment facilities can be located by location and program characteristics on our page at http://goo.gl/rbGF6S.
The Maryland Department of Health and Mental Hygiene is the State agency that protects Maryland's public health. We work together to promote and improve the health and safety of all Marylanders through disease prevention, access to care, quality management, and community engagement. Stay connected: www.twitter.com/MarylandDHMH and also on www.facebook.com/MarylandDHMH. ?