June 4 - June 10, 2020

Prince George's Community College Nursing Student Overcomes Pandemic Challenges at School, Work, and as a Volunteer
By SONJI JOYNER
Prince George's Community College
LARGO, Md. (May 26, 2020)—As someone who is juggling nursing school with a full-time job and volunteer work, Donella Reid has experienced COVID-19 related changes and challenges in every one of these endeavors. She attends nursing school at Prince George's Community College, works as an outpatient surgery technician at a center in Maryland, and answers calls to the Prince George's County Community Crisis Services, Inc. suicide hotline during the busiest hours from midnight to 3 a.m.
Reid's nursing courses at Prince George's Community College transitioned from classroom activities to online studies when the College came back from an extra week of spring break on March 30. During that same time, her hours began to change at the surgery center where she works when patients started to postpone surgeries, procedures, and diagnostic tests due to fears about the coronavirus pandemic. And in recent weeks, Reid notes that most of the suicide hotline calls that she has taken are from people who are struggling to cope with the isolation associated with the coronavirus mitigation efforts.
New protocols put in place at the surgery center where Donella Reid works are designed to protect patients and staff from COVID-19. According to Reid, when the staff arrives at work, they immediately use hand sanitizer, change their face masks, change into sterile scrubs, and have their temperatures taken. Extra cleaning and disinfecting of doorknobs and surfaces are done throughout each day, and patient appointments are staggered so that people don't arrive at the same time. All patients are vetted for COVID-19 by having to pass a questionnaire before they arrive, and when they do get to the center they are escorted directly to their bay, bypassing the waiting room. Anyone who accompanies a patient must wait in their car until a phone call notifies them that the patient is ready to be discharged, and then the patient is escorted to the car for the drive home.
According to Reid, the hardest part of her job at the surgery center is wearing a face mask throughout the day. "N-95 masks are heavy, and they make it difficult to breathe." She also notes that "wearing masks all day has reduced communication among staff because the masks make it harder for us to hear each other. We only talk about what's essential and work-related."
For surgeries and other procedures, the staff must change their face mask, scrub in and put on a sterile gown, and add a face shield or goggles, gloves, and any other PPE (Personal Protective Equipment) that is needed, according to Reid. "At the end of the workday, I can hardly wait to get to my car, take off my mask, and breathe."
Throughout the many changes and challenges caused by the pandemic crisis, Reid remains upbeat. "I am happy, and I love what I'm doing," said Reid, who has a passion for helping people. She is on track to finish her nursing degree at Prince George's Community College in spring 2022.
"Everybody doesn't know right away what they want to do," said Reid. "For some people, it takes time to figure it out, and that's okay. The faculty and staff at Prince George's Community College understand that, and they are always there to help."
She urges anyone interested in starting a new career or earning a degree to consider a community college where faculty and staff support student success, and "everyone knows your name."
Named a National Center of Academic Excellence in Information Assurance designated by the National Security Agency and Department of Homeland Security (2015–2020), Prince George's Community College (PGCC) provides high-quality education and training for the progressive and career-oriented residents of Prince George's County. From new high school graduates and career seekers to more seasoned professionals and senior citizens looking to enhance their skillsets, PGCC is comprised of students who represent a wide range of ages, backgrounds, and goals. Serving nearly 40,000 individuals annually, the College is the first choice for higher education for residents of Prince George's County. Collaborative partnerships, responsive degree and training programs, and a commitment to student success enables PGCC to address diverse education and workforce development demands. For more information, visit the college website at www.pgcc.edu. Prince George's Community College is accredited by the Middle States Commission on Higher Education, 3624 Market Street, Philadelphia, PA 19104; (267-284-5000); www.msche.org. The Middle States Commission on Higher Education is an institutional accrediting agency recognized by the U.S. Secretary of Education and the Council on Higher Education Accreditation.
---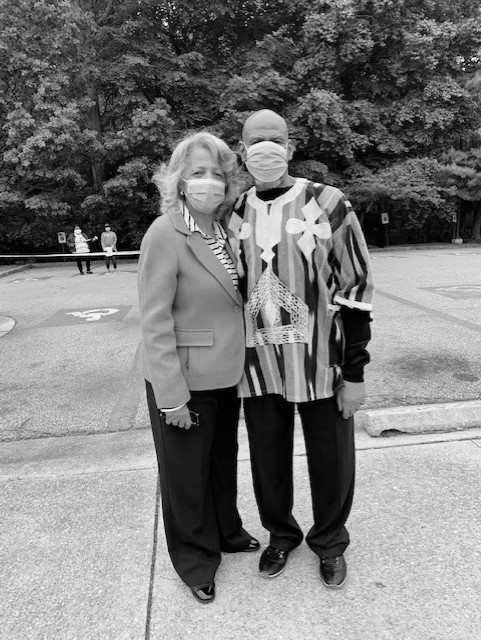 Co-Pastor Jo Ann Browning with husband Senior Pastor Grainger Browning.
Ebenezer AME Church Shows Appreciation to Veterans During Pandemic
Article and photos by Linda Poulson
A long line of cars patiently waited Sunday morning on May 24 at Ebenezer AME Church, located at 7707 Allentown Road in Fort Washington, MD, to receive a $50 gift card to buy groceries.
Prince George's County police stood guard to make sure all ran smoothly before procedure took place.
Senior Pastor Rev. Dr. Grainger Browning Jr. and wife Co-Pastor Rev. Dr. Jo Ann Browning were responsible for making the Memorial Day event happen.
"We wanted to have a special celebration for the veterans," said the senior pastor. "My grandfather was a WWI hero, and because of that I grew up with Memorial Day and Veterans Day being very, very special.
Especially with this pandemic, the veterans will know we appreciate their service…due to this being a hot spot, we wanted to make sure they get gift cards."
"Our veterans have served our country well, and so we did not want because of this coronavirus pandemic to pass them by," said Mrs. Browning. "We wanted to do something to celebrate their sacrifice for us so we may have freedom. This is a special occasion that we wanted to do for them."
Hundreds of cars finally began to roll at 10 a.m. Church members were placed at designated spots to give out gift cards. Veterans were required to show identification to receive the cards. The well-organized plan worked well.
Card givers shouted praises of "Happy Memorial Day", "God Bless You", "Thank You for Being a Veteran," and "Thank You for Your Service"; their masked faces and gloved hands waving at cars with enthusiasm as the vehicles kept coming.
According to church administrator Kenneth Brown, the goal was to give away gift cards to 600 cars.
---
Latest COVID-19 Testing Sites Open Around the County
Find further information by visiting coronavirus.maryland.gov and clicking on the "Testing" tab. Locate testing sites on the interactive map and learn how to schedule a test.
Six Flags America
Governor Larry Hogan announced a new free testing site at Six Flags America (13710 Central Avenue, Upper Marlboro, MD 20721) as of Friday, May 29.
Any Maryland resident who suspects that he or she may have been exposed to COVID-19 may receive a test at Six Flags America in Upper Marlboro, and no doctor's order or appointment is required. Tests will be provided by the Maryland Department of Health (MDH) to patients at no out-of-pocket cost.
Clinton VEIP Station
The state also began offering testing at the converted Vehicle Emissions Inspection Program (VEIP) station in Clinton (Clinton VEIP, 7213 Old Alexandria Ferry Road, Clinton, MD 20735) on Thursday, May 28. (The Clinton VEIP site will use a traditional, appointment-only model.)
Additional CVS Pharmacy Sites
CVS Pharmacy, 5910 Greenbelt Road, Greenbelt, MD 20770
CVS Pharmacy, 5621 Sargent Road, Hyattsville, MD 20782
Self-swab tests will be available to individuals meeting Centers for Disease Control and Prevention criteria, in addition to state and age guidelines. Patients must register in advance at CVS.com beginning Friday, May 29 to schedule an appointment. Patients will be required to stay in their cars and will be directed to the pharmacy drive-thru window or a location in the parking lot at a few stores, where they will be provided with a test kit and given instructions, and a CVS Pharmacy team member will observe the self-swab process to ensure it is done properly. Tests will be sent to an independent, third-party lab for processing and the results will be available in approximately three days.
Testing will not take place inside any retail locations, and CVS Pharmacy, HealthHUB and MinuteClinic will continue to serve customers and patients.
—Compiled from Office of the Governor and CVS Health press releases
---
Celebrating the 2020 Melvin C. High Scholarship Recipients
By COMMUNICATIONS AND PUBLIC AFFAIRS DIVISION
Prince George's County Office of the Sheriff
Upper Marlboro, Md. (May 27, 2020)—The Prince George's County Office of the Sheriff awarded the 10th Annual Melvin C. High Scholarship Award to four outstanding Prince George's County High School graduates. This year's awards ceremony was held virtually via Zoom, with Sheriff High, Chief Asst. Sheriff Darrin Palmer, and members of the Executive Command staff in the Sheriff's Office participating. The ceremony was hosted by Captain Ecolia Whitmire, Commander of the Community Partnership Section that includes the Melvin C. High Scholarship initiative, the Positive Deputies Assisting Youth (D.A.Y.) Middle School Mentoring Program and the Senior Citizens' Outreach Program.
Since its inception, the Melvin C. High Scholarship has awarded scholarships to deserving Prince George's County High School graduates, a program Sheriff High began and fully funded until 2017 when the scholarship was awarded 501c3 status and began receiving partial donations. This year's four awardees will each receive a $1,000 scholarship that can be used toward the cost of college tuition, fees or books.
The 2020 Melvin C. High Scholarship Award recipients are:
Ms. Kendall Andrews is a Charles Herbert Flowers High School graduate and future student at the University of Maryland who plans to study Computer Science and Communications; Ms. Paris Smalley, another Charles Herbert Flowers High School graduate and future student at Duke University, will pursue a double major in Biology and Philosophy; Ms. A'nya Randall, a graduate of Surrattsville High School and future student at Frostburg State University plans to study nursing; and Mr. Abhishek Malhotra, is a graduate of Charles Herbert Flowers High School and future student at the University of Maryland whose plans led him to Bioengineering or Aerospace.
Sheriff High was excited to greet the winners and their families virtually, thanking the Sheriff's Office team that facilitated the event. In introducing keynote speaker, Mr. Mark K. Spencer, Inspector General in the Office of the Sheriff, Sheriff High encouraged students to pursue their dreams vigorously and to remember to come back and give back to community, including home community and school community.
Mr. Spencer told students and their family members that the Sheriff's support for young people stems from support he received from his community in Mississippi, which supported him when they learned he was going to college. Spencer urged students to think about the changes that COVID-19 has wrought and to consider the ways that they —in pursuit of their dreams—can address many of the world's problems and change, for the better, some of the things about the world that has been bequeathed to them, such as slowing down the effects of climate change.
Sheriff High wished the students good fortune in their new pursuits, thanked them for their academic rigor and for applying for the scholarship. Chief Assist. Sheriff Darrin Palmer urged students to consider the members of the Sheriff's Office as a resource going forward, encouraging them to stay in touch with the Sheriff's Office for any assistance and advice they may need.
---