November 8 - November 14, 2018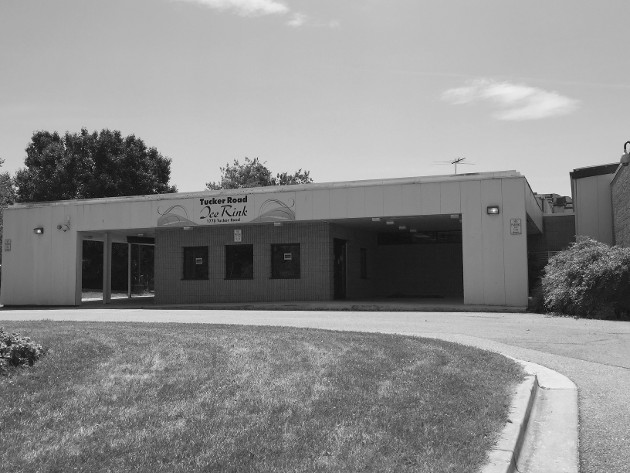 Photograph courtesy of Maryland Dept of Natural Resources Former Tucker Road Ice Skating Center
Board Approves $6 Million for Fort Washington Ice Center Program Open Space Funding Used to Rebuild Facility
By PRESS OFFICER
MD Dept of Natural Resources
Annapolis, MD (October 31, 2018)—The Board of Public Works unanimously approved a Maryland Department of Natural Resources item that provides $6 million to Prince George's County for the development of the Tucker Road Ice Skating Center in Fort Washington. The board is comprised of Governor Larry Hogan, Comptroller Peter Franchot and Treasurer Nancy Kopp.
The county plans to use Program Open Space Local funds to rebuild the center that was damaged in a January 2017 fire. Program Open Space Local provides financial and technical assistance to communities and municipalities for the acquisition, development and planning of recreation facilities, and open space areas. The program has been managed by the Maryland Department of Natural Resources since 1969.
"We are very proud of our partnership with Prince George's County and our work to promote recreation and sports," Maryland Natural Resources Secretary Mark Belton said. "Working with our local communities we can identify and pursue construction and renovation projects that meet their unique goals, improving the quality of life of every Marylander."
The new 48,860-square-foot facility will have an NHL-sized ice rink with bleachers and seating, a class/party room, dance studio, skate rental space, snack bar and other amenities, like locker rooms and family-friendly changing areas. The Tucker Road Ice Skating Center, home to the Tucker Road Ducks, is the only ice rink in the southern portion of Prince George's County.
"We are pleased by the state's significant support of our effort to rebuild an improved ice center facility," Prince George's County Department of Parks and Recreation Acting Division Chief of the of the Park Planning and Development Division Alvin McNeal said. "This funding is an affirmation of the importance of a facility, of this caliber, for the community."
More than 6,000 conservation and recreation projects throughout the state have been assisted by Program Open Space Local grants.
Local Chapter of Omega Psi Phi Fraternity to Recognize Community Leaders, Students in "Achievement Week" Program
By PRESS OFFICER
Gamma Pi Chapter of Omega Psi Phi Fraternity, Inc.
PRINCE GEORGE'S COUNTY, MD (Oct 27, 2018)—Several distinguished members of the greater Prince George's County community will be honored for their service by Gamma Pi Chapter of Omega Psi Phi Fraternity, Inc. Those who have made important contributions during the past year in such areas as religion, education and volunteerism will be recognized. The program will be held on Saturday, November 10, 2018, at 2 p.m. at the Ernest Everett Just Middle School in Mitchellville.
This year's program will feature a keynote address by Dr. Theodore R. Johnson, Fellow at the Brennan Institute for Social Justice and a member of Omega Psi Phi Fraternity, Inc.
Gamma Pi, the local chapter of this 107-year-old African American men's Greek fraternal organization, sponsors the Achievement Week program. The chapter conducts regular community social and civic service projects consistent with its founding principles. Achievement Week is observed annually throughout Omega Psi Phi during the week of the founding date, which was Nov. 17, 1911.
"This is our 45th annual program. As Prince George's County changes and grows into a more vibrant community in the 21st century, we want to make sure we pause and take note of those who have achieved and helped steer and define this progress," said Tony Lee, President of the Gamma Pi chapter. "Throughout this year, we have been privileged to partner with many people in the Prince George's County community. We want to make sure we highlight those persons who are making a positive difference in the community."
In addition to the address by Dr. Johnson, the Achievement Week program will also feature a performance by the Omega Chorale Ensemble, an acclaimed group of fraternity members who perform in the metropolitan area. Community awards will be presented in the following categories: International Citizen of the Year, Educator of the Year, Religious Leader of the Year and Student Athlete of the Year; and fraternal awards to members of Omega Psi Phi.
In Wake of Football Coach's Firing, University of Maryland Remains in Turmoil

By ZACK SELBY
Capital News Service
COLLEGE PARK, Maryland (November 1, 2018)—A tumultuous two days of statewide outrage directed at the University System of Maryland Board of Regents' handling of the probe into football player Jordan McNair's death climaxed on Thursday as the board chairman resigned and hundreds packed the McKeldin Mall here to support student-athletes.
James Brady, who is close to Maryland Gov. Larry Hogan, resigned after a closed-door meeting of the regents Thursday afternoon, just a day after University of Maryland President Wallace Loh defied the board and fired head coach DJ Durkin.
The rally, which was originally organized by university's Student Government Association, shifted its focus from protesting the board's recommendation to retain Durkin to backing the athletes, whose program is reeling from 48 hours of shocking twists and turns.
"I think it's important for people to acknowledge how important we are," said track and field runner Jewel Smith. "We are just as important as the other students. And of course Jordan, the whole situation is very sad and we need to give our tribute because he was part of this campus as well."
Students, faculty, players and government officials voiced their anger over the board's decision to keep Durkin. Three players walked out of a Wednesday meeting with the coach. Some donors also threatened to withdraw support from the university.
While there were many in the rally who were in support of the football program, there were others who wanted to boycott the upcoming game against Michigan State.
"We are not in opposition to the football team," said junior Alice Smith. "We do not hate those people, we know they are students too. But we want to see change for them. We want things to get better for them. And I do not think going to the games is going to help that."
Others wanted to hold the Board of Regents more accountable.
"Go up there and demand that this Board of Regents answers to you," said former football player Akil Patterson to counter-protesters. "This Board of Regents calls on you. Answer their call. You are the future, not them."
Karen Levenson, co-chairwoman of a $1.5 billion fundraising effort for the College Park campus, told the regents in a letter obtained by The Baltimore Sun that she was holding up future support over the board's "unacceptable" handling of the McNair controversy.
Indeed, Geoff Gonella, chairman of the University of Maryland College Park Foundation Board of Trustees, wrote in a letter to the regents board chairman before Brady resigned that the regents' action "may have dealt our efforts a fatal blow."
The board had undermined "the authority of the campus leadership" and violated "the integrity of shared governance principles, including autonomy and independence," he said.
The board's move also "has caused serious damage to the reputation of the Board of Regents and to all of Maryland higher education," Gonella wrote. "The board's actions will seriously harm the ability of all Maryland campuses to recruit future presidents and faculty if this is the governance climate they will face."
The university's provost, Mary Ann Rankin, and deans from every academic department released a joint statement Thursday morning, charging that the board overstepped its authority in recommending Loh keep the head coach, who had been on administrative leave since Aug. 11.
It was reported by The Washington Post hours before Tuesday's press conference by the regents that Loh had "no option" but to keep Durkin if he wanted to remain in his position.
"We have been extremely alarmed for weeks by the interference of the University System of Maryland's Board of Regents into the university governance matters," the joint statement read. "Through its intervention, the Board of Regents usurped the president's authority and intervened in the ability of the president to carry out his full duties and responsibilities."
Former University of Maryland System Chancellor William "Brit" Kirwan and former regents board chairman James Shea issued a joint statement condemning the current regents' actions.
"To the best of our knowledge, in the 30-year history of the University System, no board of regents has ever made decisions about campus personnel, except those involving the president," they said. "The Board of Regents should not be in the business of hiring or firing a football coach, or any faculty or staff."
They also urged Loh to reconsider leaving the university in June.
"We believe Dr. Loh's leadership is critical for the university at this challenging time and we call upon the Board of Regents to publicly affirm its support for Dr. Loh continuing leadership of the state's flagship university," Kirwan and Shea said.
Rep. Steny Hoyer, D-Mechanicsville, said Loh "took the appropriate action" in firing Durkin and said the head coach's actions ultimately led to McNair's death.
"President Loh took responsibility for this tragedy and assured the McNair family that a full investigation would be pursued, which he initiated and the University System of Maryland Board of Regents took over," Hoyer said in a statement.
Hoyer also added he believes Loh should reconsider his retirement and continue to focus on putting the athletic department on "a path worthy of respect and dignity."
Other politicians, including Rep. Elijah Cummings, D-Baltimore. took to social media to question why the leadership at the university was still intact.
"The tragic death of Jordan McNair showed that there is a toxic climate at UMD," Cummings said via Twitter. "I am not satisfied with the remedies enacted by the University System of Maryland to ensure this never happens again."
The board ended its four-month investigation into Maryland's football program by concluding that it did not have a "toxic culture" as was previously alleged by an ESPN story written by Heather Dinich. This contradicted a previous investigation that found Maryland culpable for McNair's death.
However, the board did find that there were "problems that festered" within the athletic department, Brady said Tuesday, and it did not give Durkin, a first-time head coach in his third year, the tools to succeed.
The board recommended that Durkin retain his job, saying that while he shared "some responsibility" in McNair's death, the head coach was "unfairly blamed" for what happened.
The board also recommended that athletic director Damon Evans keep his job. Loh announced his retirement at the end of the academic year in the same press conference.
Despite the recommendation from the board, Loh fired Durkin one day later, after listening to concerns from the university's Student Government Association President Jonathan Allen and the majority of university stakeholders, all of which wanted Durkin gone.
"This is not at all a reflection of my opinion of Coach Durkin as a person," Loh said in a statement. "However, a departure is in the best interest of the university, and this afternoon Coach Durkin was informed that the university will part ways."
(Capital News Service Washington bureau reporters Jared Goldstein, Samantha Rosen and Morgan Caplan contributed to this story.)
Maryland State Trooper Rescues Victim From Burning Vehicle


By COMMUNICATIONS OFFICER
Maryland State Police
BOWIE, MD (November 1, 2018)—A trooper is credited with saving the life of a man by rescuing him just before his vehicle burst into flames Wednesday (October 31) afternoon in Prince George's County.
Shortly after 12:40 p.m. on Wednesday, Trooper Warren Thompson, who is assigned to the Forestville Barrack, was on patrol when he came across an SUV that had crashed on Maryland Route 214 and Church Road in Bowie. According to a preliminary investigation, the victim, a 66-year-old man, suffered a medical emergency when he hit a guardrail that subsequently caused the vehicle's engine to catch fire.
Trooper Thompson was able to remove the victim from the vehicle right before it erupted into flames. Prince George's County Fire/EMS Department responded to the scene to extinguish the fire and transported the victim to University of Maryland Prince George's Hospital Center for treatment of his injuries.
The incident remains under investigation.