February 21 - February 27, 2019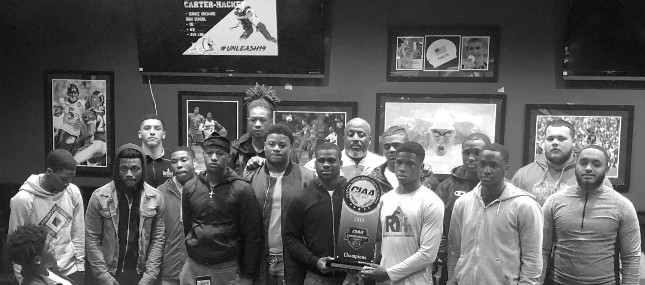 Photograph courtesy Bowie State Sports Information
By GREGORY C. GOINGS
Bowie State Sports Information
BOWIE, Md. (February 13, 2019)—With the hashtags #UNLEASH19 and #HOMEGROWN symbolizing the mindset of the Bowie State University Bulldogs Staff; Alumni, Bowie State Athletic Department Hall of Fame Inductees and Parents, 19 Bulldog Signees gathered at The Greene Turtle in Crofton, Maryland on February 7, 2019 to continue celebrating the 2018 CIAA Conference Championship win and showcase the future of the Program. Recruiting Coordinator and former Bulldog Linebacker Kyle Jackson said, "it was a pleasure being able to connect the old with the new! The young Bulldogs had the opportunity to see what #BULLDOGNATION is made of".
With graduating seniors to include BoxToRow, HBCU Game Day, CIAA Offensive Player and Black College Player of the Year quarterback Amir Hall offense creating roster spots, the staff knew recruiting would be key and decided to "mine in their own backyard" by selecting many of the quality players right from within the State of Maryland. "Events like this are what makes a program successful. Not only will Alumni know our players for being stars on the field, but they will also know our guys for who they are off the field as well," Jackson added.
After welcome remarks by Bowie State University Vice President of Athletics & Recreation Clyde Doughty, Jr., former Bulldogs Cavin Murray and Brian Redmond spoke with signees about their experiences as All-CIAA Conference football players and how their playing days have turned into lifelong friendships. Former Bulldog and current NFL Tight End Khari Lee expressed "dreams do come true at Bowie State" having played for the Houston Texans, Detroit Lions and Buffalo Bills during his professional career thus far. At the end of the evening, Student-Athlete Development Coordinator M. Burton Cornish, Jr. further welcomed the parents and guardians of the newest Bulldogs by having them sign individual "Letters of Intent" similar to what their sons signed earlier in the week solidifying their support and commitment to the team and the team's Pledge to them. Each parent's signature was followed by their Bulldog and a member of the Coaching Staff making it official.
Head Football Coach Damon Wilson added, "This is an event that we would like to build upon. For me as Head Coach to have incoming parents sign their Letter of Intent was the highlight of the evening". Wilson concluded, "As a program, not only do we have student-athletes that are committed but their parents and guardians are all in as well". With Spring Ball on the horizon, Bowie State Football and #BULLDOGNATION seem poised and positioned to defend their CIAA Conference title.
Council Holds FY 2020 Budget Town Hall Meeting
County Residents Encouraged to Participate
By ANGELA ROUSON
Prince George's County Council
UPPER MARLBORO, Md. (February 13, 2019)—The Prince George's County Council will hold its FY 2020 Budget Town Hall Meeting, on Tuesday, February 26, 2019, from 7–9 p.m., at Prince George's Community College, Largo Student Center, 301 Largo Road in Largo, Maryland, in Community Rooms A, B, and C.
Council Chair Todd Turner (D)—District 4, encourages residents to engage in this important budget conversation, learn more about the budget process, and share their spending priorities.
"Each year the Council holds a budget town hall meeting to update citizens on the County's finances, and present residents with an important opportunity to participate in the budget process. The Council remains committed to an open, inclusive, and participatory budget process, and look forward to questions and input from County residents."
The Council's FY 2020 Budget Town Hall Meeting will feature a presentation on the County's current financial status and the fiscal outlook for the upcoming budget season by Office of Management and Budget Director, Stanley Earley. Deputy County Auditor Turkessa Green will also present an overview of the Council's Budget Review and Adoption process. Important calendar dates for budget meetings and public hearings will be provided, and participants will have an opportunity to address Council Members and share their FY 2020 budget concerns and priorities.
In accordance with County Charter, the County Executive must submit a proposed FY 2020 spending plan to the Council by March 15. The Council will then begin its review process in a series of committee work sessions and public hearings. The Council must adopt a new and balanced spending plan on or before June 1.
This event is free and open to the public. To watch live, please visit: http://pgccouncil.us on February 26, 7–9 p.m.
Upper Marlboro Native Serves at Joint Typhoon Warning Center
By CHIEF MASS COMMUNICATION SPECIALIST ERICA R. GARDNER
Navy Office of Community Outreach
PEARL HARBOR, Hawaii (February 12, 2019)—Most Americans rely on weather forecasts to plan their daily routine. The U.S. Navy is no different. With numerous ships, submarines and airplanes deployed in the U.S. Pacific Fleet's area of operations, sailors stationed at the Joint Typhoon Warning Center, Hawaii, make it their primary mission to monitor extreme weather conditions in support of the fleet's daily operations.
Chief Petty Officer William Cady, a 2000 DeMatha Catholic High School graduate and native of Upper Marlboro, Maryland, has served in the Navy for 17 years and is one of these sailors serving at the Joint Typhoon Warning Center.
Cady credits success in the Navy to many of the lessons learned in Upper Marlboro.
"Growing up in Maryland, the Naval Academy was near my hometown and I would visit Annapolis, holding the Navy in high regards," said Cady.
The Joint Typhoon Warning Center Detachment provides aviation weather support for the INDOPACOM area of responsibility and resource protection to ensure safety of flight and operations for Atsugi, Japan; Commander Fleet Activities Okinawa; Commander Fleet.
As a Navy Aerographers Mate, Cady is responsible for advising the commanding officer and the executive officer of day-to-day activities and managing programs to enhance the careers of enlisted sailors.
A key element of the Navy the nation needs is tied to the fact that America is a maritime nation, according to Navy officials, and that the nation's prosperity is tied to the ability to operate freely on the world's oceans. More than 70 percent of the Earth's surface is covered by water; 80 percent of the world's population lives close to a coast; and 90 percent of all global trade by volume travels by sea.
"Naval Oceanography defines and applies the physical environment for the entire Navy fleet from the bottom of the ocean to the stars," said Rear Adm. John Okon, Commander, Naval Meteorology and Oceanography Command. "There isn't a plane that flies, a ship or a submarine that gets underway without the sailors and civilians of Naval Oceanography."
The U.S. Pacific Fleet is the world's largest fleet command, encompassing 100 million square miles, nearly half the Earth's surface, from Antarctica to the Arctic Circle and from the West Coast of the United States into the Indian Ocean.
Though there are many ways for sailors to earn distinction in their command, community, and career, Cady is most proud of earning several awards working with Navy Surface Warfare/Explosive Ordnance Disposal units.
"I am proud of these awards because I worked directly with operations in support of the war fighter," said Cady.
Being stationed in Hawaii, often referred to in defense circles as the gateway to the Pacific, means Cady is serving in a part of the world taking on a new importance in America's focus on rebuilding military readiness, strengthening alliances and reforming business practices in support of the National Defense Strategy.
"Our priorities center on people, capabilities and processes, and will be achieved by our focus on speed, value, results and partnerships," said Secretary of the Navy Richard V. Spencer. "Readiness, lethality and modernization are the requirements driving these priorities."
The Pacific is home to more than 50 percent of the world's population, many of the world's largest and smallest economies, several of the world's largest militaries, and many U.S. allies. The Navy has been pivotal in helping maintain peace and stability in the Pacific region for decades.
Serving in the Navy is a continuing tradition of military service for Cady, who has military ties with family members who have previously served. Cady is honored to carry on that family tradition.
"My father served 22 years in the Air National Guard and he influenced me joining the military," said Cady. "He always had good stories about his experiences."
As a member of one of the U.S. Navy's most relied-upon assets, Cady and other sailors know they are part of a legacy that will last beyond their lifetimes providing the Navy the nation needs.
"I have enjoyed my time in the military and am making this a career to continue the legacy," added Cady.
Lt. Governor Boyd K. Rutherford Joins Governor's Office on Service and Volunteerism to Host Second Annual Black History Month Community Leaders Awards
By HANNAH MARR
Office of the Lt. Governor
ANNAPOLIS, Md. (February 14, 2019)—Lt. Governor Boyd K. Rutherford today joined the Governor's Office on Service and Volunteerism in hosting the Second Annual Black History Month Community Leaders Awards. The annual awards ceremony, established in celebration of Black History Month, recognizes Maryland-based African American-founded organizations that provide exceptional volunteer service to improve Maryland communities. Ten organizations received the honor during a ceremony at the Banneker-Douglass Museum in Annapolis, Maryland's official museum of African American history, heritage, and culture.
"Our award recipients here today represent the dedication of our African American communities to serving others and leaving a better world for future generations," said Lt. Governor Rutherford. "From mentoring boys and girls and providing opportunities for them to thrive, to skills training and workforce development for low-income or formerly incarcerated men and women, you are doing the work we must do to ensure our futures."
Selection for the Black History Month Community Leaders Awards was based on nominations received that described the highest degree of volunteer commitment and service including work that makes a transformative impact in the community. The following [Prince George's County] organizations were selected as recipients of the awards:
Roberta's House (Baltimore City, Prince George's County) offers a comprehensive bereavement support program to heal the "hearts and minds" of children and teens along with their families.