July 22 - July 28, 2021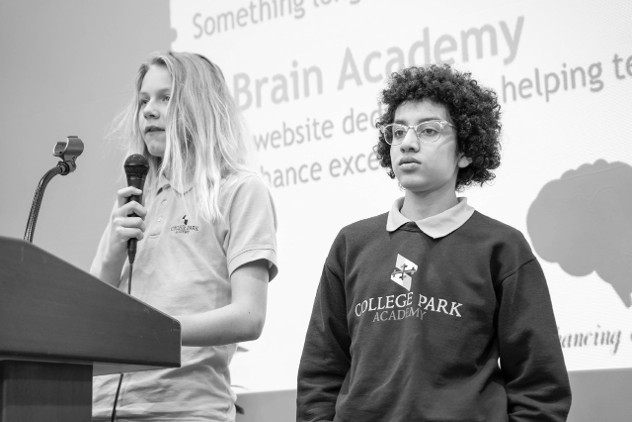 Photo courtesy WETATi
College Park Academy 2019 WETATi iDEA Pitch Competitors deliver their business pitch.
WETATi Announces 2021 Entrepreneurship Convention, iDEA Pitch Competition, and Awards Gala
By VIVIAN EBISIKE
WETATi
Prince George's County, Md. (July 16, 2021)—We're Empowered To Achieve The impossible (WETATi) will host the 2021 virtual youth Entrepreneurship Convention and Business iDEA Pitch Competition on July 27 from 1 to 5 pm, and the awards gala to announce the winners on August 28. The Honorary Chair and keynote speaker will be Mayor Tim Adams, President and CEO of SA-Tech, Inc.
(WETATi) is proud to announce and bring its annual Entrepreneurship Convention, business Expo., and iDEA Pitch Competition to students across the United States, on July 27, 2021. "I owe it to WETATi for making me come out of my comfort zone and think about what I can truly accomplish," and "It is because of WETATi that I started thinking about how I can change my world and what I can do to make a difference," said Favour Okhuevbie, 3rd place, 2020 iDEA Pitch competition winner and a current Howard university Law student.
The Entrepreneurship Convention and Idea Pitch Competition gives the next generation of aspiring young entrepreneurs and inventors the opportunity to pitch their business ideas before potential business investors, their peers, the public, their parents, and the public. The convention exposes students to successful business owners who can teach them how to succeed in the entrepreneurship industry. The goal is to teach students early about the power of entrepreneurship and to put them on a path toward economic and creative freedom.
"Ever since the competition, it definitely opened up my eyes to the possibility that whatever you create can be put to fruition," said Malcolm Woodbury, University of Maryland College Park student and WETATi 2020 iDEA Pitch competition 1st place winner.
Students who participate in the competition will have an opportunity to:
• Receive coaching from WETATi business strategists and strategic business partners about their business idea and pitch.
• Participate in training to gain insight on how to package and pitch their ideas.
• Present their business idea in front of business professionals.
• Receive live feedback on their business ideas from judges.
• Compete for the opportunity to win seed funds for their businesses.
"The WETATi Idea Pitch Competition exemplifies WETATi's work to help the youth see how they can change the world," said Tim Adams, President/CEO of SA-Tech and Chair of the 2021Entrepreneurship Convention and Awards Gala. "Whether students are participating in the competition or watching their peers compete, they leave feeling that they have the power to achieve the impossible."
Participants at the Entrepreneurship Convention will have opportunities to network with successful business professionals, elected officials, young entrepreneurs, and others in the WETATi network. These connections can lead to employment or internship opportunities.
This year, we have ten talented and amazing finalists; Middle, High school, and Collegiate students with incredible business iDEAS, (ranging from typical business ideas to STEM iDEAS), that will be competing. The winners will be announced during WETATi's Annual Scholarship and Awards gala on August 28, 2021 from 6 to 8 pm, which will also be held virtually this year. At the virtual awards' gala, both the WETATi Next Generation (middle and high schoolers) and WETATi Collegiate (college and university students) winners will be announced and awarded, alongside other awards.
We are also incredibly happy and proud to report that this year, WETATi-Anne Reese Scholarship funds, will be giving scholarships to nine (9) deserving college students.
WETATi educates low-to-moderate-income students from middle school to college through practical and experiential activities that prepare students for the 21st century workforce for employment, entrepreneurship, and future economic opportunities. "Our vision is economic empowerment through equitable access to employment and job creation. Our programs are the vehicles that we use to teach students about the power to change one's mindset from job seeking to creating mentality," said Ambassador Dr. Margaret Dureke, Founder, President & CEO of WETATi.
For more information about the convention, visit https://wetati.com/convention/
---
Upper Marlboro Resident Liane Beckley Lands Summer Internship with the National Endowment for the Humanities
By AMBER MCGINNIS
Washington College
Upper Marlboro resident Liane Beckley earned a competitive summer internship with National Endowment for the Humanities (NEH) in Washington, D.C. As an intern in the Office of Federal/State Partnership, she is responsible for researching current public humanities topics, writing for their website, social media and e-newsletter, managing digital records, and data analysis. NEH's Office of Federal/State Partnership brings humanities education, lifelong learning, and public humanities programming to communities across the country by providing general operating support grants to more than 50 state and territorial humanities councils.
Beckley is a 2021 graduate of Washington College in Chestertown, Maryland who earned her degree in art/art history. She obtained her internship through the Starr Center at Washington College's Explore America Summer Internship program, which placed 27 students with prestigious cultural centers across America this year.
"My internship at NEH has already taught me so much about the wide range of programs and special events that take place at the state and jurisdictional humanities councils. It's been wonderful to see virtual and in-person humanities events thriving! I am thrilled to be a part of the Office of Fed/State Partnership at NEH, because I get to see the hard work that goes into providing grant information and distributing funds to the state and jurisdictional councils."
The Starr Center at Washington College coordinates the Explore America Summer Internship program, which annually places more than two dozen students in full-time, paid positions at nationally prominent cultural institutions, including four different Smithsonian museums, the National Archives, the Library of Congress, and the National Park Service. Working with the internship hosts, the Starr Center arranges for spots to be held for Washington College students, who in turn are carefully selected through a competitive process that matches their interests and skills with special opportunities.
Students help research and plan major exhibitions, curate artifacts, develop educational programs, lead tours, and produce multimedia content. The program has a track record of converting internships into careers: many recipients have been hired by their internship supervisors, parlayed their experiences into jobs at similar institutions, or gone on to graduate study at leading universities in their chosen fields.
Founded in 1782, Washington College is the tenth oldest college in the nation and the first chartered under the new Republic. It enrolls approximately 1,250 undergraduates from more than 35 states and a dozen nations. With an emphasis on hands-on, experiential learning in the arts and sciences, and more than 40 multidisciplinary areas of study, the College is home to nationally recognized academic centers in the environment, history, and writing. Learn more at www.washcoll.edu
---
To Celebrate National Parks and Recreation Month, M-NCPPC, Department of Parks and Recreation, Prince George's County Announces New ParkFinder Tool
By ANGEL WALDRON
Prince George's County Department of Parks and Recreation
Riverdale, Md. (July 19, 2021)—For thirty-six years, Americans have celebrated National Park and Recreation Month in July. Throughout the month, promotion of the benefits of local parks and recreation programming and centers in the community are encouraged. Residents can get outside, explore parks, and enjoy recreational activities. In that spirit, The Maryland-National Capital Park and Planning Commission, Department of Parks and Recreation in Prince George's County is happy to offer a new resource tool to assist in locating those amenities: ParkFinder.
ParkFinder is an interactive map tool developed to help users find local parks, community centers, museums, art centers, pools, and more. The community can search facilities based on name, amenity types, and ADA-compliant features. This tool will be continuously evaluated and enhanced with new search features. User feedback is welcome at pgwebmaster@pgparks.com.
"Local parks are essential for thriving communities. Many found a new appreciation for these vital spaces during the COVID pandemic," says Bill Tyler, Director of the M-NCPPC, Department of Parks and Recreation. "We hope the community uses this free tool to find ways to live more and play more," concluded Tyler.
The new ParkFinder resource is available at www.pgparks.com/parkfinder
The M-NCPPC, Department of Parks and Recreation delivers an award-winning park system through progressive, innovative leadership and a commitment to the community and the environment in Prince George's County. For more on the Department of Parks and Recreation, visit www.pgparks.com and stay connected on Facebook, Twitter, PhotoShelter, and Instagram. The Department of Parks and Recreation encourages and supports the participation of individuals with disabilities in all programs and services. Register at least a minimum of two weeks in advance of the program start date to request and receive a disability accommodation.
---