March 15 - March 21, 2018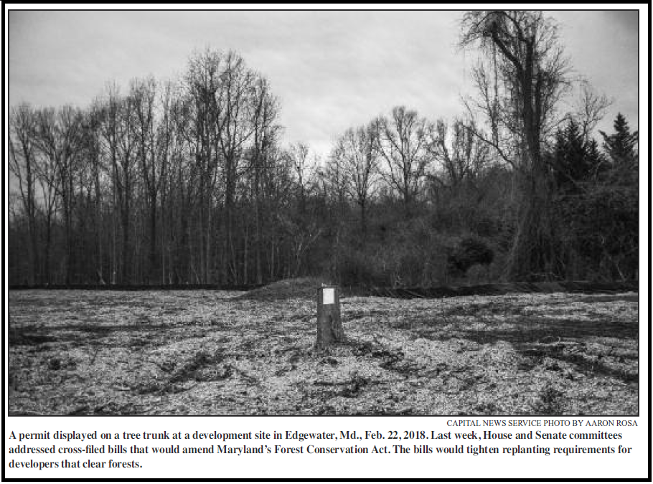 New Bills Would Update Maryland's Forest Conservation Law
By Alex Mann
Capital News Service
ANNAPOLIS, MD—Maryland's forest conservation law has failed to protect some of the state's best forests, scientists and environmentalists say.
Enacted in 1991, the state's Forest Conservation Act was intended to protect Maryland's forested areas from development. The law outlined a formula for builders to follow when clearing land for development.
For each tract of forest cleared, developers of certain parcels were required to mitigate forest lost by replanting trees, or pay a fee-in-lieu.
Under current law, developers in some circumstances can replant at a ratio of one-fourth of an acre planted for every acre cleared.
The new bill would increase the ratio to one-for-one.
It would also clearly define "priority retention areas"—considered to be the state's best forests—and lay out a framework that determines when state and local authorities can approve the clearing of these forests.
Developers say the bill is too onerous and could jeopardize local planning goals.
Some of the disagreement among developers, the state and environmentalists comes down to how trees are counted.
Developers and the state have cited tree canopy cover as a way to measure the state's forested lands.
But canopy cover includes all trees—including suburban and streetside plantings—and does not accurately count forests, which environmentalists say offer superior health, economic and ecological benefits.
The current conservation formula worked for areas that originally had little forested land, Elaine Lutz, Maryland staff attorney for the Chesapeake Bay Foundation, told Capital News Service. But the same formula has enabled the clearing of some of the state's most dense and ecologically beneficial forest.
According to the current law, priority forests are "trees, shrubs, and plants located in sensitive areas," including 100-year flood plains, riparian buffers to streams and coastal bays, steep slopes, critical habitats and contiguous forest "that connects the largest undeveloped or most vegetated tracts of land within and adjacent to the site," a state analysis shows.
But the language is too ambiguous, Lutz said, and has resulted in the varying interpretations of replanting requirements and, in some cases, failure to protect the best forests.
Maryland has lost over 19,000 acres of forests between fiscal year 2009 and fiscal year 2016, the Chesapeake Bay Foundation told lawmakers in the fall. More than 7,000 acres were cleared in Prince George's County alone, the report showed.
Disproportionate forest loss in her county prompted Delegate Anne Healey, D-Prince George's, this year to introduce House bill 766, which modifies the Forest Conservation Act to better define "priority forest" and to increase the replanting requirement. Sen. Ron Young, D-Frederick, introduced an identical bill, Senate bill 610.
The Senate Education, Health and Environmental Affairs and House Environment and Transportation Committees addressed Young and Healey's bills last week.
Testimony from proponents—primarily environmentalists—and opponents—land development and real estate industries—dragged on for hours in the hearings, with the sides producing conflicting statistics and accounts of the Forest Conservation Act's success.
Environmentalists argued that too much important forest has been cleared. The ecological and health benefits of mature forests, they said, outweigh additional costs to developers.
Beyond providing critical habitat for many forest-dwelling creatures, "forests are the No. 1 most protective land cover for water quality," Lutz said.
States surrounding the Chesapeake Bay and federal authorities continue efforts to clean up the nation's largest estuary, but President Donald Trump's proposed budget would slash 90 percent of Chesapeake Bay cleanup funding.
One-third of nitrogen pollution in the bay comes from the air, according to the U.S. Environmental Protection Agency. Forests are efficient air filters that could help reduce air pollutants, Lutz said.
Those representing the development community staunchly opposed the bill, arguing that the Forest Conservation Act is already working and there is no need to change it.
Lori Graf, CEO of the Maryland Building Industry Association, which represents some 100,000 Marylanders, submitted in written testimony that, "Maryland's forest canopy cover" increased to 51 percent in 2017, citing a Department of Natural Resources report.
The state's Department of Natural Resources submitted a letter of concern, and Allison Cordell, the department's legislative director, also told lawmakers this week that Maryland has a "51 percent statewide tree canopy cover," according to the letter.
But tree cover is not the same as mature forest, environmentalists say. Individual trees, or patches of them, simply cannot replicate the ecological benefits of mature forests.
"I planted thousands of street trees and other communities are doing that, and they create cover, but they don't do the same thing that forest stands do," Young said. Trees "do a lot and they're good, but this is directed at trying to protect forested areas."
Healey and Young's bills are "narrowly tailored to address the most critical need of our most pressured forest land," Healey said. "We're not against development."
Developers however, aren't convinced, though.
"We're very concerned that this bill contradicts a generation of land use planning," said Tom Ballentine, vice president for policy and government affairs for the Maryland chapter of NAIOP—a commercial real estate development association—in his testimony before the Senate committee February 20, 2018.
"It makes the existence of priority forest the single most important factor in determining the location and density of future development," Ballentine added.
The amended Forest Conservation Act would also change the standard by which state and local authorities can approve the clearing of priority forest areas. Existing law "requires 'sufficient justification' to remove priority forest areas," but doesn't provide detailed guidance and has been varyingly interpreted across jurisdictions, according to Lutz's written testimony.
Developers said the process for clearing priority forest is already arduous. It's expensive and time-consuming, they say.
The new restrictions, Ballentine said, will "make it nearly impossible for local governments to approve clearing of priority forest."
Bill Castelli, who represented Maryland REALTORS at at the Senate committee hearing Feb. 20, said this bill would increase the cost of development, and "the more development cost that occurs when you're developing property … the more difficult it is for developers to create" affordable housing.
Former International Monetary Fund economist John Wakeman-Linn, a Shady Side, Maryland, resident, testified in favor of the bill at both hearings. He argued that the cost developers accrue for having to mitigate forest clearing pales in comparison to the value of services all Maryland citizens are deprived of when forest is cleared.
"A 2015 study in Prince George's County found the benefits received from trees there are worth around $13 billion annually, or roughly $80,000 per year per acre of trees," Wakeman-Linn said in his testimony.
"Compare this to the one-time cost developers would face in adhering to the regulations in this act," which, based on one developer's written testimony, Wakeman-Linn estimated to be about $33,000 per acre of trees cleared, he said. "In Prince George's County, this one-time fee would be less than the benefits (of trees) lost every six months."
And protecting forests is about more than the health, environmental and economic benefits, Healey said.
"(The forest) is a place to refresh yourself spiritually and mentally from the stresses of city life," she said. "It makes life more livable."
CHaround, all of those were removed," she said.
Governor Hogan Announces New Text to 9-1-1 System for Maryland
By PRESS OFFICER
Office of the Governor
ANNAPOLIS, MD—Governor Larry Hogan announced the Board of Public Works' approval of a new Text to 9-1-1 technology for Maryland, helping to update 1960s-era emergency systems with life-saving technology. This new Internet-based infrastructure allows citizens to send a Short Message Service (SMS) text message to 9-1-1. The Federal Communications Commission estimates that more than 70 percent of all 9-1-1 calls now come from cellular users.
"This new technology is a vital public safety tool that could potentially help save the lives of citizens who find themselves in an emergency situation," said Governor Hogan. "I want to commend the Department of Public Safety and Correctional Services for their hard work to implement this system for all Marylanders."
Text to 9-1-1 supports 160 characters per message, but no multimedia messaging, such as photos or video. The Maryland Emergency Numbers System Board, under the Maryland Department of Public Safety and Correctional Services, is responsible for overseeing Maryland's emergency 9-1-1 system, including administering the 9-1-1 Trust Fund, which will fund the new technology.
"The Hogan administration clearly recognizes the importance of ensuring that all
Marylanders have access to emergency services," said Department of Public Safety and Correctional Services Secretary Stephen Moyer. "Text to 9-1-1 is a major step in modernizing our systems and giving citizens the ability to reach first responders when a call isn't feasible."
As the location for the Maryland School for the Deaf, Frederick County was chosen as the only Maryland county for a 2015 pilot program to launch Text to 9-1-1.
"We are thrilled to welcome this public safety tool for Maryland's 1.2 million deaf and hard of hearing residents, those with a speech impairment, and anyone in an emergency situation where a voice call would be dangerous or impossible," said Kelby Brick, Director for the Governor's Office of the Deaf and Hard of Hearing.
The Department of Public Safety and Correctional Services, in keeping with nationwide best practices and preferred methods for implementing Text to 9-1-1, negotiated the procurement of a master contract for the entire state that will enable Maryland's remaining 23 counties to secure the technology. These improvements facilitate better government efficiency and delivery of the technology.
Parkdale High School Student Appointed as Maryland State Board of Education Student Member
By PRESS OFFICER
PGCPS
UPPER MARLBORO, MD—Bryce Awono, a sophomore Pre-International Baccalaureate student at Prince George's County Public Schools' (PGCPS) Parkdale High School, was appointed by Governor Larry Hogan to serve as Student Member of the Maryland State Board of Education for 2018–2019.
Awono, who formerly served as Treasurer of Maryland Association of Student Councils (MASC), is a 4.0 honors student, volunteer and has advocated at the state House of Delegates and Senate and worked on students issues with local boards of education. He is also a member of Parkdale's mock trial and varsity track teams as well as a member of the African Student Association and UNICEF club.
"I've always looked to do something meaningful to help those around me. I have seen the great things that being a leader can accomplish, such as promoting change, and working towards making a difference," said Awono in his candidate statement. "This role will allow me to further my work sas a public servant and create impact in the communities we return to every night."
To learn more about Awono's campaign for state student board member, please visit any of the following: MASC or, Twitter @Bryce4SMOB and Instagram: @bryceawono.
It's Morning in Zimbabwe and PG County
EDC and African Union Partnering to 'Change the Things They Cannot Accept'

By Lori C. Valentine
PGCEDC
Largo, MD—On March 2, 2018, top members of the Zimbabwe business community, led by Max Chard, Managing Director of Carp Global, visited the Prince George's County Economic Development Corporation (EDC) for a business discussion to align Prince George's County's newly formed alliance with the African Union to replicate the Prince George's County economic development model in Zimbabwe and the continent of African. EDC President and CEO Jim Coleman welcomed the international delegation whose fact finding mission to Prince George's County was to identify trading partners and potential investors on both sides of the Atlantic Ocean for agricultural opportunities.
"Helping our brothers and sisters experience the 'Wakanda Effect' is our goal," said Coleman. "The African continent is so rich with natural and intellectual resources that there is no reason that they should not experience economic hypergrowth. Today was an historic day in the life of Prince George's County. When we combine our efforts with the Republic of Zimbabwe and the African Union, we will see billions of dollars in wealth generated and millions of jobs created across the African Continent. We've been blessed in Prince George's County and we see it as our duty to foster an environment of opportunity in the nations that make up the African Union. Today, we have solidified our commitment to replicating our success across the pond."
Carp Global, a commodities trading company in Zimbabwe who produces and exports high quality cottons to the global market, came to the attention of the Economic Development Corporation by African Union Ambassador Arikana Chihombori. The ultimate goal of the partnership between the African Union and Prince George's County is to assist Prince George's County in facilitating international business opportunities for Prince George's County companies with the continent of Africa.
Carp Global shared a message from Minister Webster Kotiwani Shamu, Minister of Mashonaland West Provincial Affairs, Zimbabwe, that it is a new day in Zimbabwe, with a plethora of raw materials such as platinum, chrome, and gold ready for exporting. Minister Shamu, via conference call, told the EDC that Zimbabwe is open for business and excited about the possibilities of building manufacturing facilities, more tourism destinations and partnering with its African American neighbors in Prince George's County to build an economic development infrastructure that create jobs, and share ideas and innovations.
"Today is a great day for the Republic of Zimbabwe and Prince George's County," said Chihombori. "We are coming together with our strategic partners in Prince George's County to strike while the iron is hot. Zimbabwe is primed to attract global business partners, and the African Union appreciates the Prince George's County Economic Development Corporation for being the bridge to this on-gong partnership."
The meeting concluded with an invitation from Minister Shamu, African Union Ambassador Chihombori and Carp Global for the Economic Development Corporation to visit Zimbabwe to explore business opportunities.
To learn more about exporting opportunities that can lead to economic growth and prosperity on the continent of Africa and other countries around the global, contact Martin Ezemma, EDC Director of International Business at (mezemma@co.pg.md.us) or 301-583-4650.
Governor Hogan Celebrates National Women's History Month During Small Business Procurement Workshop
Ready, Set, GROW! Visits Prince George's County
By PRESS OFFICER
Office of the Governor
ANNAPOLIS, MD—Governor Larry Hogan will celebrate National Women's History Month by presenting citations to small business owners from Prince George's County during the Ready, Set, GROW! workshop held at MGM National Harbor on Thursday, March 22.
"There are great opportunities within the state contracting marketplace," said Jimmy Rhee, special secretary of the Governor's Office of Small, Minority & Women Business Affairs. "We created Ready, Set, GROW! to share insights and ensure that we are being open, accessible, and transparent to the entire small business community, including those firms owned by minorities, women, and veterans."
The Ready, Set, GROW procurement connections workshop series is held at locations around the state by the Governor's Office of Small, Minority & Women Business Affairs. This workshop highlights that the Hogan Administration is Open for Business by connecting the vendor community with buyers from various state agencies.
During the program, participants get an overview of the procurement process and learn how to access the state's contracting pipeline. Buyers from the participating agencies identify the products and services they typically buy, focusing on opportunities that exist right now. Vendors can meet with buyers one-on-one during the open networking session. Representatives from a variety of small business organizations also participate, providing access to free and low-cost organizational, financial, and managerial resources.
"Maryland is home to more than 200,000 women-owned businesses," said Secretary Rhee. "Governor Hogan is a staunch advocate of gender equality and having him present citations to local women business owners will be a major highlight of the program."
There is no cost to attend the Ready, Set, GROW! workshop on March 22 which begins at 9:30 AM Advance registration is required and seating is limited. Visit the website at goMDsmallbiz.maryland.gov to register online.